Serving flights at Yukon, British Columbia and the Northwestern Territories, Air North offers a service known for being of the highest quality. This includes great customer service, quality flights and a lot more you'll learn in this Air North Review.
The only downside to Air North is that it offers no loyalty rewards program whatsoever. This means you can't accumulate nor use your Aeroplan or AIR MILES in any way. The service is still one of the better ones in Canada if you want to look past that drawback. So, if you find yourself needing to fly between Yukon, the Northwestern Territories and British Columbia why not book a flight with one of the best regional airlines in that area?
Have you ever been in need to travel through Canada's lesser-known provinces, like Yukon and the Northwest Territories, but don't know the best way to do it? That's one of the questions we're answering in this Air North Review, along with what really makes Air North stand out. Air North is known for being "Yukon's Airline" and it's been like that since it started offering commercial flights in the late '70s. So, what makes Air North one of the better regional airlines? Keep reading this review to find out!
What Is Air North?
Air North was founded in 1977 by Joe Sparling and Tom Wood as Air North Charter and Training. Its purpose was explicit through its name, which was to offer charter flights for the mining industry and training for flight services. Being one of the few aircraft operators in Yukon, Air North quickly outgrew that original vision only a couple of years later.
Since then Air North has developed as a fully-fledged airline. It's been considered as the preferred flight service by many of Yukon's inhabitants and its nearby communities. Air North is based in the Erik Nielsen Whitehorse International Airport in Yukon which gives it an edge over the whole province due to its prime location.
The airline flies from Yukon to Alberta, the Northwest Territories, British Columbia and Ontario. It focuses on the northwestern provinces while still offering some southern destinations. It's not the biggest airline out there in Canada, but this doesn't mean it doesn't offer an excellent service.
Destinations And Routes
As of the moment of writing this Air North Review, the airline offers a total of 12 destinations. These include four destinations in Yukon, three in British Columbia, two in the Northwest Territories as well as Alberta, and one in Ontario. The 12 destinations that Air North flies to are:
Erik Nielsen Whitehorse International Airport, Whitehorse, Yukon.
Mayo Airport, Mayo, Yukon.
Old Crow Airport, Old Crow, Yukon.
Dawson City Airport, Dawson City, Yukon.
Kelowna International Airport, Kelowna, British Columbia.
Vancouver International Airport, Vancouver, British Columbia.
Victoria International Airport, Victoria, British Columbia.
Inuvik (Mike Zubko) Airport, Inuvik, Northwest Territories.
Yellowknife Airport, Yellowknife, Northwest Territories.
Calgary International Airport, Calgary, Alberta.
Edmonton International Airport, Edmonton, Alberta.
Ottawa Macdonald-Cartier International Airport, Ottawa, Ontario.
Air North supports communities throughout Yukon by giving them access to the most prominent destinations in the neighbouring province and territories. It's worth noting that even though Air North is considered one of the better airlines in the region, it's somewhat limited when it comes to its destinations. As you can see from the list, Air North doesn't cover Saskatchewan, Manitoba, Nunavut, Quebec, Newfoundland and Labrador, Prince Edward Island, Nova Scotia and New Brunswick.

Now, flying to these destinations requires an efficient fleet, which is exactly what Air North has going for it.
Air North's Fleet
Back when Air North started its service they only had one aircraft under their name. Through the years the airline acquired several other planes that made flights both safer and faster. As of May 2020, Air North possesses nine aircraft under its name, which serve distinct purposes. These include:
Five Boeing 737 of the 400 and 500 Series. These aircraft can hold up to 156 and 122 passengers respectively.
Two ATR 42 of the 300 Series. These smaller but sturdier airplanes can hold up to 42 passengers at a time.
Two Hawker Siddeley 748. These are Combi aircraft and can hold up to 4 to 40 passengers depending on cargo configuration.
Air North Schedule: Your Plans Made Easier
When it comes to building an itinerary and building a schedule for your vacations or trips it's always handy to have a good flight schedule. That's another thing Air North does better than other airlines since it lets you check all of the scheduled flights by location, day, arrival and departure hours. You can check the hour of both departure and arrivals, flight number and day frequency of each flight. It's a pretty handy tool compared to other messy schedule systems we've seen.
Air North Flight Status And How To Check It
Most airlines offer the convenience of letting you check the status of your flight, but sometimes this can be harder to do than it seems. Air North offers a convenient way to follow the exact status of your flight as it progresses, all through its website. The information on your flight is updated as it approaches its destination, allowing you to track everything before even going to the airport.
Checking your Air North flight status consists of selecting your flight date and number and then hitting the continue button. If we're being completely honest, it couldn't be easier to check. If you need to check several flight statuses, instead of checking each flight one by one, you could try using another website. For this, we recommend Airportia, since it easily lets you check all flights on a day by day basis. Arrivals and departures will look like this:
If you prefer to check your flight status by phone rather than online, you can call Air North's reservation centre. You can get the Whitehorse office at (867) 668-2228 and ask about the flight status information.
Fares and Ticket Prices On Air North
This Air North Review wouldn't be thorough enough if we didn't talk about the fares and ticket prices like we always do. When it comes to the fares this airline offers, there are three distinct classes in which you can book your flights. These classes are GoYukon, Saver and Optimum, each offering different benefits for different kinds of fliers. You can check them out below to see what each one offers.
GoYukon
This is the flying class that offers the most affordable prices out of all three. If you know exactly when you want to fly and it's very unlikely that you'll change or cancel your flight, this fare is the best choice for you. On the other hand, if you're not sure or you want a schedule that's a little more flexible, then Saver and Optimum are much better options.
Saver
The Saver fare represents the middle ground between GoYukon and Optimum in terms of price. It offers a greater amount of flexibility than GoYukon with only a small difference in cost and it also offers lower change fees if your flight dates ever need to be changed.
Optimum
This fare is the best option when it comes to flight flexibility. It offers the lowest cancellation and change fees while still offering complimentary seat selection. If you know your schedule can change at any minute, then the flexibility this class offers is the best for you.
Flight prices can change drastically depending on where you're actually flying and the class you're flying in. Next up we break down the most common flight routes and how the different fares compare to each other, so you know what you're getting into when booking a flight.
Ticket Price, Flights And Routes
Since Air North has only a handful of destinations we've taken the liberty of categorizing its flights into three different tiers. These will mostly range on the price of tickets and not on the total distance since the longest flights are not necessarily the most expensive.
It's important to note that we've chosen Whitehorse as the main departure point for this example, since it's Air North's main hub and connects them to most of their destinations. This lets us calculate an average price for the most important flights that Air North offers.
Low-Cost Flights
Here's where you'll find the shortest distance flights that Air North has to offer. This section is mostly comprised of the northern destinations but also includes flights to and from Vancouver. On average the prices for a round-trip flight range between these values for each class:

| | | |
| --- | --- | --- |
| GoYukon | Saver | Optimum |
| $340 to $370 | $573 to $600 | N/A |
The flights included in this category are from Whitehorse to Mayo, Dawson City, Yellowknife and Vancouver. You'll find that flying to Vancouver is a little bit more expensive, but nowhere near our medium-cost category.
Medium-Cost Flights
In this category, you'll find most Air North flights out there. It's sort of a mixed bag but the prices and distances are not that far from each other, so it's easy to sort them out in a single category. Here's the average cost per class on a round-trip flight:
| | | |
| --- | --- | --- |
| GoYukon | Saver | Optimum |
| $544 to $551 | $592 to $707 | $772 to $939 |
The flights included in this category are: From Whitehorse to Old Crow, Inuvik, Kelowna, Calgary, Edmonton and Victoria. When we say this category is a mixed bag that's because you'll find some short flights like those from Whitehorse to Old Crow and Inuvik. But you'll also find longer flights from Whitehorse to Kelowna, Calgary, Edmonton and Victoria.
High-Cost Flight
This last category is reserved for the longest flight that Air North offers. Given that this category is only attributed to one flight there's no average like in the previous tables, the prices for each class are:

| | | |
| --- | --- | --- |
| GoYukon | Saver | Optimum |
| $778 | $938 | $1,258 |
This category is reserved for their Whitehorse to Ottawa flight. Being that it's so long it's one of those routes that need a stop before reaching its destination. You'll find that the only stop in this route is in Yellowknife before continuing the 4 hours and 40 minutes flight.
It's important to mention that seniors (60+ years of age) and children (2-11 years of age) receive 10% off of the available fare in select fare classes. Infants (before their second birthday) may travel at no charge if travelling with a paying adult.
Baggage And Fees
Air North is very strict when it comes to their baggage fees. A passenger should ideally only bring two bags into a flight (a carry on bag and a personal items bag) with a combined weight of 10 Kgs or 22 lbs.
For any excess baggage in your possession (more than two bags or a combined weight heavier than 45 Kgs or 100 lbs.), you'll be charged $30 as well as fees depending on your destination. In some cases, you'll be charged from $1.75 to $5.30 per Kg or per 1.20 lbs.
If you're carrying more than four bags or a combined weight heavier than 45 Kgs, your bags will be sent via cargo and they may not travel on the same flight. It's important to know that you can't send your personal bags via cargo, this measure is meant to be a penalization for carrying too many bags.
We're not implying that the cargo service is slow, in reality, Air North offers some great options for cargo if you ever need to use it, take a look:
Air North Cargo And Tiers
This airline offers several ways to send your cargo wherever you go. Depending on the category you choose, it might head to its destination in the next possible flight or simply when there's enough free space. Here are the different categories:
GOLD RUSH PAC (ENVELOPE 0-5LBS)
This is the most cost-effective way to send items under 2.25 kg or 5 lbs. This works by using the Gold Rush Pac envelopes which can hold documents and small objects. These can also be delivered 90 minutes prior to the flight and will be rushed to the destination cargo office.
This service goes for $19.99 + fees and taxes.
GENERAL AIR CARGO
The General Air Cargo service offers economical prices and fast deliveries. This option is the best way to fly your cargo wherever it's needed while still keeping costs relatively low and an acceptable speed in terms of delivery time. It's important to note that Priority Air Cargo and Guaranteed Air Cargo are both faster options than this one.
It starts from $28 + fees and taxes.
PRIORITY AIR CARGO
This cargo service ensures that your cargo gets there as quickly as possible. It's also one of the most affordable choices for the speed it offers when compared to the other options. Priority Air Cargo also includes all of the cargo that would need some kind of special handling. This is also the second-fastest way to send your cargo to where you want it to go, but nowhere near as fast as Guaranteed Air Cargo.
Priority Air Cargo starts from $42 + fees and taxes
GUARANTEED AIR CARGO
This is by far the fastest possible means where your cargo is guaranteed to travel on the next available flight. Guaranteed Air Cargo is available on all of the southern operations between Whitehorse, Vancouver, Kelowna, Calgary, Edmonton and Ottawa. This might be the faster option out of all three, but it's also the most expensive one.
Guaranteed Air Cargo starts from $55 + fees and taxes
No Aeroplan Or AIR MILES?
Sadly, Air North is partnered with neither Aeroplan nor AIR MILES, which are some of the best flight rewards programs at the moment in Canada. This means that even if you are an Aeroplan or an AIR MILES user, there's no way you can use your miles in exchange for tickets or benefits with this airline.
But hey, there's always a silver lining, and that's why we'll leave you some other airlines with which you can take advantage of your miles.
Related: Our top 4 picks for 2020's Best Aeroplan Credit Cards out there.
Canadian North
No one can argue against the fact that Air North rules Yukon and Whitehorse, but what if you travelled a little bit to the east? If during one of your Air North flights you find yourself in Yellowknife a whole new opportunity to spend those Aeroplan miles opens up. You'll find that Canadian North offers some of the best values for your Aeroplan miles.
For example, if you decide to use your Aeroplan miles with Canadian North you'll be able to save at least $600 on a round-trip flight from Yellowknife to Edmonton. Now, if you want to go beyond the Northwest territories and reach Iqaluit, Nunavut you can also do so with Canadian North.
A round-trip flight from Yellowknife to Iqaluit goes around $1,800, but while using Aeroplan you could save at least 80% of that total amount. It's as easy as booking your flight directly on Aeroplan's website.
Air Canada
Air Canada is one of the biggest airlines in the whole country. It's also one of the main partners of the Aeroplan loyalty program. This means that whenever you travel with them you'll be able to save the most out of your flights by using Aeroplan.
Taking Whitehorse – Ottawa as an example, one could be paying at least $778 on Air North. On the other hand with Air Canada, you could be saving most of that money by using your Aeroplan miles.
Most domestic flights in Canada usually end up being rather inexpensive. While using Aeroplan you'll find that they categorize flights in short and long haul classes. As we've described, since most domestic flights in Canada are rather cheap, they end up in the short-haul category. This means that with every airline that supports Aeroplan you can save most of the total ticket price in exchange for your miles.
Related: Air Creebec is a small regional airline that operates in Ontario and Quebec, but it offers one of the best values for Aeroplan miles you can get in Canada.
Besides that, Air North is still one of the most unique airlines in the whole country, and that's because it does things in a unique way. Keep reading our Air North Review to find out what makes this airline special.
Unique Yukon Products
Air North shines as one of the better airlines in Canada since it offers such a unique service. The service offers regional Yukon products you can't get anywhere else. From gourmet coffee to a specialized flight kitchen are some of the services you'll get to delight when flying with Air North. Here are all of the services they offer:
Yukon Brewing
Air North likes to sponsor local products to highlight the best Yukon has to offer. One of those products is Yukon Brewing, creators of an award-winning beer since 1997 which is served in most flights.
Midnight Sun Coffee Roasters
This style of coffee is the choice for Air North's flights. It's a family-owned business in downtown Whitehorse and it has been serving premium coffee for over 15 years. You'll get to experience some delightful coffee on a unique airline.
Yukon, North Of Ordinary (YNoO)
This name refers to a quarterly magazine that features stories about Yukon's people, culture, history and the challenges of life in the north. It's also the official inflight magazine for Air North.
Flight Kitchen
Air North is known for offering some of the best in-flight services. One of the features that stands out the most is Air North's flight kitchen. Here you'll find freshly-made light snacks and meals while on-board. Almost every dish is made daily by the Whitehorse-based flight kitchen led by Chef Michael Bock. The flight kitchen also offers a delivery service if you're in Whitehorse.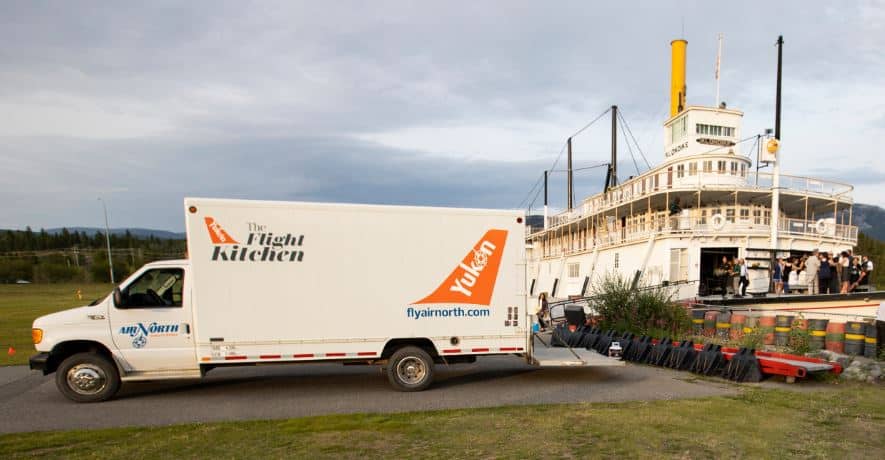 Air North Review: A Great Choice For Travelling In Yukon
When it comes to summarizing Air North benefits there's a lot to say about it. You can find comfort in knowing that you'll be in good hands with an amazing Yukoner service that you won't find anywhere else. Your flights will be supported by quality customer service, great in flight commodities and a top of the line equipment so you won't have to worry about anything else.
This airline is for you if:
Your vacation or business trip involves Yukon, Northwest Territories or British Columbia.
You wish to fly in a high-quality airline.
You're looking for a uniquely Yukoner experience unlike those of regular airlines.
This airline might not be for you if:
You're looking to use your Aeroplan/AIR MILES with most of your flights.
You're not planning to go near Yukon, the Northwest Territories or British Columbia.
You need an airline that can fly you through all of Canada instead of a few regions.
Air North doesn't have many downsides, there's really not much to say about this except for the fact that it doesn't work with Aeroplan or AIR MILES. So if you're really into any of these flight rewards programs, then this could be a dealbreaker for you. Despite this, in general, they offer excellent service.
So, you think you're ready to experience one of the best regional airlines out there in Canada? If so, why not book right now and get a taste out of Yukon?