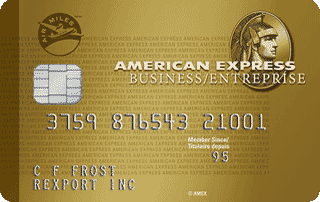 Do you have a startup that's about to take off on a low budget? The no-fee American Express AIR MILES® Gold Business Card could be the perfect option for you! You can get Amex perks for free, while still acquiring benefits for yourself and your newborn business. Add in the fact that you earn air miles on every purchase you or your employees make, and the possibility to redeem those miles for great rewards in the AIR MILES program, and you'll quickly see that this is not just another credit card.
In this post:
Basic Features And Benefits Of The AIR MILES Gold Business Card
No annual fee
Credit Card with an interest rate of 19.99% on purchases and 21.99% on cash advances
Welcome bonus of 150 AIR MILES Reward Miles worth around $20 (after spending $1,000 in the first three months)
Earning rate of 1 mile per every $15 in purchases at AIR MILES sponsors
1 mile per every $20 on all other card purchases
Business solutions like annual or quarterly expense management reports and free supplementary cards for your employees
$100,000 travel accidents insurance
Additional Amex perks
The AIR MILES program touches almost two thirds of Canadian households, making it the biggest loyalty program in Canada. Small business owners can make the most of this program by signing up to the American Express AIR MILES Gold Business Card. You won't have to pay a dime for your card or for any supplementary card for your employees. Even so, you still get a welcome bonus of 150 miles if you charge $1,000 of purchases to it during the first three months. It's not huge, but you're still getting it for nothing, so it's only profit.
The ability to earn miles on any purchase, and to earn miles twice on AIR MILES sponsors also makes it a great way to boost you dream or cash balance and earn rewards faster.
The American Express AIR MILES Gold Business Card's Perks For Small Businesses
The first business benefit is the fact that you can get free supplementary cards for your employees. This was to be expected considering that the basic card is free as well.
As a no-fee credit card, the Amex AIR MILES Gold Business Card doesn't bring many benefits. However, it does include great business expense management tools to keep track of your businesses expenses as well as your employees' expenses. You could use quarterly or annual expenses reports to assess areas where you can cut operational costs, for example.
Finally, you can also get access to cash at any Interlac ATM in Canada, or Amex branded ATMs worldwide. Keep in mind that foreign transaction fees do apply.
Earn More Rewards With Your American Express Gold Business Card And Your Employees' Additional Cards
The Amex AIR MILES Gold Business Card will boost your miles earning potential in two ways
In the first place, you'll earn 1 mile for every $15 in purchases at AIR MILES sponsors, which is more than what most of those same sponsors will give you through the AIR MILES program. Additionally, you'll still ear the miles AIR MILES normally gives you for presenting your Collector card, so you'll be double-dipping on the same purchase.
Secondly, Amex AIR MILES cards also earn miles on purchases other than on AIR MILES sponsors, in this case at 1 mile for every $25, so you'll be earning miles every time you use your card to pay for purchases.
Combine that with extra earnings from every single additional card you give your employees', and you'll be on your way to Onyx status in no time flat.
The Amex AIR MILES Gold Business Card's Coverage
No-annual-fee credit cards like the AIR MILES Gold Business Card don't provide much insurance coverage because you normally have to pay for those. Even so, this card does include and embedded $100,000 travel accident insurance policy, which is great, considering that the card's free.
Apart from this limited travel coverage, all Amex cards also come with the standard purchase coverage composed of the following:
The Purchase Protection Plan, which covers any recently bought items for up to $1,000 in replacement or repair costs
The Buyers Assurance Protection Plan, which doubles the manufacturer's warranty for up to an additional year
And the Fraud Protection Guarantee to protect you against unauthorized use of your card.
Other Perks In The AIR MILES Gold Business Card
The AIR MILES Business Gold includes Amex perks like American Express Invites, which gives you access to great events and experiences. It also comes with Front of The Line, which opens up the possibility to purchase tickets to great concerts and events be it before they are sold to the public or even after they've sold out to everyone else.
Add in American Express' world-class 24/7 service to all its cardmembers, emergency card replacement wherever you are and fraud protection, all free of charge, and you'll soon be running out of excuses not to sign up now. It's a complete winner. You don't risk anything and you get a package of benefits and rewards potential with which you just can't go wrong. If you want a no-fee business card with rewards, this is one good choice.
The Bottom Line With The American Express AIR MILES Business Card
You should consider choosing this credit card if you meet the following criteria:
First, you're a small business owner who uses AIR MILES
You usually carry a balance every month but always pay your minimum on time
You don't want to pay an annual fee
Other Business Cards To Consider
The Amex AIR MILES Business Card
If you use AIR MILES, don't plan to carry a balance on your card every month, and you don't mind paying a $180 annual fee, the AIR MILES Business can be a better choice. It has a great 2,000 miles welcome bonus, it gives you a 55 interest-free period, and it has a good travel insurance package.
The Business Gold Rewards Card
If you're not in love with AIR MILES, you can also consider the Amex Business Gold Rewards Card that is also a credit card. This card's annual fee is a bit higher than the AIR MILES Business, but it also brings more perks and earns MR points which can be more flexible than dream miles or cash miles.
The Marriott Bonvoy™ Business Card
Finally, as our winner in the mid-range fee, we recommend the Marriott Bonvoy™ Business Card. It's also a credit card, it has a lower fee of just $150 but it offers an Annual Free Night award that alone is worth twice that much, making this card a sure win.