The American Express® AIR MILES® Platinum Credit Card is a great tool to increase your AIR MILES balance. The welcome bonus of 2,000 AIR MILES® Bonus Miles is enough to redeem for $200 towards your purchases with AIR MILES®* Cash, far more than the $120 annual fee, making signing up a great investment. The possibility to double-dip and earn miles twice will help you get more return on every purchase, and the card's earn rate of 1 mile for every $5 in purchases in everyday essentials like food, drink and transport, is the best earn rate of any of the AIR MILES' partners.
In addition, more than 80% of the annual fee is covered by the annual travel benefit, and a single 4-day car rental would be more than enough to cover the rest, thanks to its embedded insurance coverage. This, along with all its other benefits, make the Amex AIR MILES Platinum a great choice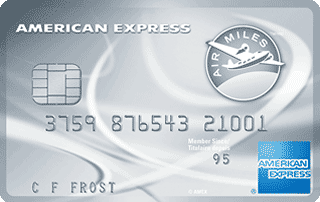 AIR MILES is one of Canada's biggest independent loyalty rewards program and it counts its members by the thousands. With the Amex AIR MILES Platinum Card, you'll not only join the ever-growing number of AIR MILES collectors, but you'll also get an edge by earning miles on any purchase, and even twice on eligible purchases. In this review of the Amex AIR MILES Platinum Card, we'll show you how to make the most of your new Amex card, how to maximize your miles, and how to maximize your return on every mile as well. Keep on reading to learn everything there is to know about the AIR MILES Rewards program and all the benefits that come with the American Express AIR MILES Platinum Card.
To make it easier to navigate, this post is divided into the following 14 sections:
#1 Basic Features And Benefits
Welcome Bonus
2,000 AIR MILES® Bonus Miles when you charge a total of $1,500 in purchases to your Card within your first three months of Cardmembership. That's enough to redeem for $200 towards your purchases with AIR MILES®* Cash

Miles Earn Rate
• Earn 1 Mile for every $5 in Card purchases, up to $30,000 annually, on eligible food & drinks, (such as eligible restaurants, coffee shops and stand-alone grocery stores), and eligible gas & transit (such as local commuter transportation including ridesharing services and taxi) in Canada.

• Earn 1 Mile for every $10 in Card purchases everywhere else.
Annual travel benefit
✔
Insider Access
✔
Front of The Line
✔
Travel and Purchase Coverage
✔
Additional Cards
Up to 9 for free
Type of Card
Credit Card
Applied Interest Rate
• 20.99%
• 21.99% on cash advances
Annual Fee
$120
#2 Pros & Cons Of The Amex AIR MILES Platinum Card
PROS
CONS
• A welcome bonus of 2,000 AIR MILES® Bonus Miles
• Excellent earn rate on everyday purchases
• Earn AIR MILES Bonus Miles twice on eligible purchases
• Includes insurance coverage even though it has a low annual fee
• Doesn't give you a great overall return on purchases. Other Amex cards can give you more
• $750 cap on daily redeemable Cash miles (in-store or online)
• $30,000 Cap on the 1:5 earn rate
• Not too many travel perks
#3 Amex AIR MILES Platinum Benefit #1: The Welcome Bonus
The Amex Platinum AIR MILES card brings in a whopping welcome bonus of 2,000 AIR MILES® Bonus Miles.
As you'll see in the section on how to use your miles, these miles are enough to redeem for $200 towards your purchases with AIR MILES®* Cash.
If you're not keen on scouting around for good deals on flights, the welcome bonus alone is enough for a new Nespresso machine.
If you're not into this kind of home appliances or if you don't like what AIR MILES has to offer in terms of merchandise, you can always trade your Bonus Miles in for $200 worth of cash discounts on purchases at any AIR MILES partner. Since AIR MILES counts its partners by the hundreds, it'll be very easy for you to find a way to use your miles on something you really need or like.
$200 worth of miles for just $120? That's what I call return on investment.
Bonus: Get up to 20% off all merchandise and up to 40% off all flights with AIR MILES Onyx.
#4 Amex AIR MILES Platinum Benefit #2: Miles Earn Rate
Before diving into the Amex AIR MILES Platinum's earning rate, there's something I need to explain first:
A Different Way To Express Earning Rates
Earning rates in the AIR MILES Rewards program are expressed a bit differently from other programs. Instead of miles per every $1, they are expressed as the amount you have to spend on purchases to earn each mile. The reason is simple: These earning rates are a lot lower than for other rewards programs because AIR MILES Rewards miles are worth much more than all the other reward points. This makes Air Miles earning rates per every $1 be only small fractions of a mile, which is not a convenient way to express them.
To compare earning rates when expressed like this, you have to consider that the lower the number, the better the earning rate. If the amount of dollars is four times greater, the earning rate is four times lower.
Let me show you what I mean with the following example of a $140 purchase at different earning rates:
| | | |
| --- | --- | --- |
| Earning Rate | Total Purchase | Miles Earned |
| $35 per 1 mile | $140 | $140 x 1mile / $35 = 4 miles |
| $20 per 1 mile | $140 | $140 x 1mile / $20 = 7 miles |
| $15 per 1 mile | $140 | $140 x 1mile / $15 = 9.33 miles |
| $10 per 1 mile | $140 | $140 x 1mile / $10 = 14 miles |
| $5 per 1 mile | $140 | $140 x 1mile / $5 = 28 miles |
Comparing the first and last earn rates will clearly show what I just said: $5 per mile is seven times lower than $35, but you earn 28 miles, which is seven times greater than 4 miles.
This has some other setbacks apart from this unintuitive way to interpret the earning rate. The biggest problem is that you can't add these earning rates when you earn more than one rate on the same purchase(something you can actually do with your Amex AIR MILES Platinum), but we'll get back to that further down the post.
And now, The AIR MILES Platinum Credit Card's Earn Rates
A great perk with the AIR MILES Platinum Card is its excellent earn rates:
You'll get 1 mile for every $5 on food & drink and on gas & transit
This includes purchases in things like:
Restaurants, coffee shops and stand-alone grocery stores
Stand-alone gasoline stations in Canada
Local commuter transportation including ridesharing services and taxis.
This makes it very easy to get the best earning rate on common everyday expenses. For example, on a $60 super at a restaurant you would earn 12 air miles, which are worth at least $1.26 (a 2.1% return on your purchase)
The Cap On The 1:5 Earn Rate
One thing to look out for is that this earn rate is capped at $30,000 in purchases. Therefore, the maximum earning potential of this card at its top rate is 6,000 air miles, or $630.
1 mile for every $10 on all other purchases
This earn rate applies to any purchase outside the categories mentioned above, and it also applies to all purchases after you've capped out the 1:5 earn rate. In this case, a purchase of same $60 will get you only 6 miles.
Now, you may be wondering:
Are these good Earning Rates, or a bad ones?
Since they are expressed differently from the earning rates on other cards such as the Platinum, the Cobalt, or the Marriott BonvoyTM Amex cards, it's a bit hard to compare these earning rates straight up. The answer to this problem is simple though: we just have to know how much the miles are really saving you on your purchase.
Suppose you made a $100 purchase at the 1 mile per $5 rate. That means you'll receive 20 miles for your purchase. Valuated at an average of 10 cents per mile (we'll explain why further down the post), those 20 miles are worth $2.
If you made the same $100 purchase at the 1 mile per $10 rate, you would earn 10 miles, which are worth $1.
So, basically, the most your AIR MILES Platinum Card is really giving you back is $2 on a $100 purchase, in other words, 2% back. To put things in perspective, that's the same earn rate on the Amex SimplyCash Preferred Card, If you compare it with the Amex Platinum Card, it looks even worse. In its defense, however, 2% is still better than 0%, and this card has other benefits that help make it a good choice.
#5 Amex AIR MILES Platinum Benefit #3: The Annual Travel Redemption
This is a great long term benefit that will help offset the annual fee in the long run. Once per calendar year, when an eligible Cardmember uses Dream Miles with the AIR MILES Reward Program to book their first single flight or package vacation through the AIR MILES site or through their Vacations Site, they can get Bonus Miles equivalent to 25% of the net number of Miles used.
This benefit, of course, isn't unlimited, and it's capped at the first 750 bonus mile. You'll be getting the most out of this benefit as long as you book travel or vacations worth at least 2,000 miles (not something hard to do). Any less, and you'll be getting less than the maximum 750 miles.
#6 Free Additional Amex AIR MILES Platinum Cards
An easy way to quickly build up you AIR MILES balance, is to get help from your closest friends or family members. You can share your credit with your loved ones easily by giving them a supplementary additional card.
With the Amex AIR MILES Platinum Card, you can get up to 9 additional cards, for FREE! You won't pay a dime, and your loved ones will always have your purchasing power at hand, whenever they need it, even if you're far away. This makes earning miles a lot faster than it used to be!
#7 Two Other Special AIR MILES Platinum Benefits
Special Benefit #1: Insider AccessTM
Insider AccessTM is about seeing your favorite artists LIVE, for FREE!
A couple of times every year, Amex opens up a contest for American Express AIR MILES Cardmembers (sporting either the Amex AIR MILES, AIR MILES Platinum or AIR MILES Reserve Cards) so they get a chance to win free tickets to their favorite shows.
In some cases, you need to answer some skill-testing questions to enter the contest. You can also participate and enter more than once (usually limited to one entry per day) to increase your chances of winning.
To give you an idea of just how great the prizes are, the most recent contest was for two tickets to see Jennifer Lopez's "It's My Party" world tour in Canada. Last year, it was Shania Twain and Bon Jovi
To keep an eye out for the latest contest, just go to http://amexinsideraccess.ca to find out which event is coming up.
Special Benefit #2: Front Of The Line
Front of the line gives you access to many benefits regarding some of the most sought after concerts and special events. These benefits include
Getting advanced tickets before they are sold to the general public and
Access to reserved tickets so that you'll always have an extra chance to buy them, even if they run out for everyone else.
Additionally, you get other perks as well on special venues and locations like at the Budwiser Stage where you can get in through a special priority line, and enjoy the show at the Amex lounge.
#8 A Closer Look At The AIR MILES Rewards Program
The AIR MILES Rewards program, as you may have imagined, is a loyalty program. However, there's a clear difference between this loyalty program and others we've covered before such as Aeroplan, Membership Rewards and the Marriott BonvoyTM program. In those cases, the company that runs the program offers its products and services to loyal clients directly, and rewards them for their purchases. They also have a set of secondary partners who reward their customers under the same loyalty program.
A Different Sort Of Loyalty Program
The first difference is that the AIR MILES Rewards program is an independent loyalty program, in the sense that it's not tied to a particular brand or merchant. AIR MILES is owned and run by LoyaltyOne Inc., a company that provides loyalty solutions to other companies in a B2B (business-to-business) model. They offer Canadian companies a platform on which to build their loyalty program under the same banner. It's actually the partner companies who offer you reward miles, through LoyaltyOne Inc., for your purchases. This basically translates into two things:
Each partner merchant has its own rewarding scheme, depending on the terms in which it signed up with LoyaltyOne.
There are literally hundreds to thousands of merchants in Canada where you can shop and earn AIR MILES Rewards miles.
There are also hundreds of different ways to redeem your miles.
AIR MILES members are called Collectors, and when you sign up, you receive an AIR MILES Card, reminiscent of the Aeroplan Card you get when signing up to that loyalty program. Just like in the latter case, you show this card at eligible merchants to earn points on purchases, and you use this card to pay for eligible purchases with your miles (Note: Read below to learn how to use your miles).
#9 How To Earn Air Miles
There are plenty of ways for collectors to earn miles within the AIR MILES program. As a loyalty program, the first one is obvious: shopping at partner brands. However, the list doesn't stop there, and you'll see that the AIR MILES program has a lot more to offer. Of course, if you add in a brand new American Express AIR MILES Platinum Credit Card, you'll multiply your options and increase your rewards.
Shopping at Partner Brands
As stated above, you can buy at any of AIR MILES Rewards' partners and receive points for your purchases. This includes both in-store and online purchases. To earn your miles, all you have to do is present your collector's card and you're set.
In the following tables, you'll find the complete list of all of AIR MILES Reward's partners, along with each merchant's miles offer.
AIR MILES In-Store Partners
AIR MILES Online Partners
When comparing the different earning rates in the tables, it's clear that you'll get the best deals with hotels stays and purchases. The absolute best earning rate is 1 mile for every $5 at any of the InterContinental Hotels Group properties. The worst-case scenario would be ADI, where you'll need to spend $50 to earn a single mile.
In the case of online stores and retailers, most offer a rate of $20 in purchases for every mile, but a few fetch a higher price of $35.
Double-Dipping: Earn AIR MILES Rewards Miles Twice With Your Amex AIR MILES Platinum Card
How does this work? It's beyond easy! As a collector (read AIR MILES Rewards member), you're entitled to earn miles on every purchase at partner brands, as we just showed you. But as an American Express AIR MILES Platinum cardholder, you'll also get 1 mile for every $5 of the same purchase, no matter how much that merchant awards. This is because, in the second case, it's Amex that's rewarding you for your card purchase, not the merchant.
Put two and two together, and you're earning miles twice when you show your AIR MILES Card AND you pay with your Amex AIR MILES Platinum.
Finding out how this adds up isn't that hard, but, reader beware, it's not as simple as adding earning rates like you may intuit. Remember that earning rates in the AIR MILES program are expressed differently from the other cases!
Let's look at a simple example so that you'll learn to work out your own numbers:
Buying a $600 laptop at Amazon.ca
Ok, so Amazon.ca is in the list of AIR MILES sponsors. This means that by paying for your laptop with your Amex AIR MILES Platinum Card, you'll earn miles twice. But at what rate?
Reviewing past sections of this post, you'll get 1 miler for every $10 thanks to your Amex card + 1 mile for every $20 awarded by Amazon.ca, through the AIR MILES program.
The first mistake you might be tempted to make is to assume that this adds up to a rate of $30 for every mile, but it doesn't work that way. Remember that the higher the number, the worse the rate, so $30 to earn a mile is actually worse than any of the two original cases.
One way to work it out is to figure out how many miles you get with each rate, and THEN add the miles:
| | |
| --- | --- |
| Purchase Value: | $600 |
| Miles earned with your card purchase: | $600 x 1mil/$10 = 60 miles |
| Miles earned for the sponsor purchase: | $600 x 1mil/$20 = 30 miles |
| TOTAL: | 90 miles |
There is an alternate way to work out a sort of average earning rate, but this method is by far easier to understand. The bottom line, though, is that the Amex AIR MILES Platinum Card can help you get a lot more for every buck, compared to regular collectors.
Earn Miles On Any Purchase With An Amex AIR MILES Card
Nothing new here. With any one of American Express' different AIR MILES credit cards (not just with the Platinum), you'll earn miles on any purchase. There's always a preferential rate for buying at AIR MILES sponsors and other eligible purchases, and a lower rate for all other purchases.
However, the bottom line is simple enough: every time you use your card, you'll earn miles!
Special Rewards: Booking Hotel Stays Through AIR MILES Travel Hub
As a special offer, if you book and pay for hotels through AIR MILES' online travel booking system, Travel Hub, you could earn as much as 1,000 Miles per night, depending on the property. Additionally, if you book any hotel before the end of 2019, you'll also receive an extra, one-time 75 miles bonus.
With this method, you could get some seriously high earning rates. If you book a room at the Boston Park Plaza, for example, paying the $190 would get you, at the normal rate of $5 to a mile: $190 x 1mile/$5 = 38 miles.
However, if you book through travel hub, you'll receive 440 miles per night.
That's over ten times what you would get, just for booking through their travel service!
By the way, if you pay with your American Express AIR MILES Platinum Card, you'll also get an extra 19 miles, which doesn't hurt at all!
Way to go AIR MILES Rewards, and way to go Amex!
Buying AIR MILES Rewards Miles
Picture this scenario:
You want to use the miles you've been earning on a dream vacation in a beautiful resort, but you're short by some miles. AIR MILES doesn't offer split cash/miles redemptions, so you only have two options:
Either you pay the full price in cash, or,
You have to get those extra miles somehow.
There's one other way to get miles for cases just like this one: You can buy them.
As a last resort, since AIR MILES allows collectors to transfer miles between each other, you could always ask your best friend to give you a hand.
#10 How To Use Your Miles
Here I'll highlight another oddity of AIR MILES Rewards: you don't have one, but actually two AIR MILES balances, depending on how you want to redeem them.
Two Redemption Methods, Two AIR MILES Balances: Cash Rewards And Dream Rewards
As I said, there are two ways to redeem miles. One is for discounts on direct in-store or online purchases at partner brands, and the other is the more familiar set of rewards you can choose from in the AIR MILES site.
The air miles you earn are automatically split between two balances: your Cash Balance, and your Dream Balance. Miles that go to your cash balance are called Cash Miles, whereas the ones that go to your dream balance are called Dream Miles. When you sign up to AIR MILES, and at any time in the future, you can choose what portion of the miles that you earn you want to go to each of the two balances (in 10% increments), but make note that, once in one balance, miles can't be transferred to the other.
Cash Balance for Cash Rewards
You use your cash miles to pay for Cash Rewards. As I just mentioned, those Cash Rewards get you discounts at AIR MILES sponsors, either in physical stores or online.
The way it works for in-store purchases is by presenting your Collector's Card or number at checkout, and letting the cashier know that you want to pay with Cash Miles. You have to pay a minimum of $10 in cash (before taxes) and then you can choose how much of a discount you want, in $10 increments.
You trade in 95 air miles for every $10 in discounts. There's a cap on this redemption method, and you can only reach a maximum of $750 in accumulated discounts each day.
In Canada, cash rewards are an especially versatile redemption method, because, as you saw above, there are literally hundreds of partners at which you can spend your miles. Additionally, it's the easiest possible way to use your miles, since all you have to do is give your card and choose how many miles you want to trade in. It's kind of like having $10 coupons redeemable for any purchase whatsoever.
Online redemptions are a bit different, as you have to log into your AIR MILES profile and order $10 virtual coupons or e-Vouchers, which you then use at participating online stores.
Dream Rewards
Dream Rewards are the more traditional way to use miles. They work like any other loyalty rewards redemption you've come across in the past, in the sense that you pay the whole price of different rewards exclusively with your miles, and you choose those rewards by logging into your collector's account in the AIR MILES website.
There are four Dream Rewards redemption categories:
Merchandise
Events and attractions
Stage Passes
Travel
You can choose hundreds to thousands of different redemptions from within these categories. Anything from a new microwave oven and that concert you've been dreaming of since you heard it was coming, to flights around the world and stays at 5-star hotels.
Some of these categories offer better value than others, but it's sure great to have options.
AIR MILES has 15 partner airlines with which you can redeem your miles for flights. These partners are:
Westjet
Air Canada
Porter Airlines
Delta Airlilnes
KLM
AIRFRANCE
Alitalia
Air New Zealand
PAL Airlines
American Airlines
British Airways
Iberia
Canadian North
CalmAir
Central Mountain Air
It also partnered with five of the best hotel chains in the world, giving you access to literally thousands and thousands of dream hotels around the world. AIR MILES' hotel partners include:
Best Western Hotels & Resorts
Hilton Honors
InterContinental Hotels Group (IHG)
Marriott Hotels, Resorts & Suites
Starwood Hotels & Resorts
#11 How Much Are My AIR MILES Worth
As usual, miles value depends on how you redeem them. With AIR MILES Rewards Miles, there's also the issue of two different kinds of miles, but since you can choose to which balance you want your miles to go, we'll consider them as equal.
Let's look at some examples and numbers to see the best way to spend your miles:
Cash Miles' Value
This is the easiest to assess value of any loyalty rewards points. There's only one redemption value for cash miles: You trade in 95 miles for a $10 cash discount coupon.
This translates to a value of:
$10 / 95 miles = $0.105 or 10.5 cents for each mile.
As you can see, air miles are worth close to 10 times more than other loyalty points like the Marriott BonvoyTM points, for example, which are worth close to 1 cent per point.
Dream Miles' Value
Here, we'll analyze each individual Dream category separately, much like we did before with the Aeroplan miles:
Merchandise Dream Rewards:
In the merchandise category, you can choose from electronics, home, kitchen and cooking, garden, kids and many more sub-categories where you'll find all sorts of products to meet your every whim.
You can buy a $1.250 cell phone for an average 20,000 miles or a $1,500 4K 65" TV for around 22,000 miles.
At this rate, each Mile is worth about 7 cents, or $0.07. That's not a great value considering that you can get over 10 cents from cash miles, which are easier to redeem and offer even more flexibility.
Events, Attractions, and Stage Passes:
You can use your dream miles to purchase tickets for major events, concerts and different attractions. In this category you could redeem about 1,800 miles for a pair of tickets to a concert that are worth close to $200. In some cases, the reward even includes other perks like beverages, or complimentary valet parking and the like, which further increases the value you get for each mile.
Things start looking up, as with this kind of redemption you could easily get 10 to 12 cents per mile.
Using Your Miles For Flights
When redeeming your dream miles for flights, you'll be spending a minimum of 1,200 miles and a maximum of 20,000. The 1,200 miles minimum is for flights within your own state or province during the low season, traveling in economy class. Of course, you have to choose a carrier from within the airline partners list.
Let's look at a couple of typical case-studies:
Visiting Relatives In The Same Province: Flying from Toronto to Ottawa:
Looking at the AIR MILES redemption chart, you'll see that this trip will cost you a minimum of 1,200 miles during the low season. The least this trip will cost, according to Google flights, is $230 for the round trip, or $115 for the one-way fare, flying with Porter Airlines, one of AIR MILES partners, as you can see in the image below:
With a price tag of $115 per trip, the 1,200 miles reach an average value of j 9.6 cents each.
Going Far Away: Flying from Ontario to Sydney, Australia
A good example of a big flight is going from Toronto to Sydney. During the High season (December 21st), this flight will cost you 19,000 dream miles. The lowest fare, according to Google flights, is $1,833, giving you a value, again, of just over 9.6 cents per mile.
Booking Hotel Stays With Dream Miles:
Not only are hotel stays and purchases the best category to earn miles, but they're also a good place to spend them. On most cases, you'll find deals that'll get you around 9 or 10 cents per mile, but on some other deals, you'll do a lot better. One example is a night at the InterContinental Residence Suites in Dubai, where you have to pay 955 miles + $40 in taxes and fees for a 1-night stay in mid-September, in a standard Deluxe room, as you can see in the image below.

If you were to book it in cash, the same room on the same date would cost $151, taxes and fees included. That means your 955 miles are saving you $111 and thus, are worth almost 12 cents a piece.
The Bottom Line On Air Miles Value:
Now that we've seen all the redemption categories and the value you can get out of every mile in each case, here's some easy to follow advice on how to get the most out of every mile:
It's better to use your miles for cash rewards because it's were you'll get a good and consistent value
If you prefer dream rewards, than spend your dream miles only on hotel stays or on special events. It's where you'll get the best value.
Even if you follow the previous advice, do the math every time you plan to redeem your miles and make sure you're getting a good deal.
Just because AIR MILES's site says something is a great once-in-a-lifetime deal or opportunity doesn't mean that it is. Always do the math first like I showed you here.
In any case, as you just saw, the value of each miles will go from about 6 to 12 cents ($0.06 to $0.12/mile). However, the best estimate we can make, the one that will always hit the bullseye, is the Cash miles value of 10.5 cents or $0.105 per mile.
#12 The AIR MILES Platinum Card's Insurance Coverage
Even though the AIR MILES Platinum fee is small, that doesn't mean it won't bring travel and purchase coverage. However, don't be mislead by the name of the card, because its coverage is nothing like the Amex Platinum Insurance. The following table shows the coverage you'll get when you sign up to the AIR MILES Platinum Credit Card.
| | | |
| --- | --- | --- |
| Policy | Description | Coverage |
| Car Rental Theft and Damage Insurance | Used to waive the rental company's own daily car insurance policy | Car rental with a maximum MSRP of $85,000 |
| $100,000 Travel Accident Insurance | AD&D policy to protect you against accidents while in transit | $100,000 |
Of the two policies, the most valuable is hands down the Car Rental Theft and Damage policy, because you can use it to save yourself the rental company's policy every time you rent a car. That policy can run for about $16 to $23 per day!
The only condition is that you charge everything to your Amex AIR MILES Platinum Card, as usual.
Apart from these travel insurance policies, the Amex AIR MILES Platinum also comes with the standard Amex purchase coverage:
| | | |
| --- | --- | --- |
| Policy | Description | Coverage |
| Purchase Protection® Plan | Insures your purchases against accidental physical damage and theft for 90 days after purchase | $1,000 |
| Buyer's Assurance® Protection Plan | Doubles the manufacturer's warranty for up to 1 extra year | $1,000 |
It's nice to know that Amex always has your back, even with its ower end cards.
#13 Is The AIR MILES Platinum Credit Card Worth The Annual Fee?
As it happens with all Amex cards, the first year is an absolute no-brainer, as usual. For starters, the fee isn't that high at just $120, so it doesn't take much to outweigh it. The welcome bonus alone is worth far more than that, so you don't even have to think about it before signing up for the first time.
Keeping it after the bonus runs out is another matter. It all comes down to your lifestyle. Every American Express rewards card, like this one, is a clear deal if you use it frequently to pay for your purchases. However, even if you don't use them every day for whatever reason, some cards also offer great value just for keeping them in your pocket.
Let's look at how the Amex AIR MILES Card performs on both fronts:
Turning The Tide For The Long Haul
There will always be a turning point in which the card's return on your purchases surpasses the annual fee. After you reach that amount, every other dollar you spend will only bring you profit. We'll show you a very conservative estimate of the minimum amount in purchases you have to charge to your American Express AIR MILES Platinum Card every year, in order to recover the $120 annual fee.
First, we need to know how many miles you must earn to cover the $120 fee. To keep numbers simple, we'll round up each miles value to 10 cents or $0.10. Let's get started:
To get a value of $120 in miles, you need:
$120 / $0.10 per mile = 1,200 miles
Estimating An Average Earning Rate
In order to convert these 650 miles into purchases, we need to know what your average-earning rate throughout the year will be. To calculate this average, we'll assume that you split your spending half-and-half between both of the earning rates, which is a fair assumption.
We'll start by assuming a $100 purchase split evenly on both earning rates. That means $50 @ $5 per mile + $50 @ $10 per mile
The total amount of miles you'll earn in this case will be:
($50 x 1mile / $5) + ($50 x 1mile / $10) = 15 miles for the entire $100 purchase
Therefore, your Average Earning Rate will be:
$100 / 15 miles = $6.67 for each mile
The Break-Even Point
With the average earning rate, it's easy to find how much you have to spend to earn 1,200 miles, and so, the needed $120:
1,200 miles x $6.67 /1 mile = $8,000 in purchases
THE BOTTOM LINE: For the Amex AIR MILES Platinum Card, the break-even point sits at $8,000 in purchases.
You can definitely get a better value than $0.10 per mile (as we explained before), and you could probably reach more than 50% spending at the best rate. Therefore, it's highly probable that you'll need less than the estimated $8,000 in purchases. Either way, it won't be a meager sum, and you'll get a lot more benefits and return if you charge those same purchases to other Amex cards, like Canada's best every-day spending card, the Cobalt Credit Card. So regarding card use, the Amex AIR MILES Platinum is probably not your best choice.
What About The Other Long-Term Benefits?
Ok, so getting your annual fee back just for using your card is doable, but it isn't easy. However, this card comes with other benefits that may give you a head start or even get you past the finishing line. Of all the benefits that this card offers for $120 a year, the one that has the most potential value is, without a doubt, the annual travel redemption, which is worth 750 miles, or around $75, leaving short only by $45.
After this benefit, the runner up in terms of potential value is the Car Rental Insurance policy.
Since damage or theft policies for an $85,000 car rental can go for as high as $23/day (with an average of roughly $20/day), the American Express AIR MILES Platinum Card can help you save more than the missing $45 in a single 2 or 3-day car rental. Add in Travel Accident and Purchase Protection insurance, Front of the Line, Insider Access and everything else, and you'll easily be in green numbers.
Summarizing this section, the Amex Platinum AIR MILES Card is a great choice for the first year, as are all Amex Cards. It will keep on being a good choice after that, so long as you either charge more than $8,000 in purchases to it, or use it to pay for four or more days of car rentals during each year.
#14 FAQs
How Do I Protect My Cash Balance Against Unauthorized Use?
All you have to do is log into your AIR MILES profile and lock your cash account. That way no one will be able to use your cash miles (not even you) until you unlock them. If you download the AIR MILES app, you'll be able to lock/unlock your Cash Balance anywhere, anytime. Consequently, you can keep your account locked all the time, and only unlock it once you're at the cashier.
If My Account Is Locked, Will I Still Earn Miles?
Yes, you will. Locking your account only stops cash miles from going out of your account, but it doesn't stop them from going in. You can keep your account locked all the time and only unlock it when you're about to pay with your miles.