"Worldwide lounge access, a $200 annual travel credit, platinum hotel memberships, extra insurance, a metal card and I get 50,000 points on top of all that? Are you serious???"
That was my reaction when a friend first told me about the American Express Platinum Card for Canadia
Needless to say, I was more than a little intrigued…
And now that it's been over 4 years since I've had my own Platinum Card, I can't tout it highly enough.
Are you ready to learn why?
This American Express Platinum review is broken down into 10 sections.
#1 The Basics & Benefits
| | |
| --- | --- |
| Welcome Bonus Points | 50,000 |
| Additional Bonus after 6 months | 10,000 |
| Points Earned Per $1 Spent On Dining | 3 |
| Points Earned Per $1 Spent On Travel | 2 |
| Points Earned Per $1 Spent On All Other Card Purchases | 1 |
| Companion Tickets | ✔ |
| Fine Hotels & Resorts Exclusive Benefits | ✔ |
| Hotel Elite Statuses | ✔ |
| Amex Platinum Concierge | ✔ |
| American Express Invites | ✔ |
| Comprehensive Travel Insurance | ✔ |
| Annual Fee | $699 |
The card also comes with additional American Express benefits that come with all of their cards. These include Front Of The Line, which offers cardholders advanced access/tickets to concerts, sporting events and shows across Canada.
#2 Three More Special Amex Platinum Canada Benefits
Special Benefit #1: Worldwide Airport Lounge Access
On top of the 50,000 Membership Rewards points that come with your Platinum Card (plus the 10,000 more you can receive after 6 months of Cardmembership), you also receive a Priority Pass Prestige membership, which holds a value of $429 USD per year. Your Priority Pass membership gets you into more than 1,200 airport lounges around the world without paying a dime. All of the lounges have free food (some offer full meals, while others have an array of snacks), drinks (many, though not all, offer alcoholic drinks as well), and many include additional amenities like nap rooms, showers, libraries, printing, and games rooms.
My Priority Pass is definitely the American Express Platinum benefit that I use the most, and it's completely changed the way that I travel. I seriously can't imagine flying anywhere without stopping in the lounge first now.
Where can you use your Canadian Platinum lounge benefit in Canada? How about the 24-hour SkyTeam Lounge in Vancouver (YVR)?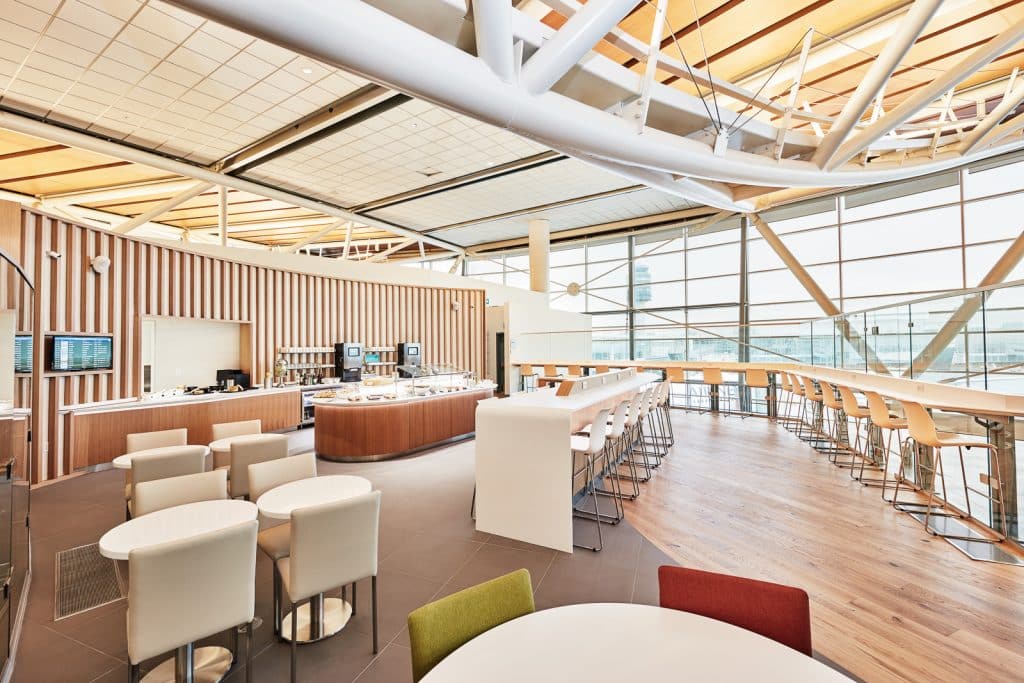 Or the National Bank Lounge in Montreal (YUL)?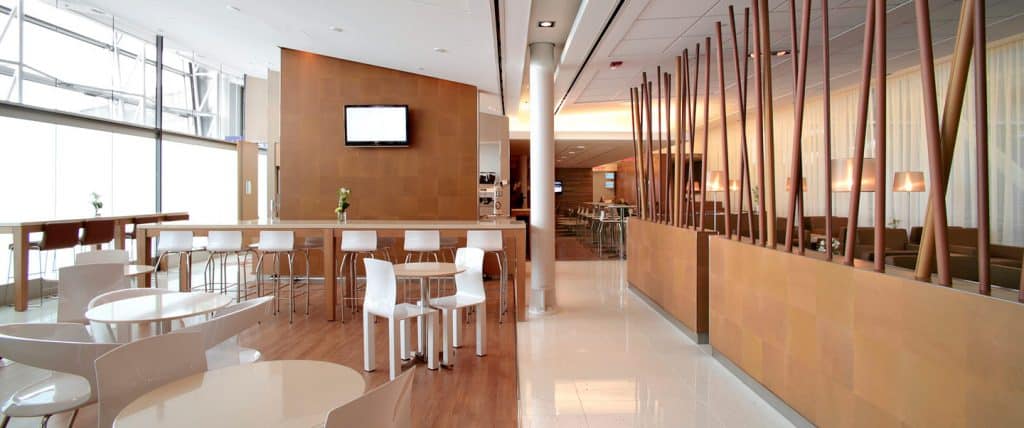 Toronto (YYZ) has a whopping seven Priority Pass lounges—and you'll be able to access all of them for free.
You're stepping up your travel game already.
Special Benefit #2: $200 Annual Travel Credit
This is exactly what it sounds like: $200 for you to use on travel, every single year. In the past 3 years alone, I've used my $200 travel credit on a flight to Asia, a flight to South America, and a flight to Europe.
The Amex Platinum Card comes with a $200 annual travel credit you can use anywhere in the world!
Pro Tip: Use your $200 annual travel credit on the first hotel or flight booking you make with your Platinum Card. You don't want to forget to use it!
Special Benefit #3: Hotel Elite Statuses
Your Amex Platinum also upgrades your statuses with a handful of hotel chains. This means you get special benefits: exclusive discounts, early check-in and late check-out, complimentary breakfasts and more.
These are the sort of status upgrades you can expect with your Amex Platinum Card:
Hilton Honors Gold Status
Shangri-La Golden Circle Jade Membership
Radisson RewardsTM Gold Status
#3 How To Turn 50,000 Points Into 65,000 Points
The 50,000 welcome bonus points that come with the American Express Platinum are great, but if you know what you're doing, you can actually turn them into 65,000 pretty simply.
How? At least once per year, American Express offers a 30% transfer bonus when you transfer your points to a program like British Airways Avios or Aeroplan. Just by transferring your points smartly, 50,000 Membership Rewards points all of a sudden become 65,000 Avios points.
You just gained another 15,000 points—worth at least $300 if you use them at a value of 2 cents per point or above—just for being in the loop.
Here are 3 realistic scenarios of the value you can achieve with the Amex Platinum:
| | | | |
| --- | --- | --- | --- |
| | Very Easy | Very Easy | Moderate Difficulty |
| Redemption Type | Cash (against statement balance) | Flights | Flights with creativity |
| Redemption Value Per Point | 1 cent | 2 cents | 3 cents |
| Total Value Of 65,000 Points | $650 | $1,300 | $1,950 |
| Less: Annual Fee | ($699) | ($699) | ($699) |
| Plus: $200 Annual Travel Credit | $200 | $200 | $200 |
| Profit From Points | -$50 | $600 | $1,250 |
| Additional Benefits | Yes | Yes | Yes |
Most of you will find yourselves in columns 2 or 3 in the $801-$1,451 profit range, since you can just read our other blog posts like how to get cheap flights to Asia and how to get cheap flights to Europe to find tons of flights that get you 2-3 cents per point of value.
But if you're ambitious and want to push your points even further, it's completely possible to surpass what's listed above with a value of 3 cents per point or more. Just send us an emailand we'll help you sift through your options to ensure you get a great bang for your buck.
#4 How To Use Your 65,000 Points
Case Study #1: Visiting Asia
Suppose you want to take a trip to Hong Kong to visit family or friends. The Amex Platinum is your perfect companion, since one of the easiest, best ways to use your 65,000 Avios points is on direct flights to Hong Kong with Cathay Pacific.
Since Cathay Pacific is a premium airline, these flights normally cost at least $1,000 from Vancouver, and even more from Toronto. You won't be paying anywhere close to that.
Roundtrip flights from Vancouver to Hong Kong cost just 60,000 Avios points + $90 in taxes and fees. Roundtrip flights from Toronto to Hong Kong cost 70,000 Avios points + $100, though you can pay a little bit more in cash (~$50) and drop the points down to 65,000 if you want.
Of course, Hong Kong isn't your only option. Tokyo is a bit closer than Hong Kong, so flights between Vancouver and Tokyo are just 50,000 points.
Are you getting excited yet?
Case Study #2: Going Round-The-World
Let's suppose you want to go around the world using your Platinum card.
No problem.
If you're in Vancouver, you can fly from Vancouver to Hong Kong to Dubai to London to Vancouver (or the opposite direction) for 74,700 points + $742 in taxes and fees.
Yes, 74,700 is a bit more than 65,000, but don't worry—you'll earn the extra 10,000 points (and more!) after a few months of using the card.
Toronto works just the same.
Flying from Toronto to Hong Kong to Dubai to London to Toronto (or the opposite direction) costs just 74,500 points + $761 in taxes and fees.
Did you ever imagine you could fly around the world for $750?
That's the power of the Platinum Card.
| | | |
| --- | --- | --- |
| Route | Points Needed | Taxes & Fees |
| Roundtrip: Toronto to Hong Kong | 70,000 | $100 |
| Roundtrip: Vancouver to Hong Kong | 60,000 | $90 |
| Round-the-world: Toronto to Hong Kong to Dubai to London to Toronto | 74,500 | $761 |
| Round-the-world: Vancouver to Hong Kong to Dubai to London to Vancouver | 74,700 | $742 |
These round-the-world trips offer a value of well over 4 cents per point, meaning the $699 fee you paid just saved you several thousand dollars on flights.
#5 Is The Amex Platinum Canada Worth The $699 Annual Fee?
Absolutely.
Here's the magic in the $699 annual fee: it's impossible not to make money by having this card, even after paying the fee.
Huh? Sounds confusing, right?
Here's how it works.
If you use your 50,000 points in the worst way possible, they're worth $700 to you. Why? Because American Express allows you to apply your points against your statement balance at a value of one cent per point, which means 50,000 points = $500. Add in your $200 travel credit for 2019 and you're at $700.
It's impossible not to make money with the Amex Platinum Card.
And that's not even considering the other benefits you get from the card. The travel/emergency/baggage insurance and additional purchase insurance (for theft/damage of your items), the worldwide airport lounge access, the premium hotel memberships, and everything else you see here are all just cherries on top.
So even if you use your points in the worst way you could—by applying them to your statement balance as a cash equivalent—you still come out way, way ahead.
But if you use them in the ways we've suggested in sections #3 and #4 above, you can reasonably expect to save $800 or more after accounting for the annual fee.
#6 Travel Insurance
The Platinum Card also comes with an impressive travel insurance policy. Here's what it includes:
| | | |
| --- | --- | --- |
| Benefit | Description | Coverage Limit |
| Travel Accident Insurance | You, your spouse and your children are covered in the case of accidental death or dismemberment while traveling | $500,000 |
| Car Rental Theft and Damage Insurance | Damage or theft of your rental car | $85,000 |
| Flight Delay Insurance | Hotel, motel, restaurant expenses and other sundry items when your flight is delayed | $500 |
| Baggage Delay Insurance | Reasonable and necessary emergency purchases when your baggage is delayed | $500 |
| Lost or Stolen Baggage Insurance | Loss or damage to your luggage or personal effects while in transit. | $500 |
| Hotel/Motel Burglary Insurance | Loss of most personal items if your hotel/ motel is burglarized. | $500 |
| Travel Emergency Assistance | Medical & legal referrals by phone 24/7 | N/A |
Every American Express card also comes with two other insurance benefits:
Buyer's Assurance Protection Plan doubles the manufacturer's warranty on your purchases and will repair/replace faulty or damaged items up to $10,000.
Purchase Protection Plan insures your purchases against accidental physical damage and theft for the 90 days after purchase, up to $1,000.
Fraud protection, global emergency card replacement and 24/7 express customer service are included with every American Express card, too.
Read our post on American Express Travel Insurance to learn the ins and outs regarding all the coverage options Amex has to offer, including card embedded insurance and stand-alone insurance plans.
#7 The American Express Business Platinum Card
This entire review has been about the Amex Platinum Card, though there's also an American Express Business Platinum Card for Canadians, too. There are a few key differences between the two cards:
50,000 welcome bonus points for the Business Platinum Card (25,000 more)
$499 annual fee for the Business Platinum Card ($200 less)
No $200 annual travel credit for the Business Platinum card
Since the Platinum Card's higher annual fee is offset by its $200 annual travel credit, the biggest difference between the two is that you get 25,000 more welcome bonus points with the Business Platinum Card.
#8 Two Less Expensive Cards To Consider
Even though we've clearly shown how you can save thousands of dollars with the Platinum Card, the $699 annual fee still rubs some people the wrong way.
So here are two less expensive, high-value cards you can consider instead:
#1 The Marriott Bonvoy™ Amex Card
Released in March 2019, the Marriott Bonvoy™ American Express Card is the best travel credit card available in Canada right now. It comes with an incredible 60,000 welcome bonus points at an annual fee of just $120. You also receive a free hotel night every year after the first year with the card, which you're able to use at some of the swankiest hotels in the world. While this current offer lasts, we can't recommend the Marriott Bonvoy™ Amex Card highly enough.
#2 The Amex Cobalt Card
The Amex Cobalt Card is the best everyday spending card available right now. Why? Because you can get up to 10% cashback on your spending when you use the Cobalt Card at coffee shops, restaurants, bars and grocery stores coffee anywhere in Canada.
#9 How To Apply For The American Express Platinum Card
Applying is as simple as clicking the button below, taking 3 minutes to fill in the application form, and waiting a few days for your card to arrive!
It's important to take action now, though—the welcome points bonus used to be 75,000 on this card, but Amex has reduced it several times over the past few years. Grab yours while this sweet offer is still available.
#10 FAQs
What Is The New American Express Platinum Metal Card Like?
Honestly—it's pretty cool!
If you didn't already know, the American Express Platinum is now made of metal. It has a significant heft to it, weighing in at 19 grams (for reference, a typical plastic credit card weighs 5 grams). It's sure to impress your friends when you "accidentally" drop it on the table as you pay.
All new Platinum cardholders now receive the metal card, so that's a nice bonus on top of all the other benefits we've talked about above. Existing cardholders can also request to have their old plastic card exchanged for a metal card at any time.
How Can I Sign Up With An American Express Platinum Referral?
To get the best available welcome points bonus, which is currently 50,000 points, sign up here. After you've signed up, you can refer your own friends to the American Express Platinum for a referral bonus of 15,000 points.