---
Monitoring your credit score is important, and Credit Verify is a service that let's you do it online. It also let's you access your credit reports instantly and as many times as you want. The catch is that you have to pay a premium of $19.95 per month. You get up to $25 in rewards for being a premium member, though. In addition to that, potential members get to spend a trial week with the service for $1.
If you don't keep tabs on your credit score from time to time (daily is recommended), you'll be left in the dark. You won't have a clear idea of your financial standing. Furthermore, you'll be at risk of identity theft. So, it's always a good idea to have a credit monitoring service – if not Credit Verify, then you should pick one of your choice. In this post, we give you a full overview of Credit Verify and what it has to offer.
Getting To Know Credit Verify
Credit Verify helps you keep track of your credit score and your credit reports.
That's the gist of it.
Now, there's a lot more to know about it, what it offers, and why you would want it in the first place. After all, a lot of Canadians get by without it. The devil's in the details, but don't worry, we'll get there in a moment.
Credit Verify provides you with instant access to your credit score at all times, as long as you're paying for it.
Why You Need To Know Your Credit Score
It's not simply about knowing thy credit score. It's about everything that comes along with giving your credit reports a peep every so often.
Being financially literate is important, and being credit savvy is at the heart of achieving that. Every loan you'll ever get, every mortgage you want to apply for, and every car you want to buy throughout your life … they are all neatly intertwined with your credit score and if you're not familiar with it, you'll experience some nasty bumps down the road sooner or later.
Additionally, there's something many people tend not to know: Your credit reports will often have an occasional mistake in them! If you don't check your reports regularly, these doozies will slip right under the rug and your score (which you're not checking, by the way) will be negatively affected. Keeping track of your score will help you avoid anything like this.
Your credit score can change often – even daily – so having a tool like Credit Verify can be highly beneficial. It'll help you realize which activities reflect negatively or positively on your score, which will assist you in making better daily choices.
Identity Theft Is Not A Joke
If you got the reference from The Office, give yourself a pat on the back. Now, let's focus.
Identity theft is a massive problem, and it appears to be growing. It's when an imposter pretending to be you, takes control of your financial life to any degree.
In 2018, Canadians lost $21.2 million due to identity theft, which is a much bigger figure than the $11.7 million from 2017. These are some really massive amounts, and the fact that the crimes are growing so rapidly in a country like Canada shows that this is no laughing matter.
One of the best and most obvious ways to protect yourself from identity theft is to make sure you're keeping your personal information and details about your identity a secret from strangers. Your phone numbers, your credit card information, and every other detail should be kept with only the people who they're concerned with.
One can never be too safe, however, and that's where Credit Verify comes in. It helps you keep track of your credit score in real-time, around the clock. That means that you'll notice any anomalies in the score right away. Any changes in the score that weren't caused by you will be immediately obvious. You'll know that someone else has access to your finances, which will allow you to take action before it's too late.
Credit Verify: How It Works
Before You Sign Up
Credit Verify is not a free service, which might be a turn-off for many potential customers. Take note that you'll have to give your credit card details when you sign up.
However, you won't have to empty the bank just to test this product out. Credit Verify offers you a trial week for just $1. However, once your trial week is over, you'll automatically be charged $19.95 every month until you decide to cancel your subscription.
You'll likely know if this product is for you within the first trial week, so there isn't much to worry about. Also, to offset the monthly price, you'll receive up to $25 in reward points for each month you're a paying member of Credit Verify, which should help bring down the price somewhat. These points can be spent on plenty of outlets, like brands such as Nike, or restaurants like McDonald's and Subway, among many, many others.
If you're looking for credit cards that offer rewards, you may want to check out the Amex Gold Rewards Card.
The Process
It literally takes 5 minutes to set up an account on Credit Verify. The process comes in two parts.
1. Personal Information
The first step of the process is to give your personal details.
You'll even be asked to provide a reason for creating your account, but it's nothing serious. There's even an option that says "just curious", so anything goes.
2. Verification
The second step asks for all your information needed for the verification of your account, which means your address and credit card info.
On the same page, you'll also create your password:
With all of that done, you'll be able to log into your account and get to know your credit score. You'll be charged $1 when you sign up for your trial week, and you'll be able to opt-out at any given time.
What Credit Verify Offers You
Informational services: You won't be alone while you're using this service. Credit Verify will let you know everything you need to know about your credit score.
Constant credit score monitoring: You'll be the first person to know if there's any change in your credit score as it'll be monitored at all times.
Instant access to credit score and reports: Whenever you want, you'll be able to access your score and credit report – there's no limit to how many times you can see them.
Credit Score Simulator: If you're planning on getting a mortgage or a loan for a car, you can give the simulator a test run to observe how your credit score will be affected. This gives you a heads up on what to expect.
Guidance on disputes: You'll receive guidance on what to do in the unfortunate case of any errors in your credit reports.
Does Credit Verify Affect Your Credit Score?
A lot of people have the concern (and rightfully so) that checking their credit scores might have a negative impact on it. That's partially true, and that's because there are two different types of checks that you can make. Hards checks and soft checks.
Hard checks are performed mainly by lenders who want to check your credit history. Their objective is to go through every detail in order to determine whether you're suitable for a loan. Too many hard checks reveal that you're applying for too many loans and aren't doing too well – which results in your credit score being damaged.
Soft checks, on the other hand, are performed frequently by yourself, lenders, and bureaus, to keep track of your performance. These have no effect on your credit score no matter how many times they're performed.
Credit Verify uses soft checks to keep track of your score and has no negative effects on it whatsoever.
If you feel like your credit score is lower than you'd like, there are cards that can assist you in pulling it back up.
The Upsides Of Credit Verify
Quick sign-up: It takes little more than 5 minutes to have your account up and running. You'll be able to see your results instantly after that.
Trial week: The trial week provided by Credit Verify lets you know if you're interested in the service at all, without wasting any extra money. You'll be able to have a full experience during the trial week, which will give you a good idea of whether you want to continue or not.
Constant monitoring: The instant updates to your credit score are a big plus as you'll be able to see the effects of your activities in real-time and reflect upon them. Also, it allows you to react faster should anything go wrong.
Unlimited checks: You won't have to be careful about how many times you check your score, which is a huge plus.
The Downsides
The cost: Being a premium member costs $19.95 per month, and while there are rewards to offset those costs, they're still there. You'll have to provide a credit card in order to access the benefits that Credit Verify brings.
Credit Verify Uses TransUnion
There are two main credit bureaus in Canada, namely TransUnion and Equifax. Credit Verify works with TransUnion and gets all its information from them.
If you're registered with Equifax and want to see your credit score online, you may want to check out Borrowell.
Alternatives To Credit Verify
For those who aren't fully bought on Credit Verify, we have two alternatives that you might like.
1. TransUnion
Yes, that's the bureau that Credit Verify draws its information from. It also offers its own credit score tracking online and offers some powerful features which we can't find with Credit Verify. In addition to everything you're getting with Credit Verify (as well as costing the same), TransUnion also offers:
$50,000 ID theft insurance: this is one of the best features you'll get with a credit monitoring service. It gets TransUnion a whole lot of sway over its competitors.
Change alerts: unlike Credit Verify, TransUnion gets you alerts when your credit score changes.
2. Credit Karma
Credit Karma is a great option for those not interested in Credit Verify because it has one overwhelming advantage: It's completely free.
That's right. You don't need to provide any credit cards, there's no beating about the bush with payments and monthly rewards; you just log in and see your score and report for free – instantly … as many times as you want.
3. Borrowell
Customers registered with Equifax are sure to enjoy Borrowell. It gets you your credit score and reports free of cost, but this tool has various other tricks up its sleeve. It also allows you to borrow loans digitally at extremely reasonable interest rates.
Should You Use Credit Verify?
Credit Verify gets you your credit score and reports online, instantly, for a monthly fee of $19.95. It gives rewards of up to $25 which you can redeem and various stores.
However, the question is, should you get it? Is it worth the money? The answer depends on who you are and what you need.
Credit monitoring is a great service that everyone should use. However, to use Credit Verify specifically, you should be:
Willing to dish out $19.95 every month
Be an avid fan of stores like Kate Spade, Michael Kors, Nike, Lacoste and restaurants like TGI Friday's, Dunkin' Donuts, McDonald's, Subway. That's the only way you'll redeem the premium payment you're making each month.
A lot of people wouldn't want to pay for a premium service when one is available for free. Credit Verify isn't recommended since Credit Karma stands out more. However, if you're interested, you can sign up to Credit Verify using the button below:
New to credit cards? Check our list for the best credit cards for beginners.
The Amazon Credit Card is aimed at people who shop at Amazon.ca regularly. It's meant to be a replacement for the previous Chase Amazon Visa card, but it has failed to live up to expectations.
Most of the benefits that you can get from this card come only if you have an Amazon Prime subscription. Without it, however, you'll only get weak rewards that could easily be overshadowed by better cards in the market. One of the main highlights of this card is that it can be used immediately after purchase – you don't have to wait for it to arrive at your home.
The Amazon Credit Card Is Made For People Who Shop Online
Amazon has come up with a card that Canadians might either love or despise. The Amazon Credit Card is controversial, we're not going to lie. However, you shouldn't make your decision before going right into the nitty-gritty details of everything this card has to offer to you. It's made for people who love to shop from Amazon and Whole Foods and do it often, obviously.
The card was made specifically with such people in mind. MBNA, which is a subsidiary of The Toronto-Dominion Bank, joined forces with Amazon to produce what should have been the go-to card for everyone who wanted to have a card which reminded them of the old Chase Amazon Visa card that hasn't been available since 2017. Now, this Amazon Credit Card has risen to the task, but it's drawing a lot of controversial results ever since its debut.
40% of people who shop online regularly are likely to purchase items from Amazon at least once a month, so if you shop online occasionally, you should consider this card, especially if you get your items exclusively from Amazon.ca.
What The Amazon.ca Rewards Mastercard® Gets You
The 5% Cash Back Is Highly Attractive
To the casual onlooker, this Amazon Credit Card brings an amazing welcome offer to the fray, and we can see people jumping for it without thinking twice about it. However, it lasts for 6 months or the first 3,000 dollars that you spend. That basically means that you'll get $150 as a welcome gift at most. That's not necessary, of course, since you might not be able to spend the entire $3,000 during your first 6 months with the card, which means that you might get even less than $150 as your welcome offer.
Not to be pessimistic, but that's truly not much as compared to what some other cards out there offer. At the very least, we would have expected Amazon to be a little more generous to people who wanted to shop exclusively at Amazon. If either the $3,000 spending limit or the 6 months time limit were to be omitted, this card might gain some weight among its would-be enthusiasts, but even that's a long shot.
Related: The Best Cashback Credit Cards In Canada
Annual Fees Will Not Trouble You
Perhaps one of the best, if not the very best, feature that the Amazon.ca Rewards Mastercard® offers is the lack of an annual fee. Again, that's not much to brag about since annual fees are rarely a deal-breaker in the first place if the card is good enough. Plus, a ton of cards don't have any annual fees, so it doesn't really make this Amazon Credit Card stand out much. Be that as it may, it's still something that gives the Amazon.ca Rewards Mastercard® an edge.
Amazon Prime Members Will Get The Main Benefits
It's been made pretty clear that you have to be an Amazon Prime member if you truly want a proper cut of the rewards that this card brings. That's somewhat of a letdown, however, since there would be plenty of Amazon shoppers who simply aren't interested in Prime whatsoever. However, if you do happen to be an Amazon Prime Member, you're in luck.
Prime Members Receive 2.5% Cashback
Amazon has a redeeming offer of a 2.5% cashback. However, you'll need to have an Amazon Prime membership if you want to avail it. This cashback is only attainable when you make a purchase at Amazon.ca and Whole Foods Market. You also get it when you purchase something via foreign currency. Any other places to shop from will get you a 1% cashback, which isn't low, but nothing absolutely spectacular either.
Non-Prime Customers Get Lesser Results
The push towards Amazon Prime seems to be somewhat irritating. Amazon.ca Rewards Mastercard® customers who aren't subscribed to Amazon Prime will see their cashback reduced to 1.5% for all eligible purchases made on Amazon.ca and Whole Foods stores and foreign currency purchases, and will receive the same 1% cashback on all other purchases. This isn't really the sort of deal that would make our mouths water. We're certain you're not jumping up and down after hearing about it either. It's pretty clear that if you intend to get this card, getting an Amazon Prime membership is pretty much a no-brainer; the card loses a lot of its potential without it.
The Amazon Credit Card Will Get You Free Gift Cards
Finally, we're getting to the juicy part. You'll be eligible to get $20 Gift Cards for every 2,000 points that you gather up. These gift cards can be used at Amazon.ca, and if you're living in Canada, this works out for you perfectly. A $20 gift card can be extremely useful every once in a while. It can be gifted to someone, or it can simply get you a clean discount while you're shopping for groceries.
Keep An Eye On Warranties
There's something you'll have to watch out for when using gift cards to get discounts on your purchases, however. Make sure that using gift cards to pay for the product you're purchasing won't make its warranty void. Some products will require you to pay the entire price using a single credit card in order to redeem its warranty. There's an easy workaround: simply use gift cards on items that you know won't stop working after a few months.
The Amazon Credit Card Can Be Used Immediately Upon Purchase
If the Amazon.ca Rewards Mastercard® didn't fall so short on some other matters, this might have been a pretty cool feature. Unlike other credit cards that you have to wait to arrive at your address in order to start using them, the Amazon.ca Rewards Mastercard® can be used just as you buy it online. The process usually takes less than a minute to complete, and you can start using it then and there!
Where The Amazon Credit Card Falls Short
Amazon Prime Costs $119 A Year
Yes, this card doesn't have a yearly fee, but in order to properly utilize it, you'll need a Prime subscription. This will cost you $119 every year. While it does come with a whole lot of benefits, we doubt that anyone would want to spend so much money just so that they could reap the full advantages of a credit card. If you're someone who already has Amazon Prime, then the Amazon.ca Rewards Card could be considered a blessing. Without that, this card loses almost all it's value. You'll spend most of the welcome offer of $150 with your Prime Subscription purchase.
Foreign Transactions Come With A Fee
This is a pretty huge problem with this card, especially since some other credit cards offer a solution to it. The Amazon.ca Rewards Mastercard® offers nothing to help with the transaction fee, which is usually at 2.5%. Amazon Prime users will be able to negate it using the 2.5% cashback they receive on foreign purchases, which kind of cancels out the fee altogether. This basically means that there's no cashback on foreign transactions. People without a Prime subscription will literally be losing money if they buy from outside of Canada.
The old Chase Amazon Visa card had no foreign transaction fees, which is something that users sorely miss. If Amazon had decided to keep just that feature alone, this card might have floated.
Verdict – The Amazon Credit Card Isn't Worth Your Money
The Amazon.ca Rewards Mastercard® is a hit and a miss. That much is obvious from the 1.9/5 rating that it has on Amazon's own website. It completely ignores any customer that doesn't have a Prime subscription. People who're using it will also find that other options, like the Tangerine Money-Back Credit Card, suit them better. The cashback on the Amazon Credit Card is relatively weak for eligible purchases made outside of Amazon.ca and Whole Foods. It leaves us wanting more.
The only way that this card might be worthwhile for you is if you use it only for purchases on Amazon.ca and Whole Foods; and also have a Prime subscription. If you don't fit this description in its entirety, you'll be better off with another credit card. We'll simply have to wait for Amazon to release a credit card that truly appeals to its customer base. However, if you're interested in this particular card, feel free to apply below:
It's imperative that you get yourself one or more business credit cards if you're the owner of a business. Regardless of the size of your business, you'll find that having a business credit card will make your life easier in a multitude of ways. Looking for the right card can be difficult, of course, and we're here to help you make your decision.
While the ideal card for you ultimately depends on your business model, we've selected the American Express Business Edge due to the versatility that it brings to the table. Other cards aren't half bad, of course, and you'll want to look into all of them to form your decision.
Well … it's in the name, really.
If you've got a business, you've got a special kind of credit card that's designed to accommodate you and make conducting your business easier. That's pretty much a godsend for any business owner, and you don't really have to be the owner of a large, successful corporation to acquire one of these credit cards either.
The Size Of Your Company Doesn't Matter In Regards To Business Credit Cards
Let's cut to the chase, then. You might be thinking: "why wouldn't I just use a regular card for my business?" Well, first off, it's a terrible idea to use your personal credit card as your business card. You'll mix up details, and bookkeeping will be a nightmare and a half. Here are some other clear reasons why getting your hands on a business credit card should be your top priority:
Ease of management: you won't have to watch out for mixing your transactions. Everything will be neatly in order for you when you need to get your taxes calculated or file some reports based on your expenditure.
Separate credit scores: perhaps one of the greatest advantages that business credit cards bring alongside themselves is that your personal credit rating will not be affected by the use of your business card, and vice versa. That means that you can leave your work life at the office once the day is over.
Special business rewards: you'll be missing out on a whole lot of offers that'll be available to you only through business cards. They're geared towards providing you and your business as many opportunities to grow as possible. This usually comes in the form of a higher credit limit, along with a bunch of other rewards.
Business Credit Cards Can Be Your Best Friend
Not being held back by credit limits is a major factor to keep in mind, because not being able to pay through a regular credit card could really hold you back while trying to keep clients comfortable and service deliveries in order. With all that said and done, there aren't any strong reasons to stay away from getting credit cards to assist your business in steamrolling the competition and making headway into the future.
The business card that suits you depends on your preference and the type of business you're running. We've gathered 5 of the best business cards in Canada for you to choose from.
American Express Business Edge Card
Do You Need A Smart Way Of Saving Money?
Cashbacks have their own zing, but gaining points by spending money might just be your thing. If that's the case, you might want to consider the Amex Edge card, since they've really come up with a card that's difficult to turn down. If you'd rather take deals on flights, purchases at Amazon and a whole lot of other gift cards, then the Amex Edge card is for you.
Reward points can be difficult to keep track of, however. If you feel the need to work with simple cashback systems, the Amex Edge will only result in a headache. Furthermore, the Amex Edge is rather spread out with its rewards. That is to say, its rewards target all sorts of business aspects like travel, hotels, supplies, etc. If you'd rather focus on a single one of these factors, there are better cards out there.
Gain An Impossible Amount Of Points To Spend
The Edge Card has its – well … edge. It allows you to accumulate a huge amount of points to redeem, especially as part of its welcome offer. You'll be able to uncover 30,000 MR points during your first $5,000 in purchases made. However, this offer is only valid for 3 months after you get that card – although it's very much worth going after and could be the sole reason for acquiring this card in the first place.
More Points Await With This Card
American Express has made sure that you'll never run out of points with this card, and they've fine-tuned the card to thrive in business.
3x the points for office supplies: 3 points per every dollar spent is the flagship offer that the Edge card has to offer. You'll save a lot of money through this deal, since it includes everything you'll need to run your business, including food, supplies, and transportation.
Bonus points for every $3,000 spent per month: Amex just wants you to have more points, it would seem. It's likely that your office would spend at least $3,000 in supplies per month, and if it does, you'll be making bank with a maximum of 12,000 bonus points every year.
Low annual fee: You'll find that you're saving more money for your business with a small fee of $99 per month.
The Downside Is No Other Offers
The only thing that Amex offers with this card is an incredible amount of redeemable points, but there aren't any other features that someone with a specific purpose would want. It's geared towards all businesses but doesn't specialize in a set audience. Be that as it may, it's an amazing card that can easily get your business running much faster and more smoothly. However, you'll be getting 1 point for every dollar spent on purchases not covered by this card's offer.
BMO Cashback Business Mastercard
Do You Want To Concentrate On Your Business Rather Than Your Business Credit Cards?
BMO's cashback cards are generally aimed at people who don't really want to get their hands dirty with all the various, complicated offers that credit card rewards seem to revolve around. If you simply want a small advantage from a credit card that simply gets the job done and helps you out without you really getting involved, you've come to the right card.
You'll be losing out on money if your purchases will be various, though. The only people who stand to truly exploit the benefits of this card are those who have fixed, office-related purchases. Anything outside that realm will bring you minimal benefits, and there are other options that might suit you. If your business model requires you to purchase items that aren't recognized as office materials, this card isn't for you whatsoever.
The Welcome Offer Gets You A Massive 6% Cashback
For the first 4 months of getting this card, you could receive a 6% cashback for all the office supplies you want. Gas and phone charges are also included in this offer, so have at it if you're looking to get this card and start a business simultaneously, it could work out very well for you and help you save up on a ton of money.
There's More Savings To Be Made
The BMO cashback card doesn't just stop there. It has some other tricks up your sleeve which might make you inclined towards it:
No annual fees: BMO blows every other card out of the park with it's zero annual fees. You're basically saving over $100 a year if you opt-in for this card, and that alone could be enough to win you over.
1.5% cashback on office-related purchases: This card's bread and butter is its 1.5% cashback, which is increased to 1.75% at Shell fuel stations. This offer also covers cell phone and internet charges.
There's Lower Cashback On Other Purchases, Though
You'll only get 0.75% cashback on purchases not covered by this card's flagship offer. However, the welcome offer might just be enough to make us look past this one.
BMO Air Miles Business Mastercard
Do You Need To Fly To Your Clients Frequently?
This card was born to serve the needs of businessmen who need to travel long distances to conduct their business. BMO Air Miles will come in extremely handy and will result in multiple flights throughout the year. For the traveling salesman, this is the perfect card. Click here if you want to know more about airport lounges.
If, however, your business model revolves around your own city, you'll be wasting the potential of this card. There are plenty of credit cards for business owners who don't need to travel. Therefore, if you'll be staying put, stay away from this card.
Receive A Warm Welcome With 2 Free Flights
That's quite the welcome package, admittedly. After making your first purchase with this card, you'll immediately have 3,000 AIR miles, which roughly equate to 2 flights. That's not all, of course. You stand to receive another 2,000 AIR miles if you can spend $5,000 during your first 3 months of using this card.
The Benefits Don't End Here
The Air Miles Business card has some strong advantages that you're going to enjoy a lot:
You can pool AIR Miles: This means that you can join forces with other people who have this card and get yourself even more flights than you would have had before.
The first year is free: You aren't required to pay any annual fees during the first year, which we're certain you'll find appealing.
Earn AIR Miles through regular spending: Every $10 that you spend will earn you and AIR mile. This number is upped to 1.25% if you use Shell for your fuel needs.
It's Not All Perfect, Of Course
While BMO has created a powerful credit card here, it's not without its Achilles' heel.
High annual fee: While the first year is free, you're going to start feeling the sting once you have to pay $120 in yearly fees after that point onwards.
Lack of other rewards: Other than gifting a huge amount of free miles, this card doesn't really have much else to offer. Sure, it does its job well, but we'd expect BMO to make the card more friendly to office supply purchases. With that being said, it's still a great option for frequent flyers.
Amex Marriott Bonvoy Business Card
Need To Stay At Hotels Often?
This Amex business card is the perfect card for you, because not only does it help you earn points which you can redeem at various luxurious hotels, it also assists you with your flights. It's a pretty powerful competitor to the BMO AIR Miles card, and anyone who needs to stay at hotels for their business trips will highly appreciate this card.
On the other hand, if you can picture yourself staying put, for the most part, this card will be mostly useless to you. It's aimed squarely at business people who require extensive hotel usage. You'd be better off with another card if hotels are around the corner for you.
You'll Be Welcomed By 3 Free Nights
This card made sure that the welcome offer is one that you can't really turn down. It offers 50,000 points, which roughly equates to 3 nights in a hotel that's affiliated with Amex. That's a pretty generous offer and could tip the scales of your decision in this card's favor.
This Business Credit Card Stays Generous With The Rewards You Get
American Express has really gone out of their way to make this credit card accommodating, which is something we highly appreciate.
At any Marriott Bonvoy hotels, you'll earn 6 points for every dollar spent. Other than that, you stand to gain 4 points per dollar spent on regular activities like restaurants and phone charges. All other purchases provide 2 points per dollar spent. It's great to see that they haven't reduced this value to 1 point, as many other credit card providers have done.
However, The Annual Fee Is Skyrocketing
Perhaps one of the few drawbacks to this card is that its annual fee is $125 a year, which might lower the overall worth of the card in the eyes of some potential businesspeople. Another thing to keep in mind is that there aren't any rewards specifically for purchasing office supplies, so you'll have to calculate if office supplies are more costly to you than traveling. If moving around and staying at hotels is your top priority, then the Marriott Bonvoy card is the ace up your sleeve.
Scotia Momentum for Business VISA Card
Are You Looking For A Flat Cashback Rate And Low Charges?
The Scotia Momentum can easily get your business up and running with minimum overhead. It has a great cashback rate and you'll find it's simplicity and vast amount of offers to your liking. If you're looking to run a simple office, this card can definitely be of use to you.
However, this card isn't meant for your use if you're looking to travel around a lot – via air or otherwise. It is simplistic, and if you're seeking extra benefits, like rewards, you're going to be put off by it.
A 3% Cashback Can Really Float Your Business
The flagship offer that this card has is everything your business would need to thrive. That's not even counting the incredible welcome offer that the Scotia Momentum brings with it. A flat 3% cashback on all the office supplies you'll ever need is a huge amount. If you're running a simple business close to your residence, finding a better offer will be difficult.
A Reduced Interest Rate For 6 Months Welcomes You
Generous much? The Scotia Momentum offers a 2.99% interest rate for the first 6 months of you using it. It's the perfect card for building the momentum of your business, especially if it's a startup. That's not where the amazing offers end either:
Low annual fee: This card comes at only $49 a year, and supplementary cards come at an even lower price of $29 a year. The savings you get from this offer are worth putting into consideration.
Great credit limit: for a card that costs so little to maintain, and the upper credit limit of $100,000 is pretty impressive. You're never going to run into any trouble. This, coupled with the welcome offer of a 2.99% interest rate, your business would turn to some serious profits.
There aren't really any downsides to this card. It does its job well, and we think it's great for the standard business.
Verdict – The Edge Is Your Best Business Credit Card
No card has the same mojo that the Amex Edge brings. The only card that comes close is the Scotia Momentum. It has the tools to redefine just about any business.
However, the Edge provides the user with a lot more flexibility and really incentivizes more purchases with its exquisite offers. It also focuses heavily on office supplies. It's a jack of all trades and brings everything to the table, which gives it the (okay, last pun) … edge over its competitors.
The Credit Counselling Society is a non-profit agency that aims to help you out with your finances. If you've gotten yourself into overwhelming debt, lowered your credit rating, or simply want to become financially literate, the Credit Counselling Society should be your go-to place for help.
Their services include debt settlements, debt consolidation guidance, credit counselling, and bankruptcy guidance. They've been working with Canadians for 23 years now and have helped over 700,000 people so far.
So, What Is Credit Counseling?

Before we get into the real meat of what the Credit Counselling Society is, we'll go over what credit counseling is as a whole.
Credit counseling has the singular purpose of getting you out of any financial troubles that you might have gotten yourself into. Yes, it's that simple. However, when we dig deeper, it gets more detailed, albeit just as simple. 
Why Would Anyone Need Credit Counseling?
There could be any number of reasons why you might require the services of a credit counseling agency, and some of the most common ones are:
You need advice: if you think you're not doing too hot with your finances and have no budget in mind, you could be on the downward spiral which leads thousands of people towards bankruptcy every month. A financially educated individual is very likely to pull themselves out of such a sticky mess. By educating yourself, you minimize your chances of bankruptcy in the future.
You messed up your credit score: It's quite common for people to accidentally land themselves in situations that have them see their credit scores reduced. The smartest thing to do is to seek help from a reputable credit counselor. 
You're in debt: this is one of the main reasons why people seek credit counseling. The first thought that comes to mind when debt becomes overbearing is bankruptcy, but credit counselors can show you other pathways that can help you bring your debt to more manageable levels. 
Credit Counselors Can Be Free Too
Just as in the case of the Credit Counselling Society, a lot of credit counseling agencies are free. Some can be for-profit too, but you're better off staying with agencies that prioritize your well being over making profits. Non-profits will not always be the place to go either, as you may be coerced into making voluntary donations. The best move is generally to consult an agency that is both reputable and non-profit so you can expect the best possible treatment from them. In this sense, the Credit Counselling Society is one of the best options for Canadians.

Introducing the Credit Counselling Society
The Credit Counselling Society has been around for just 23 years, having been established in 1996, but they've done some great work since then. They've been dedicated to helping Canadians stabilize their financial lives and have been committed to being an exemplary nonprofit organization since their debut.

What Can They Do For You?
That's probably what you want to know most about them. There are plenty of services that the Credit Counselling Society can provide for you, and here's a short overview of them:
Credit Counselling And Debt Solutions
If your credit score has dropped, you'll just need some information and a workshop to get you back on your feet. There are even credit cards out there the purpose of which is to help you get back on your feet. This agency will help you through education and guide you towards a better score. Keep in mind that they won't be actively participating in the process, but will rather guide you through it.

Debt, on the other hand, is an issue that plagues millions of lives across the globe, and Canadian people are no exception. The Credit Counselling Society is able to help you form a budget that actually works on a realistic level. You'll receive the necessary information you need in order to lead the right lifestyle which allows you to pay off your debts. You'll also learn how to stay out of debt in the future. This means that your time spent with this agency will be invaluable. Your counselor will guide you and help you explore the options you have for getting out of your debt.
Debt Consolidation
If you've gotten yourself into a large amount of debt and are consistently failing to pay your credit card dues, you might want to consider consolidating your debts. This works by getting a new loan to pay off all the old ones. Usually, this new loan has a lower interest rate or lower monthly payments, which will definitely work in your favor. This debt is often due to multiple credit cards; it can make sense to transfer your debt into a new credit card. An example is the BMO Mastercard, which has a great offer for balance transfers.
The Credit Counselling Society helps you by providing you with professional advice on what your best options are. That, and how you can cope with the situation in a manner that could secure you for the future.
Debt Settlements
Sometimes, debt can become too much to handle, and most people make a beeline for bankruptcy when that happens. However, another option is available in the form of debt settlement. It includes communicating with your creditors and negotiating with them. The hope is that they'll allow you to pay off a lesser amount than the debt that you originally owed. This can be difficult to achieve on your own. An agency like the Credit Counselling Society can act as a third party to negotiate between you and your creditors. They've had a lot of success in the past. This is because they have the experience to know what sort of claims are legitimate.
Debt settlements aren't always successful, but they're a better alternative than bankruptcy at any rate. They also require a fixed amount to be paid to the creditor. This isn't always a path forward for people already struggling with their finances. If, however, the settlement succeeds, you could see a drop of around 20-80% in the debt that you owe. In case of successful negotiations, you'll have to pay the Counselling Society a fee for their efforts. Come on, they deserve it!
Bankruptcy
If you've already taken the step towards bankruptcy, the Credit Counselling Society will be more than happy to take you under their wing. They'll help you get your credit score back on track. 
How Does The Credit Counselling Society Work?
Credit counseling is completely confidential, which means that a simple visit isn't going to do anything for your credit score. However, what the Credit Counseling Society offers is a private session in which they'll answer any questions you have. They will define the options you have in your current situation. They will also help you set a budget for yourself. Following that, you'll be able to gradually make your way to a financially stable lifestyle. You can expect all your information to stay private and confidential with this agency. Other than that, you'll receive a warm environment that provides solutions without any judgment. 
Where Does Their Funding Come From?
70% of the funds that the Credit Counselling Society gets are from creditors. It might not make sense as to why creditors would want to donate money to them at first. However, individuals who're financially stable and able to pay off their credit cards on time are extremely valuable to credit granters. As such, it would make sense for them to pay an agency that makes sure that people stay out of debt and are able to generate profits for them. Another source of revenue for this agency is the donations they receive from their clients; along with the money generated through debt settlements. 
Why Should You Trust The Credit Counselling Society?
Well–trained counselors: Each counselor on the team has 1,000 hours of professional experience. They're exactly the sort of people you would want to take care of your financial troubles. They have the personality and the experience to grant you the knowledge and mindset that you need. 
The size of your debt doesn't concern them: It doesn't matter whether you're in just a few thousand dollars of debt, or a few hundred thousand; you will receive help at the Credit Counselling Society. They aren't looking to profit off of your distress but are trying to help you.
Their various accreditations: The Better Business Bureau, Credit Counselling Canada, and the Council on Accreditation have accredited this agency. Other than that, the CCS also became an affiliate of the National Foundation for Credit Counselling in 2017.
Their scale: They have paid off over $300 million in debt since they started working. They've helped over 700,000 Canadians with their finances successfully, and that gives them all the credibility they'll need.
Testimonials
Clients have shown an overwhelmingly positive amount of satisfaction with the Credit Counselling Society. Their opinions should give you a glimpse of what they're all about: 
Absolutely great organization! They were very approachable, realistic, and kind in a trying time. Even though it's been a while now since I've finished things up with them, their service is still stellar when I need help with getting copies of old documentation or questions about my report. I can't recommend them enough. Such a humane, dignified way to handle the stress of financial issues.

Rosie Jones
I read about this program online and connected with them right away. I was very nervous to get started as I was feeling extremely anxious and embarrassed about my financial situation. When I met with my counselor I was immediately put at ease and validated in my situation. I felt completely comfortable talking about money and never once felt judged for where I was financially. It was so easy to get everything sorted out and get started with the program.

The financial workshops they offer are great and every month when I get my summary statements I feel such a sense of relief and accomplishment seeing how much debt has been paid off so far! that relief totally motivated me to stay firm in my budgeting every month and always stay on top of where my finances are. There is ALWAYS a way out of whatever crazy financial station you find yourself in!

Sarah Patterson
If you'd like to know more about this agency, you can always visit their website.

If you just graduated from high school and your future plans involve college, then it's about time to consider managing your own finances. Getting your first credit card is the one of the most important decisions to make in this respect, and we'll help you choose by narrowing down your options to the five best student credit cards available in Canada today.
By offering a perfect balance between rewards and flexibility, the Tangerine Money-Back Credit Card presents itself as the best choice for most Canadian students. However, there are other great options as well, and you'll want to choose the one that'll bring you the most rewards for your particular lifestyle.
In the following post on the Best Student Credit Cards in Canada, you will find:
Why It's A Good Idea To Get A Student Credit Card
If you're new to the concept of student credit cards, you might be scratching your head to the whole concept and will understandably have questions about them. Don't worry. This article will make sure that you have all the knowledge you need under your belt in order to go out and get your first student credit card.
So, What Are They?
Basically, they're exactly like your regular credit card, but with a few minor differences. As you may have already guessed, student credit cards are for, well, students. Specifically, they're meant to be the first credit card that a person gets once they graduate from high school and step into the big world.
Any College Student Can Get Them
This is a student credit card's main selling point, actually. While regular cards might require you to have a good credit history (which is basically a fancy way of putting how good you are at paying your money back), student credit cards have no such requirements. All you need to do is show that you have a source of income and can afford to pay for the loans you acquire.
Why We Recommend Them
Let's focus on what you get when you apply for a student credit card:
Credit history: With no history, you'll have a hard time getting loans for much-needed necessities right after you're done with college. These might include your first car, an affordable mortgage deal, among other items that you may have in mind. With a student card, you'll have a minimum of 4 years to show lenders that you're trustworthy through a good credit score which you'll have built up over time.
Rewards: Student card rewards are aimed squarely at students, and you stand to gain much from them during your life as a broke professional in training. You could get free movie tickets, or travel options – the sort of things you're going to appreciate and need.
Discounts: There's no limit to the number of discounts that you'll want in college, which makes student credit cards all the more valuable. Cashbacks are something you'll learn to live on and will be a useful tool throughout your life if you learn to use them properly.
What Are The Top-5 Best Student Credit Cards In Canada?
With that being said, here are 5 of the best student credit cards in Canada which may be the best places to start. Remember, there's no one-shoe-fits-all here either; you can try different options to see which one suits you best.
1. BMO CashBack Mastercard
Do you just want a simple, no-hassle student credit card that gets the job done?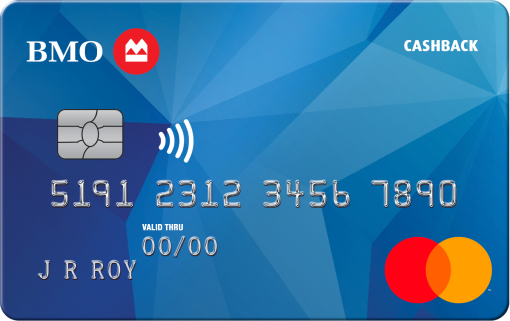 The BMO CashBack is high on our list, and that's because this card is beautifully simple. It's there for students who have no special requirements, and simply want to start their college program without a hassle.
You Get A 5% Cash Back For The First 3 Months
This is one of the best offers anyone looking to get college supplies could ever ask for. Keep in mind that those cash backs are for purchases under $100, though, so you won't be able to haul a laptop with this offer. However, books, tools, clothes – everything that isn't too expensive is right in the bag with this offer. The first 3 months are when you'll be doing most of your shopping anyway.
Your cash backs will be reduced to 1% after the first 3 months, so you won't really have to do any calculations with your transactions. It's a simple, dramaless card that can easily get you through college.
Other Features That You'll Enjoy
No annual fee or income requirements: Easy to acquire and easy to keep, this card will almost feel like a debit card with a 1% cashback.
Discounts on National and Alamo car rentals: you might need a ride at any time, and your card will be there to back you up at any given moment.
The downsides are no special rewards
This might be something that a lot of students will be repelled by. If you're the sort of person who wants to focus on college for the next four years (as you should), then this card will be a perfect way forward for you. However, if you need movie tickets and free air travel, this card probably isn't for you as there are better options out there that provide you with exactly that.
If you're interested in choosing a cashback card, you can read our review of the best cash back credit cards in Canada.
2. Scotiabank Scene Visa Card
Are You A Cinephile?
Scotiabank designed this card specifically for students who simply have to see all the blockbusters in the cinema and won't make do with anything less. If you're a cinephile, you should probably think about sticking to the Scotiabank Scene Visa card since it's rewards are aimed at you.
Get Super Rewards For Movies
That's pretty much all that this card revolves around. You're earning more than what you would normally get from a cashback card, like say, the BMO Cashback Mastercard. If you would get $0.01 back for every dollar spent with a BMO cashback card, the same purchase would give you $0.0136 using the Scotiabank Scene Visa, but you will only be able to redeem them for cinema movies. Of course, that works exactly the way any movie lover would want this card to.
Introducing SCENE Points
This card revolves around scene points. You don't actually get cashback by using this card. Instead, for every dollar you spend, you'll get 1 SCENE point. Collect 1250 of these, and you've got yourself a free movie. One additional point to note is that you get 5 SCENE points for every dollar you spend at Cineplex Cinemas, so you won't feel that bad after purchasing the impossibly expensive popcorn and drinks while you enjoy your movie.
The Scotiabank Card Will Make Life Easy
No annual fees: This one's a given. Most student cards don't tend to have annual fees.
Restaurant discounts: Although this card specializes in movies, you can also make it rain (well, not really, but you could get a decent meal) at any affiliated restaurant of your choice. You can get a $10 discount if you spend 1,000 SCENE points.
Welcome offer: You get 2 free movies (2,500 SCENE points) for your first $500 dollar spending. This makes buying your college supplies much more fun since you'll know that you have a handsome reward waiting for you when you're done.
Tuesday movie discounts: Perhaps one of the biggest benefits of this card is that you get to enjoy a 10% discount on movie tickets on Tuesdays. You know what this means – even more movies!
The Credit Limit Is Low, Though
You're going to face a minimum of 19.99% annual interest rate for your purchases, which could become highly troublesome to deal with if mishandled. However, the card has a credit limit of $500, which should ease things up a bit. This card also has a minimum income requirement of $12,000 a year, which is surely unwanted, but something that most students will be able to afford.
3. BMO SPC Air Miles Mastercard
Do You Need To Fly A Lot During Your College Degree?
Is your college campus far from home? You're in luck because BMO has the perfect offer for you. You'll save money for your ticket home during the holidays while you spend on your daily needs and before you know it, you'll have a massive discount – if not a completely free ticket at your disposal.
You get 1 mile for every $20 spent
That's the flagship offer you're getting on this card … and, it's totally worth it if you think you'll be traveling frequently since it has plenty of opportunities to save up on flight ticket costs. You'll save up on a whole lot of money on air travel just by charging your purchases to this card. Before you know it, you'll have a free ticket for home by the time your semester is done.
You'll be gifted 800 miles right off the bat
If that's not an alluring offer, then we don't know what is. You'll be able to make most domestic flights with this number of free miles, and we're guessing it'll be the perfect way to land in the city where your college campus is built.
There's a sweet reward for using partner stores
You actually get another air mile for your $20 to spend if you do so at an AIR MILES partner store. That's double the amount you'd normally get as a regular AIR MILES collector, which essentially means you'll be flying a whole lot more if you're smart about where you buy from.
The minimum earning requirements are a letdown
You'd expect that a card like this would have a catch. You'll need a minimum income of $15,000 a year if you want to qualify for this card, which might be a stretch for some students out there.
4. Tangerine Money-Back Card
Want more control over how much cashback you receive?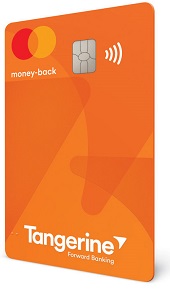 BMO's cashback card is a godsend for everyone who isn't interested in keeping track of any rewards or point-scoring. Tangerine's Money-Back card does something quite similar but it requires a slight bit of input from your side. Rather than having a flat cashback rate on every purchase that you're going to make, the Tangerine money back card allows you to have a higher cashback rate on 2 product categories of your choice and a lower rate on every other category. In fact, if you choose to withdraw the cashback to your Tangerine account, you could choose an extra category for the 2% cashback rate.
That's 2% cashback on up to three categories with the Tangerine Money-Back Card
You're Going To Love Your 2% Cashback
It's double the money that you're getting from the BMO cashback card. What more could you possibly want? Of course, this only applies to up to 3 product categories of your choice- you're going to get 0.5% cashback on the rest of the products you purchase. In this sense, if you feel like you're going to be dealing with a diverse range of products throughout your college life, you're better off with another card.
However, we believe that with some planning, you'll be able to make your life a lot easier by utilizing this card's powerful 2% cashback feature. Identify your lifestyle and make it 2% cheaper – there's nothing more to it!
Why is the Tangerine Money-Back Card One Of The Best Student Credit Cards in Canada?
No annual fee and low-income requirement: As expected, the student card by Tangerine has no annual fee that you have to worry yourself with. It also has a relatively low-income requirement of $12,000 a year.
Welcome offer: The Tangerine Money-Back card offers a grand welcome of 4% cashback for 3 categories. The benefit lasts 3 months. However, this offer expires on January 2020, so you might want to hurry up if you want to avail this offer.
No limits to your cashback: It wouldn't be called the 'Money Back' card if there were strangleholds on the amount of money you could save with it.
It's hard to pick on this card
The 0.5% cashback for categories other than the ones you chose might be a turn-off for some potential customers. However, it's a fair deal considering the extensive savings you'll get from their flagship offer of a 2% cashback on categories you've chosen. You can choose just about any category ranging from restaurants to travel.
The Tangerine Money Back Credit Card isn't only one of the best student credit cards in Canada, but it's also one of the best cash back credit cards in Canada.
5. Home Trust Secured Visa
Have You Messed Up Your Credit Score?
Home Trust provides students with a get out of jail card with this fantastic savior of a card. If you've ended up messing up your credit score with another card, this secured card is everything you need to pull yourself back on track.
There aren't any fancy rewards here – the entire point of this card is to spend responsibly and restore your credit score so that you can apply for another credit card that serves your needs.
95% Of Applicants Get This Card
That's what's so great about it. According to the card's official website, 95% of all applicants successfully receive their card without any hurdles facing them. If you have a credit score, say … around 600, you should definitely look to apply for this card as soon as you can. As per norm, a good number of credit card companies would reject applications for such a credit score – or something lower – but Home Trust is here to take you into their arms.
Verdict: Take the Tangerine Money-Back Card
We believe that every student should have enough interest in their financial interests to be able to make bold decisions. The Tangerine Money-Back card saves you from the distractions that many of the other rewarding cards provide. Regardless, it still demands a small amount of attention – something that the BMO Cash Back card doesn't do.
As a student, you'll be on a budget, and will have to make smart decisions regarding your money in order to save up for the future. The Tangerine Money Back Card does exactly that by allowing you to choose how you can save the most money based on your lifestyle. In a way, it compels you to be money-smart, which, you'll likely agree with us, is a good thing. It'll set you up for the financially stable future as you'll learn how to steer yourself through the storm of impulse-driven purchases and monthly budgets.
---