Artjail
Artjail is a new space in Toronto for an award-winning New York based creative visual effects boutique. Located within an existing historic industrial building in the west end of Toronto the goal was to insert a number of new spaces within an open plan that would house facilities for High-End VFX work in the advertising, social, film, music video and art world.
The concept revolved programmatically around the creation of three VFX suites which house editing equipment and client presentation capabilities. As these spaces had the most intense requirements technically the design response proposed to elevate these as interior architectural elements.
Through a rigorous study of plan, function and form a concept that housed two of the VFX suites and a kitchen/meeting space into one architectural gesture was chosen. This element presents itself immediately when guests and staff enter the space acting as the functional and visual identity of the space. Adjacent this element a reception desk fronts another block of program that supports both the open workspace and VFX suites.
We attempted to take a modest project and produce a powerful and memorable insertion inspired by the creativity and excitement the clients work possesses.
Finastra
Finastra is a global leader in financial services software and cloud solutions with 60 offices around the world (those are physical offices, not virtual offices). SGH was retained for the relocation of their Toronto office with the goal to condense their office footprint.
This office space in Downtown Toronto embraces the clients corporate colours within a newly designed office and twist to its typical standard package. SGH's choice of palette respects the brand and gives the application total freedom. Colour is used in variety of places such as lighting, furniture and custom elements to allow the eye to wonder in all directions.
The use of plants throughout the space were a requirement by the client as they bring life into the space and make the 44th floor feel grounded.
First Gulf
Located in the celebrated 17-storey Globe and Mail Centre built by First Gulf, figure3 designed a workplace that finally represented the core values and status of the company; a forward-thinking innovator in the development of office, mixed-use, retail and industrial properties.
Taking up one floor of the building to house their staff of 180 that included their construction, leasing, administration and marketing teams, First Gulf wanted a space that conveyed urbanity, creativity, sustainability and community. With a variety of work settings, the open design allows for the office culture to be on display, with natural light flowing in and amazing views of the city acting as the backdrop. The staff felt the difference immediately, feeling more connected to their purpose in a new environment they're proud to call home.
Exposed ceilings and curved glass corners create an inviting, sophisticated atmosphere that is felt as soon as you walk off of the elevator. A balance of open seating, interior offices, and non-bookable privacy rooms allow staff to not only be more visible to each other but also connect in more effective ways.
Artscape Daniels Launchpad
Artscape Daniels Launchpad, a new arts-focused co-working facility, blends diverse artist and maker studios with entrepreneurial training programs and resources to support the incubator's unique focus on creative entrepreneurship and business development. Strategically located in Daniels City of Arts, a new office condominium building overlooking Lake Ontario in Toronto's emerging East Bayfront, the facility situates its members in a community of creativity and innovation.
Artscape asked Quadrangle to transform the new 35,000 square foot facility into a luminous, accessible, and tech-enabled interior that would inspire creativity and professionalism in equal measure. Therefore the design team established an environment that blends ideal working conditions with seemingly ad-hoc and playful elements such as splashes of colour and reclaimed furniture to economically create interior focal points and make the creative community feel relaxed and at home without distracting from their work. The design supports networking and community, as well as pride and workplace flexibility, without distracting from the focus on learning and the things being made.
To offset the building's newness, many finishes are upcycled or handmade. There are tabletops made from reclaimed wood, hand-painted wall tiles and a 'board room' with floors and walls finished with wood flooring salvaged from a Hamilton high school gymnasium — a cheeky visual pun that gives this businesslike space warmth and vitality.
With over 90 unique rooms, the facility is unified by a single connecting corridor that runs from north to south to form a spine or 'main street', lined on both sides by open seating booths resembling houses and the steel-framed glass 'storefronts' of workshops and breakout meeting rooms. To one side of the spine are workshops for fashion and textiles, another for fine metals and jewelery, and a third for combined woodworking and digital prototyping. To inspire a vintage workshop feeling, the designers incorporated industrial lighting which complements the natural light that floods in through the floor-to-ceiling wraparound windows.
Across the street are studios for quieter work requiring less light: photography, digital media, audio and VFX. At the south end of the street is Sugar Hall, a 'blackbox' event space that can be effortlessly subdivided into three smaller rooms, offering a sweeping view of the harbour and the Redpath Sugar Refinery. The Hall is supported with adjacent project rooms for meetings, seminars or long-term projects, each with their own aesthetic personality. At the north end, the Commons, a large co-working and social space, includes an open kitchen and 'living room' with an eclectic mix of new and vintage including a mobile faux fireplace.
HarperCollins
When HarperCollins was looking for innovative workplace solutions in its three existing Toronto office locations in Canada, the publisher commissioned ENV New York and NORR to implement the workplace standards which were originally developed by ENV New York for the publishers' NY headquarters in 2014. Rather than investing in multiple locations, plans were prepared to amalgamate the existing operations into a single new office which could address the consolidation and streamlining of operations, reduction in spatial requirements by achieving efficiencies, increase densities, while incorporating the new design concept into the office.
NORR and ENV New York worked together on the implementation of the space, which spans 68,000 square feet over 2.5 floors of the Bay Adelaide Centre, a AAA LEED® Platinum certified building located in the downtown core of Toronto. The planning strategy for this design was to support a flexible environment made up of a wide variety of different functional settings. Similar to the NY office, in addition to the open the new office spaces, the Toronto office was planned with a conference center, focus rooms, café and lounge, and breakout areas allowing work to be done from anywhere in the office.
The design features three large meeting rooms which are separated by Skyfold walls – an acoustical, retractable vertical folding wall which stores in the ceiling to optimize floor space for multi-function activities. The potential use of the three rooms individually or in combination was considered in furniture layouts with a different layout developed to plan for the power/data/AV feeds required to support different settings for the rooms. The results of the design and implementation are a rejuvenated workplace that has incorporates a series of new client delivery tools and settings to reinforce HCP's position as one of the leading publishing companies. The renovation pays tribute to the original NY design intent, while increasing the consistency of the finishes and the functionality of the spaces.
Canada Lands Company
When Canada Lands Company (CLC), the real estate arm of Canada, moved their offices from the 12th to the 17th floor of Toronto's One University Office Tower, they engaged interior design firm iN STUDIO to design a workspace that reflects their open, approachable, and community-minded culture. In addition, CLC wanted their new office to foster greater collaboration between colleagues and business units.
CLC's new workplace features a more open environment, fostering seamless collaboration between employees. Additional connection hubs, such as the centrally placed cafe, serve as places for large gatherings or informal meeting areas for employee brainstorms or team debriefs. Enclosed meeting rooms are given individualized accents, with a customized graphic privacy film bringing the outline of Canada to life.
Custom elements throughout the office continuously call back to CLC's commitment to Canada and nature, epitomized by a unique felt map of the country greeting visitors at reception – an instant talking point. Contemporary features such as a wood screen behind reception are integrated to give the workspace a modern, transparent feel. A natural color palette with dark blue and crimson accents, surrounded by warm nutmeg woods, provides a homey feel to staff and guests alike. Natural light filters into the workspace of every employee, guaranteeing that the space feels open and inviting independent of where you sit or stand.
An office relocation often provides challenges, and these had to be dealt with to ensure CLC's design needs were met. Prior to the move, every Canada Lands Company employee had a private office situated around the perimeter of the floorplate. Shifting from a fully closed to a partially open layout was a top priority for CLC at the onset of this project. Through a more open, flowing layout, CLC also hoped to improve the communication barrier (physical and perceived) due to the high percentage of closed-off office in their previous space.
Teknion
Teknion Corporation is a manufacturer of office furniture, architectural components and textiles. Their downtown Toronto showroom reflects the company's strong brand and philosophy which has helped drive sales in this competitive market.
SGH worked with Vanderbyl Design from San Francisco to interpret Teknion's strong graphic aesthetic. As a working showroom, the design reflects Teknion appreciation of modern workplace design through a balance of formal and informal collaborative spaces as well as private areas for concentration. Feature areas were created to support large events and LEED certification was achieved through locally sourced materials, excellent environmental practices and integration with base building infrastructure.
Flight Centre Travel Group
At the key intersection of King and Spadina in downtown Toronto, Travel Centre represents a rethinking of the corporate workplace, merging a storefront retail area, and an event space with united offices for Flight Centre's four brands, establishing a location where working, selling and socializing seamlessly collide. Aiming to create an environment that would inspire people to travel, the three-story interior was influenced by 19th century explorers' clubs and movies about fantasy travel including The Life Aquatic with Steve Zissou.
Repurposing what was originally built as a 19th century garment factory, the project addresses both the historic yet rapidly intensifying area, by keeping the scale and heritage quality of the facade intact while creating eye-catching interiors that capture the attention of passersby. The transparency of the design also reflects Travel Centre's motto, "to open up the world for those who want to see." On entry to the double-height lobby and retail space, guests are struck by the ironic calculated contrast between the historic post and beam interior and an the angled black box boardroom. This futuristic element, which hovers over a dual retail counter and reception desk, is glazed at both ends – providing transparency deep into the space while also framing views to the street. The entry invites curiosity, casting views in multiple directions, while inviting the live beat of the busy street to infuse the interior. Comfortable tables, casual chairs and banquette window benches invite guests to linger, leaf through the displayed brochures and discuss their travel plans. Monitors display the days' best travel deals. The floors, decorated with a pattern of oversized passport stamps, immerse visitors in their own travel fantasy.
On the upper level, a spacious Explorers Club serves as an event space, a drop-in workspace for visiting executives, and a backdrop for social media broadcasts. An open-concept serving kitchen and bar sets the atmosphere for hospitality and entertainment. Informal gatherings can take place in the Map & Charts Room or the Travel Library, and desks concealed in oversized travel trunks on casters can be opened to provide personal workspaces.
The lower level workplace area brings the various Flight Centre brands together in a single location. Quadrangle painted the brick walls white to optimize reflected daylight in the space. Open-style benching workstations are organized into departmental pods while individual desks are unassigned, allowing teams to ebb and flow with demand. Each brand is demarcated by its own, bold color scheme and the central area buzzes with activity around the central kitchen and socializing space.
Stereo D
| | |
| --- | --- |
| Designer | Quadrangle |
| Photographer | Bob Gundu and Richard Johnson |
| Size | 45,000 sqft |
| Completed | 2016 |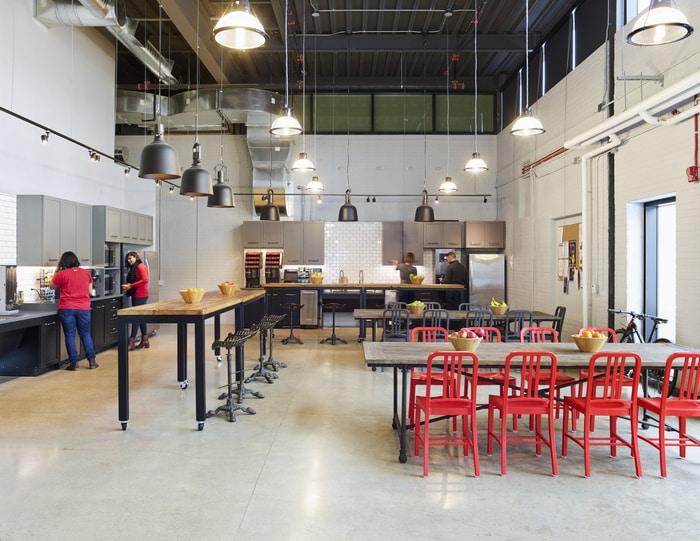 A high-tech media giant that renders stereoscopic 3D content for major motion pictures, Stereo D has been named one of the world's most innovative companies. Building on its base in California and India, the company chose to expand its presence to Toronto, tapping into the city's highly skilled digital artist talent pool.
Settling in Liberty Village, a rapidly developing neighbourhood in the city's west end, whose century-old industrial buildings have now been appropriated by creative and tech agencies, and a predominantly youthful demographic, the studio saw the advantage in the area's live/work culture and with its proximity to transit and the entertainment, fashion and gallery districts.
Occupying a portion of the former Canada Bread factory, a heritage-listed building from the early 1900s, the office design required the technical knowledge to efficiently convert the 45,000 sf space from industrial into a high-tech workplace. The interior design of the space was used to help Stereo D attract and retain the best resources in the business – many of whom requested to relocate from California during design development of the studio. The greatest challenge was to design a space where the up to 450 staff could comfortably work for long hours in almost complete darkness.
According to Stereo D Canada's Vice President and General Manager Stephen Gallop, "Quadrangle's expertise in adaptive reuse, technologically-rich broadcast media spaces, and award-winning creative workspace design, combined with their knowledge of sustainability, accessibility and practicality, made them an easy choice to help us with this project." Quadrangle principal Ted Shore explained the starting point for the solution: "We began by thinking about the animators' needs and their daily experiences. While most animation studios have ad-hoc desks, we felt there would be great impact in providing each person with a spacious personal area, a comfortable chair (SAYL chairs by Herman Miller), and a new, ergonomic workstation (BIVI by Steelcase) that includes shelving and drawers for their personal effects. Surprisingly, the office is practically paperless, but staff tend to enjoy personalizing their space with movie props and trinkets, and we gave them space to do this proudly."
A state-of-the-art, 30-seat screening room and four viewing rooms provide ample space for staff and clients to review segments during every phase of production. The pools of workstations are complemented by abundantly lit breakout, meeting and lounge areas including a central, sky-lit lounge, and a large, domestic-style kitchen, and several multipurpose rooms.
Gallop is thrilled with the results: "The new space has a wow factor that creates a strong impression for clients, and during interviews and open houses. The workspaces are highly functional and very open, encouraging increased collaboration across departments. The emphasis on spacious, light-filled common areas –– further reinforces a sense of community and invites an interchange of ideas, unifying the studio in a new way. Many employees have remarked that the new studio feels like a space that truly captures the aesthetic of Stereo D and the highly creative work we do."
CO-Sol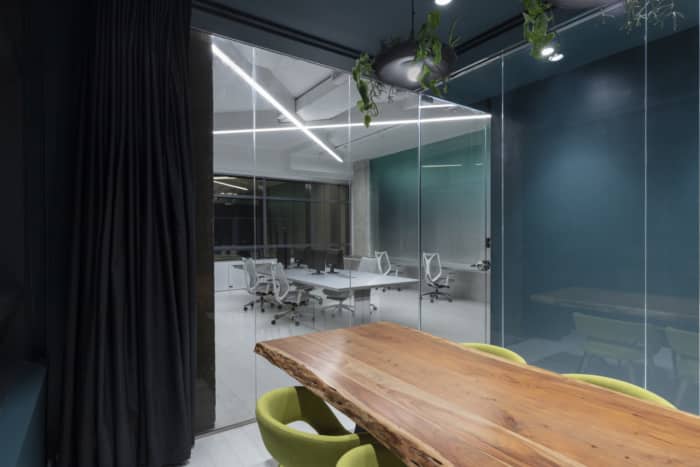 Drawing on the contrasting elements of machinery and nature, this design was created for a new workspace for a Japanese tech firm's first Canadian location in Toronto. The company, CO-Sol, which also has offices in Tokyo and Fukuoka, requested that their third office evoke a sense of "authenticity in a new culture."
The 1,000-square-foot office is divided into two sections by a bronze-tinted glass wall. The workspace is airy, crisp and minimalist. The large aluminum communal table, built-in shelving and custom X-shaped fixtures feature prominently. In the summer, the glass high-rise building façade provides green roof views reflected within the metallic gradient mural. The floor finish is a white stained cork plank, which provides a soft acoustic underlayment throughout the office.
The front office includes a common area, library, server room, meeting room and kitchen that is cozy, natural and intimate. The walls and ceiling are finished in rich green tones, with a soft green stain on oak millwork stretching from floor to ceiling and accentuated with arch-shaped cubby seating. Chairs in green felt fabric, a live-edge wood table and light fixtures integrated with different natural plants occupy the meeting room. Black veneer was used to create the kitchen cabinetry, counter and backsplash, mixed with matching appliances and fixtures to create a shadow box.
The Canada-based IT office specializes in providing 24-hour service to its clients in Japan, making full use of the time difference. Different materials such as aluminum, wood and cork were used to create distinct spaces for the staff, since they will be occupying the space during varying hours in the day. The different atmospheres of warmth and crispness, relaxing and functional forge a new identity for the company's future vision, crossing cultures between Canada and Japan.
Campari Group
| | |
| --- | --- |
| Designer | I-V |
| Photographer | Lisa Petrole Photography |
| Size | 9,600 sqft |
| Completed | 2016 |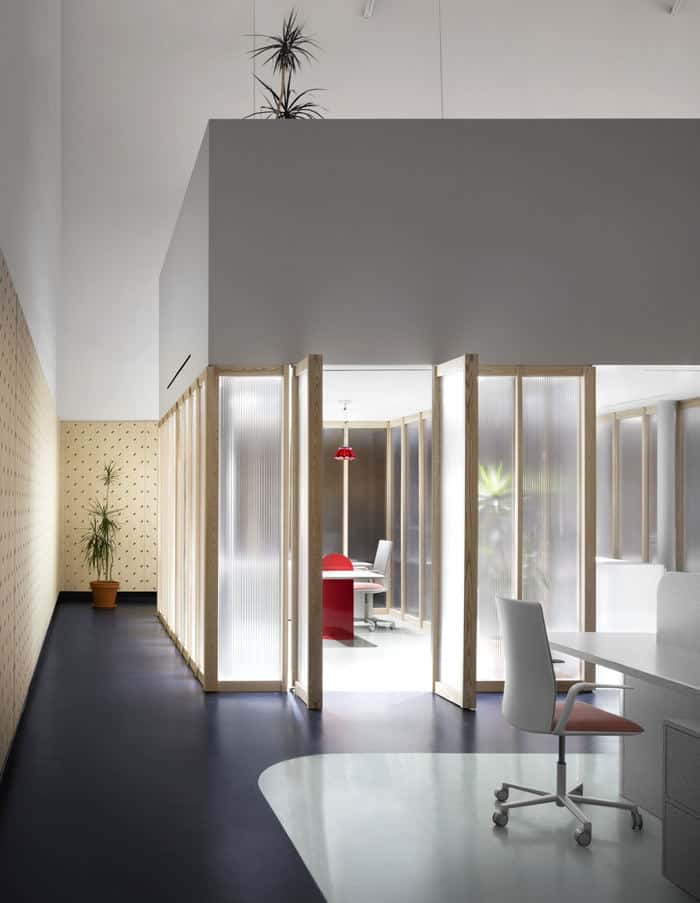 When commissioned by Gruppo Campari to design their new Toronto office, our brief was simple – 'create a space which captures the spirit of the company and inspires the people who use it'.
To achieve this mandate we looked to the past to inform the future. Initially captivated by Campari's iconic posters – particularly those designed by Italian Futurist's Fortunato Depero and Bruno Munari – we quickly found ourselves immersed within a rich archive of creative collaborations spanning over 100 years. The other aspect of the brand which fascinated us was the secret recipe which makes up Campari – which to this day only a handful of people know. And its from these two divergent ideas that we looked to distill a singular idea.
The overarching approach to our design was less about a concept/vision and more about a process of collage. In order to pay homage to Campari's rich social and cultural history, we abstracted colors, patterns, textures and shapes from the posters and the ingredients – layering them over one another until we achieved a balanced three dimensional canvas.
The transition from brand to space was quite fluid and organic as every decision we made was filtered through the lens of bold, vibrant and experimental – bold architecture, vibrant colours + textures, and experimental material applications. For both us and the client the end goal was an inspirational space.
As per the plans and photos, the office is essentially comprised of 3 primary spaces – entrance/vestibule, workspace/mezzanine, washroom/utility.
Our primary focus when planning was exploiting the large open area and high ceilings of the main space in order to create both public and private spaces. Inspired by Fortunato Depero's 1928 poster titled 'He Distractedly Put the Bitter Campari on His Head' we wanted our architectural volumes to float within our canvas. The enclosed offices and boardrooms can be circulated around as opposed to pushed up against walls. And the upper mezzanine provides public space away from the primary work spaces
Given the history of the existing building, we encountered many challenges, however the most pressing was the lack of natural light. The space itself has no windows to the exterior and initially had no skylights – those were added during the design and construction process. And to get natural light into the private offices and boardrooms we ended up using 1.5″ polycarbonate sheets to create partitions. This allowed for soft diffused light into spaces which otherwise would have been dark.
This project is all about materials and colour. We used Johnsonite rubber flooring throughout the whole space to define zones. We used Gallina polycarbonate sheets to create translucent partitions. We used Abet Laminati for all of our custom millwork – the Bacterio Pattern designed by Ettore Sottsass reminded us of the cochineal insect which was traditionally used to colour Campari red. We used laser cut white ash plywood to add warmth to the space – the pattern is derived from another Campari ingredient which is the cascarilla leaf and is intended to help with acoustics. And lastly white and grey paint to balance the vibrancy of the aforementioned.
VICE Media
| | |
| --- | --- |
| Designer | DesignAgency |
| Photographer | Adrien Williams |
| Size | 24,500 sqft |
| Completed | 2016 |
When VICE Media — the world's preeminent youth media company— needed a new Toronto bureau — having expanded from 50 to over 150 people in over a year— they engaged DesignAgency because the two companies share a common core: both are cross disciplinary, collaborative and creative. VICE asked for a space that reflects their strong brand, and exudes the youthful energy that they are famous for. Attuned to the needs of its client, DesignAgency infused a decommissioned factory with the informal, relaxed vibe of a classic cigar lounge, then stealthily layered technology, lighting and sound equipment throughout. The results are instrumental for the VICE team to produce their multi-platform content, while allowing the open-plan space to play triple duty as a day-to-day working environment, a film and recording set and a showpiece that speaks to the personality and values of the company.
As visitors enter, they are immediately immersed in the world of VICE. The hard-edged, industrial lobby — with a steel and stone reception desk, raw concrete floors and rough brick walls — captures, through giant panes of steel-framed glass, the hive of activity in the office beyond. Unexpected touches, including a softly glowing, neon VICE sign and a reclaimed Persian rug paired with a distressed leather sofa, gives a taste of VICE's irreverent tendencies.
That irreverence intensifies immediately beyond the lobby, where visitors step into a fully stocked saloon. Tall, walnut shelves are stocked with bourbon and whiskey (as well as coffee, tea and sparkling water for early morning meetings). Laptop-toting techies huddle around marble-topped tables ringed by vintage drafting chairs. The space throws back to a more liberal era of office culture, when long hours and after-dinner drinks were the norm. The materials reinforce the throwback feel. DesignAgency topped the bar with soft zinc that distresses with use; the marble patinas with the spill of every bourbon sour.
Adjacent to the bar, the Bear Room (named for a similar meeting room in the Brooklyn office and its taxidermied namesake) is both the marquis meeting area and the signature interview space for visiting luminaries. Twin, five-hundred pound coffee tables made from sawn timber logs, flanked by plush tufted couches, custom made in Ireland by Orior, and an ox-blood coloured accent wall, evoke the feeling of a cigar lounge. Sound, lighting and site-lines are all optimized for filming.
The majority of the office is open concept, with giant east facing windows for day lighting, or overhead lighting that can be adjusted for either straight-up tasks or filming. Employees sit or stand at reconfigurable desks with optional privacy screens. As a contrast, DesignAgency created intimate break out areas. The kitchen is separated by two pavilions that house the executive offices, instilling a sense of intimacy for the eating area — useful in part because it doubles as a set for on-camera cooking demonstrations. A screening room, with plush leather armchairs, provides a space for unwinding and watching the products of the offices frenetic creativity.
Aercoustics
| | |
| --- | --- |
| Designer | iN STUDIO |
| Photographer | courtesy of iN STUDIO |
| Size | 10,000 sqft |
| Completed | 2015 |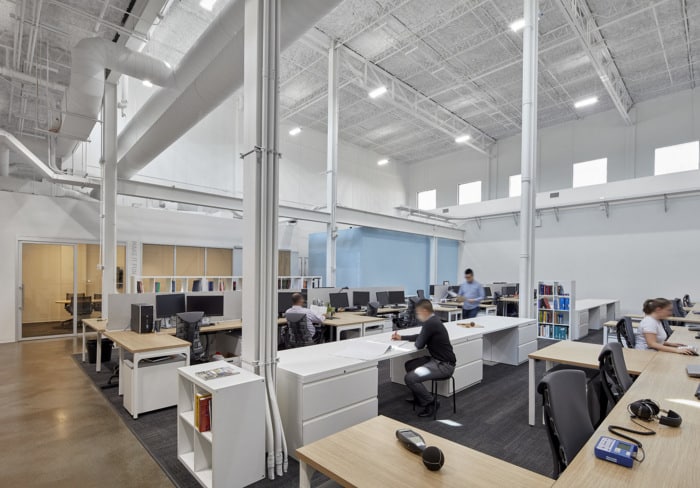 When Toronto-based sound engineering firm Aercoustics wanted a new office to showcase them as the go-to player in the acoustics space, they engaged esteemed interior design firm iN STUDIO to realize their new 10,000 square-foot workspace. Primarily known for their work in architecture, workspaces, and performance halls, Aercoustics has been perfecting the art of sound engineering for more than 40 years. The brand wanted their new office to position them as thought leaders as well as engineers, and to clearly communicate the dynamic nature of the company and the services they offer.
The office uses space to convey Aercoustics' young, progressive, and growing company culture. Visitors are immediately greeted by the firm's ongoing buzz of activity, belying the constant innovation going on inside the walls. Green and natural elements are integrated throughout, juxtaposed with transparent materiality to give the office an open, connected feel and allowing for abundant natural light. A minimalist color palette and inspirational graphics stimulate creativity and demonstrate Aercoustics' commitment to innovation.
Drawing on the principle that good acoustic design is often invisible, Aercoustics wanted their new office to sound better than it appears. The space is fresh and relaxed, conveying an industrial vibe, with double height ceilings. An acoustical spray was applied to the ceiling, to assist in creating an ideal acoustic environment. The main floor area serves largely as a workspace, with active meeting rooms showcasing the ideal acoustic control and state-of-the-art technology. All new interior walls for these areas were built according to Aercoustics' specifications, ensuring optimal effectiveness for open workspace and essentially becoming a test lab for future acoustic implementation.
A standout element of Aercoustics' office is "The Bridge," a state-of-the-art sound simulation studio that is changing the landscape of acoustical engineering. Brought to life by iN STUDIO, The Bridge combines virtual reality video with ambisonics audio, allowing Aercoustics' acoustical engineers to turn static data into a tangible, three-dimensional experience. Through its advanced audio system and modeling processes, The Bridge is able to create accurate reproductions of all types of acoustic scenarios, providing clients an opportunity to understand exactly how their space would sound upon completion.
SGS
| | |
| --- | --- |
| Designer | Johnson Chou |
| Photographer | Ben Rahn |
| Size | 32,500 sqft |
| Completed | 2017 |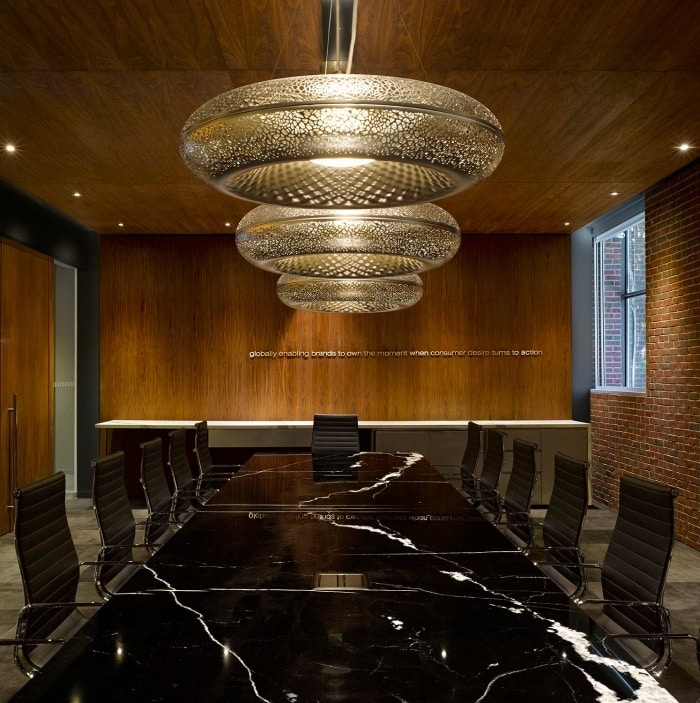 The design objective for the three-story building was to reference the history of the building, while conveying a narrative of the Client's work as a multi-media design and packaging company.
Inspired by the materiality of tea filters and the Client's packaging design, the intention was to create metaphoric spaces evocative of corrugated packaging with forms and spaces constructed of metal mesh suggestive of tea filters that enclose, shape and articulate.
As a reference to tea filters, a metal mesh screen curves through the lounge/town hall, which contains rich, tufted seating and communal tables inspired by post-industrial Victorian interiors while custom elements apply a sense of modernity and serve to create an aesthetic balance. Ornate, brass light fixtures hang from above with a bar anchoring the wall beyond. To the left, the light of an enclosed terrace contrasts with the dark materials of the town hall. Mesh screens composed of corrugated and flat forms were designed to allow for workspaces to feel more enclosed and intimate, while still allowing for light to pass through. A bright pink, metal mesh screen encloses the print and layout station with its curved forms, creating not only a feature in the space, but a distinct identity for this primary step in the company's process. Next to this central station is a break out space with servery, lounge and library below several skylights–a bright space to regenerate and relax.
Postmedia
As the print news industry evolves to remain relevant, the National Post and its parent company trade suburban office ownership for downtown tower tenancy fit out for a new digital era.
The glossy white entrance of 365 Bloor St. E. is still a work in progress, but it already bears the markings of its new identity. "Postmedia" is imprinted in block lettering against a translucent background on the lobby reception desk. As Craig Barnard, senior vice-president, Postmedia, explains, the relocation was highly strategic. "It was really about moving the business in a new direction and changing the culture from the old, traditional print to the new media/digital world," Barnard says. The company wanted to be closer to its ad agencies and advertisers downtown, as well as attract young, new media talent, he adds.
Enter Joanne Chan, principal of SDI Interior Design & Project Coordination. Postmedia wanted to convey the image of a professional media company focused on accuracy and speed-to-market, Chan says. Google came up as a reference point for attracting young talent, but it didn't serve as a template for the design. The biggest shift for the 600 employees stationed at Postmedia/National Post's head office was moving from traditional, private office to a modern, open-concept work environment.
Rather than extending the workstations by a foot, Chan says, she preferred to provide generous corridors, where the extra inches would have the biggest impact. And employees have access to collaboration spaces ranging from standing-height touch down space to meeting rooms with writable glass boards. Employees are organized onto floors by their department.
On the National Post's floor, editors have quiet "head-down" space in addition to their workstations, which gives them private space for heads-down research and confidential conversations with sources, Chan explains.
A digital signage program was developed to promote connectivity between different departments on different floors. The Collaboration Café, which spans half the 11th floor can easily be broken into its smaller components as well. Modeled to conjure a "modern cottage" vibe, Chan says, the café features communal tables and rustic chandeliers to create a restaurant ambience. A mesh curtain can be pulled across the café to divide the space from the adjacent reading lounge, and a wooden display case spread with a selection of its daily newspapers. Restaurant-style booths surround the perimeter, for semi private space for small impromptu meetings.
With the move only recently completed, Postmedia is still making final adjustments to its space, Barnard says. A branded ground- floor café will come later, also to be designed by SDI Interior Design & Project Coordination, and so will the external signage.
If all goes to plan – and so far it has, Barnard says – the sleek space will serve as a symbol of Postmedia's successful transition from traditional print media into a new digital era.