If you are an avid traveler, you may have heard about Aeroplan. If you are considering getting a credit card for your travels, it's worth getting one that helps you get the most out of this frecquent flyier loyalty program. In this article, we explore Canada's top 4 Aeroplan credit cards to add value to your money.
With an acceptable annual fee, a handsome 40,000 miles welcome bonus and lots of other perks, we beleive that the TD Aeroplan Visa Infinite card is the best overall for 2020. However, there are other options that might be just the right fit for you.
Are you a frequent flyer? Do you want to earn points and rewards each time you swipe your card when you travel?
If you've answered YES to both these questions, then getting yourself an Aeroplan credit card is what you are after.
Chances are you've heard about it but do not know the finer details of this program. We don't blame you because there are plenty of cards out there and choosing one can be a little overwhelming.
You're also probably wondering 'Do I really need an Aeroplan credit card ?"
Aeroplan credit cards extend your purchasing power by letting you earn miles that you can redeem for hotels, flights, car rentals, entertainment, and vacation packages. Each time you engage the services of Aeroplan's affiliated partners and show your card, you will earn twice as many miles.
So not only can you earn points, but you also save a lot. Plenty of Canadian travel enthusiasts find these cards valuable which is why we have broken down the details for the best Aeroplan credit cards so you can choose the one that best fits your needs.
But first, let's get to know Aeroplan and what it's all about. In this post you'll find:
What Is Aeroplan?
The most popular travel rewards program in Canada, Aeroplan is a multifaceted traveler rewards program. It boasts five million members and counting since its launch in 1984. Created by Air Canada, members can earn miles primarily through swiping certain credit cards at affiliated businesses. As of 2012, 2.3 million rewards had been redeemed by members, including 1.6 million flights.
How Does Aeroplan Work?
While you can accumulate Aeroplan miles by flying with Air Canada and other partner airlines, the majority of Aeroplan members are not frequent flyers but they are frequent spenders. Aeroplan has partnerships with over 150 partners that you can earn miles with such as:
Avis Budget Group
Starwood Hotels & Resorts
Fairmont Hotels & Resorts
Home Hardware
Costco
Hudson's Bay
TSC
Sephora
So, basically, Aeroplan works by rewarding its members with points (which are called Aeroplan miles), and then members redeem those points for flights, merchandise or gift cards.
The Aeroplan Rewards Chart
With the Aeroplan program, members can benefit from round-trip Aeroplan flight rewards on Air Canada (including Air Canada Express and Air Canada Rouge), Star Alliance Airlines (Air China, Air India, EgyptAir, Lufthansa, Singapore Airlines) as well as partners such as Middle East Airlines and Calm Air. These flight rewards are known as Round-Trip Fixed Mileage Flight Rewards and to be eligible for the trips on the Aeroplan rewards chart, all members need to do is accumulate at least 50% of the miles in the chart below.
Figure 1: Image of Rewards Chart from Aeroplan.com (See the full chart here)

How to redeem Aeroplan Rewards
Once you have sufficient miles, you can head to their website to redeem them but remember to read any terms and conditions that come with your redemption, for example:
You need to pay relevant taxes on your purchases
Reservations via phone will incur a $30 CAD fee (bookings made online have no fees)
Now that we have some of the basics covered, let's get into the best Aeroplan credit cards you can choose from!
The Aeroplan Credit Card with the Best Welcome Bonus: The American Express Platinum Card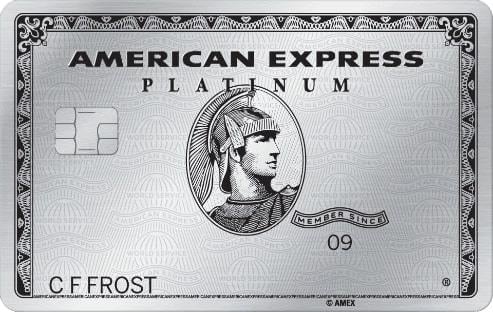 In terms of the best welcome bonus, you will be hard-pressed to find a better card than the American Express Platinum Card. However, this card is not an Aeroplan card. It earns you Membership Rewards which you can then use to transfer to Aeroplan miles.
This card is for frequent flyers who want elite status benefits such as:
Premium benefits from Hilton & Marriott
Unrivaled lounge access to over 1,200 airports in 130 countries
$200 annual travel credit
Solid insurance coverage
This card offers premium perks especially if you are a frequent traveler. For new cardholders, you receive 25,000 welcome bonus points as soon as you hit $2,000 in purchases within the first three months of the Cardmembership, enough to redeem for a $250 statement credit. Plus, you can receive an additional 10,000 Membership Rewards® points after six months of Cardmembership. You can earn up to 35,000 points in the first six months from these bonuses alone, as we explain in our review of the Platinum Card.
You also get a $200 annual travel credit that can be used to make a single travel booking of $200 charged to the Platinum Card via American Express Travel Online or via Platinum Card Travel service.
You'll like this card because:
It offers luxury travel benefits for travelers with plenty for valuable perks and discounts from hotels. You'll also earn:
3 points for every $1 spent on eligible dining in Canada
2 points for every $1 spent on eligible travel
Elite Status upgrades in Hilton, Shangri-La, Radisson and Marriott Bonvoy hotels
Complimentary benefits valued at $550 with Fine Hotels & Resorts
This card also does not have any foreign transaction fees when you swipe on foreign currencies.
This card may not be ideal for you if:
If luxury benefits are not your go-to holiday style, then this card may not be the perfect fit. Plus, this card has an annual fee of $699 and if this doesn't suit your budget, there are plenty of other options for you to consider.
Income Eligibility: N/A
Annual Fee: $699/year
The Aeroplan Credit Card With The Cheapest Annual Fee: CIBC Aero Platinum Visa Card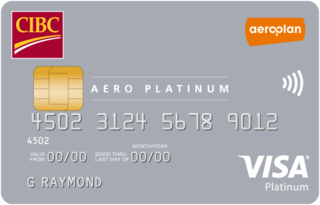 If paying a high annual fee is not your cup of tea, then the CIBC Aero Platinum Visa Card may just be the card for you. Costing you only $39 a year, this card also comes with a low minimum personal income requirement of $15,000/year. You get 5,000 miles as a welcome bonus which gives you a value of $125 to redeem for flights. Other benefits for travelers include:
Comprehensive insurance coverage with minimal annual fees
Rental car discounts from Avis & Budget car
Fly to eligible short-haul destinations for as low as 15,000 miles
Fly to long-haul flights in Canada and the continental USA for as little as 25,000 miles
You will like this card because:
For a really low annual fee, you get pretty decent rewards and insurance coverage (up to $100,000), making it the most accessible Aeroplan credit card. You can also earn:
1 Aeroplan Mile for every $1.50 spent on eligible purchases
2x rewards when you show your membership with your card at over 150 Aeroplan partner businesses
For the average traveler looking to earn points without all the fuss and frills, this entry-level card is straightforward and simple in its rewards system.
This card may not be ideal for you if:
If you have a higher budget in terms of annual fees, if you are a seasoned and frequent traveler, then you might want to check out other cards that come with added travel benefits. This card is best suited for travelers signing up for their first credit card and to Aeroplan for the first time.
Income Eligibility: N/A
Annual Fee: $39/year
The Aeroplan Card with the best Perks: TD Aeroplan Visa Infinite Privilege Card
If perks, perks, and more perks are what you are looking for in a card, then the TD Aeroplan Visa Infinite Privilege Card would satisfy that requirement. This card gives you the best Air Canada perks and an increased base Aeroplan earning rate. You also get:
A welcome bonus of 25,000 miles when you make your first purchase
If you apply by March 2, 2020 you can earn 40,000 miles
For every $1 spent on Air Canada purchases as well as in groceries, gas, and drugstores, you get 1.5 miles.
For every $1 spent on anything else, you get 1.25 miles
But that's not all the perks you get. Get ready to fly to more than 1,300 destinations around the world with Air Canada and its partner airlines and receive perks such as:
Feel like a VIP with priority check-in and priority boarding
You get a free first checked bag
You get 4 annual one-time use of Maple Leaf lounge passes (you can use this only when you travel on Aeroplan flight rewards ticket)
Want more? While traveling and spending with Visa Infinite Privilege, you get these perks:
With your Priority Pass membership, you get 6 complimentary lounge visits each year
You also get airport benefits such as priority security screening and discounts on parking in Ottawa, Vancouver, and Montreal-Trudeau
You will like this card because:
Of all its perks. This card was designed for people who want all the thrills and frills that come with a card. This card is ideal for travelers, not only frequent flyers, who are keen on keeping with their rewards and points and getting the most out of every purchase they make. Bear in mind that with great rewards, come high annual fees. You need to pay $399 for primary cardholders, $99 for authorized users and there's also an income requirement of $200,000 a year.
This card may not be ideal for you if:
The annual fees and the income requirement may put you off. Plus, since this card comes with plenty of perks, it is important for you to keep updated and know what you are eligible for and what you are not, so you can use it and claim your rewards as when possible.
Income Eligibility: $200,000/year in household income
Annual Fee: $399/year
The Best Overall Aeroplan Credit Card: TD Aeroplan Visa Infinite Card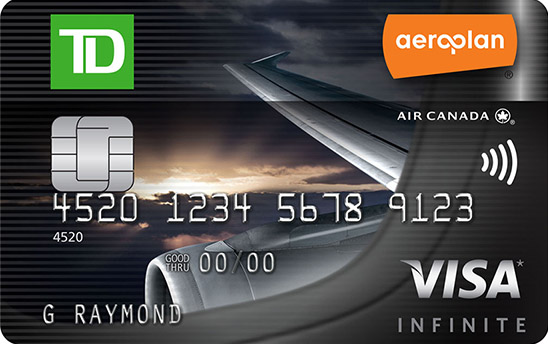 What does the best overall Aeroplan credit card give you? Essentially, it includes good rewards, good Aeroplan miles, and its fees are not extremely high. With the Aeroplan Visa Infinite Card, you get a welcome offer of 40,000 miles and your fee is waived for the first year. You also benefit from:
If you make eligible purchases within the first 3 months of your card, you get 2 times more Aeroplan miles
For every $1 spent on bookings made through Aircanada.com, eligible grocery, drugstores, and gas, you get 1.5 miles
For every $1 spent on other purchases, you earn 2x miles
You will like this card because:
Apart from the amazing welcome bonus, this card comes out as an overall winner in Aeroplan credit cards because of its travel benefits. Many people sign up for credit cards with Aeroplan simply because of the miles they can accumulate, which makes spending while traveling all the more valuable. With this card, you also get:
Travel Medical Insurance worth a whopping $1 million for your first 21 days
If you are 65 years or older, the insurance policy that comes with the plan covers you for the first 4 days
You also get insurance coverage for trip cancellation, delayed or lost baggage, flight or trip delay as well the Common Carrier Travel Accident Insurance
There is also the Emergency Travel Assistance Services and Auto Rental/Loss Damage Insurance
If you use your TD Credit Card to rent a car with Avis Rent or Budget Rent, you get to save a minimum of 10% in Canada & US, and 5% internationally
This card may not be ideal for you if:
Well, there's nothing much to not like about this card. It gives you a good range of rewards and miles and its perks extend to just travelers. It may not be something for you unless you're not into rewards and don't travel at all. But even if you still want to earn value on your credit cards by doing daily purchases, then a card without an Aeroplan would be more beneficial for you.
Annual Fee: $120
Income requirement: $60,000/year
Concluding Remarks
There are plenty of credit cards with their own travel rewards program available in the market, which makes the search for the right one a little hard. This article not only helps make finding the right card easier but it also answers the question of "Do I really want a credit card with Aeroplan?". To have the flexibility to buy flights, redeem merchandise and earn rewards easily are some of the reasons why Aeroplan is Canada's most popular travel rewards program. So if you travel and use your credit card to make purchases, you can make your money work a little harder by signing up for an Aeroplan credit card, and your best overall choice is the TD Aeroplan Visa Infinite Card.