The Marriott Bonvoy® American Express®* Card is one of the best travel cards in Canada, hands-down. It comes with an exceptional welcome bonus of up to 75,000 points (required spend: $3,000, conditions apply), an additional free hotel night every year after the first year, and an impressive travel insurance policy to keep you and your belongings safe and secure.
With an annual fee of just $120, this card pays for itself several times over, even for infrequent travelers. Even if you plan to spend just one night per year in a hotel, the Marriott Bonvoy Card provides excellent value year after year.
So why is everyone talking about the Marriott Bonvoy® American Express®* Card for Canadians these days?
A few reasons. For starters, its 75,000 points welcome bonus is seriously impressive. On top of that, the Marriott Bonvoy program is one of the most flexible travel rewards programs out there, right up there with American Express' own Membership Rewards points program.
But the card isn't only good for hotels—it offers plenty of benefits for those who want to fly, too. Whether it's buying a flight with your points or staying covered with the card's travel insurance, there's a lot you'll learn to love about the Marriott Bonvoy Card.
#1 Features & Benefits
| | |
| --- | --- |
| Welcome Bonus Points | 75,000 |
| Marriott Bonvoy® Points Earned Per $1 Spent At Marriott Properties | 5 |
| Marriott Bonvoy Points Earned Per $1 Spent On All Other Card Purchases | 2 |
| Travel Insurance | ✔ |
| Referral Bonus Points | 10,000 |
| Additional Cards | Free |
| Free Night Award | ✔ |
| Marriott Bonvoy® Silver Elite Status | ✔ |
| 15 Elite Night Credits Per Calendar Year | ✔ |
| Annual Fee | $120 |
The card also comes with additional American Express benefits that come with all of their cards. These include Front Of The Line, which offers cardholders advanced access/tickets to concerts, sporting events and shows across Canada.
Let's break down some of the items in the table above.
Benefit #1: The Welcome Bonus
The welcome bonus on the Marriott Bonvoy Card is up to 75,000 points. You'll receive 65,000 of that when you spend at least $3,000 on the card in the first three months ($1,000 per month), plus an additional 10,000 points when you make a purchase between months 14-17 of Cardmembership.
How Much Is The Welcome Bonus Worth?
It all depends on how, when and where you use your points. As a very conservative estimate, we value Marriott Bonvoy points at 0.8 cents apiece. At this valuation, the bonus is worth $480, quadruple the annual fee. And there are ways to get much better value for your points. As you'll see in the case studies below, it's possible to make this welcome bonus worth well over $1,000.
Benefit #2: Points Earn Rates
Every time you use your card you'll earn additional Marriott Bonvoy points. There are two different earn rates, depending on what you're buying.
5 Points Per Dollar On Eligible Marriott Purchases
If you use your card to pay for hotel rooms, amenities, and anything else chargeable to your room, at any of the 30+ hotel brands affiliated with the Marriott Bonvoy program, Amex will reward you with 5 Marriott Bonvoy points for every $1. You'll also get the same rate for purchases in any physical or virtual store owned and operated by Marriott Inc. or its partners. Marriott will also reward you for those purchases, allowing you to double-dip.
Marriott is very generous with its loyal guests, and it awards 10 points per dollar spent to basic Members in most of its participating brands. Add the two together and you're earning 15 points per $1—which we value at at least 12 cents, or a 12% return—with your Marriott Bonvoy Card.
2 Points Per Dollar On All Other Purchases
If you book a room through a third-party travel agent, or if you make a purchase in any store or merchant that's not a part of the Marriott family, you'll earn 2 points per dollar spent. This is still a great earn rate: if you get 1.5 cents per point as redemption value (more on that below), you're saving 3% on every purchase, which is more than what's possible with most other credit cards.
Benefit #3: Referral Bonus
Why would you want to keep this gem of a credit card a secret, when you can earn points by telling your friends about it? Another way of quickly earning Marriott Bonvoy points is with the referral bonus. When you sign up to your new Marriott Bonvoy Card, you'll get a personal referral link, which you can use to refer friends, family members and colleagues to the card. If Amex approves them for a Marriott Bonvoy Card of their own, you'll receive a 10,000 points bonus.
That's 10,000 points just for telling your friends about one of the best travel cards in Canada today!
This benefit is capped at 150,000 points per year, so you're limited to an annual maximum of 15 approved referrals. Don't let this get you down, though, because those 150,000 points, plus the 75,000 points welcome bonus, can get you weeks' worth of nights in some of the most beautiful hotels around the world.
Benefit #4: Free Additional Cards
Additional supplementary cards are a great way to earn points faster. Amex allows for up to 9 additional cards, free of charge, so you can share your credit with your family or even with employees. In the latter case, it may make more sense to sign up for the Marriott Bonvoy® Business American Express Card since it includes a special policy to protect you against unauthorized charges made to your card by unscrupulous employees.
#2 Four More Special Marriott Bonvoy Benefits
Special Benefit #1: The Marriott Bonvoy Amex Card Free Night Award
On top of the 75,000 Marriott Bonvoy points that come with your Marriott Bonvoy Amex Card, you also receive one free hotel night every year after the first year with a redemption value of up to 35,000 points (Category 1-5 hotel). (Remember, if you don't know what we mean by Category 1-5, we'll explain below.) There's no spending requirement for this free night—you'll get it every year after your first card anniversary regardless of how often you use your card—making it an exceptional value.
What can you use this award on?
How about a night at the swanky Avalon Hotel Beverly Hills, a member of Design Hotels?
Or the Moxy Amsterdam, a new design hotel in one of Amsterdam's hippest districts?
Or the Sheraton in Bali, with its infinity pool overlooking the ocean?
As you can see, the opportunities are truly endless for this benefit, as there are currently over 6,800 hotels around the world in Marriott's Categories 1 through 5. And if you haven't already clued in, a Category 5 hotel can easily go for $300-500 per night, meaning your $120 annual card fee is worth several times its value through this free night benefit alone.
Are you starting to see why Canadians love the Marriott Bonvoy Card so much?
Special Benefit #2: Marriott Bonvoy Elite Status
As soon as you get your Marriott Bonvoy Card, you'll be upgraded to Marriott Bonvoy Silver Elite status, which gives you lower hotel rates, late checkout, free internet, a dedicated customer service line, and 10% more points from Marriott at its properties.
If you manage to spend $30,000 on your card in a year, you'll be upgraded to Gold Elite Status, where you'll earn 25% more on purchases at Marriott properties, complimentary room upgrades, and 2 p.m. checkout on your hotel stays.
There's more to the Marriott Bonvoy Elite Status than Silver and Gold. We'll be covering all the elite Statuses in the sections below.
Trade crypto with the lowest fees
---
CoinSmart
is our #1-rated, fully secure crypto platform. With 24/7 customer support and its easy-to-use app, CoinSmart is Canada's #1 crypto exchange.
Claim your account by
June 7, 2023
to get exclusive access to this special deal.
Special Benefit #3: 15 Elite Night Credits
Not only does the Marriott Bonvoy Card reward you with Silver Elite status in the Marriott Bonvoy program, but it also gives you a head start toward achieving higher levels in the loyalty program. Every year you keep your card, you'll receive 15 complimentary Elite Night Credits, which get you that much closer to reaching the milestones necessary for reaching Gold, Platinum, Titanium, and Ambassador Elite statuses.
Special Benefit #4: 5th Night Free
This isn't technically a benefit exclusive to the Marriott Bonvoy Card, but it's so good that it's still worth pointing out here: every time you book a Marriott hotel for 4 nights, they give you a 5th night for free!
It doesn't matter how you paid for those nights, whether with points or with cash, or whether they are free night awards, like the one that comes with your Marriott Bonvoy Card.
This is most Marriott Bonvoy cardholders' favourite benefit, and you can use it in some pretty exceptional ways.
#3 How To Use Your Marriott Bonvoy Points
You have a few options when it comes to using your Marriott Bonvoy points:
Hotel Stays: The best way to use your Marriott Bonvoy points—hands-down—is on hotel stays. We'll show you how.
Flights: Flights are the second-best way to use the 75,000 Marriott Bonvoy points that come with your Marriott Bonvoy® American Express Card®* for Canadians. We show you below how to get a roundtrip flight anywhere in North America with your points.
Marriott Moments: We won't talk about Marriott Moments in-depth here, since our focus is on hotels and flights, but you can expect things like VIP Super Bowl parties, private dining with celebrity chefs and more. Here's the full list of Marriott Moments that you can choose from.
#4 Marriott Bonvoy® Hotel Categories
Marriott has its properties separated into different "Categories," with each property falling into a category from 1-8. Put simply, lower Categories correspond to cheaper hotels, but as we'll see, some creativity enables you to find some truly exceptional properties at the low end of the redemption chart, making your points go much, much further.
Booking a hotel in a given category is as simple as consulting Marriott's redemption chart below. In brackets, we've included the PointSavers rates, which are promotional prices 10-20% lower than the regular price that you can sometimes take advantage of. Marriott hasn't released their peak and off-peak season dates yet since this is a new setup for them. Sign up for our email list at the bottom of this post if you want our tips on booking off-peak dates.
| | | | |
| --- | --- | --- | --- |
| Hotel Category | Off Peak | Standard | Peak |
| 1 | 5,000 (4,000) | 7,500 (6,000) | 10,000 (8,500) |
| 2 | 10,000 (8,000) | 12,500 (11,000) | 15,000 (13,000) |
| 3 | 15,000 (12,000) | 17,500 (16,000) | 20,000 (18,000) |
| 4 | 20,000 (17,500) | 25,000 (22,500) | 30,000 (27,500) |
| 5 | 30,000 (27,500) | 35,000 (32,500) | 40,000 (37,500) |
| 6 | 40,000 (35,000) | 60,000 (45,000) | 60,000 (55,000) |
| 7 | 60,000 (45,000) | 60,000 (55,000) | 50,000 (50,000) |
| 8 | 50,000 (50,000) | 85,000 (80,000) | 100,000 (90,000) |
#5 Using Your Points For Hotel Stays
Case Study #1: Visiting Family
Suppose you want to visit some family in Calgary, so you quickly search on Marriott's website and decide to stay at the Courtyard Calgary South, a Category 1 hotel in the city's up-and-coming Seton district.
As the redemption chart above shows, you'll pay somewhere between 4,000-10,000 points per night for your stay, depending on the season you visit and whether the property is currently a PointSaver.
This means that at the very least, your 75,000 points get you 6 nights (50,000 points / 10,000 points per night), plus 1 additional free night from Marriott's 5th night free policy and another free night from your Marriott Bonvoy Amex annual free night benefit, which all shakes out to a total of 8 nights.
If you go during an off-peak period, though, you could pay as little as 4,000 points per night, which means you could get 16 nights with your points (75,000 points / 4,000 points per night). Add on 4 extra nights from the 5th-night free policy (16 nights / 4 = 4 free nights), and suddenly you're at 20 nights!
This is my kind of card.
Case Study #2: The Big Winner
I've recently been planning a trip to Guizhou, China, to take in the natural landscapes there. You've probably never heard of Guizhou—not many Westerners have—but it's quickly gaining popularity in the East as one of China's untouched gems. And in the heart of Guizhou sits the brand-new Four Points by Sheraton Bijie, a 5-star marvel of a hotel that's, amazingly, just a Category 1 on Marriott's redemption chart.
That's right—a Category 1 5-star hotel. Here's what it looks like:
Just like in the Calgary example above, if you visit Guizhou during off-peak season, you'll pay just 4,000 points per night at the Four Points, which means your 75,000 points will get you 16 nights. Combine that with Marriott's 5th night free policy for your extra 4 free nights and with the Marriott Bonvoy® Amex Card's Free Night Award, and you're up to an incredible 20 nights with your card.
That's 20 nights at a 5-star hotel, all thanks to your $120 Marriott Bonvoy Amex Card.
Not bad, Amex. Not bad at all.
Case Study #3: Balling Out
Of course, you don't have to stretch your points as far as we are. You can also choose to spend them in a single night, if you'd like.
Spending the weekend in New York? Why not use your points on a Category 6 hotel like the W New York, which sits next to the new World Trade Center?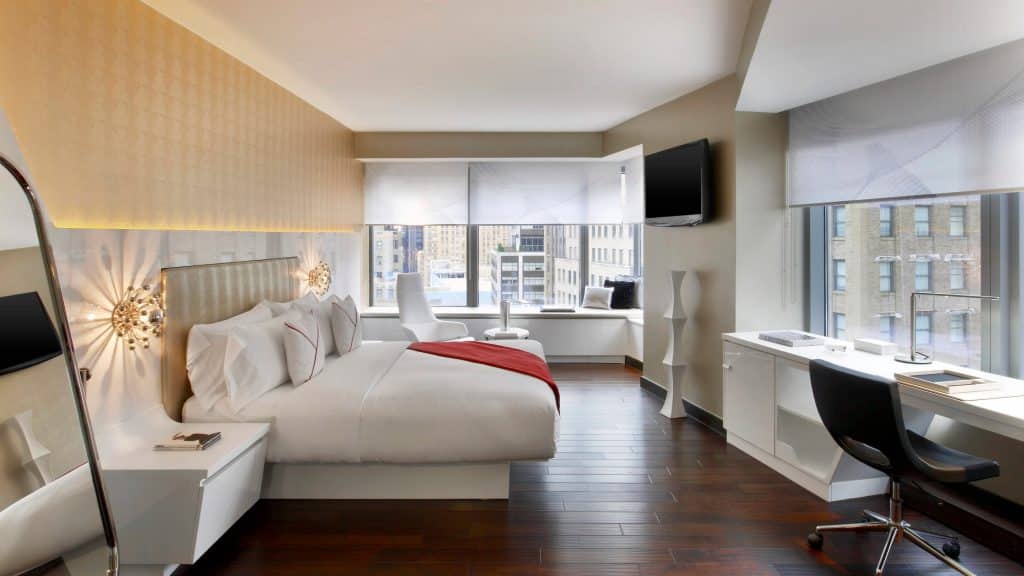 With more than 7,500 Marriott properties to choose from, the sky is truly the limit with your Marriott Bonvoy® American Express®* Card for Canadians.
#6 Redeeming Marriott Bonvoy Points For Flights
Your Marriott Bonvoy points can also be transferred to 45 different airline partners. Most, but not all, of the airline partners accept Marriott Bonvoy points at a value of 3:1 (eg. 30,000 Marriott Bonvoy points = 10,000 Aeroplan Miles).
Keep in mind that we recommend that you use your Marriott Bonvoy points for hotel redemptions, since they're much more valuable that way. If you're looking for a card for maximizing flight rewards, we recommend the American Express Platinum Card, the American Express Business Platinum, or any of the other Canadian business credit cards you see here.
If you follow our advice on how to redeem your airline points, you'll find that they're worth about 2-3 cents apiece, putting the value of 75,000 Marriott Bonvoy points at $1,300+ when you use them on flights.
Here's a full list of all the airline partners you can transfer your points to, with their transfer ratios:
Aegean Airlines (3:1)
Aeroflot Bonus (3:1)
AeroMexico ClubPremier (3:1)
Air Canada Aeroplan (3:1)
Air China Phoenix Miles (3:1)
Air France/KLM Flying Blue (3:1)
Air New Zealand Airpoints (200:1)
Alaska Airlines Mileage Plan (3:1)
Alitalia MilleMiglia (3:1)
ANA Mileage Club (3:1)
American Airlines AAdvantage Miles (3:1)
Asiana Airlines Asiana Club (3:1)
Avianca LifeMiles (3:1)
British Airways Executive Club Avios (3:1)
Cathay Pacific Asia Miles (3:1)
China Eastern Airlines Eastern Miles (3:1)
China Southern Airlines (3:1)
Copa Airlines ConnectMiles (3:1)
Delta SkyMiles (3:1)
Emirates Skywards (3:1)
Etihad Guest (3:1)
Frontier Airlines EarlyReturns (3:1)
Hainan Airlines (3:1)
Hawaiian Airlines HawaiianMiles (3:1)
Iberia Plus (3:1)
Japan Airlines JAL Mileage Bank (3:1)
Jet Airways JetPrivilege (3:1)
JetBlue TrueBlue (6:1)
Korean Air SkyPass (3:1)
LATAM Airlines LATAMPass/Multiplus (3:1)
Lufthansa Miles & More (3:1)
Qantas Frequent Flyer (3:1)
Qatar Privilege Club (3:1)
Saudia Airlines Alfursan (3:1)
Singapore Airlines KrisFlyer (3:1)
South African Airways Voyager (3:1)
Southwest Airlines Rapid Rewards (3:1)
TAP Air Portugal Miles&Go (3:1)
THAI Airways Royal Orchid Plus (3:1)
Turkish Airlines Miles&Smiles (3:1)
United MileagePlus (3:1.1—10% bonus)
Virgin Atlantic Flying Club (3:1)
Virgin Australia Velocity Frequent Flyer (3:1)
You can transfer anywhere between 3,000 – 240,000 Marriott Bonvoy® points to airline partners each day.
#7 Is The Marriott Bonvoy Amex Card Right For Me?
The Marriott Bonvoy Amex Card is a no-brainer for anyone who plans to spend at least 1 night in a hotel per year.
This sounds oversimplified, but it's actually not at all.
Think about it. If you ignore everything else—the 75,000 points welcome bonus, the travel insurance, and all of the other extras that come with the card—and look only at the annual free hotel night benefit, that alone is worth at least double the $120 annual fee.
You're getting one night at a 5-star hotel for $120.
And when you add on all the other benefits, the value of the card becomes overwhelming.
Every Canadian should have this card in their wallet for the next 10+ years.
There are other American Express cards we recommend as well, like the Amex Gold, but the great thing is you can hold several Amex cards at the same time, so it doesn't have to be one or the other.
#8 The Ultimate Canadian Traveler's Credit Card Stack
Even the best travel credit cards have their strengths and weaknesses, so it's best to hold multiple cards so you can capitalize on each of their advantages and downplay their weaknesses.
And contrary to what many people believe, having multiple credit cards actually helps your credit score as long as you pay off your bill every month. This signals to creditors that you're fully capable of paying off your bills on time, which they reflect by boosting your credit score.
Here's the triple threat full stack we highly recommend for maximizing every Canadian's earning and travel benefits:
#1 The Marriott Bonvoy Amex Card
As we've shown in detail here, this card offers an exceptional welcome bonus, but also provides more than enough benefit to keep it in your wallet year after year.
#2 The American Express Platinum Card
Another card that every Canadian should have in their wallet. We value the current welcome bonus at more than $2,000, plus you get a $200 annual travel credit. The Platinum Card has been an excellent card for years, and we highly recommend it.
#3 The Cobalt Card
You'll fall in love with this everyday spending card. We show you how to get up to 10% back on your spending (seriously!) when you use the Cobalt card on coffee, groceries, restaurant and bar spending anywhere in Canada. It's the card you should be using for your daily spending.
#9 Insurance Coverage
The Marriott Bonvoy Amex Card also comes with an impressive travel insurance policy. Here's what it includes:
| | | |
| --- | --- | --- |
| Benefit | Description | Coverage Limit |
| Travel Accident Insurance | You, your spouse and your children are covered in the case of accidental death or dismemberment while travelling | $500,000 |
| Car Rental Theft and Damage Insurance | Damage or theft of your rental car | $85,000 |
| Flight Delay Insurance | Hotel, motel, restaurant expenses and other sundry items when your flight is delayed | $500 |
| Baggage Delay Insurance | Reasonable and necessary emergency purchases when your baggage is delayed | $500 |
| Lost or Stolen Baggage Insurance | Loss or damage to your luggage or personal effects while in transit. | $500 |
| Hotel/Motel Burglary Insurance | Loss of most personal items if your hotel/ motel is burglarized. | $500 |
| Travel Emergency Assistance | Medical & legal referrals by phone 24/7 | N/A |
Every American Express card also comes with two other insurance benefits:
Buyer's Assurance Protection Plan doubles the manufacturer's warranty on your purchases and will repair/replace faulty or damaged items up to $10,000.
Purchase Protection Plan insures your purchases against accidental physical damage and theft for the 90 days after purchase, up to $1,000.
Fraud protection, global emergency card replacement and 24/7 express customer service are included with every American Express card, too.
#15 Is The Marriott Bonvoy® American Express®* Card Worth It?
Without a doubt, and here's why:
The welcome bonus is incredibly generous;
The travel insurance is second to none, and
The annual benefits far exceed the card's annual cost.
If you plan on spending at least one night in a hotel in the next 12 months, you'll save money with this card in your wallet. We can't recommend it highly enough.
Once you've activated your Marriott Bonvoy Amex Card, you can refer friends to the card. You'll receive a bonus of 10,000 points for every friend who signs up using your unique referral link.
When Do My Marriott Bonvoy Points Expire?
It depends. If you haven't achieved any Elite status for life, Marriott Bonvoy points expire after one year of inactivity. Since you earn Marriott Bonvoy points every time you stay at a Marriott property, or even just eat at one of their restaurants, it's very easy to keep your Marriott Bonvoy points balance active. It's even easier if you have a Marriott Bonvoy Amex Card, because it'll earn you points for any purchase. See our section "How Do I Earn Marriott Bonvoy points" above to see just how easy it is to keep your account active.
If, on the other hand, you managed to become a lifetime Silver Elite member or higher, your points will never expire.
How Do Marriott Bonvoy Points Compare With American Express Membership Reward Points?
They're completely different, and we value Amex MR points at 2-3 cents apiece.
Still, it's hard to say which are more valuable. One thing we can say is that you should not transfer your Amex MR points to Marriott Bonvoy points. American Express offers a rate of 1,000 MR = 1,200 Marriott Bonvoy points, which is a very poor valuation. This is only a decision you'll face with your other cards, since the Marriott Bonvoy Amex Card earns Marriott Bonvoy points on its own.
All things considered, we recommend keeping your Marriott Bonvoy points as Marriott Bonvoy points so you can use them on amazing hotel redemptions (see the Case Studies above), and transferring your Amex MR points from your Platinum Card to airlines for flights.
When Are The Peak Season & Off-Peak Season For Hotel Redemptions?
The peak/off-peak system is brand new to Marriott, so they actually haven't listed which dates will be priced in which way. For now, every date is listed at the standard price, though this will change in the coming months. Join our email list at the bottom of this post so we can update you when that happens and help you maximize your points by planning your travel during off-peak dates.
What About Marriott's Points + Cash Program?
If you prefer to save some of your Marriott Bonvoy points, or if you don't have enough for a particular booking, you can take advantage of the points + cash option. Generally we recommend against this, since this setup values points lower than what they're worth if you apply them smartly (see our Case Studies above), but it's not terrible either. If you don't have enough points for your hotel stay, use points + cash, but if you do, just use your points. Here's the points + cash breakdown for each hotel category:
| | | | |
| --- | --- | --- | --- |
| Hotel Category | Off Peak | Standard | Peak |
| 1 | 50 USD + 2,500 points | 55 USD + 3,500 points | 60 USD + 4,500 points |
| 2 | 60 USD + 5,000 points | 65 USD + 6,000 points | 70 USD + 6,500 points |
| 3 | 70 USD + 7,500 points | 80 USD + 8,500 points | 90 USD + 9,000 points |
| 4 | 90 USD + 10,000 points | 105 USD + 12,000 points | 120 USD + 13,500 points |
| 5 | 120 USD + 16,000 points | 140 USD + 17,000 points | 165 USD + 19,000 points |
| 6 | 165 USD + 22,000 points | 190 USD + 25,000 points | 225 USD + 27,500 points |
| 7 | 225 USD + 27,500 points | 250 USD + 30,000 points | 325 USD + 35,000 points |
| 8 | 325 USD + 35,000 points | 440 USD + 42,500 points | 635 USD + up to 105,000 points |
You also have another option if you don't have enough points for a booking: you can book your stay with points and then earn the points later from other hotel stays or credit card spending later. As long as the points reach your account 14 days before your stay, you're fine. If they don't, though, your stay will be canceled and you won't be refunded, so use this strategy with caution.
Where Can I Search For Marriott Hotels?
You can search for hotels using the Marriott search platform here. Alternatively, you can scout around Marriott's Hotel Directory here.
We recommend searching on two parameters: the city you're visiting and the redemption category you'd like to redeem with, which you can find by clicking "All Filters" in the top-right and then selecting "Rewards Category." If you're using your annual free night benefit, go for a Category 5, which will show you the best hotels you can get for the 35,000 annual free night points limit.
You can redeem your Marriott Bonvoy points (with zero blackout dates) at any of these hotel brands, anywhere in the world:
The Ritz-Carlton
St. Regis
JW Marriott
The Luxury Collection
W Hotels
EDITION
Marriott Hotels
Sheraton
Marriott Vacation Club
Delta Hotels by Marriott
Le Méridien
Westin
Autograph Collection
Renaissance Hotels
Tribute Portfolio
Gaylord Hotels
Courtyard by Marriott
Four Points by Sheraton
SpringHill Suites by Marriott
Protea Hotels by Marriott
Fairfield by Marriott
AC Hotels by Marriott
Aloft
Moxy Hotels
Element
What are Elite Qualifying Night Credits?
They're the credits you need to round up during a calendar year to achieve the different Elite Statuses in the Marriott Bonvoy loyalty program. For example, to reach Silver Elite Status, you need a total of ten or more Elite Night Credits; for Gold Elite you need 25; to become a Platinum Elite member you need 50; and so on. Your lifetime total Elite Night Credits also count towards achieving permanent Silver, Gold or Platinum Elite Status.
How do I earn Elite Qualifying Night Credits?
There are different ways to earn Elite Night Credits, the most straightforward of which is to stay at Marriott Properties. Each eligible night you stay will add one Elite Night Credit to both your annual and lifetime balance. You can also earn Elite Night Credits by signing up to the Marriott Bonvoy® American Express®* Card, which gives you 15 credits every year you decide to keep it. In addition, achieving some of the higher Elite statuses in the Marriott Bonvoy program entitles you to a gift of your choosing and among the options, you can choose 5 Elite Night Credits every year.
What are Suite Night Awards?
Suite Night Awards are awards you can use to upgrade a standard suite or a premium room to a premium suite. Premium Suites are suites with a view, in high floors or with special amenities.