Mastercard operates one of the largest commercial networks in the world. This allows the brand of the two circles to offer a wide array of perks to its cardholders. In addition, card issuers may include special characteristics and benefits, thus giving every Mastercard a unique profile and set of advantages. With so many options out there, picking one becomes quite a challenge. Keep reading and we'll tell you what's the best Mastercard in Canada.
Mastercard credit cards are almost universally accepted. That in itself is a good reason to apply for one, especially if you are a frequent traveler.
However, some might be surprised to know that, in reality, Mastercard only operates the network that connects their card with its issuer (a bank, credit union or retailer), a merchant and the merchant's bank. The company also acts as a sort of broker for services offered to cardholders thanks to the company's special access to such a variety of organizations.
Mastercard offers a wide array of benefits for cardholders: exclusivity deals with major retailers (like Costco or Walmart), protection for your purchases, extended warranties, ID theft protection and lost luggage protection, to name a few. Additionally, it can provide you with some pretty attractive perks, such as free lounge access, concierge services, travel insurance packages, and the Priceless Cities program, which gives cardholders access to events and experiences all over the world.
However, there are differences between the many credit cards using the Mastercard logo. This is due to the fact that the selection of features varies by individual card and issuer. Therefore, it's important to understand the differences and compare prior to picking the one credit card that's best suited for you.
In this post you'll find:
Before our Mastercard Recommendations
Choosing the right Mastercard might feel like a daunting task. As usual, when making financial decisions, you should consider several key factors. No matter your level of sophistication, some information is fundamental before considering any credit card application or recommendation: individual goals, needs, lifestyle and credit profile.
Also, since some cards could be better suited for those who want cash back for their purchases, rewards from a variety of merchants, a low-interest rate on unpaid balances, no annual fee, etc., you should also have a general idea of what's the kind of financial product that better suits your needs: a Standard, Balance Transfer, Rewards, Student, Charge, Secured, Subprime, Prepaid, Limited Purpose or Business credit card.
Assuming you have done your homework, we'll help you understand and recognize the best among the variety of cards branded with the two interlocking circles.
One of Three Mastercard Options in Canada
Mastercard offers three basic types of credit cards in Canada, regardless of the issuer: Standard, World and World Elite.
The Standard Mastercard
A Standard Mastercard is the plain type. They are meant to help you make everyday purchases, from groceries to online shopping, allow you to build credit and potentially earn some rewards in the process.
You'll find different kinds of Standard Mastercards, from basic no-fee credit cards (e.g. the BMO Preferred Rate Mastercard) to rewards credit cards (PC Optimum Mastercard) or cashback credit cards (RBC Cash Back Mastercard).
At this basic level, a Standard Mastercard offers these protections to its customers:
Zero liability: Prevents unauthorized charges on your card.
Price protection: price difference refunds in case of finding a better offer within 60 days after a purchase.
Extended Warranty: Doubles the original manufacturer's warranty (and adds some other protections) up to 12 months or less for eligible items purchased with the card.
Emergency Assistance: Offers 24/7 help in virtually any language for any card-related needs, including lost or stolen cards, emergency card replacement or cash advances and access to account-related information as well as card benefits.
The Upgrade: World Mastercard
In the second tier, you'll find the World Mastercard. You can think of it as a rewards credit card that, in addition to the benefits of the Standard Mastercard, offers worldwide acceptance and services. These cards usually have higher requirements and fees, but those who use them responsibly and pay off the balance each month, earn greater rewards than with a Standard Mastercard.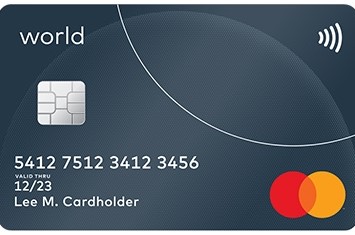 A World Mastercard also offers several perks to decrease your worries as an international traveler. The Concierge Service will allow you to book travel accommodations, book flights and make reservations at restaurants. You'll have insurance in case of an accident, trip cancellation or delay, baggage delay or loss and hotel burglary, as well as access to discounts and special treatment in restaurants, shipping services, gas stations and special events, with the Priceless Cities program.
The VIP Option: World Elite Mastercard
The World Elite Mastercard is at the top tier of Mastercard's rewards credit cards. It takes the benefits (and requirements!) up another notch. It includes all the same special travel offers as the World Mastercard, with some added bonuses, including complimentary passes to Priority Pass airport lounges and identity theft protection through the Mastercard ID Theft Protection program.
Which is the Best Mastercard in Canada?
The following are our Mastercard choices according to the most common financial needs among Canadian users:
Best Standard Mastercard
This kind of card allows you to have a balance revolving around a certain amount and improve your credit score. It's ideal for those who want an uncomplicated, economic credit card, and are not interested in earning rewards, foreign transactions or cash advances.
If you are a Canadian resident, consider applying for the MBNA True Line Gold Mastercard. It requires a fair-good credit score and an annual fee of $39, but its cost is quite low compared to other cards of this caliber.
At 8.99% (10.99% in Quebec), this card has the lowest regular purchase rate in Canada, very low compared to the standard 19.99% found on most cards. It also offers around-the-clock fraud prevention, 24/7 customer service and travel and purchase insurance coverage, so it is perfect for your everyday needs.
If that weren't good enough, the card offers a pretty good balance transfer deal. You'll get a 0% rate for the first 6 months on any debts transferred to MBNA within 90 days after receiving the card (an additional fee of 3% of the transferred amount or a minimum of $7.50 applies). After 6 months, the rate jumps to 8.99% (10.99% in Quebec), still very low compared to the standard.
So, this card also allows you to repay your balance without urgency and exorbitant compounding interest charges, thus saving hundreds or thousands of dollars during the 0% promotional period. Note that these conditions do not apply in Quebec.
Best Balance Transfer Mastercard
Balance transfer credit cards allow you to move your outstanding high-interest debt from other credit cards, personal loans or lines of credit to it at a lower or 0% interest rate. It is not only credit card debt you can transfer, but personal loans and lines of credit as well.
If you live in Canada, your best option is the MBNA True Line Mastercard. It requires no annual fee or minimum income level and offers a 0% balance transfer rate (0.99% in Quebec) for the first 12 months on any debts transferred to MBNA within 90 days after receiving the card (an additional fee of 3% of the transferred amount or a minimum of $7.50 applies).
After 12 months, the rate jumps to 12.99% (14.99% in Quebec). So, this card will give you a breath when planning your debt repayment strategy.
Notice that it's not the same as the Gold version in the previous category's selection. This card has a higher standard interest rate for regular purchases, 12.99% (14.99 in Quebec), which by the way, is still pretty good, and confirms that this card is a great option anyway.
Best Rewards Mastercard in Canada
Rewards cards will give you rewards on your credit card purchases. There are three basic types: cashback, points (you earn points and redeem them for rewards or cash), and travel (you earn free flights, hotel stays, and other travel perks). This can complicate decisions a little, as the choice depends on whether you need the card for travel or everyday spending.
Best Travel Mastercard
You know we suffer from Wanderlust, so our travel rewards choice in Canada is the BMO World Elite Mastercard, which requires a minimum income of $80,000 and an annual fee of $150 (waived for the first year).
This is the best travel rewards Mastercard in Canada for two reasons: First, frequent travelers will rack up points really quickly: 3 points for every dollar spent on travel, entertainment, and restaurants expenses (the equivalent of 2.4% in travel rewards); 2 points (1.4%) for everything else.
Second, you can redeem your points, on your agenda, for some top-notch travel perks. You'll get 15% discount on Air Miles flights within North America, MasterCard Airport Experience airport lounge access and four complimentary passes per year ($140 value), a full suite of travel insurance benefits (protection in the case of medical emergencies, trip delays and interruptions, lost baggage, among others) and you can use your points for other travel-related redemptions like hotels, cruises, and even vacation packages (along with their associated taxes).
First-time BMO World Elite cardholders, can also take advantage of a welcome offer with a combined value of up to $400.
Best CashBack Mastercard
For cashback, we recommend the Tangerine Money-Back Mastercard, which is very accessible as it requires a Fair-Good credit score, a minimum personal income of only $12,000 and no annual fees, while it sets no limit on the amount of Money-Back Rewards you can earn. It's not only the best cashback Mastercard, it's also the best all-round cashback card in Canada today.
With this card, you'll earn 2% cash-back on purchases in two categories of your choice among groceries, gas, travel, etc.; and 0.5% on everything else. Those who opt to have their cash back rewards deposited into a Tangerine Savings Account can choose a third category earning 2% cashback. Additionally, with the Tangerine card, you'll get Mastercard's purchase protection and extended warranty.
The Tangerine Cash Back Mastercard also offers a 1.95% promotional balance transfer rate for 6 months (a 3% balance transfer fee applies to each of your balance transfer amounts). After the promotional rate period ends, the rate goes up to 19.95%.
Best Mastercard In Canada for Everyday Spending
As a rewards card, apply for President's Choice Financial Mastercard. It has no annual fee and you need a good credit score, but this card will allow you to earn up to 4.5% in PC Optimum rewards for every $1 spent at Shoppers Drug Mart and Pharmaprix, 3% for every $1 spent on travel services at pctravel.ca or your monthly bill at PC mobile; and 1% for every $1 spent everywhere else.
Best Mastercard In Canada For Students
Student credit cards are ideal for first-time applicants. They were designed for college students, who often have little or no credit history.
Our pick in this category is the BMO CashBack Mastercard. It has no minimum income and annual fee requirements. Offers 5% cashback on everything for the first 3 months up to $2,000 in purchases and 1% after the welcome bonus ends. Plus, you can choose when to have your cashback paid out, after you accumulate a minimum of $50 in rewards.
With this card, you'll get Mastercard's double warranty protection, up to one year; and up to 25% off base rates at eligible National Car Rental and Alamo Rent-A-Car locations.
Best Secured Mastercard
This type of card is an option for those who have no credit history or those who wish to repair a bad one without paying an exorbitant annual fee. They require a security deposit. The credit limit is usually equal to or a little bit higher than the amount of that deposit. Monthly payments are still expected.
If you're in this of situation, you should consider applying for a Capital One Guaranteed Secured Mastercard. Capital One approves almost every applicant, provided they meet a few eligibility requirements and can place a $75 deposit. The credit limit can reach a maximum of $2500 as long as the deposit increases proportionally. Its annual interest rate is 19.8%. The card includes Mastercard's Zero Liability feature which covers against unauthorized or fraudulent purchases and may give you extra purchase and travel benefits for unsecured cards.
If you pay your bills responsibly, Capital One will make sure your credit score improves fast.
Best Subprime Mastercard
One difficult credit card product for applicants who have a bad credit history. This kind of card could also be a good option for immigrants. Although approval is often quick, they generally have high-interest rates and fees, so those in a complicated situation should consider them only when they can't make a security deposit.
The Capital One Low Rate Gold Mastercard requires an annual fee of $79, but no minimum personal income. It offers a competitive purchase and balance transfer rate, 14.9%, yet it gives access to some of Mastercard's perks, including price protection, travel benefits, and insurance.
This credit card gives applicants without credit scores high enough to qualify for most low-interest cards an opportunity to reduce their exposure to high interest. This should help them rebuild credit. Those who don't qualify for the Gold or even the unsecured version of the card will still be approved for the alternative secured product with a security deposit from $75 and a $59 annual fee.
Best Prepaid Mastercard
Prepaid cards require the cardholder to load money onto the card before the card can be used. Purchases are withdrawn from the card's balance. The spending limit does not renew until more money is loaded onto the card.
Prepaid cards do not have finance charges or minimum payments because the balance is withdrawn from a deposit you make (to the card, unlike debit accounts, which are linked to a checking account). These are not actually credit cards, and won't help with your credit score.
Our recommendation is the BMO Prepaid Travel Mastercard, which requires an annual fee of $6.95 and allows you to spend a maximum of $10,000 balance. It can't be used for recurring bill payments, some hotels and rental companies won't accept it, foreign exchange rates will have an extra 2.5% charge and it offers no rewards, but it is very helpful to stay within budget.
Best Business Mastercard
Business credit cards are designed specifically to provide business owners or even entrepreneurs and freelancers with an easy method of keeping business and personal transactions separate. It is worth noting that personal credit history is taken into account because an individual must be held accountable for the balance.
The BMO AIR MILES Business Mastercard is the best option we can recommend among Mastercards in this category, especially for small business owners. It offers a good combination of rewards, sign-up bonus and lots of insurance benefits. It does require some additional requisites from individuals and corporate customers though.
The $120 annual fee is waived the first year and features a juicy welcome bonus: 3,000 AIR MILES – 1,000 miles after the first purchase, and another 2,000 after spending $5,000 within the first 3 months. After that period, you'll earn 1 Air Mile for every $10 spent and 1 Air Mile for every $8 spent in Shell gas stations.
This card also gives you 6 % cash back on internet and phone bills and office supplies, and gas purchases during the first 4 months. After the promotional period, that rate goes down to 1.5%.
As a cardholder, you can apply for optional employee cards. The Liability Waiver Program will cover you in the event they misuse them.
The BMO AIR MILES Business Mastercard offers 13 different travel insurance benefits. Those include collision damage for rental cars, accidental death and dismemberment, baggage, trip cancellation and interruption, flight delay and common carrier insurance. In addition, you'll have extended warranty, automatic rebates at participating retailers, pre-authorized payments and the standard Mastercard perks. All this and more make this, in our opinion, the best Mastercard in Canada for small businesses.
The Bottom Line
Credit cards are some of the most important financial instruments most of us have access to. They can have an impact on our future as they are our everyday credit-record-building instruments. Choosing the right one can be difficult due to the many options out there, but trust there is a Mastercard out there that is well-suited to your needs. In order to make the right pick, it is very important that you are aware of your real situation and have reasonable expectations. The choice for the best Mastercard in Canada actually depends on who's making it.
---