Morning Brew is a company that provides updated news in a fresh and easy-to-read new format. In fact, you could say that Morning Brew is a free modern newspaper with which you can stay informed. We recommend Morning Brew services because they represent part of the information services that you must have to analyze the market. In this regard, use the Morning Brew services only to be updated. The news is relevant, but if you are an investor or are considering investing your capital, you need to complement your strategies with expert financial advisory services. In this way, you will be able to make better decisions, choose the best balance between risk capital and structure profitable investment plans.
In this sense, we believe that Capitalist Exploits is the best alternative, especially for beginners in the world of trading. Its new "themes" approach and its high value, low-risk recommendations offer a great alternative for both experienced traders and beginners. For these reasons, we recommend Capitalist Exploits.
Information is worth gold in the business world. Being well informed and updated on market trends will allow you to design the best investment strategies. Also, understanding the evolution of the market will allow you to be prepared to take advantage of investment opportunities at the most appropriate time. We invite you to test the services of Morning Brew, you will see that it is more than a simple newsletter.
#1 About Morning Brew
Morning Brew is a company dedicated to generating free content. The company's business model focuses on providing news via email and on its website in a newsletter format. Basically, Morning Brew provides articles on the main news about the financial, business, technology, retail and innovation world so that it is possible for anyone to access the newsletter and be updated.
Morning Brew is modernizing the newspaper business through innovation. In this way, business professionals with busy schedules can be updated. In general, it is a service that any type of person and investor can access and also take advantage of since the Morning Brew services show the market trends and also provides possible investment ideas.
Recently, Morning Brew has added a really cool podcast series to its platform. These types of services represent an effort on the part of the company to adapt to the information needs.
#2 Morning Brew: Services
In Morning Brew you will find several services that will allow you to be updated on what is happening in the business and financial world in a light, fast and interesting way. Morning Brew services can be divided into two types:
Morning Brew Newsletter, which is the main service of the company, and
Podcasts, a relatively new discussion stage in the set of Morning Brew services.
Both services are designed so that you can be updated all the time in a format that will allow you to access content in a very short time. In fact, the Morning Brew slogan is "Become smarter in just 5 minutes" and it is definitely possible in a short time to see what is happening in the markets and even see the direction that the business world is taking.
#3 Morning Brew Newsletter
Before, it was very common to see businessmen sit for a long time reading newspapers. However, technology has generated profound changes in the way we access information, now we are much more efficient. Now our agendas are really full, it is a world in constant motion. These new times require that we are informed of the rapid changes in the markets.
Morning Brew Newsletter offers three different types of free newsletters that will allow you to have an updated vision of what is happening in the market:
Morning Brew
Emerging Tech Brew
Retail Brew
Below we will show you what each of these services consists of and what type of information you can access in each of them.
3.1 Morning Brew
This free service consists of a summary of the main and most influential business news. You just have to register your email and you will receive the newsletter with the news summary every morning (this service will not be active on Sundays). Every day, you will see the newsletter in your inbox and you will see in the title the relevant news of the day. For example, below you will see a list of topics by day: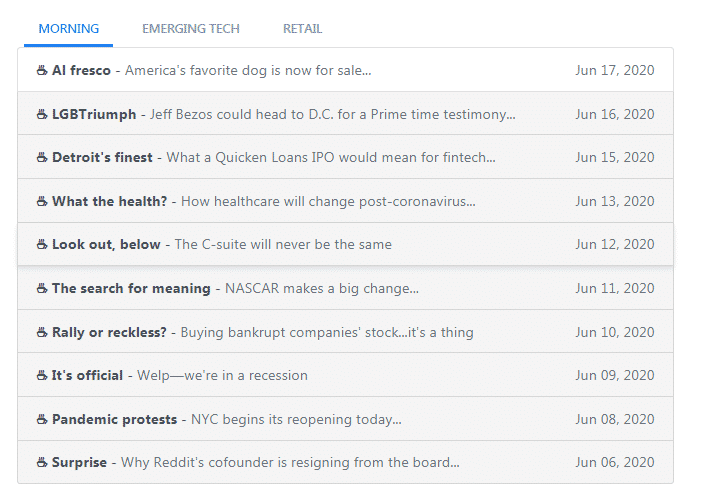 When you access the newsletter every day you will find a "Good morning" with a summary of the main market indices followed by the selected news. Take into account that every day you will have an idea of the direction that the market is taking.
Once subscribed to the service you will see that every day you can find short articles on fresh and highly synthesized news that you can really read very quickly. For example, some of the news that you can see are:
In the article "Supreme Court Hands Down Landmark Decision Upholding LGTBQ Rights" you can see the news about the historic decision of the Supreme Court on the protection of the workplace for LGTBQ workers.
The technology sector is still very important in the market, in the article "Amazon Says Bezos Is Willing to Testify to Congress" you will see that Amazon said that CEO Jeff Bezos was available to testify before the House to answer questions about an antitrust investigation in the technology sector.
Another article that talks about news related to the technology sector are "Boston Dynamics Makes Advanced Robot Spot Available for General Sale". You will see that it is already possible to buy a robotic dog.
3.2 Emerging Tech Brew
This service follows the same Morning Brew format but you will only receive the free newsletter once every 2 days and it is not active on Sundays either. Emerging Tech Brew focuses on drones, automation, AI, and more.
Below, we will show you some of the news articles that you will get with this free service.
In "Ericsson Predicts 190M 5G Subscriptions for the Year" you will see that according to new Ericsson projections for the end of 2020 there will be 190 million 5G subscribers worldwide. There appears to be much more activity in South Korea and China.
You'll see in "Despite Tech Challenges, AI Is Not Experiencing a "Winter" in 2020" that Artificial Intelligence may not live up to expectations, according to a compelling set of recent articles from The Economist.
Innovation is a central point in the articles of this service. In "Rockefeller Neuroscience Institute Announces Preliminary Results from Oura Study" you will find the development of technology to have alerts about the symptoms of COVID-19 with, for example, smart rings!
3.3 Retail Brew
Like Morning Brew and Emerging Tech Brew, this is also a news service. But, Retail Brew is a free newsletter that focuses on the retail industry. This way you can have access to industry trends, product news and logistics.
Below, we will show you some of the news articles that you will get with this free service.
In "Online Customer Service Delays Hit Lululemon, Macy's, and More" you could see that there is a new trend in which online sales are doubling and tripling. A possible solution is to redistribute store staff and even bring furloughed workers back for customer service roles.
You can also see in "Retail's Deep V-Neck Recovery" that US retail sales increased 17.7% in May in a record rebound. You will find a reflection on this trend.
When you read "CFDA Releases Four-Step Plan to Address Racial Inequality in Fashion" you will find that now that fashion brands have said they support protests against racial injustice, their supporters want to know how these brands will tackle racism in their businesses.
#4 Morning Brew Podcast
You will find that this service occupies a very fresh discussion space with interesting content in Morning Brew. The main challenge of this product is to give answers to big questions from the business world. Additionally, you can use search filters to quickly find topics that interest you. Also, you will have the possibility of downloading the podcast by various easily accessible means. This will allow you to take advantage of the time while doing routine activities.
#5 Pros And Cons
Pros
It's free.
It is a modern, very easy to read newspaper.
The content is very well written, it is fresh and modern.
The platform has various ways of distributing podcasts. This allows you to listen to them while doing routine activities.
Cons
It is very likely that it takes more than five minutes to read the newsletter.
There is sponsored content within the newsletters.
Morning Brew is just a news service. If you want a newsletter really focused on investment analysis done by experts and that also has a format that allows you to quickly access relevant information, we recommend Insider Weekly. This is one of the Capitalist Exploits services created for people who need a business advisor and who also have a very full agenda. This is a weekly newsletter at a very affordable cost compared to other providers and especially with the quality of the Capitalist Exploits service.
#6 Does Morning Brew Replace A Financial Advisor?
Keep in mind that Morning Brew is not a financial advisory service, it is only a newsletter where you can read updated news. We recommend that you only listen to investment recommendations from leading advisers and experts.
In the financial world, there are endless portals that promise to give the most accurate recommendations so that you can get rich. However, not everyone is right. In fact, very few offer financial services with high technical criteria and quality standards. For this reason, in our search for the best financial services we recommend Capitalist Exploits.
Below you can see a summary table with the main features of Capitalist Exploits:
Characteristics
Capitalist Exploits
How do they select investments?
Capitalist Exploits seeks investment opportunities worldwide through in-depth analysis, market research, and investment networks.
The team looks for the best investment opportunities in different sectors, industries and global markets.
Then they determine if the opportunity can be safely seized. After identifying opportunities, they estimate the risk associated with each investment to select the best risk-capital ratio.
The next step is to identify the most appropriate way to allocate capital in each scenario. In this way, investors can adapt to possible changes.
Are the recommendations diversified?
Yes, they provide a high level of diversification because Capitalist Exploits seeks investment opportunities worldwide in and out of the stock market.
Do they help you analyze each recommendation?
Yes
Do they generate free content?
Yes, the company offers free content and a blog with highly relevant podcasts and opinion pieces. Capitalist Exploits also offers a private Telegram channel called "Hedgies Uncut". There, hedge fund managers discuss their investment positions and ideas.
What type of investor is it for?
Anyone with any level of experience or geographic location can use the service. It is ideal for both long-term and short-term investors who are looking for investment opportunities in and out of the stock market. For example, shipping, energy, natural resources, Bitcoin and many more.
Summary Of Our Morning Brew Review
Morning Brew is a company dedicated to generating free content.
The company provides articles on the main news from the financial, business, technology, retail and innovation worlds so that it is possible for anyone to access the newsletter and be updated.
Its services can be divided into two types: Morning Brew Newsletter and Podcast.
The Morning Brew Newsletter offers three different types of free newsletters that will allow you to have an updated vision of what is happening in the market: Morning Brew, Emerging Tech Brew and Retail Brew.
Morning Brew also offers interesting and entertaining podcasts.
Please note that Morning Brew is not a financial advisory service, it is just an updated newsletter.
We recommend a reputable and reliable investment advisor. If you are just starting out in the investment world, or are already a professional, but don't want to be exposed to high risks, we recommend that you join Capitalist Exploits today for three reasons:
The first is that Capitalist Exploits provide an incredible amount of information about financial markets that help beginners learn.
The second is that Capitalist Exploits is focused on identifying high-return, low-risk investment opportunities, which is exactly what someone who is just starting out on business needs.
Finally, the level of diversification offered by Capitalist Exploits will allow you to create more efficient portfolios to achieve your goals.