Life insurance can make a huge difference in the life of a family in case its breadwinners pass away. However, the purchase process can be complicated and frequently results in excessive or sub-optimal coverage. PolicyMe strips life insurance down to the basics and, by making providers compete in its online information platform and marketplace, makes this necessary protection a lot more affordable. This PolicyMe review will tell you how it works and whether it would suit your needs.
What would happen if I wasn't around? This is one of the most troubling questions in the minds of those responsible for others. Obviously, most of us don't want our passing to become a life-altering tragedy for our loved ones. That is why responsible individuals try to make sure their families can maintain their lifestyle in case death occurs in an untimely manner.
Life insurance is an important financial tool to guarantee the future income that a person's dependents are relying on. It can be the difference between a family going into poverty or continuing to live their life after a death in the family.
Canada's Protection Shortcomings
The protection gap is a term used in the insurance industry. It indicates the difference between the resources a family has and what they'd need if the primary breadwinner dies. In Canada and the U.S., this gap has remained relatively stable at around $20 Trillion for 20 years
Mainstream insurance companies aren't making protection any easier: policies are still sold through face-to-face meetings and paperwork. The process lacks technology solutions common in other industries for over a decade. So, it takes an average of 10 weeks to get insured.
Also, insurance brokers, the traditional sellers of life insurance, are typically incentivized to focus on expensive policies for wealthier people. Adding insult to injury, they use complicated language that contributes to important differences between providers and the needs of customers.
Consumers are becoming more frugal in their spending due to stagnated wages and a rise in the cost of living. This, combined with the wide variations in premiums among insurance companies, deter young families from getting the coverage they need. At the same time others end up buying inadequate financial products. And the fact that all insurance companies are regulated by the government doesn't make even the smallest difference.
If you're interested, you can learn more about Canada's insurance regulators here.
In summary, a large number of people are underserved and ill-informed, and Canada is no exception to this. In this review, we'll explain how PolicyMe can make things simple again when it comes to choosing life insurance.
Enter PolicyMe
PolicyMe Corp was founded in 2018 in line with the growing digitalizing wave of the financial sector, spearheaded by FinTech platforms such as Borrowell. The company operates an online portal that provides life insurance quote comparison using information from some of the top providers in Canada. At the same time, they also educate and give advice about life insurance products and how much coverage users really need. Their business model is based on commissions from insurers on the sale of policies, while the advice portion of the platform is free.
In some ways, you could think of PolicyMe as an online insurance broker. The big difference is that this broker doesn't try to push policies down your throat just to make a quick buck. Instead, it prefers to teach you how to choose the best policy for you while giving you all the best options.
PolicyMe plans to fully digitalize the insurance process, offering Canadians an innovative purchase experience. For the moment, it is focused exclusively on life insurance, specifically term life products, which cover for a set period or until a certain age. However, PolicyMe has plans to move into other areas of insurance in the future, starting with disability and critical illness insurance.
The PolicyMe Toronto office serves Ontario, British Columbia, Alberta, Manitoba, New Brunswick and they have plans to take the company national in the near future.
How Does PolicyMe work?
PolicyMe's is indeed a great upgrade to regular online shopping or comparison sites, and certainly better than just accepting the frequently unfit offers of traditional providers.
The platform's "digital insurance checkup" asks customers the right questions, including family situation, major health issues of the past 12 months, whether they smoke, and some financial information, including income and savings. Then, its handy life insurance quote calculator applies a proprietary algorithm designed to make unbiased recommendations strictly tailored to individual needs, so the customer doesn't have to spend a penny too much.
In some cases, the individual may already have sufficient coverage so the recommendation could be to not buy any insurance. Usually, however, the algorithm recommends the lowest life insurance packages depending on how much life insurance the customer may require and what the policy's duration should be, enriched with links to the answers to questions consumers may have.
In case the individual chooses one of the products offered, he gets a chance to review quotes by some of the top life insurers in Canada and apply for a life insurance policy.
Finally, PolicyMe concludes with a phone call from one of their licensed advisors. This is to answer questions or talk users through tricky situations, in order to ensure that they understand their purchases and confirm their applications.
Should You Buy Life Insurance?
Life insurance is not for everybody. It protects the financial stability of a person's loved ones, replacing that person's income or covering any costs if they were to pass suddenly. So, it is only needed when people have dependents.
When to consider Life Insurance?
Consider buying life insurance if you have dependents (ageing parents, children, spouse) and one of the following conditions:
Large liabilities that still need to be paid (e.g. mortgage or car payments) but do not have assets to do it.
They rely on your income and assets you bring to the family table for financial support in their day-to-day life.
When you buy insurance, you commit yourself to pay a monthly or annual premium for a given period. Should you die during this period, your beneficiaries will receive a tax-free sum.
For example, young families typically get term life insurance to protect their homes while they are paying their mortgage. They can take less as this liability shrinks and children become less dependent. This way premiums won't be as high.
How To Buy Life Insurance
Let's assume the previous section describes your situation. Try to understand your needs, the industry, buying process and pros/cons before you consider getting life insurance.
A critical step is to decide on an amount. Keep in mind that the purpose is to guarantee enough funds to cover debts and/or the loss of income. It is possible to have a number.
In reality, there is very little differentiation between the products of different companies. The biggest one is the price. So, use the tools available to scan the market. An be careful, the wrong product can cost your household significantly more than it should.
The next thing is comparing prices. This is where PolicyMe really starts to shine, as it has a great quote comparison tool. Even if you don't decide to buy through their platform, you can still use it as a reference. It will offer you products at a similar price, as well as unbiased recommendations. This means that you don't have to settle for what your current insurance company has to offer.
Calculating Your Life Insurance Needs
The coverage of a life insurance policy should be at least equal to your liabilities. You can calculate this, for example, by subtracting your savings from your mortgage or other debts. However, in reality, this number is very hard to estimate. It is based on your family composition, financial situation, partner's current and future financial situation, debts, and lifestyle. These elements reflect on what your family spends, saves, your spouse's income, etc.
Believe it or not, in the past, most brokers never really used any sophisticated models to estimate those figures. They simply used rules of thumb to approximate them. For example, they would multiply your income by 10 and add on your mortgage.
PolicyMe created a sophisticated algorithm based on a framework of statistical formulas and guided by actuarial principles. This model estimates what a family will actually spend in the future (insurance needs). It also provides transparent and unbiased advice and builds a "best interest" life insurance recommendation.
The PolicyMe platform takes the guesswork out of the equation by making recommendations based on science. This will help you see beyond hunches, rules of thumb or the broker's personal interests.
Life Insurance Shopping With PolicyMe
PolicyMe digitized the advice model and customer experience. The platform removes the hassle from the process and breaking down recommendations into simple concepts. This way, they make the purchase of an insurance policy a much easier and more transparent process.
Getting an insurance quote or buying a policy with PolicyMe is pretty simple:
Access the PolicyMe website.
Click on the Get Started button.
Complete the free life insurance questionnaire.
Check the recommendations about your life insurance needs, including coverage amount and policy length.
Click on the price to get an insurance quote online. There will probably be several of them from different insurance companies based on your profile.
Apply for an insurance policy or request to speak with one of the PolicyMe advisors for further advice.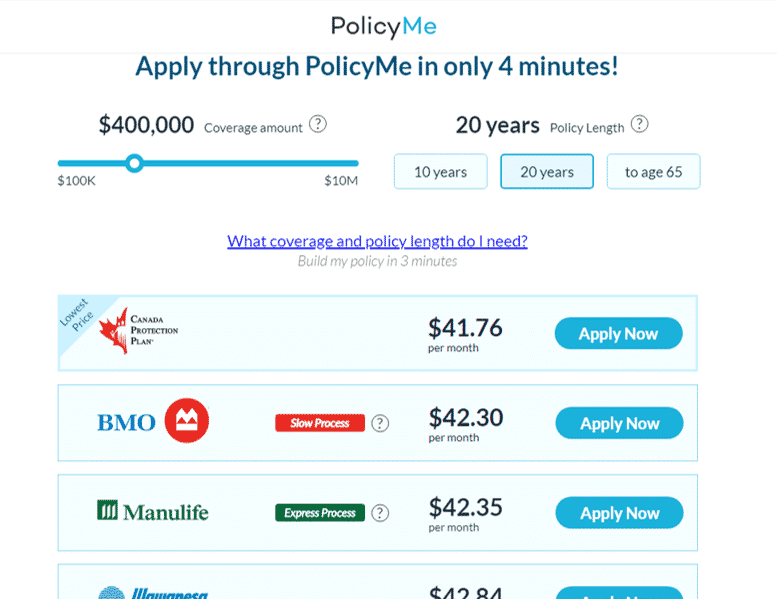 Disadvantages
Currently, customers can only see quotes from 5 insurance companies. Some may consider this limited number of possibilities a disadvantage. PolicyMe claims that this is by design as narrowing down options through an algorithm should make the whole process easier.
Canada Protection Plan
RBC Insurance
Manulife
Canadalife
Bank of Montreal Insurance
This leaves out many major life insurance providers, both domestic and international. For you as a customer, this could mean a sub-optimal recommendation. However, as PolicyMe gains momentum and brings more insurance companies on board, things will only get better.
The Bottom Line
PolicyMe does save the user a lot of time. Its express process does not require the customer to visit a broker or deal with paperwork. You don't have to visit insurance providers individually or undergo any kind of physical medical exam. So, PolicyMe gives immediate feedback and advice based on the individual's financial needs and offers the opportunity to complete an application that may be processed and finalized within 2-3 days of submission.
Furthermore, PolicyMe's commitment against overselling (offering a product that exceeds the user's needs) and the fact that providers have to compete in their platform, allow its customers to save up to 50% in premium costs. This means hundreds of dollars per year on policies, by simply shopping for the best quote.
Finally, PolicyMe can be really useful as a financial education tool or even a reference before following the old-school process. The platform will help customers understand the work of their insurance brokers and assess whether these are really working in their best interest.