Stock Gumshoe offers solid information on a wide variety of financial newsletters. They analyze hundreds of news reports and financial newsletters to identify the most appropriate places to invest and seek to help you analyze investment recommendations before jumping on them. No matter which plan you enroll in, you will receive the same services with prices starting at just $7/month. This makes Stock Gumshoe one of the cheapest financial newsletters out there.
We believe Stock Gumshoe is a valuable tool, particularly for any type of long-term investor, even those on a low budget.
#1 About Stock Gumshoe
Stock Gumshoe is an investment services company. Its main objective is to analyze hundreds of news reports and financial bulletins. As a result, they generate detailed articles to convey relevant information for investors. Additionally, they provide clear guidance on how to execute investment ideas and recommendations. They also present the arguments and hypotheses to devise investment strategies with the minimum risk.
In summary, Stock Gumshoe seeks to encourage its members to be more analytical. In this sense, they advise against immediately believing what you read in the financial reports, and in favour of questioning every recommendation instead. They then help you analyze the information so you can draw your own conclusions.
#2 Stock Gumshoe's Services
Stock Gumshoe offers relevant information in the form of articles, newsletters and discussion forums, while at the same time allowing you to track the progress of previous recommendations to assess their performance. Here is a breakdown of all their services:
Articles And Newsletters
On the Stock Gumshoe platform, you can access an extensive number of articles and newsletters. The reports are easy to read and remarkably interesting as well as highly relevant. You will see that the material represents a source of investment ideas. Additionally, every product that Stock Gumshoe offers is aimed at making a valuable investment recommendation. In fact, later we will show you that they even follow up on each recommendation.
Furthermore, the articles intend to make us protagonists when analyzing investment opportunities. That is why the structure of each article consists of presenting relevant hypotheses and facts. This will allow you to progressively come to a simple conclusion. Also, you can contrast your own conclusions with the investment recommendations offered by Stock Gumshoe.
The Articles And Newsletters Are Diverse
Here are some examples of particularly useful articles published by Stock Gumshoe:
"Gold Placements", "Q-shares" or "Omega Shares" — What's with this "Warrants" stuff from Casey Research? In this article they talk about options, warrants and the current trends of buying gold. They do so while explaining in a very simple and fresh way each financial term. When you are reading the material you will notice that the arguments are well written.
You can also read articles like What's Stansberry's "The government-proof, inflation-proof, crisis-proof, bear-market proof 'Super Stock' you want to own today?". In this article, you will see that the way they approach the subject is very accessible. They talk about the possibility of buying super stocks. In other words, low-risk stocks that also have the potential to generate high returns. Moreover, you will see that they do a deductive analysis of circumstances and market evolution.
Similarly, you can read about very relevant and modern topics. For example, Digging into Teeka Tiwari's "Genesis" — What are the "Three must-own stocks that will power Blockchain's 295,000% revolution" . Here, you will see a whole set of tracks to detect which is the next high-yield stock. In this way, you will find that they talk about Blockchain technology and the possible disappearance of credit and debit cards. A revolution in motion!
The article also analyzes companies related to the blockchain revolution. For example, in the following chart they show the evolution in the share price of chipmaker NVIDIA:
As you will notice, the content is truly extensive: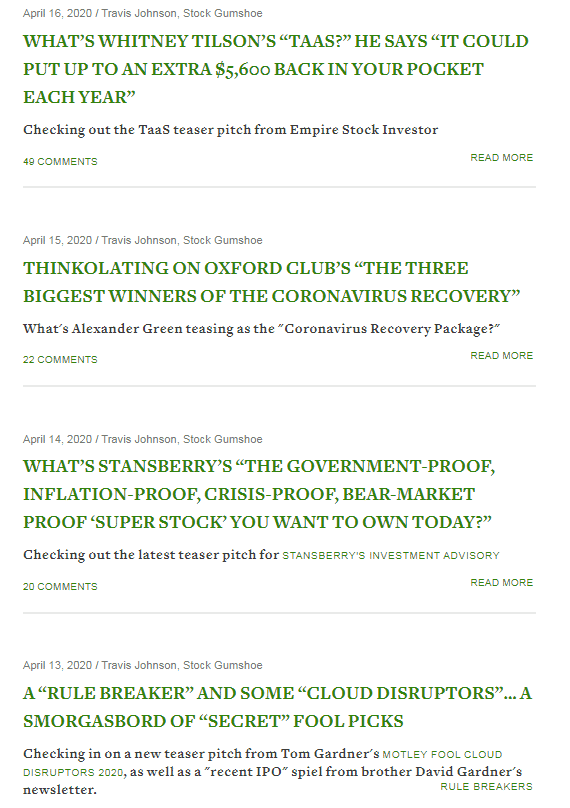 A relevant aspect is that, as a user, you will have the power to rate newsletters. This allows you to use a series of filters in the platform that help you choose the best-qualified material, saving you time and offering you only top material.
Teaser Tracking
Many times you come across hundreds of recommendations and reports with consistent and timely information. But, if you didn't have a chance to invest in financial reporting analysts' suggestions, chances are you're going to lose track. In this regard, the Teaser Tracking service will allow you to observe in real-time each and every one of the recommendations that Stock Gumshoe has made.
The service consists of a spreadsheet that tracks the performance of recommendations, articles, newsletters and notices. There, you will also find a link next to each financial instrument that takes you to the specific article with the hypotheses and arguments of the recommendation. You will freak out when you see that you can check the price of the financial asset at the time of the recommendation, along with the current price of the asset.
In addition to recent recommendations, Stock Gumshoe provides a spreadsheet for each year. That way, you can make your own intensive review of the recommendations of a particular year.
In the following links you can access the spreadsheets for Google, year by year:
An interesting aspect is that the share prices are live, with only a 20 minutes delay. Below, you can see a screenshot of the 2019 spreadsheet. In the table, you will see the date of the recommendation, the company and the ticker. Also, you can check the Buy price next to the current price and the percent change. These data will give you a clear idea of the profits obtained with the recommendation. Finally, you will see a link next to each transaction that will take you to the specific material of the recommendation.
High-Performance Example: Inseego Corp. (INSG)
Inseego (the first company on the list) is a company listed on the stock market and provides fifth-generation (5G) and intelligent Internet of Things (IoT) device-to-cloud solutions. The Company serves service providers, distributors, consumers, and enterprises. Its fourth-generation (4G) Long-Term Evolution (LTE) Advanced and 5G New Radio (NR) hardware products are powered by MiFi technology. They also provide mobile hotspots, industrial gateways and routers, home and enterprise routers, among others.
In light of this, Stock Gumshoe recommended buying Inseego stock on 3/7/2019. As you can see, at that time the stock was trading at $4.87 USD. Thanks to a long-term bullish position, it was possible to get a yield of 136.55% by 6/5/2020, when the screenshot was taken.
Discussions
Stock Gumshoe considers the possibility of conflicting and favourable positions arising from each analysis. For this reason, there is a space in the platform for investment discussions, outstanding comments and more active topics.
When you access the discussion section, you can see the most relevant topics of the moment. Similarly, you can check the opinions of a network of investors who are dedicated to market analysis. Also, as a subscriber you can create new discussions. In this way, you can see what other investors think about your hypotheses or even clarify doubts thanks to the user network.
Let's take a look at a very active discussion like, for example, "Gold and silver and hard assets after trump's inauguration". The debate has over 1,800 comments. Users talk about the best ideas about mining. In the discussion thread you can see topics such as inflation, devaluation, higher interest rates, among others. Additionally, they talk about the uncertainty and volatility of the market.
You will also find discussions about "Scandium, cobalt, and water purification: cleanteq holdings" with more than 3,900 comments. In the debate you will be able to see all the positions regarding the future of scandium and cobalt. In this regard, they talk about their rarity and even their usefulness. For example, they are used to make batteries. Some users argue that companies that work with these types of elements will have a rebound in their long-term contributions.
An interesting aspect of the discussion section on the Stock Gumshoe platform is that you will be able to classify the comments. That way, you can see which the most acclaimed and useful comments for the investor community. Additionally, you can also check the ranking of your own comments.
Below, you will see a set of very interesting recent discussions that are starting. By reading them, you have a good chance of following the investment opportunities of the moment:
#3 Account Types And Costs
Stock Gumshoe offers both a paid and a free plan. You can access a large amount of relevant information in the free version. Yet, to enjoy all the premium material and exclusive benefits of Stock Gumshoe, it is necessary to join the service. When you join, you can create strategies based on their recommendations and determine their usefulness to you in particular.
Here are the differences between the free and the paid versions:
| | | |
| --- | --- | --- |
| Characteristic | Free version | Paid version |
| Daily update email newsletter. | Yes | Yes, with extra premium content. |
| Associate profile for commenting on articles or reviewing investment. | Yes | Yes, with extra premium content. |
| Discussions. | Yes, you can read all the discussions. | Yes, you can read all the discussions and start your own discussions. |
| You will have access to brief and detailed summaries of the recommendations. | No | Yes |
| You will receive detailed feedback every Friday. | No | Yes |
| You will have access to Travis' recommendations on market entry and exit points. | No | Yes |
Stock Gumshoe offers three payment plans:
A monthly plan for $7 USD.
An annual plan for $59 USD.
A lifetime plan for $329 USD.
No matter which plan you sign up for, you will receive all of the same services. So, if you want to give the service a try, we recommend signing up for a month, and see where that takes you.
The platform allows various payment alternatives. It accepts credit cards like Visa, MC or Amex. Moreover, it is possible to pay the membership with Apple Pay, Google Pay or PayPal.
#5 Stock Gumshoe: Pros And Cons
Pros
Much of the content is free.
The membership price is very affordable.
Recommendations can be tracked. This service is a unique opportunity because you will have access to an annual list where you can follow each recommendation.
The platform encourages a discussion environment. You will get extra value from experience and judgment, because discussions are accessible, timely and current.
They review a large number of reports. Keep in mind that Stock Gumshoe analyzes dozens of reports. Then, it filters them and gives you a single report with the information that is really important to you as an investor.
Cons
Recommendations are generally long-term. The recommendations consist of bullish positions that are based on buying stocks and waiting to be able to sell them in the long term.
They do not make tailored recommendations for each investor.
Stock Gumshoe vs. Capitalist Exploits
In the financial world, there are endless portals that promise to give the most accurate recommendations so that you can get rich. However, not everyone is right. In fact, very few offer financial services with high technical criteria and quality standards. For this reason, in our search for the best financial services, we recommend both Stock Gumshoe and Capitalist Exploits, because they are profitable, reliable and affordable. Indeed, we suggest our post "Capitalist Exploits: A Measured Approach To Achieving Asymmetric Returns". In it, we cover the type of content and services they offer, how it works and in which markets they recommend you invest.
In the following table we present a comparison between both financial service providers.
Characteristics
Stock Gumshoe
Capitalist Exploits
How do they select investments?
Stock Gumshoe analyzes hundreds of news, reports and financial newsletters to identify the most appropriate arguments to invest.
Capitalist Exploits seeks investment opportunities worldwide through in-depth analysis, market research, and investment networks.
The team looks for the best investment opportunities in different sectors, industries and global markets.
Then they determine if the opportunity can be safely seized. After identifying opportunities, they estimate the risk associated with each investment to select the best risk-capital ratio.
The next step is to identify the most appropriate way to allocate capital in each scenario. In this way, investors can adapt to possible changes.
Are the recommendations diversified?
Yes
Yes, they provide a high level of diversification because Capitalist Exploits seeks investment opportunities worldwide in and out of the stock market.
Do they help you analyze each recommendation?
Yes
Yes
Do they generate free content?
Yes, the company offers free content with highly relevant opinion pieces.
Yes, the company offers free content and a blog with highly relevant podcasts and opinion pieces. Capitalist Exploits also offers a private Telegram channel called "Hedgies Uncut". There, hedge fund managers discuss their investment positions and ideas.
What type of investor is it for?
Stock Gumshoe can be a valuable tool for experienced long-term investors on a low budget.
Anyone with any level of experience or geographic location can use the service. It is ideal for both long-term and short-term investors who are looking for investment opportunities in and out of the stock market. For example, shipping, energy, natural resources, Bitcoin and many more.
Click to join now
Summary Of Our Stock Gumshoe Review
Stock Gumshoe analyzes hundreds of news, reports and financial newsletters to identify the most appropriate arguments to invest.
They generate detailed articles to convey relevant information. Additionally, they provide clear guidance on how to execute investment ideas and recommendations.
Stock Gumshoe helps you to question every investment recommendation you find. Then, it helps you analyze it so you can draw your own conclusions.
The services they offer consist of articles, newsletters, teaser tracking and a discussion section.
Stock Gumshoe offers a paid subscription that gives access to relevant information, investment recommendations and even access to the portfolio of its founder, Travis Johnson. However, much of the content is free.
The Teaser Tracking service will allow you to observe, in real-time, each one of the recommendations that Stock Gumshoe has made.
The membership price is really affordable. Besides, there are three plans: monthly, yearly and lifetime.
Invest in yourself, in your future, in what you can get if you do things right. Stock Gumshoe not only offers you its track record of successes and recommendations, but it also strives for you to do the analysis and make your own decisions based on relevant facts. Enjoy and make the most of Stock Gumshoe services.
Stock Gumshoe is not ideal for day traders, but we do believe it can be a valuable tool for experienced investors on a low budget. If you are an investor who prefers the short term, read our post "How To Start Day Trading: Generate Returns During The Same Day". Even though beginners can learn a lot with Stock Gumshoe, we firmly believe that Capitalist Exploits is a much better option for them for two reasons. The first is that, like Stock Gumshoe, they also provide an amazing amount of insight into financial markets helping beginners learn. The second one is that Capitalist Exploits focuses on identifying high-yield, low-risk investment opportunities, which is exactly what someone who is only starting in trading needs.