If you just graduated from high school and your future plans involve college, then it's about time to consider managing your own finances. Getting your first credit card is the one of the most important decisions to make in this respect, and we'll help you choose by narrowing down your options to the five best student credit cards available in Canada today.
By offering a perfect balance between rewards and flexibility, the Tangerine Money-Back Credit Card presents itself as the best choice for most Canadian students. However, there are other great options as well, and you'll want to choose the one that'll bring you the most rewards for your particular lifestyle.
Why It's A Good Idea To Get A Student Credit Card
If you're new to the concept of student credit cards, you might be scratching your head to the whole concept and will understandably have questions about them. Don't worry. This article will make sure that you have all the knowledge you need under your belt in order to go out and get your first student credit card.
What Are Student Credit Cards?
Basically, they're exactly like your regular credit card, but with a few minor differences. As you may have already guessed, student credit cards are for, well, students. Specifically, they're meant to be the first credit card that a person gets once they graduate from high school and step into the big world.
Any Student Can Get One
This is a student credit card's main selling point, actually. While regular cards might require you to have a good credit history (which is basically a fancy way of putting how good you are at paying your money back), student credit cards have no such requirements. All you need to do is show that you have a source of income and can afford to pay for the loans you acquire.
Why We Recommend Student Credit Cards
Let's focus on what you get when you apply for a student credit card:
Credit history: With no history, you'll have a hard time getting loans for much-needed necessities right after you're done with college. These might include your first car, an affordable mortgage deal, among other items that you may have in mind. With a student card, you'll have a minimum of 4 years to show lenders that you're trustworthy through a good credit score which you'll have built up over time.
Rewards: Student card rewards are aimed squarely at students, and you stand to gain much from them during your life as a broke professional in training. You could get free movie tickets, or travel options – the sort of things you're going to appreciate and need.
Discounts: There's no limit to the number of discounts that you'll want in college, which makes student credit cards all the more valuable. Cashbacks are something you'll learn to live on and will be a useful tool throughout your life if you learn to use them properly.
The 5 Best Student Credit Cards In Canada
#1 BMO CashBack Mastercard
Do you just want a simple, no-hassle student credit card that gets the job done?
The BMO CashBack is high on our list, and that's because this card is beautifully simple. It's there for students who have no special requirements, and simply want to start their college program without a hassle.
You Get 5% Cash Back For The First 3 Months
This is one of the best offers anyone looking to get college supplies could ever ask for. Keep in mind that those cash backs are for purchases under $100, though, so you won't be able to haul a laptop with this offer. However, books, tools, clothes – everything that isn't too expensive is right in the bag with this offer. The first 3 months are when you'll be doing most of your shopping anyway.
Your cash backs will be reduced to 1% after the first 3 months, so you won't really have to do any calculations with your transactions. It's a simple, dramaless card that can easily get you through college.
Other Features You'll Enjoy
No annual fee or income requirements: Easy to acquire and easy to keep, this card will almost feel like a debit card with a 1% cashback.
Discounts on National and Alamo car rentals: you might need a ride at any time, and your card will be there to back you up at any given moment.
Downside: No Special Rewards
This might be something that a lot of students will be repelled by. If you're the sort of person who wants to focus on college for the next four years (as you should), then this card will be a perfect way forward for you. However, if you need movie tickets and free air travel, this card probably isn't for you as there are better options out there that provide you with exactly that.
If you're interested in choosing a cashback card, you can read our review of the best cashback credit cards in Canada.
#2 Scotiabank Scene Visa
Are You A Cinephile?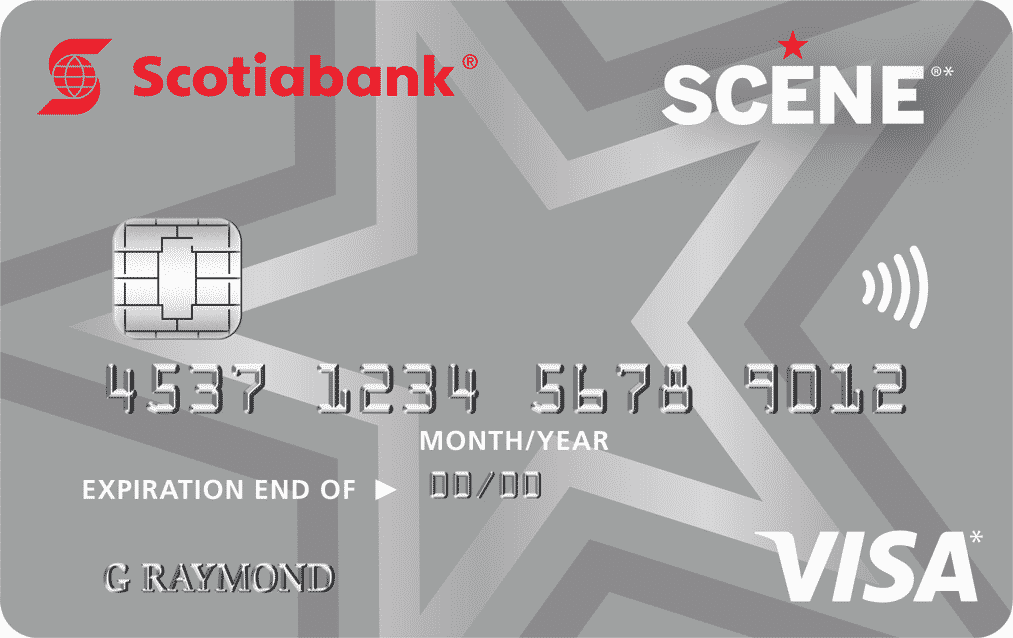 Scotiabank designed this card specifically for students who simply have to see all the blockbusters in the cinema and won't make do with anything less. If you're a cinephile, you should probably think about sticking to the Scotiabank Scene Visa card since it's rewards are aimed at you.
Get Super Rewards For Movies
That's pretty much all that this card revolves around. You're earning more than what you would normally get from a cashback card, like say, the BMO Cashback Mastercard. If you would get $0.01 back for every dollar spent with a BMO cashback card, the same purchase would give you $0.0136 using the Scotiabank Scene Visa, but you will only be able to redeem them for cinema movies. Of course, that works exactly the way any movie lover would want this card to.
Introducing SCENE Points
This card revolves around scene points. You don't actually get cashback by using this card. Instead, for every dollar you spend, you'll get 1 SCENE point. Collect 1250 of these, and you've got yourself a free movie. One additional point to note is that you get 5 SCENE points for every dollar you spend at Cineplex Cinemas, so you won't feel that bad after purchasing the impossibly expensive popcorn and drinks while you enjoy your movie.
The Scotiabank Scene Visa Makes Life Easy
No annual fees: This one's a given. Most student cards don't tend to have annual fees.
Restaurant discounts: Although this card specializes in movies, you can also make it rain (well, not really, but you could get a decent meal) at any affiliated restaurant of your choice. You can get a $10 discount if you spend 1,000 SCENE points.
Welcome offer: You get 2 free movies (2,500 SCENE points) for your first $500 dollar spending. This makes buying your college supplies much more fun since you'll know that you have a handsome reward waiting for you when you're done.
Tuesday movie discounts: Perhaps one of the biggest benefits of this card is that you get to enjoy a 10% discount on movie tickets on Tuesdays. You know what this means – even more movies!
Downside: Low Credit Limit
You're going to face a minimum of 19.99% annual interest rate for your purchases, which could become highly troublesome to deal with if mishandled. However, the card has a credit limit of $500, which should ease things up a bit. This card also has a minimum income requirement of $12,000 a year, which is surely unwanted, but something that most students will be able to afford.
#3 BMO SPC Air Miles Mastercard
Do You Fly A Lot?
Is your college campus far from home? You're in luck because BMO has the perfect offer for you. You'll save money for your ticket home during the holidays while you spend on your daily needs and before you know it, you'll have a massive discount – if not a completely free ticket at your disposal.
You earn 1 AIR MILES Reward Mile for every $20 spent
That's the flagship offer you're getting on this card … and, it's totally worth it if you think you'll be traveling frequently since it has plenty of opportunities to save up on flight ticket costs. You'll save up on a whole lot of money on air travel just by charging your purchases to this card. Before you know it, you'll have a free ticket for home by the time your semester is done.
You earn 800 miles right off the bat
If that's not an alluring offer, then we don't know what is. You'll be able to make most domestic flights with this number of free miles, and we're guessing it'll be the perfect way to land in the city where your college campus is built.
There's a sweet reward for using partner stores
You actually get another air mile for your $20 to spend if you do so at an AIR MILES partner store. That's double the amount you'd normally get as a regular AIR MILES collector, which essentially means you'll be flying a whole lot more if you're smart about where you buy from.
Downside: Minimum Earning Requirement
You'd expect that a card like this would have a catch. You'll need a minimum income of $15,000 a year if you want to qualify for this card, which might be a stretch for some students out there.
#4 Tangerine Money-Back Card
Want more control over how much cashback you receive?
BMO's cashback card is a godsend for everyone who isn't interested in keeping track of any rewards or point-scoring. Tangerine's Money-Back card does something quite similar but it requires a slight bit of input from your side. Rather than having a flat cashback rate on every purchase that you're going to make, the Tangerine money back card allows you to have a higher cashback rate on 2 product categories of your choice and a lower rate on every other category. In fact, if you choose to withdraw the cashback to your Tangerine account, you could choose an extra category for the 2% cashback rate.
That's 2% cashback on up to 3 categories with the Tangerine Money-Back Card!
You're Going To Love Getting 2% Cashback
It's double the money that you're getting from the BMO cashback card. What more could you possibly want? Of course, this only applies to up to 3 product categories of your choice- you're going to get 0.5% cashback on the rest of the products you purchase. In this sense, if you feel like you're going to be dealing with a diverse range of products throughout your college life, you're better off with another card.
However, we believe that with some planning, you'll be able to make your life a lot easier by utilizing this card's powerful 2% cashback feature. Identify your lifestyle and make it 2% cheaper – there's nothing more to it!
Why is the Tangerine Money-Back Card one of the best student credit cards in Canada?
No annual fee and low-income requirement: As expected, the student card by Tangerine has no annual fee that you have to worry yourself with. It also has a relatively low-income requirement of $12,000 a year.
Welcome bonus: The Tangerine Money-Back Card is currently offering a welcome bonus of 4% cashback on 3 purchase categories. This benefit lasts for the first 3 months that you hold the card.
No limits to your cashback: It wouldn't be called the Money-Back card if there were restrictions on the amount of money you could save with it!
Downsides: None
The 0.5% cashback for categories other than the ones you chose might be a turn-off for some potential customers. However, it's a fair deal considering the extensive savings you'll get from their flagship offer of a 2% cashback on categories you've chosen. You can choose just about any category ranging from restaurants to travel.
The Tangerine Money-Back Credit Card isn't only one of the best student credit cards in Canada, but it's also one of the best cashback credit cards in Canada, too.
#5 Home Trust Secured Visa
Do You Have A Low Credit Score?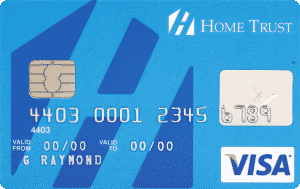 Home Trust provides students with a get out of jail card with this fantastic savior of a card. If you've ended up messing up your credit score with another card, this secured card is everything you need to pull yourself back on track.
There aren't any fancy rewards here – the entire point of this card is to spend responsibly and restore your credit score so that you can apply for another credit card that serves your needs.
95% Of Applicants Are Approved For This Card
That's what's so great about it. According to the card's official website, 95% of all applicants successfully receive their card without any hurdles facing them. If you have a credit score, say … around 600, you should definitely look to apply for this card as soon as you can. Many credit card providers would reject applications for such a credit score – or something lower – but Home Trust welcomes you with open arms.
Our Recommendation: Get the Tangerine Money-Back Card
We believe that every student should have enough interest in their financial interests to be able to make bold decisions. The Tangerine Money-Back card saves you from the distractions that many of the other rewarding cards provide. Regardless, it still demands a small amount of attention – something that the BMO Cash Back card doesn't do.
As a student, you'll be on a budget, and will have to make smart decisions regarding your money in order to save up for the future. The Tangerine Money-Back Card does exactly that by allowing you to choose how you can save the most money based on your lifestyle. In a way, it compels you to be money-smart, which, you'll likely agree with us, is a good thing. It'll set you up for the financially stable future as you'll learn how to steer yourself through the storm of impulse-driven purchases and monthly budgets.