In this review, we'll explore some of the great perks that come with Tangerine Bank. These include free chequing accounts with interests and with all you need for daily banking, one of the best cash-back credit cards in Canada, as well as investment options that are easy and ideal for beginners.
An interesting fact about the formerly ING Direct is that it was bought by Scotiabank in 2012 and since then it quickly rose up to become one of Canada's best online banks, promising its customer's competitive interest rates and no fees.
Online banks have been quickly becoming a trend among Canadians since they offer the option to access all of their daily banking needs plus savings and investing without the need to visit any physical location or local branch. Online-only banks such as EQ and Motusbank are just some of the options Canadians have. In this review, we'll explore Tangerine Bank, considered today as one of Canada's best online banks, its different accounts, and the credit card options they offer, one of which is amongst Canada's best cash back credit cards (and for which we also have a dedicated review!).
We recommend Tangerine Bank if:
– You can do most of your banking online.
– You feel like some of Tangerine's other products might be a good fit to complement your existing in-person banking.
– You're looking for great HISA rates and don't mind moving your money around to get them.
We don't recommend Tangerine Bank if:
– You routinely need things like certified cheques and wire transfers.
– You're mostly interested in a cheaper way to invest, in which case, we advise you check our post on Robo advisors.
How To Set Up A Tangerine Bank Account
Step 1: Sign Up And Choose An Account
Go to the Tangerine website, and click "Sign me up". Then, select the type of account you want. If this is your first one, we recommend starting with a chequing account.
Step 2: Prove Your Identity
After answering a questionnaire with all your personal information you proceed to prove your identity. For this you have three options:
You can mail them a cheque
Use their app and take a picture of said cheque, or
Simply go directly to your closest Tangerine bank branch!
Step 3: Wait For Approval
If you sent a cheque, you have to wait for approval for 5 to 7 days. Once that's done, you're ready to get started!
Signup Bonuses
Tangerine Bank certainly offers some awesome beginner bonuses! You get 2.75% Interest on your savings account for the first 6 months when you sign up with them. You can also get a $50 referral bonus for you and a friend if you use their Orange Key. These perks flow and vary depending on the time of the year, but they do offer them often. Just google beforehand and check if you can find some of these promotions.
Tangerine Bank Accounts
Tangerine offers a wide array of accounts with interest rates and fees that try to adapt to the customer's diverse needs. Whether you want to save for your retirement or save your US Dollar funds, Tangerine has an option for you.
Account Interest Rates And Fees
Before we jump in-depth into the details of each kind of account, let's talk about what you can expect to gain out of keeping your funds in this online bank. Tangerine offers competitive interest rates on all its accounts. Additionally, you will get an excellent welcome interest rate, as mentioned above, when you first open your account. These are the interest rates you'll earn on the different Tangerine accounts:
Chequing Account – Up to 0.65%
Savings Account – 2.75% for 6 months (1.10% regular)
Tax-Free Savings Account – 2.75% for 6 months (1.10% regular)
RSP Savings Account – 2.75% for 6 months (1.10% regular)
US$ Savings Account – 2.75% for 6 months (0.45% regular)
RIF Savings Account – 2.75% for 6 months (1.15% regular)
Tangerine offers a promotional rate of 2.75% for 6 months on all its accounts (except for the Chequing account). Once that promotional period ends, your rate drops quite a bit to the regular value. It's still decent, but it's not nearly as good as what other banks are offering.
The chequing account interest rate is perceived as good since it gives you up to 0.65% interest. However, when you really delve into the details, you'll realize that you need to have quite a bit saved to get even that small amount. You'll earn:
0.15% interest on deposits between $0 – $49,999.99.
0.55% interest for deposits between $50,000 – $99,999.99.
0.65% on everything over $100,000.
On the other hand, most other banks give you zero interest on your chequing account, so this is one advantage of Tangerine Bank.
What About Fees?
Like most digital banks, Tangerine has no monthly account fees, and doesn't require you to maintain a minimum balance. However, sending e-transfers will cost you $1 but if you're sending an e-transfer to someone who also banks with Tangerine Bank, there is no fee.
Now that you know how much you stand to gain, let's take a closer look at each type of account individually:
Tangerine Bank No-Fee Daily Chequing Account's Features
If you want a no-fee chequing account and to stop paying for your day-to-day transactions as well as getting fees for making too many debit transactions, Tangerine's no-fee chequing account is the perfect account for you. This account offers:
Free cheques: Cheques can still be useful and your first Tangerine chequebook with 50 cheques is free for your chequing account. However, each extra chequebook is $20 and you must order them online.
No fees for daily transactions: This also includes unlimited debit transactions, bill payments, automated transactions such as automating your savings contributions, and free Tangerine email money transfers and Interac e-Transfer® transactions.
Pays interest: Tangerine will earn you interest on every dollar in your Account, calculated daily and paid monthly. The interest rate goes from 0.15% to 0.65%, depending on your balance.
Overdraft protection: If the account goes into overdraft, you have until the end of the day to get it back to a positive account balance. If you're unable to do this you'll be charged $5, and another $5 if at the start of the next month if the account is still overdraft.
Free ABM (Automatic Banking Machines) access: With your Tangerine account, you get free access to 3,500 Scotiabank ABMs nationwide and 44,000 ABMs worldwide through Scotiabank's Global ATM Alliance.
Deposit cheques from your phone: Use the Cheque-In feature on your Tangerine app to take a picture of their cheques and deposit them into your account no matter where you are.
Bank drafts: Order your bank drafts directly from your online bank account and they'll mail it to your house or to your nearest Tangerine Bank branch! This service costs $10.
Orange Alerts: Customize your preferences to receive important account alerts through text or email.
Tangerine Bank High-Interest Savings Account's Features
Having a high-interest savings accounts in the same place as your daily chequing account and credit card is pretty convenient because it allows you to easily check your progress on your saving goals. Its features include:
Grow your savings with a high-interest rate of 1.10%.
Tangerine won't charge you any money on fees or services.
Earn the same great rate on every dollar in your Account.
Create a personalized savings goal and use their Automatic Savings Program (ASP) to move money directly to your Tangerine Account.
You can move your money from your Savings account to your Chequing account very easily. You can even pay your credit card with no worries! Just one single login, no days-long transfers.
Set up automatic transfers from your Chequing account so you can have money set aside every month for your bills and services.
Tangerine's Tax-Free Savings Account Features
With this account, you'll be able to maximize your savings while enjoying the same advantages of the Regular Savings Account. You get the benefit of paying no taxes on the interest your earn or on your withdrawals. Its features include:
If you stay within your contribution limits, you won't ve taxed on the interest earned or withdrawals. The current interest rate is 1.05%.
You can manage your money whenever you need it with no minimums.
By "fair fees" Tangerine promises that all fees they charge are disclosed and agreed in advance and the amount makes sense relative to the benefit you receive. For example, if at some point you decide to transfer your funds to another financial institution, a $50 fee will apply.
Create a personalized savings goal and use their Automatic Savings Program (ASP) to move money directly to your Tangerine Account.
Tangerine's RSP Savings Account Features
Save for your retirement with a Retirement Savings Plan (RSP) Savings Account and get a great interest rate. With this account, you get the ability to set up regular deposits and get all the benefits of this account, something key to your ideal retirement planning. Some of its benefits and features include:
Contributions to an RSP can be deducted from your taxable income. This is especially beneficial if you use the tax saved to make a contribution for next year or to pay off debts.
Your contributions up to the limit and its earnings on your investments will only be subject to tax when you withdraw them from your RSP.
These contributions help ensure that the future retirement income is split evenly between you and your partner.
Tangerine's RIF Savings Account Features
If you're ready to start getting income from your retirement savings, then a Retirement Income Fund (RIF) account is what you need. The Tangerine Bank RIF Savings Account gives you a great rate plus no minimum balances or unfair fees. Some of its benefits and features include:
Some of the best rates you'll find: At around 1.10%
No minimum balances: Earn the same great rate on every dollar in your account.
RIF tax withdrawal: The interest you earn in your RIF is tax-sheltered. You'll only have to pay income taxes on the mandatory minimum RIF Payment Amounts that you'll receive every year. Making withdrawals on top of your minimum RIF Payment Amounts will be subject to government withholding taxes in addition to income taxes.
Tangerine's US$ Savings Account Features
With this US Dollar Savings account, you'll be able to save your US funds with a great interest rate, no unfair fees or services charges. Some of its features include:
Great exchange rates that apply when you're transferring CAD in or USD out.
Remember, as of right now, there is a Special Offer: By becoming a new Tangerine Bank client you'll earn 2.75% interest in your first Savings Account for 5 months! This offer includes the RIF and US$ Savings Accounts.
Tangerine Credit Cards
Tangerine offers its account holders two great credit card options. The basic Tangerine Money-Back credit card and the Tangerine World Mastercard.
The Tangerine Money-Back Credit Card
The Tangerine Money-Back Credit Card is considered to be one of the best credit cards to build your score. This makes it especially ideal for recently graduated professionals or people with modest salaries since its minimum income requirement isn't high.
Features
No annual fee
2% cash back on up to three categories
0.5% cash back on all other purchases
Update your cash back categories easily using their recommendations
Mobile wallet compatible
Special Offer: If you apply for a Tangerine Money-Back Credit Card by March 31, 2020 and, upon approval, you spend $5,000 on everyday purchases during the first three months, you'll get $250 bonus credited on your account.
The Tangerine World Mastercard®
The Tangerine World Mastercard® has all of the great features of the Money-Back Credit Card like personalized categories, unlimited Money-Back rewards and no annual fee plus some awesome exclusive benefits.
Features
Mastercard® Airport Experiences Provided by LoungeKey. Learn more at airport.mastercard.com
Mobile Device Insurance: If your new smartphone, cellphone or tablet was charged to your card, you get up to $1,000 if it gets lost, stolen, accidentally damaged or experiences mechanical failure.
Rental Car Collision/Loss Damage Insurance: as long as the car rental was paid in full with the card.
Earn 2% Money-Back Rewards in two Categories of your choice, and 0.50% Money-Back Rewards on all your other everyday purchases.
Easy online Pause My Card feature
Balance Transfer Offer: Transfer balances from other credit cards during your first 30 days and pay an interest rate of only 1.95% on the transferred balance for the first 6 months.
If you're interested in finding more about other credit cards similar to these ones, check these posts out:

Best Cash-Back Credit Cards in Canada
Tangerine Investment Funds
There's a reason why Tangerine Bank is probably the best online bank in Canada today: they offer a plethora of products and services comparable to most traditional brick&mortar behemoths of the financial sector. Among the services offered are investment funds.
Tangerine Investment Funds follow various indexes and come with a fee of 1.07%, which is significantly lower than the average mutual fund management fee of 2.50%. However, if you were to invest with a robo advisor such as Nest Wealth, RBC InvestEase or WealthSimple, you could get even lower management fees.
Tangerine's investment funds are known for being easy to understand, offering five different portfolios with different risk degrees for investors.
Sure, it may not be the cheapest way to invest, but it is a good option for those looking to keep all their banking and investments in a single financial institution.
These are the portfolios that Tangerine Bank offers:
Balanced Income Portfolio
This is the least risky portfolio that Tangerine offers. With 70% in bonds, the other 30% is invested in stocks that provide growth potential. It's a safer bet with modest returns.
Risk: Low to medium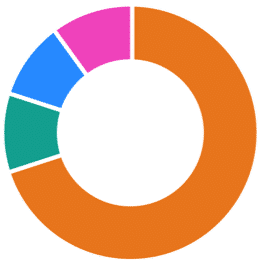 Allocations
Canadian Bonds – 70%
Canadian Stocks – 10%
U.S. Stocks – 10%
International Stocks – 10%
Balanced Portfolio
This portfolio offers a balance between investments in stocks and bonds that increases your potential for growth, while maintaining stability.
Risk: Low to medium
Allocations
Canadian Bonds – 40%
Canadian Stocks – 20%
U.S. Stocks – 20%
International Stocks – 20%
Balanced Growth Portfolio
This portfolio provides some great potential for long-term growth since 75% of this portfolio's investments are in stocks. The other 25% in bond balance out some of the associated risk with a little bit of stability.
Risk: Medium
Allocations
Canadian Bonds – 25%
Canadian Stocks – 25%
U.S. Stocks – 25%
International Stocks – 25%
Dividend Portfolio
If you're looking for a dividend-paying portfolio, Tangerine has the perfect option for you. This portfolio seeks to provide you with annual dividend income along with potential growth by investing in the stocks of companies from around the world.
Risk: Medium
Allocations
Canadian Dividend Equity – 50%
U.S. Dividend Equity – 25%
International Dividend Equity – 25%
Equity Growth Portfolio
With this portfolio, risk comes with greater potential reward. This is the riskiest portfolio offered by Tangerine, with no bonds to balance it out during down markets.
Risk: Medium to high
Allocations
Canadian Stocks – 33.4%
U.S. Stocks – 33.3%
International Stocks – 33.3%
Customer Satisfaction:
Tangerine is really good with its customers. Looking at the general banking satisfaction in Canada, they seem to have overall good reviews. They've even won the J.D. Power Survey for Customer Satisfaction 8 years in a row.
The Tangerine App:
This banking app is also pretty neat. You can do most of your banking on your phone, and the usability is amazing. This is a strong point in its favor, especially for those who prefer to do everything fast and from the comfort of their own home.
Interac eTransfers and Tangerine Email Money Transfers
Tangerine offers unlimited, free Tangerine email money transfers, however, they're not the same as Interac eTransfers. The first one will typically take a few days to show up in someone else's inbox, so not a good option unless you're close to the person you're transferring money to and you can give them a heads up that the money is en route.
Unless you're transferring to another Tangerine customer, in which case the transfer will only take a few hours at most. Interac eTransfers are available from Tangerine, but you will pay $1 for every Interac eTransfer sent.
Here's The Takeaway…
Tangerine is very easy to use and full of benefits. It's a solid bank account that will be helpful to those who are recently graduated or even building their credit score. It allows them to have an account with zero fees that maximize their savings.
Bank
Tangerine
Accounts Offered
– Chequing-Savings

-Tax-Free Savings

-RSP Savings

-US$ Savings

-RIF Savings
Interest Rates
For chequing: 0.65%
For all other accounts: 2.75%
Investments Offered
Investment Funds Portfolios:
Balanced Income Balanced
Balance Growth
Equity Growth
Dividend
Referral Program
Yes.
Purchase Coverage
Yes, on the Money-Back Credit Card.
Travel Insurance
No.
Covered by the CDIC?
Yes.
So, there you have it! Everything you need to know to get started on the Tangerine Bank. Do you have an account on this bank? If so, tell us your experience so far! If not, which feature did you find more attractive? Just leave a comment below!