BS2 aims to offer another option for those looking for new opportunities in the virtual bank scene. Even if it offers a checking account with debit and prepaid cards, we believe that this bank's strengths fall on its investment and international options. Banco BS2 offers 5 different ways to invest and an international account capable of holding up to 6 different currencies (USD, CAD, EUR, GBP, AUD and NZD) . But, we do think that this bank doesn't offer the best options for everyday usage as others do . It's missing credit card and loan features and offers overall very limited transfer and withdrawal limits.
That's why we think BS2 might not be the best option for the average user. Either way, it's probably the best option for users who are looking to invest and use one of the best and most versatile international accounts in the market as of the moment of writing. Ready to give it a try?
Tired of bureaucracy and looking for an important alternative to better understand and handle your finances? That's exactly the reason why we're writing about BS2, one of the banks that's been innovating the whole finance scene in Brasil. Ready to learn more about one of the most special services out there in today's finance world? Keep reading, then!
BS2: What Is It And How Does It Work?
BS2 is a new type of bank that comes from the evolution of a well known regular bank in the past, Banco Bonsucesso. This bank decided that the future of the banking industry was in completely online and digital banking institutions with no physical branches included. So what you get here is a banking institution that decided to evolve after 25 years of expertise, heading towards the virtual market and offering one of the most interesting free virtual banking accounts at the moment of writing this review.
Banco Bonsucesso offered a regular banking experience but decided to head into the virtual market back in 2017 as it transformed into BS2. Today it offers one of the most versatile checking accounts that include virtual and physical cards, investment opportunities and much more. Here's a rundown of what you'll find when creating an account with this banking institution:
Transfers to other BS2 Accounts
Transfers to other banks
Business accounts
International Account
Payment handling (If you're using a business account)
Deposits via slips and boleto
Virtual/Physical Cards
Credit and Debit Cards
Investment opportunities
Now that you've seen the overall package of what BS2 offers, let's delve a little deeper into the specifics, starting with the cards.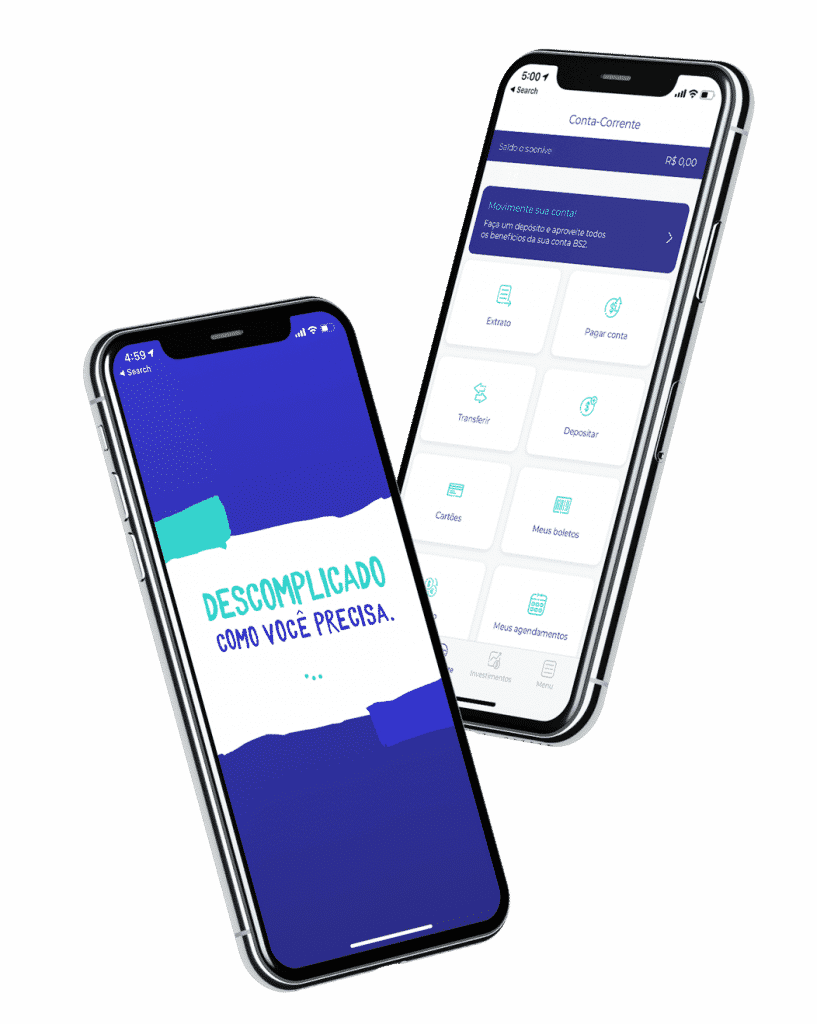 BS2 Cards: Limited, But Still Fairly Useful
Every BS2 account holder will be entitled to two VISA cards for them to use at their own leisure. One of these cards is a physical debit card and the last one is a virtual prepaid card. Both of these cards work in a similar way, requiring your account to have enough funds before you can make any purchase. You can use your debit card for any physical purchases and withdrawals while instead, you can use your virtual card for online shopping.
Yes, in the base package of the digital Banco BS2 account there are no credit cards whatsoever, but there will probably be one in the coming months. Here's a bit of info on that front:
BS2 Credit Card?
At the moment of writing this Banco BS2 review, there's not a lot of information out there about the credit card offered by this bank. That's because BS2's credit card option is still in its most basic form of testing and it's not yet implemented on a massive scale like other bank's credit cards. What we do know is some of the features that will be available for this special credit card, which are:
Being able to use it on an international level.
Doesn't include any annuity or fees for use whatsoever.
Belongs to the VISA banner and comes with the Vai de Visa program.
Complete integration between the digital account and the credit card.
Includes an unspecified Cashback program.
For all we know, this could be one of the most versatile credit cards to hit the market, but we'll have to wait until it's full features are released to the mainstream public. It's also important to know that if you're already a Banco BS2 user and you've invested money into the institution, you can apply for the credit option right now. Once you've applied, your profile will enter a queue to see if you're eligible for the credit card when it comes out, so why not try it right now?. Although, It's important to note that the amount needed to invest in order to be eligible for the credit card is not disclosed by the bank.
The BS2 Multi-Currency Card
The Multi-Currency card is a special debit card that this virtual bank offers to amplify what you can do with a BS2 account. You'll be able to use this card whether travelling abroad or shopping online. What's important to note is that since you're paying in foreign currency, you will be able to choose the rate for each transaction in order to avoid exchange fluctuations. In this way, you'll know exactly how much you're going to be spending.
The Multi-Currency Card will let you hold up to 6 different currencies in your account, including:
You will also able to withdraw money while being abroad, so if you're a person who's travelling a lot and using a lot of currencies, this is the perfect option for you. Do remember that this is a debit card, which means that you'll need your account to have some balance before using it.
The BS2 Flamengo Flacard
It's not that common when we hear that a virtual bank is sponsoring a soccer team, but that's exactly what this bank did in 2019 with the Clube de Regatas do Flamengo. The bank even offered a different personalized version of its local and international debit cards to its customers, the Flacard. Sadly, the arrangement between the club and the virtual bank has already ended, but its account opening and card dispatching services are still available until the 30th of June of 2020.
If you already were a Flacard and BS2 Flamengo user, nothing is going to change at all, you'll have the same services you had when opening your account. Even the fund for investing in the team will remain the same, the only thing that will change is the fact that no new accounts will be opened under this partnership. We'll expand a bit on this later o in this article.
Now that we've gone over one of the most important aspects of this virtual bank, let's head into an equally important topic, account types, features and limits.
The Banco BS2 Virtual Account: Features, Limits And More
What's really important to know about virtual banks is how they offer what traditional banks don't, or at least in a more straightforward and simple way. Having 25 years of experience as a traditional banking institution, BS2 knows exactly where to focus its efforts now that they've turned into a completely virtual banking institution.
Account Creation: Simple As Ever
Creating an account with BS2 is one of the most simple processes ever. Here are some simple steps to follow:
Download the app on your smartphone (Android or IOS).
Start the app and provide an official photo ID and proof of address.
Wait for your application to be accepted.
Start using your free account and wait for your debit card to arrive.
That's it!
The best part is that having a BS2 checking account is completely free, but you can get a lot more if you choose the premium option, so let's go into more detail:
Free And Premium Plans
The Free Plan
Yes, opening and having a BS2 account is absolutely free, but it comes with some limits in terms of withdrawals, transfers and other features. If you go for the basic free plan this is what you get:
Unlimited transfers between BS2 accounts.
2 Transfers via DOC or TED to other banks (Additional transfers cost R$3,50 each).
10 Deposit Slips (Additionals cost R$2,47 each).
4 Withdrawals at Banco24Horas (Additional withdrawals cost R$6,90 each).
It's a pretty basic package for what it offers and most users won't actually need more than that on a monthly basis, but if you think you need a bigger allowance, there's also a Premium plan.
The Unlimited Plan
This plan, called the Unlimited Package, offers an unlimited monthly allowance of the limits on transfers, deposit slips and withdrawals we mentioned.
The best part about the Unlimited package is that there are three ways to get it.
The first way is to pay the monthly allowance of R$19,90 per month, which is the most straightforward way.
Instead, the second option lets you get this package for free if you choose to receive your complete salary in your BS2 account.
The last option is the most difficult to achieve since it requires investing at least R$25.000,00 in this institution, so if you're thinking of getting the premium version but don't intend to invest yet, choose one of the first two.
Now that we've gotten that out out the way, let's talk more about the other types of accounts that this virtual bank offers:
The Investment Account
BS2 offers this account as a very special tool for users who are looking for a special way to invest their money on. The objective of this account is to reach people who are very likely to be searching far and wide for the best investment options in the market. If you decide to invest in this institution, you'll find that you have a lot of options to choose from. Here are the main types of investments that this bank offers:
CDB (Bank Deposit Certificates).
LCI (Real Estate Credit Bills).
LCA (Agribusiness Letter of Credit).
LF (Financial Letters).
LC (Bill of Exchange).
Each of these offers certain benefits and drawbacks, but covering them is beyond the scope of this review. Let's get into how BS2 personalizes investing for different kinds of users that exist in today's scene:
Fixed Income Investment And Investment Funds
This bank has focused quite a lot in offering one of the best investment solutions in Brasil and it shows in how they offer these options to its users.
There are two main ways to invest in this bank, the first one being the Fixed Income investment which is aimed at clients with a conservative profile who seek to invest without having too many headaches. This type of investment lets the user define conditions like remuneration and terms of each investment.
Instead, the Investment Fund option works in a different way. It's mainly offered to clients who want more professionally diverse options than usual. In this case, the bank will automatically select the best options according to your investor profile, so no headaches included either!
The International Account
Just like C6 Bank, BS2 also offers a specialized international account for customers who are looking to broaden their finances. This international account comes with a base dollar currency without any monthly or annual fees. Here's a rundown of the services you'll enjoy with this account:
Online Exchange Platform.
Multi-Currency Card.
MasterCard Debit Card.
Currency Reserve.
Commercial Exchange Service.
Paper Money.
International Remittances.
MoneyGram usage.
Trade Finance.
You can use the international debit card that comes with this account to pay for any physical purchases as well as online. On top of that, you'll also be able to withdraw money from any ATMs accredited to the MasterCard network.
Other benefits of this account include:
Instant conversion service from Reals to Dollars between your BS2 accounts.
Sending and receiving money orders from abroad via this account.
One thing to note is that you'll incur in IOF (Tax on Financial Operations) fees whenever converting Reals to Dollars or vice versa. Whenever exchanging Dollars to Reals you'll get a 1,1% IOF fee, but when exchanging Dollars to Reals this fee will only be of 0,38%.
An important feature that cannot be left out about the International account is that you can also apply for physical currency exchange. This means that Banco BS2 is one of the first digital banks that lets you buy Dollars and Euros in cash and receive them at your doorstep. This can be done right from the app without even having to leave your house. You can check the tariffs for each operation here.
The Blu Account For Minors
This virtual bank also offers a special account for parents who want to teach their children how to control their finances. The Blu account applies special goals and gamification elements so children can easily get the hang of saving or using money responsibly. This is not a separate account per se, it's just an allowance with a separate card from your main digital account.
The BS2 Flamengo Account
As we had already mentioned, BS2 partnered with the Clube de Regatas do Flamengo in order to offer a special experience for fans of the club. This special account used to come with its own app and debit card, the Flacard, but the sponsorship between both parties will last as of the end of June of 2020.
The BS2 Flamengo Account offered a personalized Flamengo design and a lot of options to invest and save money while supporting the club. In fact, people who still have a Flamengo account and Flacard will be able to use it unless otherwise said by the bank. If you're reading this before the 30th of June of 2020, you're still able to open a BS2 Flamengo account and order your Flacard with it. If the chance has already passed, you can still open a regular BS2 account as you normally would.
Now that we've talked about the main benefits of each account type and main service that this bank offers, it's time to talk about the not-so-good aspects of it.
Drawbacks to BS2: Not The Bank Everyone Is Looking For
There's no doubt that Banco BS2 is very good and effective at every service it offers, but what hinders its offers is what it lacks when it comes to other options. We can't deny that BS2 is one of the best options for people who are looking for great international accounts and investing options, but we can't recommend this bank to the average user.
The fact that it doesn't offer a credit card as openly as other banks like Neon, Nubank or even C6 Bank does makes a big difference. And even then, most of these other options offer loans to their customers in addition to investment and other reward programs that BS2 is simply lacking.
Alternatives Worth Mentioning
So, if you're feeling like Banco BS2 is not the right option for you, here are some alternatives we think are right for you:
Nubank's NuConta
Whenever talking about the best possible digital banks out there, Nubank will always be there at the top. This account offers zero annual fees an unlimited transfers and deposits with Debit and Credit cards included (Subject to credit analysis).
The only downfall to Nubank is that there are a lot of users who have already applied for an account there. Nubank checks its user's applications one by one, which means that if you haven't applied yet, you might end up waiting a long time before you hear from them.
Neon Card By Banco Neon
Neon is almost always one of the second-best options when talking about the best virtual banks. Where Nubank takes a long time to check your application, Neon assures you that if you qualify, you'll hear from them in seven working days.
With Banco Neon you'll find one of the most versatile and easy to use virtual banks there are. It includes a debit/credit card and virtual copies of each card, investment and loan options, a really easy "Premium mode" to get called Neon + and a lot more. Neon is one of the easiest virtual banks to recommend out there due to the fact that it's really easy to open an account with and offers some of the best features.
You can read more about Banco Neon here in this review.
C6 Bank
Another option that stands out the most when talking about virtual banks is C6 Bank. Where Nubank offers some of the best features and Neon offers great accessibility, C6 Bank offers probably the most premium-rich-feature experience in the virtual bank scene.
In C6 Bank you'll find a checking account with debit and credit card options, an international account in dollars and a MasterCard Black called the C6 Carbon. Most accounts and cards here offer no annuities and apply for features like an exclusive loyalty rewards program and many more.
You can learn more about C6 Bank here in this review.
BS2 In Summary: Great For Investing And International Users
As we've concluded earlier, BS2 is probably not the best option for people who are looking for an everyday-use bank that simply lets you have a better understanding of your finances. Instead, we believe that BS2's strengths rely on the fact that it offers the most thorough and customizable options for people who are looking to invest and for international accounts.
That said, BS2 is probably the best bank in terms of these features, which is still quite a big deal. If you think you may need any of these services, you won't do better than to apply for an investing and international account now.