C6 Bank manages to be one of the most feature-rich virtual bank options out there. It offers 4 distinct types of accounts among which are: A Payments account with a debit card , a Checking account with debit and credit card and the Carbon C6 card (Mastercard Black) with a Checking account as well. It also offers unlimited transfers and withdrawals, a loyalty program available for all users, a special new way to transfer money without having to use account numbers and a special windshield tag that automatically pays any toll you go through.
The only drawbacks we found to C6 Bank is that the investment options are limited to only the high-income customers, having a minimum investment requirement of R$20.000,00. C6 Bank caters to those users who want more than a regular virtual banking experience and are looking for something more, a more premium product. Either way C6 Bank is one of the most feature-rich and unique options in the market, so why not try applying for an account?
Virtual banks are growing into the mainstream media and absolutely no other banking institution can stop them. That's why we're writing about one of the best virtual banks that are out in the market right now, C6 Bank. Overall this bank offers a more premium and serious appearance than other banks we've reviewed, while still maintaining the best benefits. Ready to learn more about it?
What Is C6 Bank And How Does It Work?
As we've hinted at, C6 Bank is one of those institutions that decided to delve into the virtual bank industry. Today they're one of the primary account providers in Brasil, reaching at least 200.000 customers as of 2019. Since then they've evolved into offering one of the most sophisticated virtual bank platforms in Brasil. Here's a rundown of what you get by being a C6 user:
Access to international Debit and Credit cards.
Payment, Checking and International accounts without annuities.
Unlimited Transfers (TEDs and DOCs) and Withdrawals.
A loyalty rewards program.
A unique sticker tag that pays tolls automatically.
Possibly the best earn rate for investments.
Similar to other virtual bank parties like Nubank, Neon, and Banco Original, C6 Bank offers no physical branches whatsoever. All operations, transactions, deposits and other things you need to do are readily available at the palm of your hand with the bank's application.
Talking a little bit about its origin, C6 actually started as a Brasilian Technological Finance startup founded in 2018. It gained its bank license a year later and it wasn't long before it started a closed beta for developers and invited customers. As of today, C6 Bank offers a free digital account available to everyone over 18 years of age. The best part? There are no annuities nor monthly fees associated with the basic accounts.
Let's get into a little bit more details about how C6 Bank's cards and accounts work.
C6 Bank Available Cards And Accounts
Luckily for you, C6 Bank offers a ton of opportunities for all their clients, enough to satisfy your needs but not that many to overwhelm you.
Here's a look at what you can get by signing up with C6:
Payment Account With Debit Card
The first and easiest option to get with C6 Bank is the payments account. As far as features go this is the most basic option that C6 Bank offers. It works as a way to open an account with this bank without compromising too much since you'll get your basic payments account and a basic debit Mastercard.
As far as drawbacks for this option go, this type of account only lets you move up to R$5.000,00 per month, which is quite limited and it doesn't offer the option to invest in C6 assets either. Either way, you can still use it to pay almost anything, including withdrawing cash and transferring money between C6 accounts and other bank accounts
The only MasterCard benefits you'll get with this card is the Surprise Mastercard program.
Checking Account with Debit and Credit Card
This is the option you see most people use when they create an account with C6 Bank. It offers most of the benefits that the virtual bank offers and it's a way to see how C6 differentiates from other options on the market. The best part? It's completely free, meaning that it costs no annuities or monthly fees whatsoever. If you see the payments account as the most basic experience then this account is the regular C6 experience.
As far as downsides go there's really not much to say, you get a card with both debit and credit functions that you can use internationally and this account comes with most benefits that C6 offers. Some of these benefits are the loyalty rewards program called Atoms and even being able to invest right from the application.
This card comes with the Surprise Mastercard and Purchases and Withdrawals abroad benefits that usually come with a Mastercard product.
Checking Account with C6 Carbon Credit Card
This is the cherry on top, the absolute best, and the most premium product you can sign up for with C6 Bank. The C6 Carbon Mastercard is the equivalent to a Black Mastercard, so you can get an idea of what comes with it. This credit card will come with a checking account, but it also comes with a total annuity of R$85 per month or R$1.020 annually. Although the first three months of using this card are completely free of annuities, so that's some consideration.
You could also alternatively exempt all annuities if you've invested at least R$150.000,00, but that's a bit too much for the average customer.
The C6 Carbon credit card comes with the following Mastercard benefits:
Mastercard Black features
Purchases and withdrawals abroad
Protected purchases
Access to airport lounges
Access to a travel consultant
Restaurant stopper exemption
Concierge service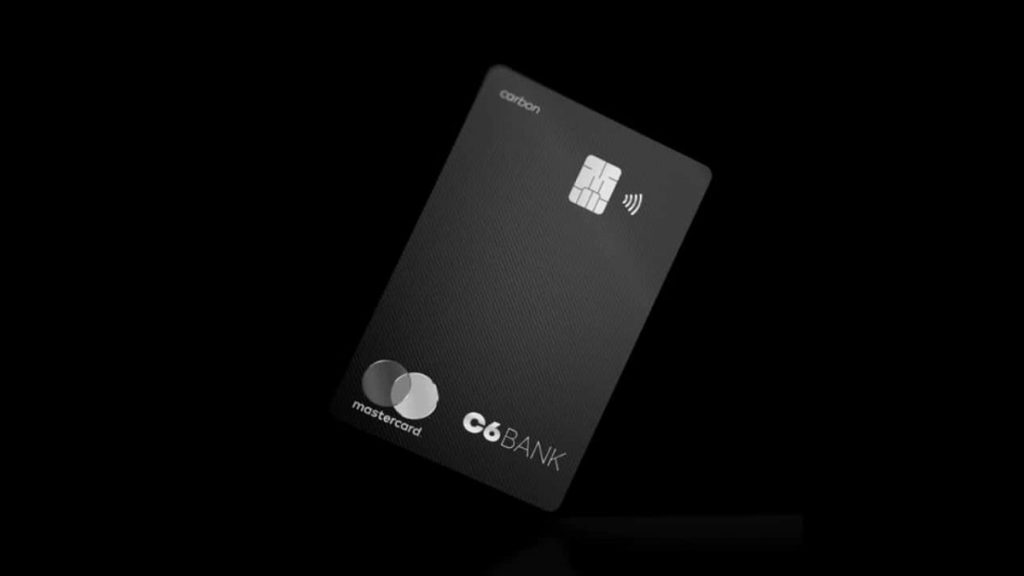 There's no doubt about it, if you get an account with C6, you'll get the most benefits out of the C6 Carbon card. The thing is, we don't really recommend the product to the average customer, you will most likely be well satisfied with the second option we listed before.
Although, there's one more type of account that C6 Bank offers, but it doesn't work in the same way as the other accounts do.
Let's take a look:
The Global Account
This product is basically an international account whose main currency is not Reals, it's US Dollars. It also includes a unique debit Mastercard for international purchases. Here's a rundown of what it offers:
Lower rates than other international credit cards (Total IOF of 1,1% and Foreign exchange spread of 2%).
It's directly anchored to the commercial dollar, not the tourist dollar, which means that your money is worth more.
You can convert Reals into Dollars in just a few taps right from your phone.
It allows you to make international purchases with the debit card without fees or any charges on transactions.
You can withdraw cash from any ATM of the Cirrus Network.
As this account offers unique benefits, it also comes with some unique drawbacks to it, here are the most troublesome:
Any cash withdrawal will cost a fee of $5.
The cost of opening a Global Account and issuing an international debit card is USD $30, but if you're a Carbon cardholder it will be completely free.
You can only move up to USD $10.000,00 per year, but this can change depending on your user profile at the moment of applying.
The minimum transfer of this account has to be $100 or more in order to go through.
We only recommend getting the Global account if you're thinking of spending a lot more abroad or on online shopping sites. Otherwise, the basic checking account is more than enough.
Already have an account in mind? If you still haven't made up your mind, let's go through the benefits of being a C6 Bank user.
Benefits Of The C6 Bank Virtual Account
When we start talking about benefits C6 actually has a lot of unique features that set it apart from other more regular banking institutions. All the way from investments to instant text message transfers and a loyalty rewards program. We'll go through each one of those in detail just so you can make the wisest decision for your personal finances.
Number Of Transfers, Fees, Withdrawals, And Limits
The first thing that comes to mind when talking about the benefits of C6 Bank accounts is the fact that all accounts offer unlimited transfers, TEDs, DOCs and withdrawals. Yes, unlimited. Accounts with C6 Bank also come with zero annuities unless you own a C6 Carbon card. You also get free deposits by boleto, which don't charge any fees at all.
Now that we've gotten that out of the way, lets head into the more unique benefits that C6 Bank offers.
C6 Kick: Transfers Have Never Been Easier
This feature is unique to C6 Bank and it consists of a new way to transfer money between banks. The main benefit is that it lets you transfer your money instantly without having to handle long and hard to remember account numbers. The only info you need to send your money is the phone number of the person who you want to send your money to.
Once you've set your kick up, you'll get a specific link for that transaction. Then you can send it to the person who's receiving the money so they can confirm the kick and then redeem it. Each kick link will only last up for a period of 5 days without being claimed, if it's never claimed by the receiver, the money will back to the original sender.
An important thing to note is that you don't need to pay anything to use this service, and you don't even need to have a C6 Bank account to receive a kick, but you do have to own an account in order to be able to send them. Once your kick is sent and claimed, the money will be available on the next business day.
C6 Taggy: Say Goodbye To Getting Out Of Your Car To Pay Tolls
This is another unique product that comes only when using C6 Bank. C6 Taggy consists of giving account holders a special sticker tag that you can stick in the windshield of your vehicle. Once it's there it will automatically pay all the tolls you go through without you even having to look at your phone, or getting your card out of your wallet. Again, it's a totally free service and you can ask for your tag at the same time as you wait for your card to arrive.
Atoms: Exclusive Loyalty Rewards Program of C6 Bank
Atoms is, again, an exclusive product that you can only get with an account at C6 Bank. It's a loyalty program in which you earn points for every eligible purchase you make. It even has different plans, C6 Free, C6 10 and C6 20 so you can maximize your earnings and exchange your points for useful products. Here's how each plan offers a different way to accumulate points:

| | | | | |
| --- | --- | --- | --- | --- |
| | Plan C6 | Plan C6 10 | Plan C6 20 | Plan C6 Carbon |
| Monthly Payment | Free | R$10,00 | R$20,00 | Free |
| Points when spending with Credit | 0,05 points per R$1 spent | 0,28 points per R$1 spent | 0,28 points per R$1 spent | 2,5 points per R$1 spent |
| Points when spending with Debit | 0,03 points per R$1 spent | 0,10 points per R$1 spent | 0,10 points per R$1 spent | – |
| Portability of Salary | 3.000 points in the First Year | 3.000 points in the First Year | 3.000 points in the First Year | 12.000 points in the First Year |
| Monthly Bonus | – | – | 400 Points | – |
You don't even have to apply for the C6 Free plan since it already comes assigned to your free account. The same thing applies to the C6 Carbon plan, which automatically comes assigned to your Carbon card.
Portability of Salary makes reference to the activity of transferring your complete salary towards your C6 Bank account.
The only downside to Atoms is that these points are not as flexible as you would think they are. You can't exchange your points back to Reals like a normal cashback system would imply, instead, you can only exchange them for products listed in the C6 app. These products include:
Sports and Recreation Items
Drinks and Wines
Electronic and Accessories
Small Appliances
Varied Luxuries
Airline Tickets
With this loyalty program, you're subject to using your points only with the catalogue of retailers that work with C6 Bank. Either way, it's a good incentive to make the use of their cards more rewarding than it already is.
Now let's talk about the final benefit before we jump to any conclusions:
Investments: Not For Everyone
This is one of the many benefits of C6 Bank that simply put, won't be available for everyone who creates a C6 Bank account. The minimum investment you can apply for with a C6 account is of a whopping amount of R$20.000,00. Sure, it yields one of the best earn rates of the whole virtual bank industry, between 110% and 117% of the CDI (Interbank Deposit Certificate), but it's not one of the most friendly investing options out there.
Before we can really recommend C6 Bank and make a conclusion let's focus on the small drawbacks that hinder an otherwise good service:
Drawbacks: C6 Bank, Not For Everyone
This bank is an institution that caters to the same users who want ease of use, access and understanding for their finances. But C6 Bank is one of the most elite options that exist today in Brasil, this means that if you're a person with a low monthly income, this might not be the best option for you. Here are some brief drawbacks.
Marketed towards high-income virtual bank users.
Investment options are one of the highest yielding in the market, but not everyone will be able to afford the minimum investing amount
It may take up to 42 business days for C6 Bank to approve your account or credit card order. Then, your card might take up to 2 weeks to arrive.
Loyalty Program has a rather limited catalogue of redeemable products and available retailers
Doesn't have a cashback program or any plan whatsoever
It also doesn't offer any kind of loans
But if you decide that C6 Bank is still a good option for you, here's how to make an account with the bank:
How To Apply For A C6 Bank Account And Alternatives
Applying for a C6 Bank account is as easy as apply for any other virtual bank out there.
Step 1: Download The App
The first thing you have to do is download the C6 Bank app on your smartphone (Android or IOS) and answer the information that's asked by a bot. This information will be used by C6 Bank in order to know if you do apply for a C6 Bank account.
Step 2: Choose The Type Of Account You Want To Open
Once you've downloaded the app and given your information, you'll be able to apply for the three types of cards and account it offers. You can choose between the payments account, the checking account with a single debit and credit card, and the C6 Carbon card. Once that's done you're practically ready for the last step.
Step 3: Wait For Approval
Once that's done the only thing left to do is wait. Do remember that your application may take up to 42 business days to be accepted or denied. And even after that, your card might take up to 2 weeks to arrive.
Once you hear from them you'll be able to ask for the C6 Taggy tag as well, so both your card and the windshield sticker will arrive at the same time. Do be aware that your application's approval will depend on your credit and financial data. But also be aware that there's not a minimum monthly income amount required for your application to be accepted. The application for the C6 Carbon Card will need a more thorough analysis, though, so be prepared to wait.
On the contrary, if you think that C6 Bank might not be the option for you, then don't worry, since there are a lot of other options out there, take a look:
Nubank
Nubank is the most prominent option that comes to mind when people think about virtual banks. It offers unlimited transfers, TEDs, DOCs, loan and investment options for all of its customers, but it's also one of the most difficult to get a hold of. If you're just thinking that you might want to get a Nubank account, there are around 1000+ people who have already thought the same thing and have already applied. Given that Nubank handles its application processing via a first come first serve queue, a lot of time might pass before you get to hear from them.
Banco Neon
Neon is also a virtual bank institution that's relatively new to the market, but it's making some really interesting strides for its customers. It offers a really versatile VISA debit and credit card with a checking account where you're able to do international purchases while you're also able to invest and ask for loans. The only real drawback to it is that it only gives a monthly allowance of 1 withdrawal per month or 4 if you apply for Neon +. If you wish to withdraw more you'll have to pay a R$6,90 fee.
If you want to read more about Banco Neon you can always click here to read our full review.
Banco Original
Original is a virtual institution that is looking to solve the same issues people are having with traditional banking institutions. But Banco Original offers an experience that's not so different from a traditional bank account. It follows the same principles of any virtual account but since it's not that different than regular banks, it's a good segway for people who aren't looking for something that different. It offers debit and credit cards with and without annuities, but it has a limited TED, withdrawal and credit statement limit, but this can be solved by buying the Unlimited Original package.
You can read more about Banco Original in our review here.
In Summary: C6 Bank Is A Great Option But It's Not For Everyone
Over this review, we've found that C6 Bank is probably the virtual bank that offers the most unique features and options of all virtual banks. The thing is, C6 is not aimed at every type of user out there. It mainly targets people who already have a high income, rewarding them with the Carbon card and the opportunity of being able to invest, something that other banks make fairly more accessible.
If you're earning more than a minimum wage we wholeheartedly recommend getting an account with C6 Bank, but if you're not, we recommend going with a more accessible and less premium oriented option like Banco Neon.
Either way, why not try giving C6 a shot and apply for a bank account right now?