Credicard is one of the biggest payment solutions provider in Brasil. You can use Credicard products to make your life easier in many different ways.
It has 3 main products: the Credicard Zero Platinum Mastercard, the Credicard Black Mastercard, and the Credicard Pop, which is a payment terminal. The Zero Platinum is an excellent credit card that brings in great benefits without charging an annuity. If you're looking for a great free credit card, this is one of the best options out there.
Credicard is a brand known to millions in Brasil, but many may not be aware of all they offer. In this post, we'll go over all the products and services that Credicard has to offer, alongside the benefits you get with each one.
Let's begin.
What Is Credicard?
Credicard is all about bringing payment solutions to Brasil. It is a payment solutions provider that launched in 1978 and has had plenty of time to grow into the financial giant that it is today.
It provides credit cards and payment machines that help people pay for their purchases and do business. There are lots of brands that'll give you a discount if you choose Credicard to make your purchase.
Credicard offers three main products:
The Credicard Zero Platinum Mastercard
The Credicard Black Mastercard, and
Several models of Credicard Pops
The first two are credit cards and the last is a point of sale. Let's take a look at the features and benefits of each of these products.
Credicard ZERO Platinum: Zero Fees – Great Benefits
A lot of Brasilians prefer credit cards without annual fees, or any fees, for that matter. If you're among these people, then you're in luck because the Credicard Zero Platinum (aptly named) has ZERO fees.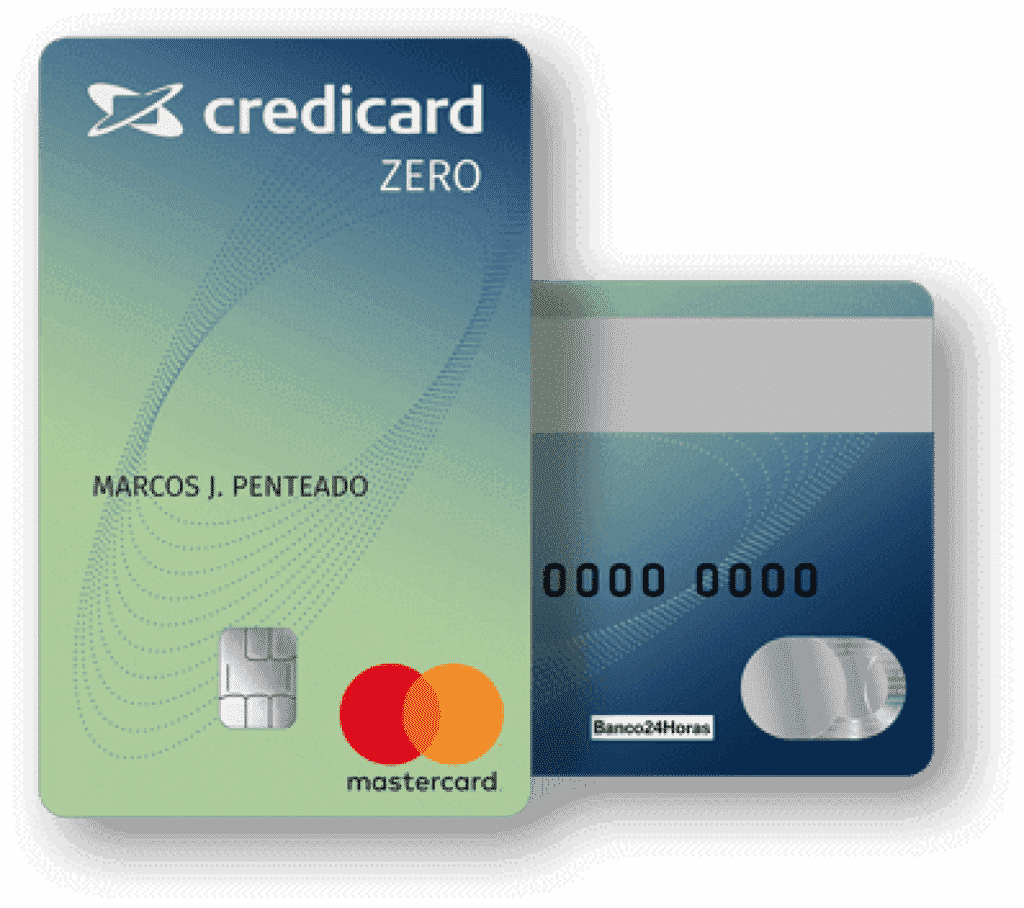 | | |
| --- | --- |
| Annual Fee | R$0 |
| Additional Cards | 4, Free Of Cost |
| Spending Limit | $R1.000 – $R35.000 |
| Partners | Over 30 Discount Partners |
| Loyalty Programs | Mastercard Surpreenda |
| Spending Limit | R$1.000 – R$35.000 |
| Minimum Income | Not Required |
What it does have are a lot of are benefits that could make your life a lot easier. It's the perfect card for the average person.
Why You Should Get This Card
If you're looking for a simple card that gets you through your day, the Credicard Zero is the card for you.
It has no fancy gimmicks and provides solid discounts at certain outlets. Here are some of this card's main winning points:
#1 The 4 Free Extra Cards Are Awesome
It's extremely rare that a company gives out 5 credit cards without any annual fees. This card is basically the death of annuity.
You can get cards for members of your family so you can all purchase what you need without having to bother one another.
#2 Doesn't Require Proof Of Income
Now, isn't that great?
You won't have to show any proof of income whatsoever to attain this card. Normally, platinum cards require you to have a huge monthly salary before you can get them, but this one is available for everyone!
#3 Mastercard Surpreenda
You'll be able to get products for free if you keep using your Credicard Zero Platinum. You'll get points under the Mastercard Surpreenda offer, and once you have enough points, you get a chance to buy a product and get another for free alongside it.
If you want to learn more about the Credicard Zero Platinum, we suggest reading our dedicated review where we go over all its features, one by one, as well as all of this card's pros and cons so you can decide if it's the right one for you.
Credicard Black: The Traveller's Friend
Unlike the Credicard Zero, the Credicard Black does have annual fees. However, with proper planning and spending, you can minimize or even avoid these fees.
It just depends on how much your monthly spending is because that'll make all the difference when you get this card.
| | |
| --- | --- |
| Annual Fee | R$65,00 per month or R$780,00 per year |
| Rewards | 5 points per dollar for streaming video and music |
The Main Benefits This Cards Provides
Here's everything you stand to gain if you get this card:
#1 The Rewards
| | |
| --- | --- |
| Domestic Purchases | 2 points per dollar |
| International Purchases | 3 points per dollar |
| Streaming Video and Music | 5 points per dollar |
You'll keep getting rewards for the purchases you make. If you're a lover of streaming services, you should really get this card because it'll help you save a lot of money.
You can redeem these points later by turning them into cash or by using them to gain discount vouchers. You can also use them for frequent flyer programs to gain cheaper airplane tickets and better airport lounges. Keep in mind that these points will expire.
If you don't use your points within 36 months, they will expire. You can exchange them for cash if you're running out of time, but you'll get less value so we don't recommend doing so. It's definitely a better idea to take your time and redeem them in order to get the best value possible.
#2 You Can Get The Annuity Waived
For the first three months, the annuity on this card is completely free.
After that, you typically have to pay R$65,00 per month to maintain this card. However, that doesn't have to be the case. For each month that you charge R$6.000 to this card, your annuity for the month will be waived.
If you end up spending less than the required minimum during any given month, you'll have to pay that month's annuity of R$65. In other words, if you have an income that lets you spend R$6.000 or more every month on your credit card, then this card is a great option for you since you'll end up getting it for free.
#3 Free Wifi At Airports
If you're at an airport (or any other area) supported by Boingo, the wifi there will be yours for free. Having free wifi can be great in times of emergency when you've run out of mobile data and don't have any money or don't know where to get more data.
Credicard Pop: A Necessary Tool For Business
If you have a business, be it a store, restaurant, or anything in between, you'll need a Credicard Pop. Cashless transactions have been growing in Brasil for many years now, and you'll be missing out on earnings if you don't take advantage of the Pop.
It works pretty simply. And it's even simpler to get up and running. There are three versions of the Credicard Pop that are shown in the image above. Their features are presented in the following table:
Pop Type
Cost
Installments Cost
Capabilities
Mega Pop
R$418,80
12x R$34,90
1. Free Wifi and 3G
2. Apple Pay & Samsung Pay supported.
3. Prints Voucher
Pop
R$237,60
12x R$19,80
1. Free Wifi and 3G
2. Apple Pay & Samsung Pay supported.
3. Sends receipt by Email or SMS.
Mini Pop
R$58,80
12x R$4,90
1. Connected to internet via Bluetooth connection to a phone.
2. Sends proof of sale via SMS or Email.
You can make a single down payment or you can get all three versions of Pop in installments. The amount you have to pay in installments ends up being the same as the full amount if you pay it in one go, but there's a catch. The way installments work is that you'll have a percentage of your earnings cut until you pay off the full cost of the Pop.
When receiving payments with Credicard's Pops, the commission you have to pay and the time it takes for funds to be available depends on the payment method.
For debit payments, you only have to pay a 1.99% fee, and you'll receive your funds within a business day.
Credit is a little different. You'll receive your money in two business days and have to pay a 3.98% fee for cash purchases and 4.98% for credit on installments.
Your credit fee will increase by 2.99% per the number of installments you have. 12 installments mean you will have to pay a lot of money from what you earn. It's always better to pay in cash upfront to avoid high fees.
This is pretty standard when it comes to point of sales, so it's not something that should keep you from choosing a Credicard Pop.
In Summary
Credicard is one of the top payment services providers in the country, and for good reason. It has reasonable prices and gives good products with value to its customers.
Is it a perfect company? We wouldn't say so. However, it stands above most of its competitors in Brasil.
We personally think that the Zero Platinum Mastercard is a must-have for most people due to the ease it brings. The extra credit cards you get with it are something your family will highly appreciate.