Fortrade is a great broker that focuses mostly on three things, being a beginner-friendly broker, being a safe and regulated entity and offering a wide variety of assets. The broker's proprietary platforms are famous for being just what newcomers are looking for without overwhelming them with complex features. You'll also feel completely at ease trading a total of 308 assets (217 stocks, 17 indices, 51 Forex pairs, 17 commodities, 3 bonds and 3 ETFs) while also being safeguarded by 5 international regulators like the FCA, ASIC and IIROC.
However, Fortrade is not perfect. We consider that its proprietary platforms (web and mobile) are too simple and there's no room for traders looking for something more without delving into how complex MetaTrader 4 (desktop) is. Aside from that, the broker also has somewhat subpar customer support, with email being the worst offender and no dedicated account managers offered at all.
In the general side of things, Fortrade is a great broker for beginners who are willing to learn a lot about trading and taking their first steps. Their strict regulation only amplifies the safety a trader can feel when trading with this broker. But it's also worth mentioning that the broker doesn't really have a place for traders who are looking for a middle ground between beginner and expert tools. So, if you're a beginner trader, you're going to love Fortrade's platforms or even MetaTrader 4 if you're an expert. So, what are you waiting for?
However, we can't really recommend Fortrade without mentioning Capital.com first. With 2,000+ assets at your disposal, FCA regulation, instant signup, a dedicated account manager and a $20 USD minimum initial deposit, this broker has a broader appeal than what Fortrade offers. Not only that but beginner, intermediate as well as experienced traders will feel right at home with Capital.com's proprietary platform. So, ready to learn or start trading the way you've always wanted to?
We analyzed hundreds of data points relevant to the costs, benefits and features of trading with Fortrade and scored our findings on a 10-point scale across 10 distinct categories.
| | |
| --- | --- |
| Fees | 9 |
| Signup Process | 7 |
| Minimum Deposit | 10 |
| Ease of Use | 7 |
| Deposit & Withdrawal Options | 10 |
| Customer Support | 7 |
| Asset Classes | 10 |
| Referral Program | 0 |
| Demo Account & Educational Resources | 8 |
| Safety & Regulation | 10 |
| Total | 78 |
Trading is an activity that has become more and more common for each and every year that passes. This means that a lot of people are looking for the broker with the best and biggest opportunities out there, but most don't find quite an exact answer to what they're looking for. That's why here at Yore Oyster we've given ourselves the responsibilities of reviewing most major brokers in the industry to finally give a solution to this problem. So, let's see if today's broker, Fortrade, can really assume that role.
An Introduction To Fortrade
Fortrade is a broker that started operating back in 2014 in the UK under regulation by the FCA (Financial Conduct Authority). Since then the broker has had 6 years to develop itself into a brokerage firm that's known all over the world for its product and services. As of 2020, the broker is regulated by 5 entities from all over the world and it has expanded its asset repertoire to offer a large number of Forex pairs and CFDs (Contracts For Difference) on stocks, indices, commodities and a lot more.
Even though the broker is headquartered in the UK, it manages to offer its services in over 150 countries. Here's a full list of the countries where Fortrade is available:
| | | | | | | |
| --- | --- | --- | --- | --- | --- | --- |
| Albania | Andorra | Antigua and Barbuda | Argentina | Armenia | Austria | Azerbaijan |
| Bahamas | Bahrain | Bangladesh | Barbados | Belarus | Belize | Benin |
| Bhutan | Bolivia | Bosnia and Herzegovina | Botswana | Brazil | Brunei | Bulgaria |
| Burkina Faso | Côte d'Ivoire | Cabo Verde | Canada (British Columbia and Ontario) | Cameroon | Chile | China |
| Colombia | Comoros | Costa Rica | Croatia | Cyprus | Czechia (Czech Republic) | Denmark |
| Djibouti | Dominica | Dominican Republic | Ecuador | Egypt | El Salvador | Equatorial |
| Guinea | Estonia | Eswatini (fmr. "Swaziland") | Fiji | Finland | France | Gabon |
| Gambia | Georgia | Germany | Ghana | Greece | Grenada | Guatemala |
| Guinea | Holy See | Honduras | Hungary | Iceland | India | Indonesia |
| Ireland | Italy | Jamaica | Jordan | Kazakhstan | Kenya | Kiribati |
| Kuwait | Kyrgyzstan | Latvia | Lebanon | Lesotho | Liechtenstein | Lithuania |
| Luxembourg | Madagascar | Malawi | Malaysia | Maldives | Mali | Malta |
| Marshall | Islands | Mauritania | Mauritius | Mexico | Micronesia | Moldova |
| Monaco | Mongolia | Montenegro | Morocco | Mozambique | Namibia | Nauru |
| Nepal | Netherlands | Nicaragua | Niger | Nigeria | North Macedonia | Norway |
| Oman | Pakistan | Palau | Palestine State | Paraguay | Peru | Philippines |
| Poland | Portugal | Qatar | Romania | Russia | Rwanda | Saint Kitts and Nevis |
| Saint Lucia | Saint Vincent and the Grenadines | Samoa | San Marino | Sao Tome and Principe | Saudi Arabia | Senegal |
| Serbia | Seychelles | Sierra Leone | Slovakia | Slovenia | Solomon Islands | South Africa |
| South Korea | Spain | Sri Lanka | Suriname | Sweden | Switzerland | Tanzania |
| Thailand | Timor-Leste | Togo | Tonga | Trinidad and Tobago | Tunisia | Turkey |
| Tuvalu | Ukraine | United Arab Emirates | United Kingdom | Uruguay | Vietnam | Zambia |
However, due to Fortrade being subject to quite the strict regulators, it's not permitted to open accounts in certain countries, specifically the US, its dependencies and Venezuela. It's also important to mention that, even though you may reside in one of these countries, if you're not a citizen, you might not be able to open an account with this broker.
With that said, let's keep digging into some other Fortrade features.
Pros & Cons
Pros
Regulated by 5 international corporations.
Great amount of educational content available.
Unlimited MetaTrader 4 demo account.
Narrow spreads on most assets.
Over 300 assets available for trading.
Proprietary platforms are beginner-friendly.
Multiple ways to deposit from and withdraw to.
Cons
Proprietary platforms might be too simple for the average trader while MetaTrader might be too complex.
Customer support is of subpar quality, especially when it comes to email.
Withdrawals tend to take between 5 to 15 business days in the worst cases.
Some of the educational content is generic and can be found anywhere else, which provides no value to the platform.
The broker doesn't provide dedicated account managers.
Account signup isn't instant.
Fortrade Account Types
Fortrade takes a simple approach when it comes to accounts, offering only 2 types of accounts which in reality work the same but with some minor differences. These accounts are:
Standard account
Islamic account
The difference between these is that all Islamic accounts benefit from having free currency swaps when it comes to trading. However, a drawback to these accounts is that they need at least a $2,000 USD minimum initial deposit whereas the regular standard account only requires $100, at least.
As they're separated for religious reasons, there's really only one account option for either regular or Islamic traders, so there's not too much to talk about in here.
Here's a breakdown of our 10 scoring categories, each scored out of 10 for a total of 100 points.
#1 Fortrade Fees
The first thing to note here is that Fortrade is a $0 trading commission broker. This means that the broker actually gains money from the variety of the spread prices depending on the moment you trade. $0 commissions are a model of trading that's getting more and more popular as we advance in time because it's simple and more satisfactory for both brokers and traders. So, good for Fortrade on this front!
However, for every good thing, there's usually a drawback to it. In this case, Fortrade charges a dormancy or inactivity fee if a user reaches a certain period of inactive time. The interesting detail here is that this fee is really, really forgiving, only applying for accounts that have been inactive from 180 days onwards. Even then, the inactivity fee is only a mere $10 USD, but bear in mind that it will be charged every month until the account reaches a balance of $0.
Since we already know that Fortrade incorporates its fees into the spread prices, here's a table depicting its average spread prices on each asset category:
| | |
| --- | --- |
| Asset | Average Spread Price (Pips) |
| Forex | 83.16 |
| Index | 6.18 |
| Stocks | 1.365 |
| Commodities | 0.60 |
| Bonds | 0.08 |
| ETFs | Not Disclosed |
It's worth noting that Forex's pips are considerably higher because you're actually trading the asset and not a derivative as with other assets CFDs'.
Due to Fortrade using CFDs for most of its assets, leverage is to be expected. However, the broker offers quite a low amount of leverage when compared to Exness and some other brokers. Fortrade offers leverage of up to 1:100, but some assets like ETFs can get low leverage as 1:20. Even so, it all depends on the asset being traded. One great thing that's worth noting is that there's no fee for using leverage while trading.
Now that the most important information was said, it's worth pointing out that Fortrade did great in this category. $0 trading commissions are always music to trader's ears, so that's a plus, especially when accompanied with such a varied range of assets. However, we can't deny the fact that Fortrade's performance is hindered by its inactivity fee and its Forex pips being somewhat higher than the price on the asset on other brokers. Other than that, a solid performance here.
Fortrade Fees Score: 9/10
#2 Signup Process
The signup process category is as important as any other. Nobody wants to find out that the best broker out there has a signup process that makes you wait for one, two or even three weeks. Luckily for us and you, Fortrade's account creation and verification processes are, overall, somewhat fast.
For our account creation, the whole process took around 2 full days for the broker to create and verify our account. There are no complicated steps to complete nor any hoops to jump through, but the broker requires you to send via email the following information:
Proof of Identification (Including a government-issued photo)
Proof of Address (Issued within the last 3 months)
On a very general note, the process is simple enough, but it would gladly benefit from being quicker. It's worth noting that Fortrade is subject to some very strict regulations, so that could be one of the reasons why the process takes so long. Good performance still.
Fortrade Signup Process Score: 7/10
#3 Fortrade Minimum Initial Deposit
A broker's minimum initial deposit is another important feature to factor in since this can work as both a rite-free passage or an obstacle. Fortrade's minimum initial deposit is only €/$/£ 100 , although, the broker recommends a minimum initial deposit of €/$/£ 500. The important thing to mention here is that there aren't any features locked behind a specific minim initial deposit such as with Avatrade. So, you may start with €/$/£ 100, 500 or whichever amount you want without it affecting you in the long run.
For your reference, here's a small table comparing the minimum initial deposits of other similar brokers:
Solid performance in this category, without a doubt.
Fortrade Minimum Initial Deposit Score: 10/10
#4 Ease of Use: Web, Mobile and MetaTrader 4
Fortrade treads the same path as other brokers like Oinvest do when it comes to its main desktop platform being MetaTrader 4. However, the broker follows exactly the same path as AvaTrade by developing its own web and mobile platforms. This means that Fortrade works for every type of user who likes trading either from their phone, computer or wherever they want to. With that said, let's compare the three and see which kinds of users they adhere to the best.
Fortrade WebTrader
Out of the pair formed by the web and mobile platforms, the web trader is the most resourceful of the bunch. It has the most thorough search features, detailed graphs and charting, so we consider it to be better for actual trading than its mobile sibling. Overall, the WebTrader is exactly what a somewhat experienced trader might be looking for. It's not the most complex nor thorough tool out there for trading but it also isn't too simple.
Fortrade Online CFD Trading (Mobile Version)
The mobile side of the Fortrade platform pair is the least complex you'll find. By this, we mean that the platform is less customizable and overall simpler to use than its web counterpart, the key difference being the charting options, which are simpler in the mobile version. Due to the nature of a mobile platform's simplicity, this is the easiest but not the best way to trade with Fortrade, being thought out specifically for beginners.
A certain detail that's worth mentioning is that this app gets a score of 3.3 and 3.6 on both Google Play and Apple stores respectively. This means that even though they work, they do so in an average manner, not being particularly great.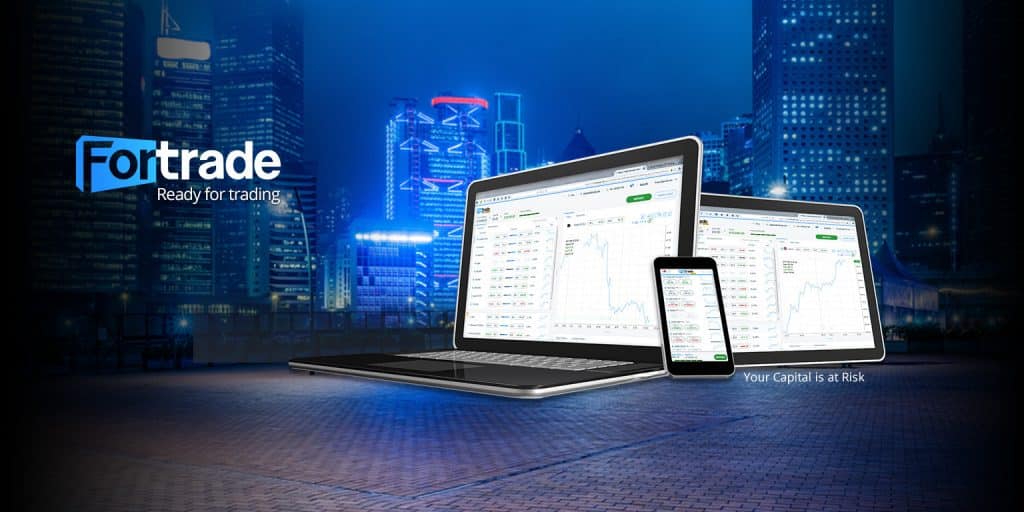 MetaTrader 4
As we've explained many many times with brokers that also use MetaTrader 4, this software is especially known for being great at Forex and stock trading. However, it has the most customizability, charting and indicator options out of all three platforms offered by Fortrade. This means that MetaTrader is, all-round, the best, but also one the most complex ways to trade, reserving itself mostly for deeply experienced traders. Its outdated design and overall visually complex UI don't help a lot of newcomers when trying it for the first time either.
On the general side of things, Fortrade has platforms to fit most kinds of users, whether they are beginners or experienced traders. However, we feel that both its web and mobile platforms are a little bit too basic for the overall spectrum of users when compared to other proprietary platforms like that of Capital.com or even Exness on mobile. If you're someone who's getting into trading from scratch, you'll have no problem with Fortrade, but for those always looking for more, this might not be enough to satisfy your needs.
Overall, a fairly good performance from Fortrade in this category, but its simplicity might appeal to some users and drive others away. The good thing is that MetaTrader exists for that same reason, but there's no real middle ground between beginner and expert level platforms.
Fortrade Ease of Use Score: 7/10
#5 Fortrade Deposit & Withdrawal Options
There's no worse feeling in the world than when you manage to get a successful trade but getting your earnings back into your bank account isn't as easy as you initially thought. Luckily for us and you, Fortrade offers the deposit and withdrawal methods we consider as the most important for the average user. The broker supports deposits and withdrawal from and to the following mediums:
Debit/Credit cards
Bank transfers (ACH)
Electronic wallets (PayPal, Skrill and Neteller)
Wire transfers
When it comes to depositing speed, everything works fine. Debit/Credit card and electronic wallet deposits are usually instant, but wire transfers can usually take 7 days before being verified by the broker, instead, bank deposits depend mostly on your bank, so the broker does not disclose an amount of time for these to be processed.
However, with withdrawals, the waiting time almost doubles, with withdrawing via credit/debit cards being the worst offender, taking up to 15 business days in the worst-case scenario. Instead, wire transfers tend to take up to 5 business days on an average measure. This is probably due to the fact that Fortrade is heavily regulated, so each deposit and withdrawal has to be meticulously confirmed so there's no foul play related to the broker.
Overall, the broker does a great job of offering quite the varied withdrawal and deposit options for all base currencies it offers (USD, EUR and GBP). For that same reason, it gets a perfect score, but bear in mind to choose your withdrawal method wisely.
Fortrade Deposit & Withdrawal Options Score: 10/10
#6 Customer Support
Here's where we probably see the category where the broker performs the worst. You see, Fortrade offers the three main ways of customer support, which are
However, the effectiveness of these support channels varies greatly, specifically when it comes to email.
We always email brokers asking them a couple of questions before writing these reviews to see how they react and respond to an actual customer. In this case, we sent them 3 emails in total, the first one didn't get a response, the second one got a reply 2 days later and the last one got a reply 1 day later. But delays are not the most important thing to consider. They responded to our second email with a one-line answer not relevant to our question, and their third response directed us towards their live chat support, which baffled us. If email support is going to be so negligent, it shouldn't even be a thing.
On the other side of the pond, phone and live chat support were actually helpful and easy to get in contact with. The bad aspect of this is that the broker doesn't list the hours these services are active, so if you want to get in contact with them you'll have to play the guessing game.
As we've mentioned, what really shines here is phone and live chat support, which are offered in 15 languages. Here's the full list of the numbers available for each supported country:
Belarus: +375-17-2240625
Bosnia and Herzegovina: +38733902927
Albania: +35545300888
Switzerland: +41615083007
Austria: +43720883454
Spain: +34911161768
France: +33971072355
Croatia: +38515544227
Italy: +390694805421
Montenegro:+38220405816
Macedonia: +38925517450
Mexico: +525571000976
Serbia: +381117357350
Russia: +74952839398
Slovenia: +38617775136
United Kingdom: +442039664505
South Africa: +27211110598
You can also get in touch with them through email at:
But again, we highly recommend against it. Instead, phone and live chat support are way better ways to get in touch with this broker.
Overall, we can say that Fortrade has a relatively good performance in this category. This is only amplified by the fact that we were the ones who were left waiting, but there are still some good benefits to be had here.
Fortrade Customer Support Score: 7/10
#7 Fortrade Asset Classes
Before delving into the actual meat of this category it's worth mentioning again that all assets except Forex are traded via CFDs. This means that you won't own the asset per sé, but you will earn or lose money depending on the price change of the asset for a certain amount of time.
Either way, CFDs or not, Fortrade offers quite a varied lineup of assets for all of its traders. Here's a table depicting how many assets Fortrade offers for each category:
| | |
| --- | --- |
| Totals: | 308 |
| Stocks | 217 |
| Indices | 17 |
| Forex Pairs | 51 |
| Commodities | 17 |
| Bonds | 3 |
| ETFs | 3 |
As you can see, the full list of assets is here, so let's break down each category
Stocks & Indices
The broker doesn't have an exact list of which stock exchanges it has access to, but this doesn't stop it from offering the most renowned American and European stocks. With a total of 217 stocks, you'll have a wide range of assets to trade with. Some of the stocks available for trading you'll find in Fortrade range from:
AMD
American Express
Alibaba
Pfizer
British Land
HSBC
Google
Etc.
The same thing applies to indices with a total of 17, which are:
Australia 200
Canada 60
China 50
France 40
Germany 30
Hong Kong 50
Italy 40
Japan 225
Netherlands 25
Spain 35
Swiss 20
TRYBASK/TRY
UK 100
USA 2000
USA 30
S&P 500
USA-Tech 100
Not only this is a pretty big list of available indices, but it gives traders access to trading international assets of up to 14 different countries, which is quite the feat, to say the least.
Currency Pairs
Forex could be called the second or even the first attraction of Fortrade for new traders. The broker offers 51 currency pairs including major and minor pairs. Some of the pairs included are:
USD/CAD
USD/CHF
USD/CNH
EUR/AUD
EUR/CAD
EUR/CHF
GBP/JPY
GBP/NZD
GBP/SGD
NZD/CHF
NZD/JPY
NZD/USD
Gold & Commodities
Most brokers cheap out in this category by not offering too many commodities, but contrary to those trends, Fortrade actually does a good job here. Offering up to 17 commodities in total, you'll get access to the most important and valuable commodities in the trading scene. The full list of included commodities are as following:
Brent Oil
Copper
Corn
Cotton
Crude Oil
GOLDTRY (Troy Ounce)
Gasoline
GoldVsEUR
GoldVsGBP
Gold Gram/Turkish Lira (GAU/TRY)
Gram GOLD (GAUUSD)
Heating Oil
Natural Gas
Palladium
Platinum
Silver
Silver (AUD)
Soybeans
Sugar
Wheat
Excellent for traders who focus on commodity trading!
Bonds
For the first time in a long while, we don't have to write "Sadly, this broker doesn't offer this asset". Fortrade surprises us by offering 3 bonds in total including:
5 Year US Treasury Note
10 Year US Treasury Note
30 Year US Treasury Bond
Sure, not the biggest list of bonds out there, but it's still better than nothing, so that's 1 for Fortrade and 0 for brokers without bonds.
ETFs
Here, the same case depicted above applies in the same measure. Most brokers don't really care about offering ETFs, but we really take notice and consider when they do so. The ETFs available for trading here are:
ProShares UltraPro QQQ
ProShares UltraPro Short QQQ
United States Oil Fund
Again, not the biggest list out there, but it's a benefit that many other brokers definitely don't have.
Crypto
Cryptocurrencies have seen an increasing appearance on brokers in the last couple of years, but some corporations are still hesitant to add them to their assets. Fortrade does so but in a subtle manner, only offering the 4 major cryptocurrencies in the market as of the moment, which are:
BITCOIN (BTC)
Dashcoin (DASH)
Ethereum (ETH)
LiteCoin (LTC)
Overall, Fortrade's asset repertoire is not the biggest out there, but even then, it manages to offer enough for both beginner and experienced traders alike. Really great performance in this category by letting traders choose exactly what they want to trade.
Fortrade Asset Classes Score: 10/10
#8 Referral Program
Sadly, Fortrade doesn't currently offer a referral program and it doesn't seem it will do so in the near future. Instead, if this is one of the main things you're looking for in a broker, then Tickmill and Interactive Brokers should be interesting reads for you.
Fortrade Referral Program Score: 0/10
#9 Fortrade Demo Account & Educational Resources
This is an interesting category because there are some features where Fortrade really excels and some very interesting ones where it simply doesn't.
Demo Account:
Since the broker supports the usage of MetaTrader 4 it's bound to offer a demo account you can switch into anytime you want. You initially get a €10,000 paper deposit so you can practice getting the hang of trading in general or trying out new strategies before applying them to the real market. Another good aspect of this demo account is that it doesn't have a time limit whatsoever, which makes it a great tool for learning whether you have 1 or 10 years trading.
Educational Resources:
Fortrade has one of the most varied educational grounds we've seen so far, including certain specific sections where traders can learn from scratch or get a more thorough understanding of basic trading terminology. The learning methods you can find in Fortrade are:
VODs
Glossary
eBooks
Market analysis and reports
Trading Central
Overall, the glossary, the market analysis and Trading Central tools are what really shine here the most since they offer the most value for new and experienced traders alike. However, we found some interesting issues with the VOD and eBook aspects of this broker. The thing is, we've already seen this content as part of other brokers learning resources, specifically ATFX. So, there's no value to these tools when anyone can find them elsewhere with a new coat of paint every time.
In the general side of things, Fortrade offers quite the varied ways to learn about trading and the market in general. We really, really liked the market analysis with its weekly uploads to youtube pointing out the highs and lows of the scene. So, even if VODs and eBooks are generic and can be found elsewhere, there's still a lot of educational value here.
Fortrade Demo Account & Educational Resources Score: 8/10
#10 Safety & Regulation
If there's one category where Fortrade could get a score higher than a 10, then it would be this one. The broker is regulated not only by the FCA in the UK but also by other 4 regulators across the whole world. The full list of regulators that oversee this broker are:
Financial Conduct Authority (FCA)
National Bank of the Republic of Belarus (NBRB)
Australian Securities and Investments Commission (ASIC)
Investment Industry Regulatory Organization of Canada (IIROC)
Cyprus Securities and Exchange Commission (CySEC)
Overall, this makes Fortrade a heavily trusted broker not only in the UK but also throughout the world. And if you're not convinced yet, the broker is also a member of the Canadian Investor Protection Fund (CIPF) and the Financial Services Compensation Scheme (FSCS), which protects customers for up to £50,000.
All of this makes safety and regulation one of the defining features of Fortrade, which is a really good aspect in general, especially in such a volatile market. Only a few brokers have such a high grade of international regulation, so if you're ever asking yourself about whether Fortrade is safe or not, you'll be glad to know that it's one of the safest brokers out there as of the moment of writing.
So, with all that said, Fortrade gets a total score of 78/100. This is a somewhat good overall performance, but it's clear that Fortrade is not the best broker out there. If Fortrade isn't, then which broker is it? We present to you our highest-rated broker to date, Capital.com.
Fortrade Safety & Regulation Score: 10/10
While researching 100+ of the world's top brokers, we've noticed what works and what doesn't from the customer's point of view. That's why our final test for any broker is to compare it to
Capital.com
, which scores 91/100 points across the 10 categories mentioned in this review.
Fortrade vs. Capital.com
Don't get us wrong, Fortrade is not a bad broker at all, but there are certain categories where its performance is not up to par with the likes of Capital.com. That's where the differences really start to shine and some brokers outperform others either by a large or minuscule mile. That's the case between Fortrade and Capital.com, so let's delve into Fortrade's weaknesses.
Signup Process Comparison
Earlier we established that even though Fortrade's signup process is quite simple, it's not instant. Approximately, an account verification can take from 1 to 2 business days, which is an okay waiting time. The thing is, waiting for 2 days at best seems cumbersome when we compare it to Capital.com's instant sign up and account verification process, where you can get to trading in no time. It's small details like these that really make the difference.
Ease Of Use Comparison
Whereas Fortrade's proprietary platforms work pretty well, it suffers from being too simple, especially on mobile, but that's to be expected. Sure, Fortrade also has MetaTrader 4 support, but this implies a hole in user experience where somewhat experienced traders have to choose a platform that's either too simple or too complex.
Instead, Capital.com developed its own desktop, web and mobile platforms, all with a lot of visual flair to them. Not only that, but Capital.com also made sure that all platforms are compatible with each other, meaning that whatever you can do in the desktop version can be done on web and mobile as well. Capital.com answers Fortrade's problem with a platform that is as deep as the user wants it to be with a unique design that never gets tiring to the eyes like MetaTrader usually does.
Customer Support
This is probably one of the categories that's the most critical to our reviews due to its connection to direct customer satisfaction. Sadly, even though Fortrade offers the most common ways of customer support, these are not the best out there. The fact that we experienced how bad email support can be at first-hand leaves a good imprint of how they might treat their customers from a general perspective. Sure, you can contact them by phone and live chat as well, but we shouldn't be telling you to avoid any way to contact a broker.
Where Fortrade falters Capital.com rises above their performance with a crisp and ever listening customer service team. Not only that but every trader gets access to a dedicated account manager that'll help you in any way they can, free of charge! We can't really list how helpful a dedicated account manager can really be, but the fact that these can be accessed with no extra cost is just wonderful. Capital.com also offers a great phone, live chat and email support that's active 24/7.
So, with that said we can clearly say that Capital.com is the real winner here, not only due to the clear comparison between Fortrade's weaknesses but also by much more. Capital.com is also a $0 commission broker with narrow spreads, 13 language support, no deposit, withdrawal nor inactivity fees and a minimum initial deposit of only $20 USD.
So, if you really want to sign up for what we consider to be the best broker out there as of now, you can do so right here. Otherwise, if you want to learn a little more about Capital.com before making a choice, you can always read this thorough review here.
Fortrade Review: A Few Closing Words
At the end of the day, Fortrade is not a bad broker at all. It's one of the brokers we found to be the most regulated with access to a wide variety of assets with $0 trading commissions. It's also got a very good minimum initial deposit requirement and a ton of ways to deposit and withdraw your money.
However, Fortrade has some glaring flaws, like for example its customer support services, the simplicity of its platforms and the fact that its signup process isn't instantaneous. Other details like withdrawal times taking too long just add up to its main flaws.
Either way, we end up with a broker that, besides its flaws, manages to offer a great platform for beginners and experienced traders. It's strongest points are definitely its educational resources, especially for being one of the only brokers to offer an unlimited MetaTrader 4 demo account, and the regulated nature of the broker, so if you're a beginner looking for a safe broker where you can fully learn about the market, you've definitely found your place.
However, we can't recommend Fortrade without first recommending what we consider to be the best option out there. In case you're also a beginner trader looking for safety and to learn more about the market, Capital.com can also fulfill those goals with detailed courses and tutorials on each and every asset it offers. So, what's a $20 minimum deposit when thousands of dollars are waiting for you in earnings?