Oinvest is a broker with access to stocks, indices, forex, commodities and cryptocurrency on an international basis. It boasts $0 commissions on all of its assets, multiple ways to deposit and withdraw from your account and MetaTrader 4 as its main trading platform. All of this makes Oinvest a valid option for those who are looking for a broker where you can create an account in almost any country except the US.
On the not-so-good side, Oinvest has limited educational resources and not a great variety of stocks and indices and assets in general. This broker is missing bonds and ETFs, doesn't have a referral program, and requires at least a minimum $250 initial deposit.
Overall, Oinvest shines as an international broker with a relatively varied asset repertoire for its traders. If you're in a country where you can't open an account with a major broker with better features, Oinvest will satisfy that need. It's not up to par with other major international brokers, but its 200 stocks, 15 indices, 47 currency pairs, 17 commodities and 21 cryptocurrencies will surely keep you occupied. So, if you're interested in diversifying your trades, this is quite a valid option to do so.
Instead, if you would like to diversify your investments even more with up to 2,000 individual shares and Bonds and ETFs on top of all the other assets, you'll find Capital.com much more palatable. On top of that, Capital.com's minimum initial deposit is only $20, with a much better-looking platform available on desktop, web and mobile. So, if you really want to diversify your investments, Capital.com is the way to go.
We analyzed hundreds of data points relevant to the costs, benefits and features of trading with Oinvest and scored our findings on a 10-point scale across 10 distinct categories.
| | |
| --- | --- |
| Fees | 9 |
| Signup Process | 10 |
| Minimum Deposit | 8 |
| Ease of Use | 10 |
| Deposit & Withdrawal Options | 10 |
| Customer Support | 10 |
| Asset Classes | 8 |
| Referral Program | 0 |
| Demo Account & Educational Resources | 8 |
| Safety & Regulation | 6 |
| Total | 79 |
Choosing your first or even making the jump to a new investment platform is always a troubling decision. Whether you're new or experienced in trading, making this decision can both be beneficial and detrimental. That's why we're reviewing the biggest names in the current broker industry in order to let you know which one might be the best fit for you. In this review, we'll be talking about Oinvest, a recently founded broker with a focus on offering varied international trading products. Care to learn more?
An Introduction To Oinvest
Oinvest has become a well-known name in the broker industry since its conception back in 2018. It's amassed such a name because it works as an alternative to dealing with trading options you would only find in major US brokers. This broker mainly deals in stocks, indices, Forex, commodities and cryptocurrencies, all with $0 commissions and CFD (Contract For Difference) modality.
Related: Pepperstone is an Australian broker with a focus on trading Forex and ETF with CFDs as well. Are you one of those traders focused on Forex?
As far as our research goes, Oinvest is not listed in any stock market whatsoever, but this doesn't mean it's not offering a wide array of international assets. The broker is also not available in the US, but it does work in some countries in the following continent/countries:
However, there's not a clear list that details exactly where Oinvest is available or not, so you will have to try for yourself. If you're in a country where Oinvest isn't available, you'll see a screen saying "Sorry, restricted access". A little blunt in our opinion, but pretty clear either way.
With that out of the way, let's delve more into this Oinvest review before we start rating how the broker fares in specific categories.
Oinvest Pros & Cons
Pros
International broker with access to 9 different countries' assets.
A low minimum initial deposit of $250.
Available on mobile, desktop and web platforms thanks to MetaTrader 4.
Around 200 shares are available to be traded individually.
Large repertoire of cryptocurrencies available.
$0 Trade commission for all assets.
Offers a dedicated account manager.
Customer support is extremely quick to answer any queries with thoughtful answers.
Available in most major countries of the world.
Cons
Not available in the United States.
Higher tiered accounts require a $500 deposit.
Missing bonds and ETFs.
Spread prices only decrease with higher-tiered accounts.
The dedicated account manager is only available for Gold and Platinum accounts.
Educational resources are somewhat shallow.
Doesn't have a referral program.
Account Types Available In Oinvest
Oinvest has an account repertoire fit to adhere to the trader's most important needs. These split into three types, the Silver, Gold and Platinum accounts, each functioning and offering different benefits. Here's a table that lists all the differences between the accounts:
Oinvest Account Tiers
Silver
Gold
Platinum
Spreads (Average pip variation)
Forex
2.66
1.73
1.04
Commodities
0.33
0.27
0.20
Indices
2.00
1.50
1.00
Leverage
Forex
1:200
1:400
1:400
Indices
1:50
1:100
1:125
Commodities
1:50
1:100
1:125
Stocks
1:20
1:40
1:50
Features
Withdrawal (Up to)
7 Business Days
7 Business Days
7 Business Days
News Alert
No
No
Yes
Free VPS
No
No
Yes
Dedicated Account Manager
No
Yes
Yes
Webinars and Videos
No
Yes
Yes
Islamic Account
Yes
Yes
Yes
10-hour support from 10 AM to 8 PM GMT
Yes
Yes
Yes
Fifth Decimal
Yes
Yes
Yes
Hedging
Yes
Yes
Yes
Swap Discount
No
25%
50%
Trading Signals
No
Yes
Yes
As you can see, the accounts' differences boil down to reduced spread prices, available leverage and overall features. You'll find that the Silver account is the most basic one, having fairly elevated spread prices, lower leverage available and restringed access to webinars, discounts and a dedicated account manager. Instead, the Gold account has access to an account manager, lower spread fees and bigger leverage available. The Platinum account has even lower fees, bigger discounts and all other features available in previous tiers.
If you're really looking to experience most if not all benefits that an international broker like Oinvest can offer, we really recommend the Gold or even the Platinum accounts. But be aware that these accounts need a $500 minimum initial deposit, whereas the Silver account only needs a $250 deposit.
Here's a breakdown of our 10 scoring categories, each scored out of 10 for a total of 100 points.
#1 Oinvest Fees: $0 Commissions On Most Cases
The most important thing to mention here is what makes Oinvest so well known in today's industry, $0 commissions. Oinvest offers $0 trading commissions on all of its assets available for trading, no fine print nor hidden fees. The broker doesn't charge deposit or withdrawal fees either.
This broker's main medium of making money is through bid and ask spreads. And even then, its spread prices are somewhat tight and decrease depending on the type of account you chose at creation. The higher your account is in the tier, the tighter the spreads become, which means spending less money on fees and more in actual trading.
However, Oinvest does have an inactivity fee, but the period of inactivity is not mentioned in its main site. The fee consists of a $50 surcharge on your next withdrawal after your account has been inactive.
Overall, Oinvest has a really interesting fee schematic aiming for $0 commissions and settling for relatively tight spreads depending on the assets. This goes a long way in this category since more and more traders are looking for brokers with $0 commissions and a variety of investment options. So, it gets an almost perfect score if it wasn't for the inactivity fee.
Oinvest Fees Score: 9/10
#2 Signup Process: One of The Fastest
During both our research and use of Oinvest we found that its signup process is one of the fastest out there. It only requires:
Phone number
Email address
Legal name
It then proceeds to process the data and create your account. The cool part about this is that you're encouraged to explore your account before making your first deposit thanks to the demo account available. This is also made easier by accounts being verified instantly or at least on the same day when they're created.
Definitely an easy to understand process where everyone can deposit after they've become acquainted with the broker and its trading platform.
Oinvest Signup Process Score: 10/10
#3 Minimum Initial Deposit At Oinvest
As we had mentioned earlier, the minimum initial deposit depends on the type of account you want to open. A Silver account needs a $250 deposit whereas Gold and Platinum accounts require a $500 deposit. Here's a small table with the minimum initial deposit requirements of similar brokers:
Overall, even if they're not free, these minimum deposits are not that high at all and bode well for experienced traders who want to test before they commit and beginner traders starting with low funds.
Oinvest Minimum Initial Deposit Score: 8/10
#4 Ease of Use: Leave It To The Experts At MetaTrader 4
While writing this Oinvest review we discovered that, as other brokers do, Oinvest doesn't have its own trading platform. When it comes to being able to create an account and trade with this broker, you'll find that you'll be using an already established platform called MetaTrader 4. This is good because MetaTrader is a prolific platform used mostly for trading Forex and stocks. This makes it easier for traders to trust the platform and for other traders already familiar with MetaTrader to jump into it without needing a tutorial.
Oinvest uses MetaTrader 4 for all three of its platforms, desktop, web and mobile. As we hinted before, MetaTrader 4 works fantastically, especially when it comes to Forex, which is a good point for this broker. But as we always mention for brokers which use this platform, MetaTrader might work fine, but it's not that pretty to look at.
Also, it's worth having in mind that while using MetaTrader on the web and mobile versions you will only be able to trade Forex. If you want access to all the other assets available for this broker, you'll need to hop onto your desktop application.
If we're only looking at practical use here, the score Oinvest gets here is not refutable, since using a platform like MetaTrader grants it a lot of credit. The respective scores for MetaTrader 4 apps on Android and IOS get a whooping 4.6 each, which definitely means it works, and it works well.
Oinvest Ease of Use Score: 10/10
#5 Oinvest's Deposit & Withdrawal Options
If you're jumping to a new broker, one of the first things you have to do is research the ways you can fund your account and get your money or your earnings back. Here's a category where Oinvest shines since it offers quite a lot of ways to deposit and withdraw your money. Here's a full list for the services available for both deposits and withdrawals:
Credit and Debit Cards (Mastercard and Visa)
Bank transfers
Electronic wallets (Skrill, Neteller and V Pay)
Wire transfers
Oinvest gets a pretty high score in this category because it ticks all the withdrawal and deposit options we consider as the most important ones. However, Oinvest has a minimum withdrawal requirement of $100, which means that withdrawals are somewhat limited, but overall, this isn't such a big nuisance at all. Due to the fact that Oinvest is not headquartered in the US but in Seychelles, South Africa, deposits and withdrawals tend to be processed around 7 days at a minimum.
Also, Oinvest only supports two base currencies in which to deposit or withdraw, which are USD and ZAR (South African Rand).
Overall, the deposit and withdrawal methods are varied enough to benefit any kind of international customers, which is a great asset for an international broker.
Oinvest Deposit & Withdrawal Options Score: 10/10
#6 Customer Support
Good customer support is always needed when you're trading with money, especially with big quantities of it. Luckily, Oinvest customer support works fast and efficiently, at least as where phone and live chat support are concerned.
You'll be able to get in contact with this broker through phone lines, email and live chat support, but these vary in quality. We found out that the phone line and live chat support are spectacular in their service, both being fast and assertive towards our queries, which is always helpful. On the other hand, email support tends to answer really fast, most of the time in less than 2 hours, but its answer's relevancy is not up to par with its counterpart. We always send an email with a couple of questions to the brokers in order to aid our research, but what we got from Oinvest was an invitation to check their website. It seemed a bit lacking in our opinion, to say the least.
Another good feature about the customer service Oinvest offers is that it comes in 6 languages, which are:
English
Thai
Spanish
Portuguese
Russian
Arabian
Also, Gold and Platinum account holders get access to a dedicated account manager 24/5, which is a really good benefit on top of the lower spreads and the bigger leverage.
Overall, customer support is really out there to help you there whenever you need it the most, but do bear in mind to prioritize phone and live chat support instead of email. Also, here are all the ways you can get in contact with this broker:
+44 2035196460

[email protected]

[email protected]
Oinvest Customer Support Score: 10/10
#7 Oinvest's Asset Classes
Before signing up with Oinvest its important to know that all the assets you trade will work via CFDs or Contracts For Difference. This means that you'll trade and earn based on the price fluctuation of the asset, but you won't be the owner.
With that out of the way, let's get into the repertoire of assets Oinvest offers at your disposal.
Stocks & Indices
When it comes to its assets, Oinvest shines the most since its an international broker with access to a multitude of international assets. Starting with stocks, you'll find around 200 different shares to trade at your leisure. These include major shares from American, European and Australian companies, which is a lot more than what other brokers offer in their repertoire.
Related: Tastyworks is an American exclusive broker focused on trading stocks, Options and Futures with a focus on technology and live trading. Learn the benefits of this broker and how it might work for you!
When it comes to indices is where you really find the diversity Oinvest markets to its users. The broker offers up to 15 different indices, which are:
ASX 200
CAC 40
China Enterprise 40
DAX 30
DOW 30
Euro Stoxx 50
FTSE 100
Hong Kong 50
IBEX 35
MIB 40
NASDAQ 100
Nikkei 225
S&P 500
US Dollar Index
Volatility Index
This means that Oinvest lets you invest in up to 9 country's assets, including the following countries:
USA
China
France
Italy
Spain
Hong Kong
Germany
Japan
Australia
Either way, you won't feel like your trading assets are limited in any way whatsoever.
Currency Pairs
Oinvest also has a slight focus on Forex, but it's clearly not its main selling feature. In this broker, you'll find access to 47 currency pairs in total, which is quite a good offering. The majority of pairs you'll find here are common pairs, but you will still be able to find some minor exotic pairs, even if they're not that abundant. Some of the pairs more usually traded in Oinvest are:
EUR/USD
GBP/USD
USD/JPY
AUD/USD
EUR/CHF
EUR/GBP
NZD/USD
EUR/JPY
Gold & Commodities
Another good feature of this broker is its versatility when it comes to commodities available to trade. You will not only find metals and energies but also other assets like coffee, corn, cocoa and more. Here's a small list of all 17 commodities available for trading in Oinvest:
Brent Oil
Cocoa
Coffee
Corn
Gas
Orange Juice
Palladium
Platinum
Gasoline
Silver vs. US Dollar
Gold vs. US Dollar
Bonds & ETFs
As of the moment of writing this Oinvest review, the broker does not deal with either of these assets.
Crypto
If we had to choose one defining feature for Oinvest we would choose diversity, an aspect that's shown in its cryptocurrency repertoire. Currently, there are 21 different cryptocurrencies with a total of 33 pairs available for trading, including but not limited to:
Bitcoin (BTC)
Bitcoin ABC (BAB)
Litecoin (LTC)
Ethereum (ETH)
Ethereum Classic (ETC)
Ripple (XRP)
Stellar (XLM)
Dashcoin (DSH)
Overall, Oinvest's focus on diversity really shines here the most. But it's worth noting that its repertoire is not perfect. We appreciate all the different options to trade in stocks, indices, commodities and cryptocurrencies, but we sorely miss ETFs and bonds.
Oinvest Asset Classes Score: 8/10
#8 Referral Program
As of the moment of writing, Oinvest isn't offering a referral program in any way whatsoever. This might be due to the fact that it's rather new on the market (launched in 2018) or that the broker isn't planning on implementing one, only time will tell.
Oinvest Referral Program Score: 0/10
#9 Demo Account & Educational Resources
Thanks to MetaTrader, Oinvest is able to offer a demo account to every kind of trader. This is important for both beginners and traders who are not accustomed to using MetaTrader 4. Overall, the demo account works in the same way as a regular account would and you can choose between a $100,000 or a $1,000,000 theoretical deposit. It's the best option to get started with MetaTrader and getting accustomed to Oinvest as your new broker, especially because there's no time limit for the demo account.
When we start talking about Oinvest's educational resources is where the broker falls a little short. Oinvest offers a lot of educational resources, including
Courses
Webinars
Videos On Demand
eBooks
Tutorials.
The thing is, they might look like a big offering, but when it comes to quality they're not the best. The eBooks on market strategies and terminologies range around 12 to 20 pages long and the whole video category doesn't last longer than an hour.
Overall, the demo account is a great tool for helping anyone get into trading and learning how MetaTrader works. But on the other side, educational resources are a bit lacklustre and feel very monotonous and impersonal. We fully recommend looking for trading education on sites that cover a broader amount of strategies and resources. But either way, there's nothing better than a demo account to get started with trading.
Oinvest Demo Account & Educational Resources Score: 8/10
#10 Safety & Regulation Of Oinvest
In terms of investor safety and legal regulation, Oinvest is regulated only by the Financial Services Authority of Seychelles, better known as FSA. This is one of the top regulators in that country, but either way we feel that for an international broker it's not enough. In our review of Exness we found out that the broker (also in Seychelles) is regulated by two other regulators aside from the FSA. This makes us wonder why Oinvest isn't regulated by these same entities as its sibling company in the same country.
Even if it's only regulated by one entity, that's better than not being regulated at all. And to its credit, Oinvest applies the same safety methods as Exness. Fund segregation keeps their earnings away from yours so the capital never gets mixed. Risk Management keeps traders on the know with automated alerts about a risky trade that could possibly end up in losses. And finally, their Data Security Protocol keeps traders personal information encrypted and away from cybersecurity threats like hackers and leaks.
Overall Oinvest is a safe broker, but a little more international regulation could come in handy for more global recognition and appeal. Their fund, security and risk protocols are also very handy for any kind of situation where anything could go awry.
Oinvest Safety & Regulation Score: 6/10
While researching 100+ of the world's top brokers, we've noticed what works and what doesn't from the customer's point of view. That's why our final test for any broker is to compare it to
Capital.com
, which scores 91/100 points across the 10 categories mentioned in this review.
Oinvest vs. Capital.com
After reviewing a broker, our final test is to compare these brokers with what possibly is the best broker out there according to our scoring system, Capital.com. Bear in mind that as of this moment, Oinvest scored a total of 77 points whereas Capital.com scored a total of 91/100. So, let's see how these compare.
Asset Classes Comparison
At the start of this review, we established that Oinvest has around 200 stocks you can individually share at your leisure. The thing is, Capital.Com offers around 2,000 individual shares from major American and international companies. This, when compared together, means that Capital.com offers 10 times more of what Oinvest is offering, which is quite a difference.
Capital.com also has access to a multitude of ETFs and bonds, something that Oinvest is sorely missing.
Demo Account And Educational Resources Comparison
We already mentioned that even though Oinvest offers quite a varied amount of educational resources, these vary in quality as well. They're looking to get everyone on board with their articles, courses, eBooks and VODs, but the truth is that there's not too much depth in that content. Instead, Capital.com built one of the most complete glossaries in the market, accompanied by tutorials, courses and lessons on every trading instrument it offers. We truly believe that the educational content in Capital.com is of greater quality than the one found in Oinvest.
Safety And Regulation Comparison
We've already mentioned that Oinvest is regulated by the FSA, which is great, but it could do better in this category. Instead, Capital.com is regulated by the Financial Conduct Authority (FCA) and the Cyprus Security and Exchange Commission (CySEC). These are both legal regulatory entities situated in the UK, which give Capital.com credibility when it comes to customer protection and safety.
Also, another benefit that Capital.com has on its favour is that it provides compensation to any of its customers in case a trader is affected outside the spectrum of the regular investment risks. This feature is something that Oinvest doesn't have in its favour. Segregated Funds are a way to protect investors, but there's really no way to compensate them in any way.
For all these reasons we believe that Capital.com is the better choice in this scenario. Boasting $0 commissions, up to 2,000 markets at your disposal and one of the safest, most active and educated environments in the industry, Capital.com wears its crown again as our top-rated broker.
If you've liked what you read so far, you can take action and apply to Capital.com right now since the minimum deposit only requires $20 to open your account. Instead, if you'd like to read a little bit more before choosing, you can always read this thorough review to learn more about the broker.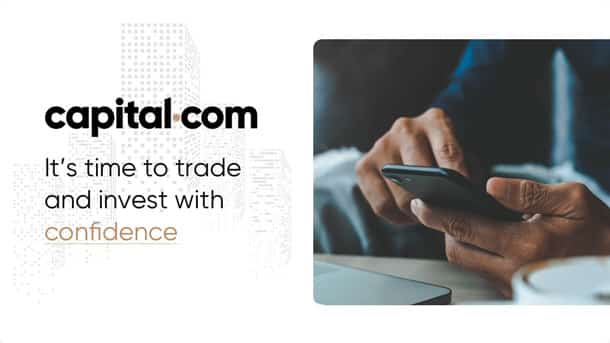 In Summary: Oinvest Has A Lot Of Potential For International Traders
Overall, Oinvest managed to get a total score of 79/100, which is not bad at all. The broker really shines if you're looking for the following features:
$0 Commissions.

A somewhat varied stock repertoire.

Availability of International indices.

Some Forex variety with a focus on major pairs.

A large variety of cryptocurrency assets.

Good customer service

International availability, no mattering where you're from (Except the US)

A Broker that uses MetaTrader 4 as its main trading platform.
Those are the features where Oinvest wholeheartedly shines the most, so if that's what you're looking for, you can apply right now. But remember, the minimum initial deposit for this broker is $250 for silver accounts and $500 for Gold and Platinum accounts!
But remember, for a $20 minimum initial deposit you can get access to a lot more trading assets at Capital.com. At the end of the day, we can't recommend Capital.com enough with all of the benefits it offers. So, are you ready to start diversifying your investments, whether a beginner or a professional?