American Express has officially launched the American Express® Green Card, which replaces the American Express Choice Card. The Green Card is the only no-annual-fee card that's a part of American Express' valuable Membership Rewards program, making it a great card for Canadians.
In this post, I'll offer an early review of the American Express Green Card, including its features, benefits, and how it stacks up against American Express' other cards in Canada.
Features & Benefits of the American Express Green Card
| | |
| --- | --- |
| Welcome Bonus | 10,000 Membership Rewards® points when you charge $1,000 in purchases to your Card in the first 3 months of Cardmembership |
| Earn Rate | 1x the points on Card purchases |
| Transfer rate to frequent flyer and other loyalty programs | 1:1 |
| Front Of The Line® | ✔ |
| Annual Fee | $0 |
There are a few things worth noting here.
First, the 10,000 MR points welcome bonus on the Green Card is impressive. With no annual fee and our current valuation of 2-3 cents per MR point, that means you're getting $200-$300 in value for free.
Second, the Green Card doesn't charge an annual fee, which is rare for the Membership Rewards program. If you're keeping a balance on your credit card at all, this can be very advantageous because it means that you'll generate 1 MR per dollar spent with absolutely no cost to you.
Third, the ability to transfer Membership Rewards points to airlines at a 1:1 ratio is very valuable. I give more examples of maximizing your point values in my posts on the American Express Platinum Card and Cobalt Card, so read those if you're looking for some inspiration.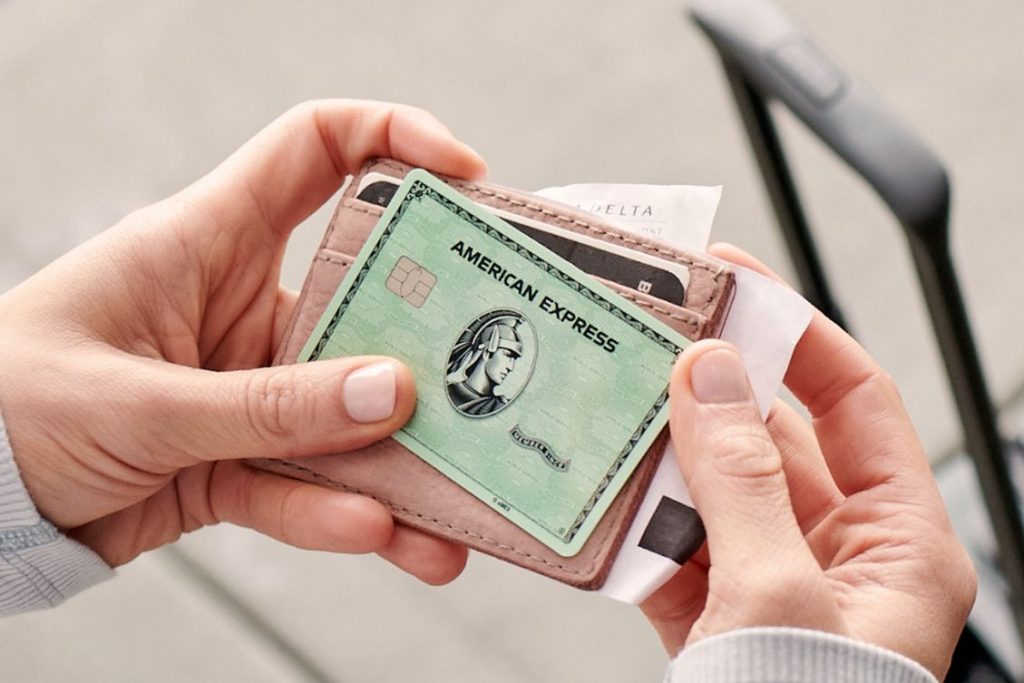 More On The Green Card
The American Express Green Card replaces the former Choice Card. It's a basic offering in every way, which you can expect for a no-fee product.
The Green Card is a traditional credit card, not a charge card. This means that you are subject to preset credit limits and will have the opportunity to make minimum payments on your balances (although we recommend paying your balance in full).
The Green Card offers a flat earning rate of 1 MR point per dollar spent on all purchases.
The Green Card from American Express Canada will be introducing two new types of basic insurance coverage for cardholders.
The card has American Express' Buyer's Assurance Protection Plan, which doubles the manufacturer's warranty for a new purchase, up to one year.
It also carries the Purchase Protection Plan, which ensures you'll be reimbursed for the cost of an item that's been damaged or stolen within 90 days of purchase.
Points Are Transferable To Airlines
The major change from the Choice Card to the Green Card is that Green Cardholders will now earn MR points that are transferable to American Express' airline partners, including Aeroplan and British Airways Avios, at a 1:1 ratio, among others
Somewhere To Park Your Membership Rewards Points
Even though the new Green Card isn't the most exciting product on its own, it does address a gap in the Membership Rewards family. This card has no annual fee and for anyone looking to earn more Membership Rewards points, this is an opportunity worth considering.
That's a point of frustration for those who might not have an MR card and don't want to transfer out their points just yet.
In theory, the Green Card offers an option for storing any Membership Rewards points you've earned from using the American Express Platinum Card or Business Platinum Card. It's only a good temporary solution if you no longer want one of those cards because of their high annual fees.
As long as you continue storing your Membership Rewards points in the no-fee American Express Green Card, you'll never lose them due to inactivity.
Alternatively, you can just transfer the points to another loyalty program like Aeroplan to keep them safe and choose another credit card:
If what you're looking for is a low annual fee but great perks, you may want to consider the Amex Cobalt or even the Amex Gold instead.
If it's a low-cost travel card that you're after, the Marriott Bonvoy is a great choice.
If you frequently take road trips within Canada and want a no-fee card with nice perks, you can also consider the Canadian Tire Triangle Mastercard.
In Summary
In conclusion, the Green Card is a no-fee product that offers enough to make it worth your consideration if you're in the market for one of American Express' credit cards. Especially if you're looking to transfer your Membership Rewards points to another account or store them temporarily, the Green Card can be a great solution.
The Green Card is not quite as exciting as its Aeroplan counterparts, though its current signup bonus of 10,000 MR points is still a good amount. If you're looking for a no-fee card, the Green Card is a good option for you.