Capitalist Exploits is a new investment service that does all the hard work for its users. It aims to directly bring condensed information about market insights and dissected investing opportunities. The unique thing about Capitalist Exploits is that it brings these opportunities with a quantified outlook on both possible earnings and risks, which gives the investors chance to decide to act or pass.
Capitalist Exploits offers different tiers of services for different types of users. The premium services take the names of Insider and Insider weekly, which consist of daily/weekly reports on the market and personalized opportunities with detailed instructions on when to enter and exit said options. Aside from those, Capitalist Exploits also offers free content to inform users interested in making the most of informed and smart opportunities.
Capitalist Exploits is probably the only investment advice service where users end up investing in the same way that the owners of it do. For this reason and more we believe Capitalist Exploits to be one of, if not, the best investment advice service.
This review will be comprised of different sections detailing how Capitalist Eploits works and what makes it so special. We'll go throug the main function of Capitalist Exploits, how it manages to accurately do its job and what it offers to its users:
#1 How Capitalist Exploits Works
The main function of Capitalist Exploits is to alert investors of unknown/underrated investing opportunities that could have immense yields. The focus is on filtering all of the opportunities available in most markets by yields and risks. On top of this, the team behind the company provides clear guidance on how to execute said investment ideas.
Aside from the opportunities that Capitalist Exploits presents to its users, they also suggest ways to adapt to possible scenarios if the forecast they recommended is incorrect. All of this creates a process to grow capital in a safe and informed environment.
Here's a bit more on how the process that Capitalist Exploits uses:
Seeking investment opportunities worldwide through in-depth analysis, market research, and investment networks.
Determining risk. Once the opportunities are found, they're ranged from an estimated best risk-capital ratio.
Identifying how to properly allocate capital into each opportunity.
Generating and distributing detailed reports to send to each associate and recommend a course of action.
A lot of people are particularly fond and trusting of Capitalist Exploits due to a special reason, transparency. The company claims that they invest in all of the opportunities they recommend to their users, which is a way to gain the trust of many investors.
Thanks to that transparency and trust they've earned, Capitalist Exploits currently has 30,000+ members all over the world. Who wouldn't be interested in having the same investing portfolio as the owner of an investment advising firm?
#2 What Capitalist Exploits Does Different
The company's strategy not only focuses on analyzing individual high-yield opportunities but rather niche market trends. In this way, it's easier to be aware of multiple opportunities in different markets or industries.
Here's an example. The following table shows a summary of the period between September of 2016 and January of 2017 where Capitalist Exploit invested $1,000 USD on all opportunities they recommended. After the period ended they got a 35% return on average from all investments. This is, of course, an average, but it shows what any user can get with the right guidance.
Now we'll get into what are Capitalist Exploits favorite underrated markets to find those stellar opportunities:
Shipping
Despite the industry going through a meltdown due to the oversupply of ships, Capitalist Exploits is confident that long-term capital allocation could take advantage of disparities between supply and demand in the sector.
Freight rates are still lower than the values observed in 2008, that's clear. However, experts at Capitalist Exploits believe that the number of contracts for shipping goods on different global routes has potential that's yearning to blow up sometime in the near future.
Overall Capitalist Exploits has a bullish outlook in the long term for this market. That is to say, to have an optimistic posture to the rise of prices. They believe that companies like Pacific Basin Shipping are a great way to play Asia's regional expansion. In addition, they expect a recovery in the global shipping market.
All in all, Capitalist Exploits warns users that in order to invest in this market, investors will have to wait a long time before seeing any high-yield returns.
Energy
The energy market is currently divided into two currents that support different types of energy sources. Capitalist Exploits doesn't favour any of the two, but rather it analyzes the trends to adapt to technological changes and the overall perception of the sources of these energies.
A particular asset that's has caught the eye of the company several times is Hydrogen. This is due to some electric vehicles also using it as fuel instead of a large lithium-ion battery like all other electric cars do.
Other commodities include both Coal and Uranium, which are materials that according to the company, are "undervalued" in the market as of now. The company recommends a bullish outlook on these commodities as well.
The US Dollar
For Capitalist Exploits, it's important to monitor the Forex market, interest rates and market volatility. Capitalist Exploits' position in this market segment bullish, yet again. Here are some reasons why they are still investing mainly in the USD as of now:
Owning dollars is risk-free. Investors can buy T-bills or buy the Invesco DB US Dollar Index Bullish Fund (UUP).
Even with the US interest rate cuts, the USD still has a higher yield than other major and emerging country currencies.
USD yields don't rely on high volatility to generate earnings. This is because owning dollars is easy, so investors can benefit from small growth on big amounts of the currency.
Natural Resources
This industry has been in decline for over 8 years. This may sound like a risk to some, but Capitalist Exploits is simply waiting for the time where natural resources are popular yet again to experience very high yields on a dormant market.
Having positions in natural resources offers the opportunity to obtain long-term benefits. Demographic changes, scarcity and changes in economies around the world influence the sector. The current commodity that the company recommends investing in is Gold, since it's been and will always be a sort of refuge.
Japan
Capitalist Exploits argues that the Japanese markets may be underestimated. In their reports, they analyze Japan's debt and purchasing power. They also estimate great investment possibilities in USD / YEN.
Bitcoin
Despite its volatility, this cryptoactive has become highly relevant in recent years. This is because it offers great opportunities in an environment characterized by the depreciation of legal currencies. In this sense, Capitalist Exploits has recommended the purchase of Bitcoin since 2014.
# 3 Capitalist Exploits' Services
As we had mentioned earlier, Capitalist Exploits offers different types of services to different types of users, which are:
Insider
Insider Weekly
Resource Insider
Glenorchy Capital
Others/Free content.
Here's how each one of those works.
Insider
Insider is Capitalist Exploits' primary service. It consists of a highly qualified team studying and analyzes alternative investment opportunities. They then deliver a series of specific reports and alerts dictating when an investor should enter and exit certain opportunities.
For example, rather than putting your money into stocks, Capitalist Exploits might suggest investing in farmland, a thriving alternative asset category that has outperformed the S&P 500 for decades. And they aren't wrong, we've even talked about these alternative investment opportunities in the past, recommending FarmTogether as a valuable provider.
Anyone with any level of experience can use the service. Investors can take advantage of low-risk global information with returns of at least threefold of what was invested.
With the Insider membership, users can also benefit from the following tools.
Newsletter: Periodically sent email with a condensed view of the discoveries made by Capitalist Exploits.
Trade Alerts: Investors will receive recommendations and investment instructions with a simple text message or email whenever they're available.
Community Forum: Access to a chat room with more than one hundred members. Here users can share what they think of current strategies, opportunities and more.
Webinar: Investors will have access to a space where all the recommended strategies and market trends are discussed.
Insider Weekly
Insider Weekly will allow you to have access to a weekly newsletter on market trends and international investment recommendations. Users will also find sections in the report on particular events and their possible effects on the market.
Resource Insider
This service focuses on recommending the best deals but only in the natural resources market. This team is lead by Jamie Keech, who has been in the know of the market trends and investing since 5 years ago. He is responsible for reviewing hundreds of investment opportunities.
Jamie Keech also invests in every opportunity he shares within the service. The research of the sector is done personally with the aim of understanding the direction that the market is trending towards and informing all subscribed investors.
It's worth noting, though, that to access the service it is necessary to have accreditation as an investor.
Glenorchy Capital
Glenorchy Capital is a managed account service for accredited investors. Investors select the amount of capital they want to invest in plus the specific sectors or industries. After that, it's just letting the experts do their job.
Investors need to have an online brokerage account first before applying for this service and an application needs to be filled and signed, giving consent to Capitalist Exploits using your funds in their strategies.
The webinars convey the changes applied to all Glenorchy accounts and the portfolios are updated publicly in a monthly basis. Since the brokerage account belongs to each associate member, all investors are able to constantly monitor it.
Others/Free Content
Capitalist Exploits provides resources for its users to learn more and more every day. All investors also get access to free help from which they can gather enough information to pursue their own strategies. The following resources are what Capitalist Exploits offers for free:
Telegram Channel
"Hedgies Uncut" is a Telegram channel where Capitalist Exploits investors comment on current trends of the market and strategies. Users can read what Capitalists exploit investors are talking about but not participate in the conversation.
In this chat, users will find alerts and comments in a more informal manner. For example, here they're discussing the importance of holding bullish positions on Uranium due to demand from countries like China.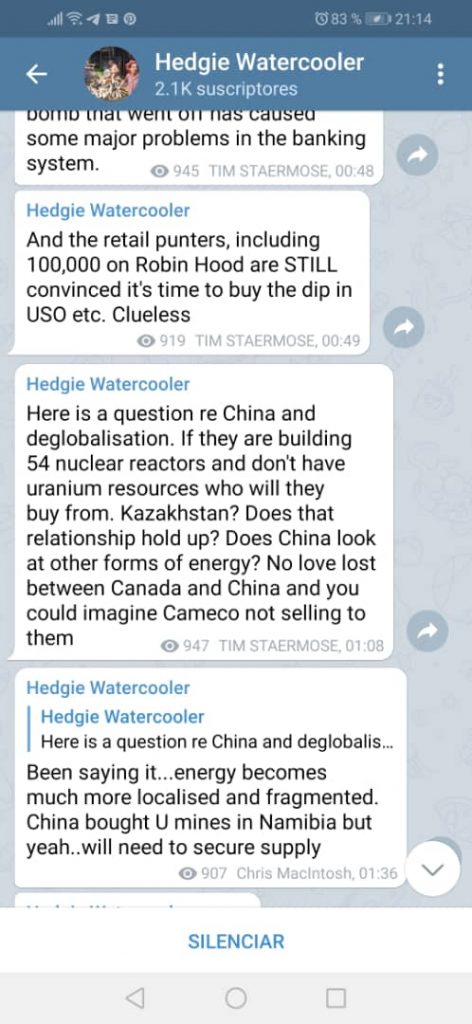 Here's another conversation, for them, oil tankers are the perfect asset. The main reason for this is that the oil tankers are tax-free, they are mobile worldwide and there is a great demand to store all the oil that nobody will want.
Users will find discussions about short-term investments or important alerts in the natural resources sector. They highlight the importance of gold as a liquid asset.
To access the Telegram channel, all you have to do is request free access.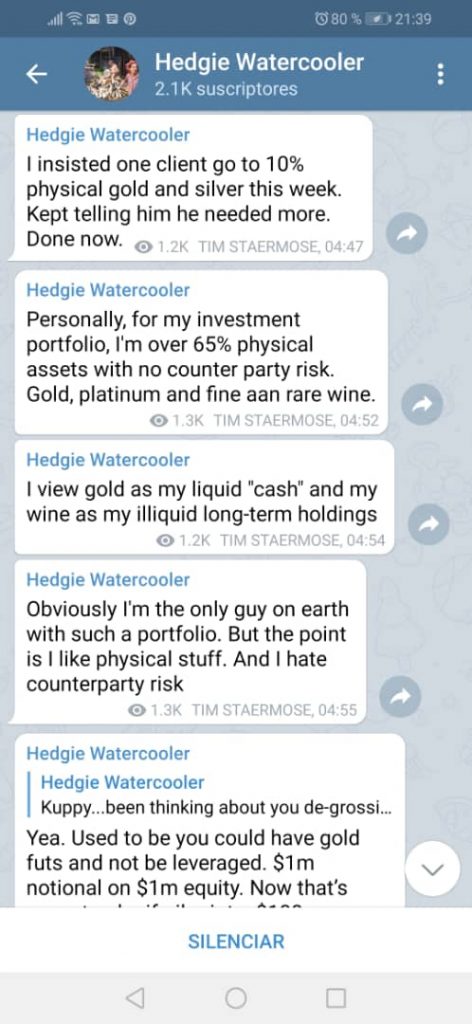 The Blog
Although the blog has an exclusive area for paying members, it's still possible to access free and updated information. The blog contains free Capitalist Exploits Newsletters, podcasts and opinion pieces from prominent Capitalist Exploits members. It also features articles on genuinely interesting topics and ideas beyond the personalized recommendations they already offer.
Free Capitalist Exploits Newsletter
Below, you can see examples of the Free Capitalist Exploits Newsletters you can find on their blog:
About Shale Oil Production. The article shows an analysis of the returns, the industry, the recommended companies with the best investment profile and the future of the industry.
Analysis in Bitcoin. An approach to the discussions of this cryptoactive.
Articles related to macroeconomic indicators (GDP, inflation and unemployment) and their relationship with government policies.
There is also information from the entertainment industry, analyzing how habits in that scene are affecting and creating new trends: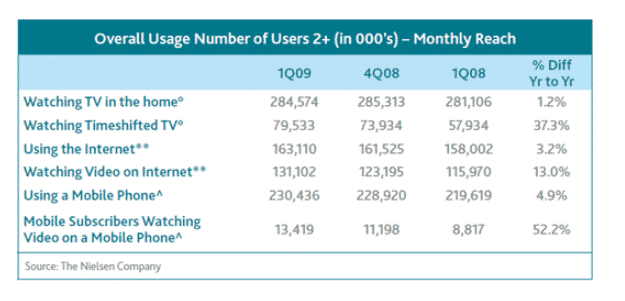 Other topics found on the blog are the future of banking, economic cycles and possible changes in the direction of the sector.
As we stated above, you'll also find very relevant podcasts posted every so often: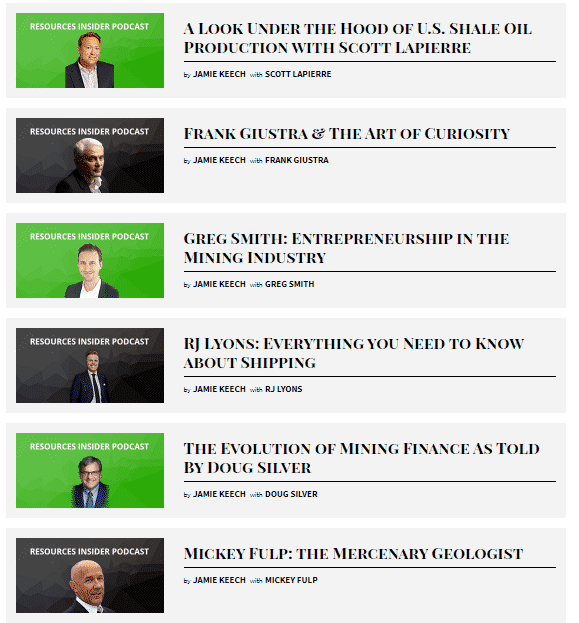 # 4 Value Of Services Insider
Capitalist Exploits sounds all nice an dandy, but what about its price? Here's a comparison between the Insider and Insider Weekly memberships:
| | | |
| --- | --- | --- |
| Features | Insider | Insider Weekly |
| Description | Full notices and reports of ideas, sectors, industrials and monthly investment strategies | Monthly investment strategy report |
| Price | Annual subscription $1,999 USD | $35 USD per month |
| Promotions | 50% discount during certain dates | Your card will be charged $1 USD today, and after one month you will automatically be charged $35 USD per month until you cancel your subscription. |
| Warranty | Yes, complete | You can cancel the subscription in the trial month. |
| Requirements | None | None |
| Minimum Capital | There are no restrictions. The client invests on his own. However, it is suggested $20,000 USD | There are no restrictions. The client invests on his own. |
| | | |
As you can see, Insider can run for a total of $2,000 per year while the weekly membership only goes for $35/month or $420/year. The difference in costs is huge, but that's just how much confidence they're willing to show for its main membership.
# 5 Insider Membership FAQ
Do I need to be an experienced investor to join?
No. The service includes information on how to execute all the recommendations.
Do I need anything in place before I join?
The only thing is an online brokerage account.
Do you offer any sort of "done for you" service instead?
Yes, via Glenorchy Capital.
How much capital do I need to make use of Insider?
There are no restrictions. The client invests on his own. However, it is suggested $20,000 USD.
What are the time horizons on my investments?
Generally speaking, longer than the average investor. The average holding time for equities in the '60s was over 8 years. Today, it's under 4 months. That is, you must wait at least 4 months.
And to that, we call this review to an end. At the end of the day, Capitalist Exploits is simply just an investment advisory firm. It all depends on the investor already looking for what the company offers and trusting them with what could be very high return investments.
However, before we close the review off, here's summary of the main aspects that Capitalist Exploits embodies:
Capitalist Exploits: Final Summary
Capitalist Exploits is an investment advisory company with more than 3,500 partners.
They track investment opportunities with the lowest level of risk, allowing investors to develop profitable investment strategies.
Capitalist Exploits strategy is to analyze trends and not individual investments.
They generate relevant information to build a diversified portfolio.
Its main focus is on Shipping, Energy, Natural Resources, the US Dollar and Bitcoin.
Insider is the main Capitalist Exploits service that investors can use to increase earnings. A highly qualified team in the study and analysis of investment opportunities manages the service.
Anyone with any level of experience or geographic location can use the service.
Capitalist Exploits has a platform that allows the distribution and discussion of market trends.
The company offers free content and a blog with podcasts and opinion articles of great relevance.
Capitalist Exploits also offers a private Telegram channel called "Hedgies Uncut". There, hedge fund managers discuss their investment positions and ideas.
It is possible to access promotions when contracting services.
Capitalist Exploits gives a full guarantee of its services.
Whenever there's investment and markets, there will be millions of opportunities in which to invest. Capitalist Exploits knows that and aims to guide its investors to make full profit out of these while keeping them informed and guided through the whole process.
The real question here is where you're ready to become an insider and start boosting your profits with unique strategies built for you. Ready to start earning?