Heirlume is a company that offers a refreshingly simple approach to the complex process of trademarking.
While trademarks protect your brand from infringement, it's usually complicated and time-consuming to get protection through law firms, and it can, unfortunately, be very expensive as well.
Heirlume just secured CAD 1.7 million to tackle the issue of trademark registration via a machine-learning platform that makes trademarking a self-service that doesn't break your budget.
They have simplified every aspect of trademarking (like researching possible conflicts of names so that there are no costly mistakes down the road), and they have a transparent process with no hidden fees.
In this review post, I'll go through everything you need to know about Heirlume, going through the entire process and how it all works.
How Does Heirlume Work?
To protect your brand from infringement, you and Heirlume will be following these 8 steps:
#1 Understand Brand Elements And How They Differ
There are key differences to know between elements like the company's name, the company's logo, and the company's tagline.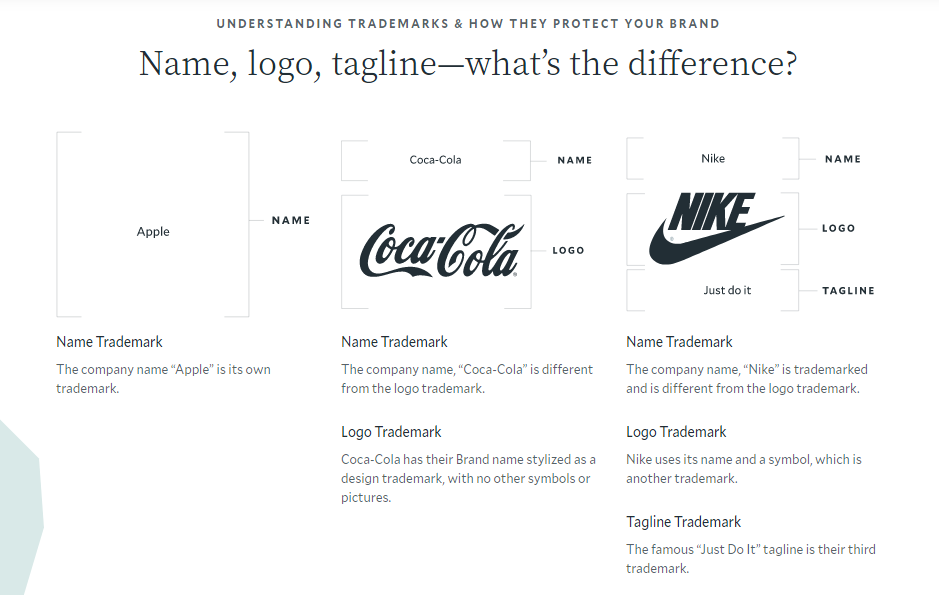 Colours also play a role in this regard, but they're not as crucial as the ones mentioned above because you can't trademark a colour as an element.
Here are the key differences between them:
Company name: This is the official company name that will be used on all legal documents, like bank accounts and incorporation papers.
Company logo: This is a visual representation of your business to use for marketing purposes or as an element in promotional materials.
Tagline/slogan: This is a summarization of what makes your company unique through short and catchy statements. A fairly good example of this would be Nike's "Just do it" slogan.
Knowing these differences is crucial because you'll need to buy protection for each of these elements separately.
#2 Purchase Your Heirlume Protection
Once you've decided how many brand elements you want to protect with Heirlume, the next step would be to buy this protection to get the process started.
#3 In-Depth Search For Conflicts
After the protection purchase is made, the platform will take care of running an in-depth search through their extensive list of brands to see if there are any conflicts between them and the elements you've purchased.
Heirlume Smart Review Technology (AKA AI-based trademark search) will flag your elements if it finds existing trademarks in the U.S. and Canada.
It's able to find existing trademarks that sound similar to yours (which even the official government trademark search tools and top-tier legal firms might not be able to recognize).
#4 Trademark Application Creation
If there are no conflicts between the elements you've purchased protection for and other registered brands out there, then Heirlume's team of expert intellectual property lawyers will take care of creating your trademark application.
#5 File Application With The USPTO
This is the part where you submit your application to the United States Patent and Trademark Office (USPTO).
The platform's Essentials Service includes legal advice from Heirlume's experts, but if you use Heirlume's Premium Service, they will take care of your filing from start to finish, including submitting your application for you.
#6 Using The Trademark Symbol
By this point in the process, you should be able to use the trademark symbol (™) without any legal issues.
Your application still has to be approved by the USPTO before it's officially registered, but you can use a protected trademark symbol in an unapproved or pending state.
#7 USPTO Application Processing
Once your application has been filed, all that's left is to wait for the USPTO to review your application and approve it.
This process usually takes anywhere between six months to one year.
You don't need to do anything else during this time, though you can check your application's status with the USPTO if you'd like.
#8 USPTO Registration And Using The Registered Symbol
Once your application gets accepted and is finally registered with the USPTO, then you'll have complete ownership of your trademark and can use the ® symbol.
Who Is Heirlume For?
Heirlume's main aim is to level the playing field for small business owners that typically have been greatly outmatched in trademark conflict situations.
Some entrepreneurs look for a domain name as the first step, and they will pay a lot of money to obtain these domains as well.
However, they don't realize that this is essentially a rental, and if you don't have the trademark to guard that domain, the actual trademark owner can remove it at any time.
Even if business owners are aware that a trademark is essential, the hurdles to obtaining one are formidable. Heirlume aims to do away with all of these difficulties.
Heirlume Protection Cost
Heirlume's pricing brings the cost of protecting brands from infringement down from many thousands of dollars to $500 for the first protected element and $200 for protection towards additional elements.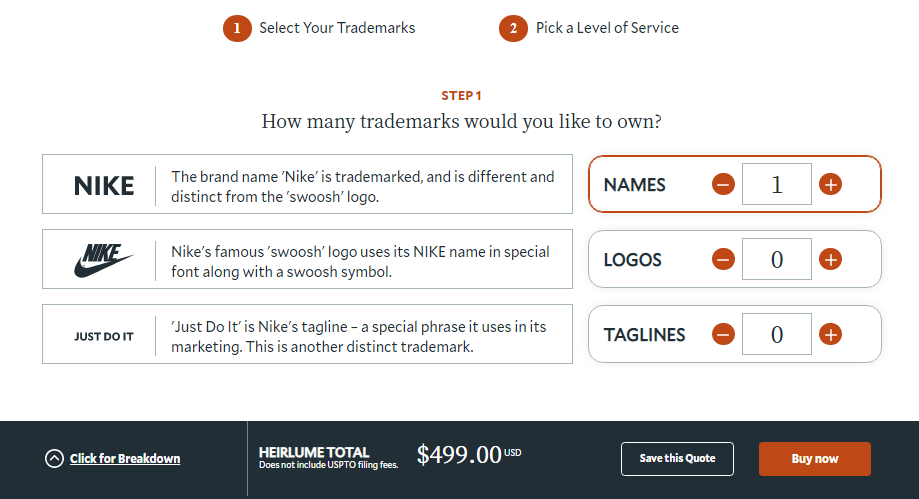 The company also offers a "buy now, pay later" option via Clearbanc. This is great for small businesses because it allows them to safeguard their brand from the start, even if they don't have a lot of money.
Additionally, Heirlume offers its trademark search feature free of charge.
This is a search tool that can access information from federal, state, and local government databases in the United States and Canada.
It doesn't only tell you if your desired trademark is available or already held, but it can also show you whether it's likely to be able to be acquired given any potential legal conflicts that may arise.
Heirlume FAQ
#1 If my application is refused, do I get my money back?
The USPTO is the final authority on trademark registration in the United States. The process takes between 12 and 14 months, at which time the decision on your application is made.
As a result, Heirlume cannot give refunds if the USPTO has denied your application.
#2 What filing fees will I need to pay to the USPTO?
After they prepare the draft of your trademark application, Heirlume will calculate your USPTO filing fees.
The costs of filing with the USPTO are based on the number of classes of goods or services your application covers.
#3 How do Heirlume fees compare to law firm fees?
A trademark application can cost anywhere from $4,000 to $6,000 or more at a full-service law firm.
Heirlume provides comparable (or greater) expertise at a lower average 'budget' pricing of $500, which is 70% percent less.
#4 Does Heirlume offer payment plans or deferred payment?
Heirlume cannot offer payment plans or deferred payments because their costs are already among the lowest in the United States.
Payment plans or delayed payments are also not an option because their turnaround time is very quick — it typically takes 5-7 business days for all of the legal work on your application to be completed.
In Summary
Heirlume offers a refreshingly simple approach to protecting your company name, logo or slogan from infringement.
Trademarks can be expensive if they are obtained through law firms and difficult to obtain at all for many small business owners. With the use of AI-driven trademark search tools that help find conflicting trademarks in seconds and prices 70% less than what is typically expected by law firms, Heirlume aims to make this process quick, easy and affordable.
Whether it's your first time registering a trademark or you're already well on your way towards securing another, let Heirlume help you get started today with an affordable package that suits your needs.