Pluralsight is a popular course provider with an emphasis on tech, and with thousands of courses at its disposal, it's difficult to say it's not a useful interview prep resource. However, it does lack coverage on key behavioral qualities, and overlooks many of the important components of interviews that often make the difference between getting the job and not.
Instead of Pluralsight, we recommend Tech Interview Pro, a proven program offering hundreds of coding walk-throughs that also prepares you for the soft side of the interview. Tech Interview Pro has an active community of thousands of past and current students, plus a money-back guarantee to ensure you're more than satisfied with what the course provides.
Pluralsight is a Learning Management System (LMS) that connects students to online courses. It has grown to be one of the biggest in the industry since its inception in 2004, and it has a heavy focus on the technological side compared to other course providers like it.
Advantages of Pluralsight
#1 A Ton Of Courses
To date, Pluralsight has 6,500+ courses at its disposal, making it impossible to not find a course on the specific topic you're looking for.

Here are some of the topics that Pluralsight offers courses on:
| | | |
| --- | --- | --- |
| Python | Virtualization | Android |
| C# | Microsoft Azure | Penetration Testing |
| Java | Networking Fundamentals | Security Auditing |
| JavaScript | Big Data | Malware Analysis |
| Web Development | Business Intelligence | CAD |
| Mobile Development | SQL | BIM |
| Angular | Tableau | Drafting |
| IT Networking | Oracle | Civil Engineering |
| Online Security | Scrum Framework | Adobe Programs |
| Database Administration | MySQL | Rhino |
| Fusion360 | Revit | Project Management |
| VFX | AutoCAD | 3D Animation |
| SalesForce | Navisworks | Game Development |
Also, similar to Netflix, users gain access to all of the courses on the site once they sign up for a Pluralsight subscription, which is rather convenient.
#2 Paths
PluralSight also offers paths, which are a combination of different courses that get its users job-ready for a specific industry.
It's always difficult to try and guess your way into a study path, so it's nice that Pluralsight gets rid of all the hassle by allowing you to choose a path and get right to learning.
#3 Friendly User Interface
PluralSight's interface is pretty easy to navigate. It contains information on the course's author, the course itself, the rate of completion (whether it's a path or a single course), and many other useful bits as well.
#4 Reliable Instructors
Pluralsight has a very strict vetting process when picking instructors for its courses, which means that only industry-leading experts end up being the ones teaching on the platform.
Therefore, you can rest assured that the content you're watching is 100% legitimate.
#5 Certificate Of Completion
Every Pluralsight course has its own certificate of completion once you reach the end.
Naturally, this kind of certification is always a useful thing to include on your resume, and it can demonstrate you know your stuff to recruiters with a single glance.
Is Pluralsight Worth It, Then?
Considering just how many courses Pluralsight has at its disposal, it's hard to say you won't gain any value from using it to prepare for your technical interviews.
However, Pluralsight does have a big problem, and it's one that leaves me unable to fully recommend it for interview prep on its own. That problem would be…
Travel With Peace Of Mind
Staying safe and healthy while you travel has never been more important than it is today. Join the world's most user-friendly insurance company, SafetyWing, for less than $1.50/day. Cancel penalty-free any time.
Pluralsight's Tunnel Vision: Focuses Only On The Technical Side
Pluralsight's coverage of the technical skills you'll need to impress your interviewers is extensive, and that's undeniable.
But the thing is, technical interviews are not just about how well you can code and design scalable systems.
They also evaluate several other non-technical skills that you need to ace just as much as the technical ones in order to land the job, and Pluralsight has no coverage on any of them.
Here are some of the most important ones.
#1 Communication
A solid set of communication skills is one of the most important non-technical tools interviewers look for in a candidate.
If you're not capable of eloquently explaining ideas you come up with to your interviewer while doing whiteboard coding, how can you expect to explain them to a team of software engineers who are complete strangers to you?
#2 Teamwork
This is another big non-technical quality that interviewers are expecting to see: after all, you're not supposed to be building the company's software on your own.
Instead, it's more logical to be paired with other software engineers and work with them to reach a common goal, which is leading the company to success.
#3 Leadership
Perhaps the quality that interviewers seek the most, since you need to demonstrate to them that you have what it takes to be a senior software engineer capable of taking action and leading your team to success.
If you can't do this, there's not much I can tell you: you're only ever going to set your foot on the door.
Pluralsight vs. Tech Interview Pro
So, Pluralsight will give you a solid understanding of the technical, but you're still going to be lacking core knowledge on the behavioral aspect of technical interviews. What can you do about this?
I recommend you take a look at Tech Interview Pro, a program created by a former Google and Facebook software engineer with years of interview knowledge and experience compressed into a single course.
And here are just a few of the reasons why I recommend it over Pluralsight.
#1 A Truly Plural Approach
Tech Interview Pro will teach you both the technical side and the behavioral side in great detail, making sure you're job-ready in both areas before you actually face an interview.
Here's an outline of Tech Interview Pro, with the non-technical modules bolded:
Understanding The Interview Process
Four Axes of the Interview

Coding
Data Structures & Algorithms
Systems Design
Communication

Interviewing Masterclass
Data Structures & Algorithms
100+ Coding Sessions
The Mock Interview
Systems Design
Transitioning Careers
Negotiating & Accepting Your Offer
As you can see from this outline, Tech Interview Pro will not only help you stand out in the technical aspect, but it'll also allow you to set yourself apart from the other candidates who ignored the behavioral aspect completely.
#2 Private Facebook Group
Tech Interview Pro also grants access to a private Facebook group with over 1,500 members, all former students of the course.
It's an invaluable source of immediate feedback on your interviews and offers, and you can also use it to meet other engineers who have successfully landed jobs at FAANG companies and other tech companies.
Here are some of the posts by past Tech Interview Pro students: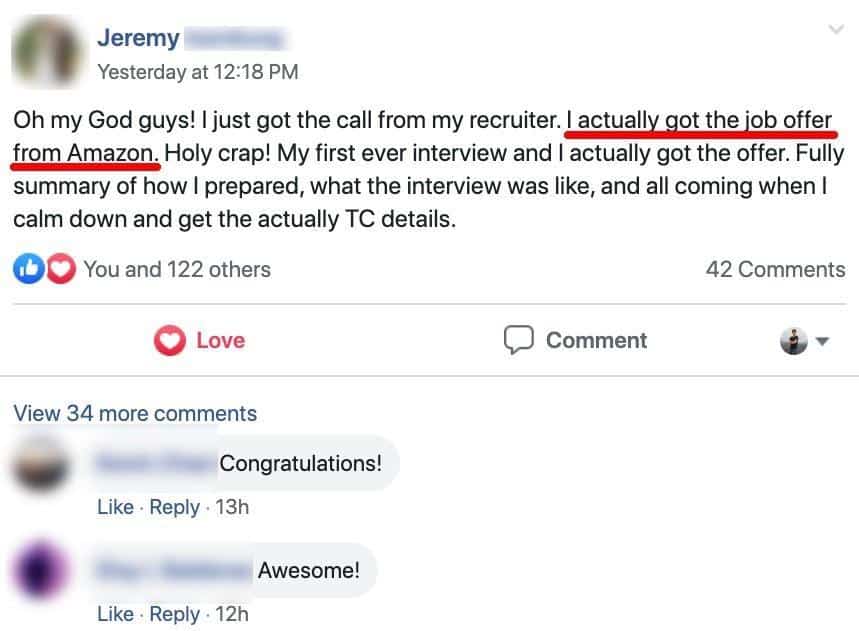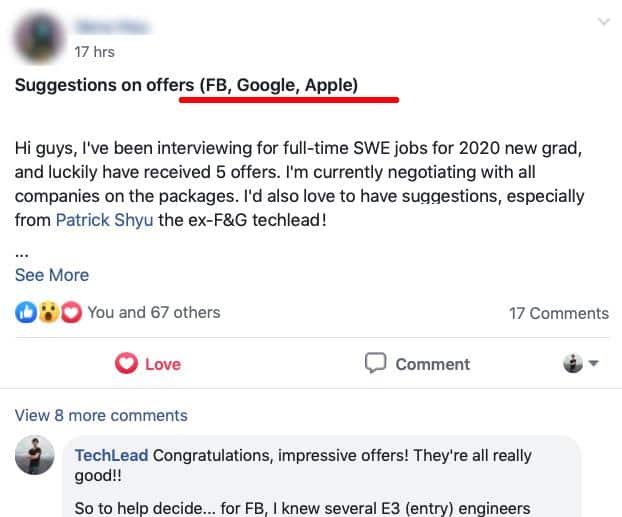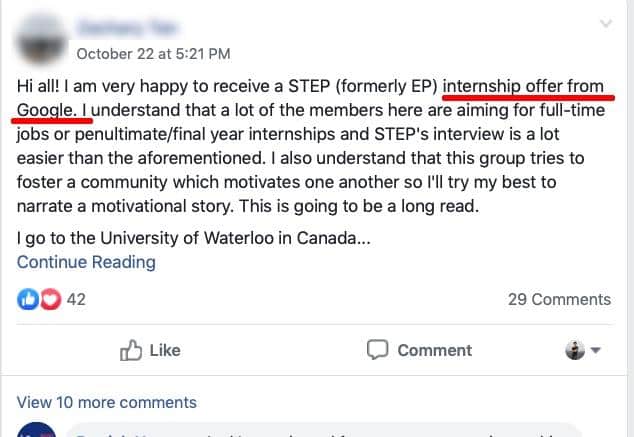 #3 Run By An Industry Insider
Tech Interview Pro is run by TechLead (Patrick Shyu), a software engineer that has grown his own websites to millions of users, spent his recent years working at Facebook and Google, and has conducted over 100 technical interviews for Google.
Taking all of this into consideration, it'll be really difficult to come up with a better person to teach you how to get a job at FAANG.
#4 Bi-Weekly Q&A Sessions
TechLead does Q&A sessions with students of the course every two weeks, and they're excellent for getting immediate feedback on very specific questions.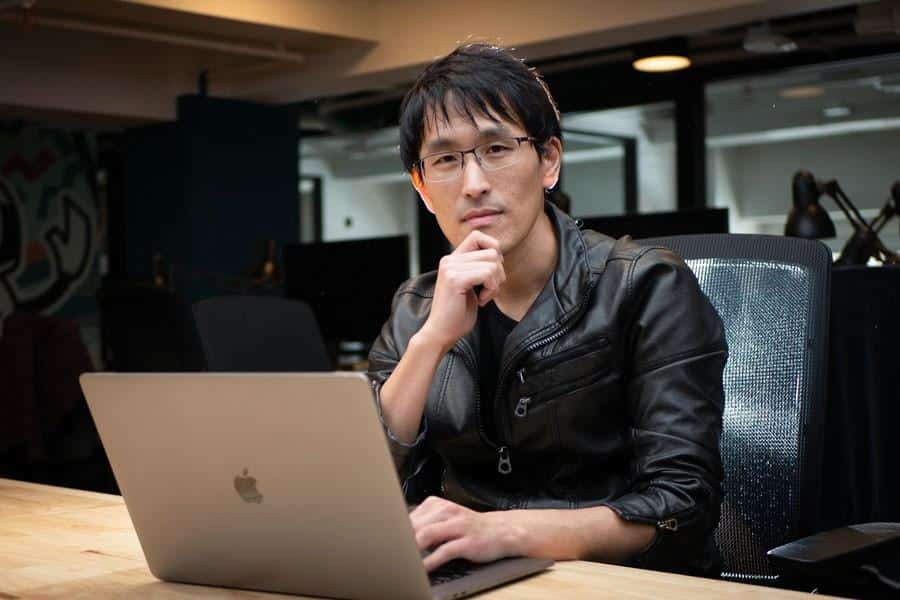 Some sample questions you might want to ask in the Q&A sessions include:
How do I prepare for a data scientist phone interview at Facebook?
What kind of design-related questions are asked in a Google interview?
What are some Amazon interview questions?
How hard is an interview with Microsoft?
What is the interviewing process like at Netflix?
Another important thing to mention is that every Q&A session is recorded and can be accessed at any time, so you can even get specific feedback for questions you didn't even think about before.
#5 Resume Reviews
TechLead will also personally review your resume and help you tailor it for the position and the company you're pursuing, which is important considering its the first interaction you have with your recruiter and you want to knock them out with it.
#6 Lifetime Access
Tech Interview Pro has your back, whether you plan to land a job now or in the future.
Every student gets lifetime access to everything within Tech Interview Pro: and by everything, I mean new video lessons as they're added, the private Facebook group, all of the live Q&A sessions, and everything else.
In Summary
Pluralsight is a solid course provider with a very considerable course count at its disposal, which should give you plenty of study time regardless of the job position you're looking for.
However, it also lacks coverage on key behavioral skills that could lead to not getting hired if you lack them, which makes recommending its use for interview prep very difficult.
To get ahead of the competition, you're going to need a more comprehensive resource, which is why I recommend you leave a lasting impression on your interviewers with Tech Interview Pro.