Springboard is a popular online course provider that focuses on career-building. While their service is comparable to other online course platforms such as edX and Coursera, it does have some key differences that set it apart from other massive open online course (MOOC) providers.
Advantages of Springboard
#1 Course Variety
Springboard offers courses in topics other than coding, which is convenient if you're seeking a job position different from an SWE one (for example, a data scientist position).
#2 Certified Mentors
Springboard's mentors go through a strict application process in order to be able to teach any of the courses the site offers.
Therefore, you don't really have to worry about the legitimacy of what's being taught to you, and you'll have quality teachers to boot.
#3 Guaranteed Job Offers
Springboard has managed to guarantee job offers for all qualifying graduates in their respective fields through partnerships with major corporations, which is something that other MOOC providers don't have at all.
This saves you a lot of time as far as job-hunting goes, and it's something you can certainly take advantage of.
#4 Student Projects
Springboard also assigns relevant student projects to its users, which can give them a better grasp of what they can expect once they begin their careers.
It's also useful to know that these projects, once completed, can be included in your resume, and it's something that other MOOC providers often don't have.
#5 Personal Job Coach
Springboard also offers a personal coach to train you for the behavioral aspect, which is a good thing considering just how many tech-related courses ignore this section of technical interviews.
So, is Springboard worth it?
Considering everything Springboard has to offer, it's difficult to say that it's not worth it as an interview prep resource.
But, like plenty of other interview prep resources out there, Springboard is not perfect. In fact, it has a pretty big flaw…
Springboard's Biggest Con: Course Cost
Springboard's courses are worth nearly as much as actually going for a CS degree: depending on the course you choose, you can expect to pay between $5,000 and $8,500 for it.
It makes sense if you take the course's length and everything it offers into consideration, but interview prep doesn't have to cost a fortune.
Springboard vs. Tech Interview Pro
Well, Springboard's really good, but paying for it is a pretty hard task. Is there anything else that has the same level of quality while also being a little easier on the wallet?
You might want to take a look at Tech Interview Pro: a program designed by a former software engineer at Google and Facebook who compressed years of interview knowledge and experience into a single course.
Here are just a few of the reasons why I recommend Tech Interview Pro over Springboard.
#1 Course Cost
Tech Interview Pro costs nearly 10 times less than any of Springboard's courses while being just as effective. When faced with such a price difference while maintaining the same level of quality, the choice is simply a no-brainer.
#2 Private Facebook Group
Tech Interview Pro grants access to an active private Facebook group, and it allows you to get immediate feedback on your interviews and offers. It's also useful for meeting other engineers who have successfully landed jobs in FAANG and other tech firms.
Here are some of the posts by past Tech Interview Pro students: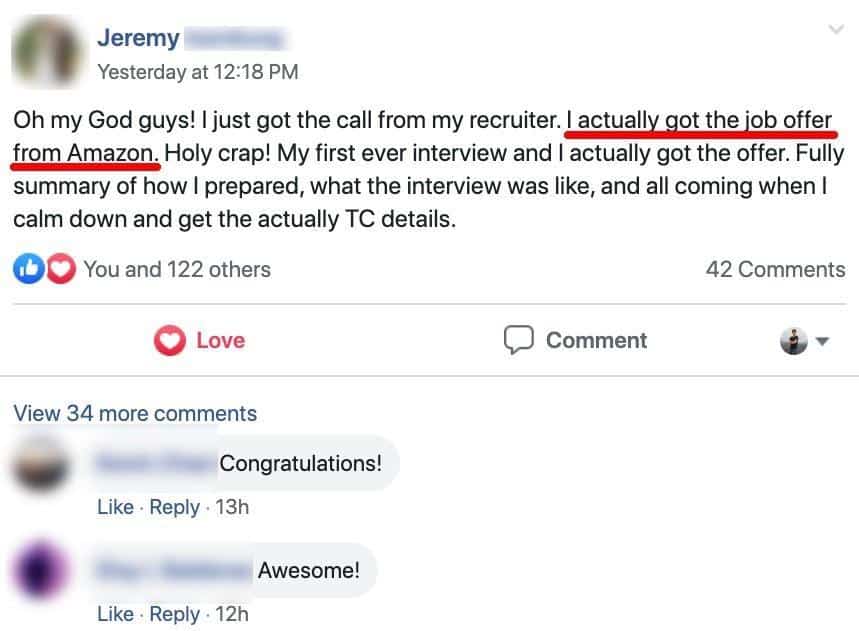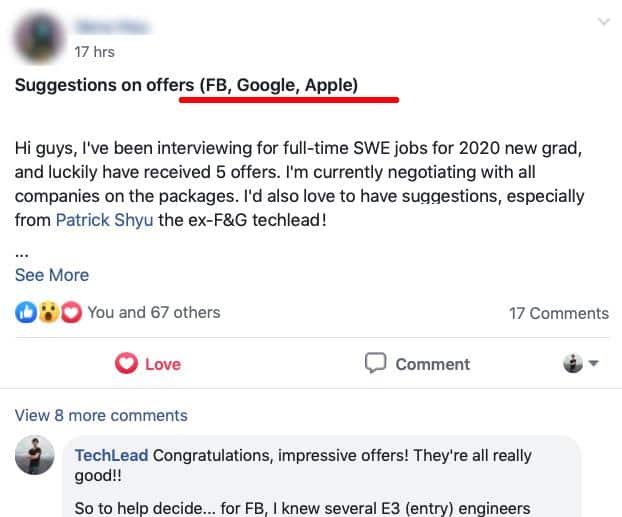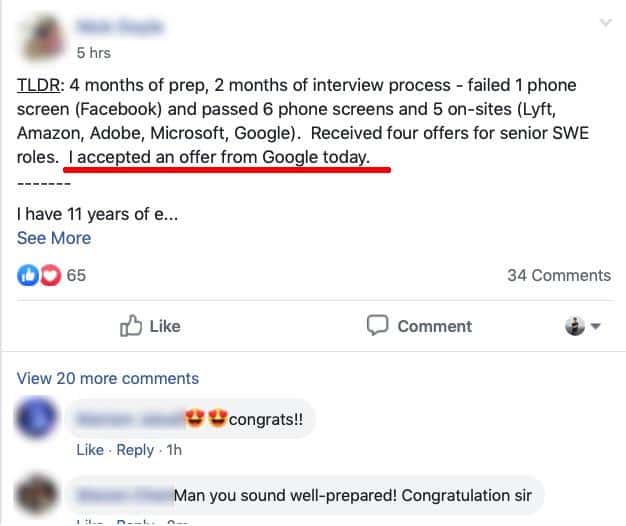 #3 Led By An Industry Insider
Tech Interview Pro was created by TechLead (Patrick Shyu), a former software engineer who has grown his own websites to millions of users, spent his recent years working at Facebook and Google, and has conducted over 100 technical interviews for Google.
Springboard's may have a strict application process for its mentors, but with an instructor like this one, you'll know every single thing you need to know about how to get a job at FAANG.
#4 Bi-Weekly Q&A Sessions
Every two weeks, TechLead hosts live Q&A session for all Tech Interview Pro students. The Q&A sessions normally last for about an hour, and they are pretty comprehensive.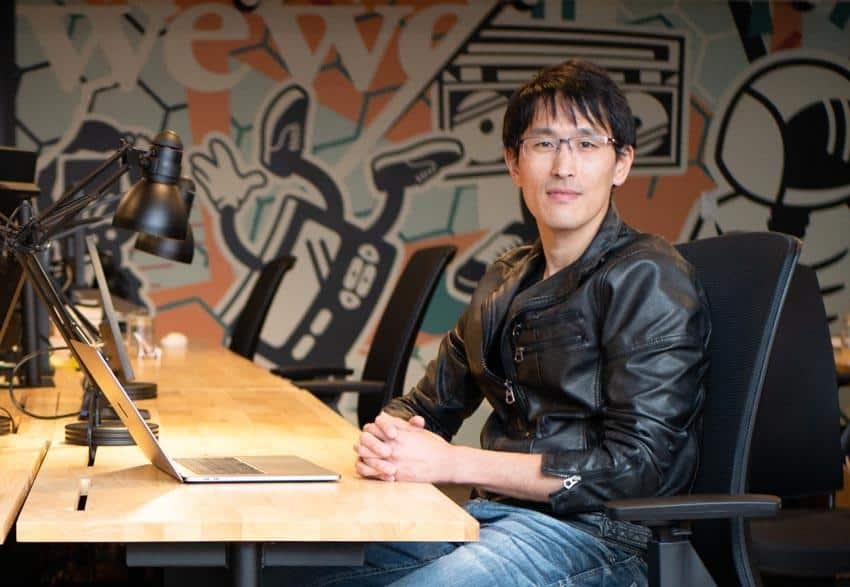 This is particularly convenient because it allows you to get a lot of insight even if your question is very specific. For example, you could ask:
What is the best answer to the question "Why do you want to join Facebook?"
How long does the Google hiring process take?
Which is tougher to crack: a Microsoft interview, or an Amazon interview?
How should I prepare for a phone interview with Apple?
Also, every Q&A session is recorded and can be accessed at any time, which means that you can also find feedback on question you didn't even think of before.
#5 Resume Reviews
TechLead will personally review your resume and help you tailor it for the position and the company you're pursuing.
Your resume will most likely be a recruiter's first interaction with you, so you need to make sure it checks all the boxes or else you won't get very far.
#6 Lifetime Access
Every student gets lifetime access to everything within Tech Interview Pro: new video lessons as they're added, the private Facebook group, all of the live Q&A sessions, and everything else.
Tech Interview Pro has you covered, whether you want to land a job now or 10 years down the road.
In Summary
Springboard is a solid course provider, and it has plenty of features that set it apart from other MOOC providers out there.
However, there are courses that can prepare you just as well as Springboard can for a price tag that's far lower: if you want to get ahead of your peers and give yourself the best shot at getting a big tech job offer, you're going to need something more cost-efficient. We recommend setting yourself apart from the rest of the job market with Tech Interview Pro.