Swoop Airlines is one of the main competitors in the ultra-low-cost carriers market in Canada. The airline stands out over regular cost carriers for its prices, which start at $89 for the shortest distances and cap out around $300 for international flights (U.S.A. Mexico and Jamaica). Swoop doesn't offer a bad service at all, but it's known for delaying its flights without prior notice and charging its passengers for seat selection and in-flight services like WiFi and even water and other snacks/amenities.
If you're looking for fares that are a lot cheaper than those found in regular carriers like Westjet or Air Canada, you've found the right airline. Swoop's service excels if you're looking for cheap flights for your vacations with a flexible schedule in mind. So, why not book some of the cheapest flights in Canada right now?
If you're here reading this Swoop Airlines review, it's because you're a frequent flier who wants to get the most out of your money. This includes getting the best services, offers and deals so you will always get more while paying less. The thing is, you can't get deals like these on most of Canada's carriers since tickets are always a bit expensive.

For a couple of years, the dominance of highly expensive flight tickets has been changing, especially when Ultra Low-Cost Carriers (ULCCs) are getting so popular these days.
What Are ULCCs?
ULCCs is an acronym given to a whole new way of flying in Canada and North America, known as ultra-low-cost carriers.
ULCCs comes as an answer to customers wanting to pay less money on everyday ticket prices. However, be aware that ULCCs reach these low prices by stripping away some of the features included on regular flights.
ULCCs aren't looking to replace regular carriers, they're just coming to answer something customers have always and will always ask for, cheaper flights.
Swoop Airlines Review: Westjet's ULCC
Swoop Airlines is one of the new Canadian Ultra-low-cost carriers (ULCC) to hit the market in the last couple of years. Its creation was officially announced back in 2017 and it began flying on June 20 of 2018. The interesting thing is that Swoop Airlines isn't a new competitor in the market, rather a new low-cost alternative provided by a known carrier, Westjet Airlines.
We can't really talk about Swoop without mentioning Westjet, which is the bigger brother of this airline. Swoop comes as Westjet's response to the arrival of the ULCC market in Canada, led by Flair Airlines, and in turn, is named like that for Westjet's desire to "swoop" the market.
Let's start talking in-depth about Swoop with its destinations, which cover multiple cities in Canada, the United States and Mexico but it also flies to Jamaica.
Where Does Swoop Airlines Fly To?
Even though Swoop Airlines is a relatively new party to the ULCC market, it's already offering and serving some of the best deals out there. The best part? You can fly beyond Canada with Swoop, getting to visit the United States, Mexico and even Jamaica.
At the moment of writing this Swoop Airlines review, the airline flies to 22 destinations. 12 of these are in Canada, 5 in the United States, 4 in Mexico and 1 in Jamaica.
Here's what the list of destinations per country looks like.
Destinations In Canada
| | | |
| --- | --- | --- |
| Province | City | Airport |
| Alberta | Edmonton | Edmonton International Airport (YEG) |
| British Columbia | Abbotsford | Abbotsford International Airport (YXX) |
| British Columbia | Kamloops | Kamloops International Airport (YKA) |
| British Columbia | Kelowna | Kelowna International Airport (YLW) |
| British Columbia | Victoria | Victoria International Airport (YYJ) |
| Manitoba | Winnipeg | Winnipeg James Armstrong Richardson International Airport (YWG) |
| Nova Scotia | Halifax | Halifax Stanfield International Airport (YHZ) |
| Ontario | Hamilton | John C. Munro Hamilton International Airport (YHM) |
| Ontario | London | London International Airport (YXU) |
| New Brunswick | Moncton | Greater Moncton Roméo LeBlanc International Airport (YQM) |
| Newfoundland and Labrador | St. John's | St. Johns International Airport (YXJ) |
| Prince Edward Island | Charlottetown | Charlottetown Airport (YYG) |
Destinations In The United States
| | | |
| --- | --- | --- |
| Province | City | Airport |
| Arizona | Phoenix | Phoenix-Mesa Gateway Airport (AZA) |
| Florida | Fort Lauderdale | Fort Lauderdale-Hollywood-International Airport (FLL) |
| Florida | Orlando | Orlando International Airport (MCO) |
| Florida | Tampa | Tampa International Airport (TPA) |
| Nevada | Las Vegas | McCarran International Airport (LAS) |
Destinations in Mexico and Jamaica
| | | |
| --- | --- | --- |
| Province | City | Airport |
| Baja California Sur | Los Cabos | Los Cabos International Airport (SJD) |
| Jalisco | Puerto Vallarta | Licenciado Gustavo Díaz Ordaz International Airport (PVR) |
| Quintana Roo | Cancún | Cancún International Airport (CUN) |
| Sinaloa | Mazatlán | Mazatlán International Airport (MZT) |
| Jamaica | Montego Bay | Sangster International Airport (MBJ) |
It's important to note that flying with Swoop is not as simple as it seems. This airline operates on a strict direct flight route basis, which means that you have to follow its route to actually get where you want to go. Here's what their route map looks like:
Swoop Airlines Fleet: Pure Quality Aircraft
When we talk about small regional airlines like Air Creebec or even Calm Air, there are a couple of things they have in common, especially when we talk about their fleets. When it comes to Swoop, the only comparison that can be made is the number of destinations in total because when taking its fleet into account the story is completely different.
Swoop may only have a handful of destinations compared to bigger airlines, but the fact that it flies to other countries means that it must have a high-performing fleet. Given that Swoop is Westjet's ULCC, this company lends some of its best aircraft to Swoop. Here's what the complete Swoop fleet is comprised of:
9 Boeing 737-800 of the Next Generation Series. These aircraft can hold up to 189 passengers on any of their flights.
A common misconception about ULCCs is safety concerns. People feel like flights are so cheap because aircraft are cheaply made or not maintained well enough, but this is wrong since most ULCCs use the same aircraft that regular carriers use.
The low-cost magic that comes with these carriers is actually related to the features you get with a flight, but we'll get into that later.
For the moment let's focus on other important aspects of booking and flying with Swoop Airlines, how easy or hard is it?
Swoop Airlines Flight Status: Up To Par With Regular Airlines
For being a ULCC, Swoop offers a user experience comparable with other premium airlines. Its website offers a sleek and easy-to-use design, which makes booking or checking your flight status really easy.
Swoop Airlines lets you check your flight status in two simple ways. The first and the most direct one works by searching your flight status with your flight number in Swoop's web tool.
The other way, which will show a lot more results, consists of searching all the given flight status per airport that Swoop flies to. This method is way more effective if you need to check several flight statuses at once. You can also organize the results to show either arrivals or departures
Either way, another thing that's important to flying with an airline is being able to check its schedule. Sadly, this can't be done on Swoop Airlines, but it's always advisable to have alternatives.
How Do You Check Your Flight Schedule?
Some airlines offer the benefit of letting their users check the flight schedule to facilitate booking at certain dates, but Swoop doesn't do that. We don't know the reason why they don't offer a simple service like this, but we still found a way to check the Swoop's flight schedule, just on another site.

It's not the first time and it probably won't be the last time we recommend using Airportia to easily check an airline's flight schedule. This tool we've embedded will let you check the schedule for a Swoop flight for both arrivals and departures. Here's what they look like:
Swoop's Arrival Flight Schedule
Swoop's Return Flight Schedule
Now comes the really important part of these ULCCs, flight tickets and prices. Before jumping into the numbers, though, we'll explain how these carriers manage such lower prices.
Why Are Swoop Airlines Flights So Cheap?
ULCCs usually get some bad rep because their prices are extremely low when compared to regular carriers, but ULCCs aren't cheaper because they cut corners in safety parameters.
You'll be able to notice the real reason behind being able to offer such cheap prices in such a wide range of flights when you analyze what's in each ticket.
We can categorize regular airline flights as "Bundled flights", while we can categorize ULCCs flights as "Unbundled flights". Here's what we mean by both of these categories.
"Bundled Flights"
When talking about "Bundled Flights", we mean any flight taken with any regular airline like Westjet, Air Canada or even other more regional airlines like Canadian North.
These flights include the cost of travelling on a plane to your destination, but they also include features like in-flight food and snacks, checked bags and carry-on bag prices.
"Unbundled Flights"
We categorize any flight that only includes the base fare to fly between points A and B as an "Unbundled Flight". This includes most if not all Ultra-low-cost carriers like Swoop and Flair Airlines. That's why ULCCs are able to offer fares and flight tickets that are a lot cheaper than those offered by regular airlines.
It's worth noting that as we've mentioned, "Unbundled Flights" don't offer features like in-flight snacks or free checked and carry-on bags, so you will have to pay that on top of the fare you pay. Even though you have to pay for certain things that are included in other airline's flights, these flights still manage to be a lot cheaper than booking with any regular airline.
Swoop Flight Prices: Unbelievably Unexpensive… If You're Smart About Them
Here's where we get to the most impressive section of this article, prices. If you've never heard of or used a ULCC before, you're bound to be surprised at these prices.
Here are several lists of round-trip flight prices depending on the country of destination so you can get a broad idea of the price range of most flights.
Flights Within Canada
| | | |
| --- | --- | --- |
| Origin | Destination | Price |
| Hamilton | Halifax | $169.00 |
| Hamilton | Winnipeg | $141.00 |
| Hamilton | Edmonton | $182.00 |
| Hamilton | Abbotsford | $247.00 |
We only listed Hamilton in this case because it's one of the departure points that lets you travel the most to other destinations in Canada. It functions this way because Swoop only works on a direct flight basis, meaning that you have to follow its strict routes to actually get where you want to go.
Flights From Canada To The United States
| | | |
| --- | --- | --- |
| Origin | Destination | Price |
| Winnipeg | Orlando | $206.00 |
| Winnipeg | Fort Lauderdale | $200.00 |
| Winnipeg | Tampa | $200.00 |
| Winnipeg | Las Vegas | $218.00 |
| Winnipeg | Phoenix | $258.00 |
When flying to the United States you'll find that your best starting point is Winnipeg. As we've commented before, Swoop operates strictly on direct flights, and Winnipeg is the departure point where you can fly to all of the United States' destinations.
Flights From Canada to Mexico And Jamaica
| | | |
| --- | --- | --- |
| Origin | Destination | Price |
| Hamilton | Montego Bay | $292.00 |
| Winnipeg | Los Cabos | $300.00 |
| Winnipeg | Puerto Vallarta | $300.00 |
| Edmonton | Mazatlán | $300.00 |
Instead, when you're flying to Mexico and Jamaica, you'll find that the best departure points are Hamilton, Winnipeg and Edmonton. For example, you will only be able to fly to Montego Bay if you find yourself in Hamilton.
Another example of this is that you can only fly to Mazatlán from Edmonton or Abbotsford, and even then that's only when the seasonal routes are available. Winnipeg also serves as the best departure point to fly to Los Cabos and Puerto Vallarta when the seasonal routes permit it.
All the prices you saw earlier in the tables we listed correspond to the regular or economy fare for a round-trip flight. This means that if you're only booking a one-way ticket, prices drop to half of what we listed with some of them even going as low as $89.
It's also worth mentioning that all of the flights we mentioned already include government and airport taxes, so they won't surprise you at the moment of boarding.
Prices really seem out of this world, right? And that's exactly what Swoop Airlines wants you to think. And don't get the wrong idea, those are the real prices they list on their website, but if you're not well informed at the time of booking you could end up paying a higher price. Still, even if you go with all the extras that a ULCC like Swoop offers, you won't get near the same price regular carriers offer. Here's how that works:
Seat Selection
A common rule to know when flying with a ULCC is that you have to basically pay for everything, even water. As soon as you start booking your flight with Swoop, you'll notice some details of this business model appearing. The first one you'll get is seat selection.
Seat selection with Swoop Airlines works in a rather specific way when compared to other airlines. If you don't pay/choose a seat at the moment of booking you'll get a randomly selected one when you're ready to board at the airport, which can be both beneficial (unlikely) or annoying (very likely). On the other hand, if you decide that you want to select your seat, you'll have to pay for it at the moment of booking. Seats can go as low as $17 and as high as $51 depending on the extra legroom space you want. It really depends if you want to assure being comfortable on your trips or leave it up to randomness.
Baggage Fees
When it comes to checked or carry-on bags, Swoop is really, really strict. But don't worry, extra fees can be avoided if you're smart at the time of buying your bags.
Buying bags works in a very similar way to buying seats in terms of "the earlier you do it the more beneficial it is for you". Before we start discussing this it's also important to mention that you can buy a total of 4 checked bags at any given moment.
Here's how buying a bag at distinct times of booking can change the total amount of money you pay:
Buying Bags Online At The Time Of Booking
This is the best moment you can actually buy a bag when booking with Swoop. If you compare it to the other times at which you can buy bags, you'll be getting a 40% discount if you buy your bags at this moment rather than at the last minute.
Buying Bags During Check-in
This is the second-best price at which you can buy a bag. The thing is, if you purchase any sort of bags at this time there will be a $10 recharge fee added to all prices. It's up to you if you want to buy your bags earlier or later.
Buying Bags At The Airport
Here's where the fees really start to stack up. If you decide to buy any sort of bag at this time, you'll find that instead of a $10 recharge fee, you'll face a $20 fee instead. We really don't recommend waiting to buy a bag at this time since it's the worst deal out of all three options.
Here's a small table that can give you a sample of how much prices really change when taking into account fees, recharges and time of buying bags
| | | | |
| --- | --- | --- | --- |
| Carry-on Baggage Prices | Online (No Fee) | Check-in (+$10 Fee) | At Airport (+$20 Fee) |
| Short Distances (Less than 1,000 Km) | $36.75 | $47.25 | $57.75 |
| Medium Distances (1,000 to 3,000 Km) | $40 – $46 | $50 – $57.25 | $60 – $69 |
| Long Distances ( Over 3,000 Km | $50 – $56.50 | $60 – $67.80 | $70 – $79.10 |
| Checked Baggage Prices | Online | Check-in | At Airport |
| First Bag | $36.75 – $56.70 | $47.25 – $67.80 | $57.75 – $79.10 |
| Second Bag | $57.75 – $79.10 | $68.25 – $90.40 | $78.75 – $101.70 |
| Third Bag | $89.25 – $113 | $99.75 – $124.30 | $110.25 – $135.60 |
| Fourth Bag | $89.25 – $113 | $99.75 – $124.30 | $110.25 – $135.60 |
An example of a short distance flight would be from Edmonton to Abbotsford (780 Km). Some examples of medium distance flights would be from Hamilton to Halifax (1,300 Km), Hamilton to Winnipeg (1,500 Km) and Hamilton to Edmonton (2,700 Km). Examples of long-distance flights would be Edmonton to Los Cabos (3,300 Km), Winnipeg to Puerto Vallarta (3,320 Km) and Edmonton to Fort Lauderdale (4,100 Km).
Here's an image of the supported bag sizes and dimensions that you can bring to Swoop: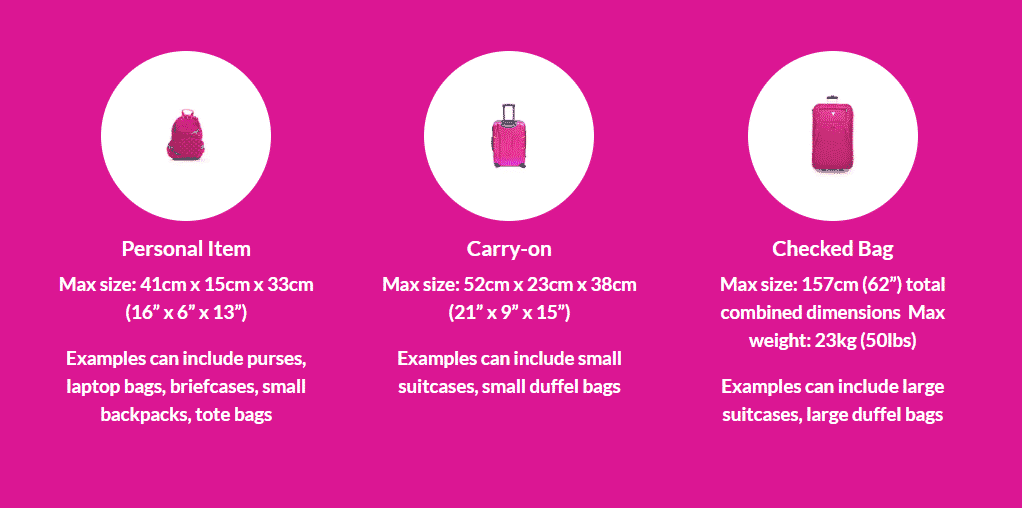 It's worth mentioning that Swoop is pretty brutal about bag sizes and weights. That's why we've dedicated a detailed list of what can be considered oversized or overweight bags so you're not surprised at the airport.
Oversized And Overweight Bags: Dimensions And Fees
An oversized bag is considered as a bag that exceeds 157 cm. or 62 in. in total combined dimension (Length + Width + Height). Instead, an overweight bag is considered as baggage that exceeds 23 Kg or 50 lbs.
If any of your bags meet those requirements, there will be an additional fee of at least $105-$115 for both domestic and international flights. This fee will be applied to each bag that is considered oversized at the time you're checking your bags. If you have the time, make sure your bags absolutely fit into these dimensions and weights or the fare you will pay will really start to stack up.
Don't think that this is where the chance to rack up a higher fare value ends. Once you board your plane, you'll be faced with some final decisions about the entertainment you'd like to have while the flight lasts. These are the less important categories, but you might be inclined to spend a little more just so your flight can seem quicker if you end up in a not-so-comfortable seat.
In-Flight Entertainment: WiFi and Snacks
As we've described before, Swoop and other ULCCs are well known for charging you for everything. This includes WiFi and all of the snacks you're going to eat while your flight lasts.
When it comes to WiFi, Swoop Airlines offers a special plan to customers in order for them to entertain themselves in the duration of the flight. The WiFi plans that Swoop offers as of today are $6.49 for 1 hour and $8.99 for 3 hours. All of these plans can only be used if you download the Swoop Airlines app on your mobile device.
As it's expected of a ULCC, everything you wish to drink or eat will have to come out of your pocket. You won't find complimentary snacks, drinks or meals on any of Swoop's flights. If you're gonna book a flight with Swoop it's highly recommended that you bring your own bottle of water, snacks and even your own entertainment.
Flights Are Cheap, But Not Always On Time
The most important drawback to have in mind while booking with Swoop is that this airline is known for delaying flights. Some people have commented that they've waited for up to 2 hours for the plane to arrive or even depart. So, be prepared to wait when booking with Swoop. Another important detail is that Swoop will probably not notify you when a flight is delayed until you actually get to the airport.
Your overall experience while flying with Swoop might become really annoying if your flight gets delayed and then you find that you have to pay overweight/oversized fees for your bags. The better you prepare prior to your flight, the better the whole experience will flow.
But Swoop isn't the only ULCC at the moment in Canada, here's how its main competitor fares against it.
Flair Airlines: A Valid Competitor
At the moment of writing this Swoop Airlines review, Flair Airlines is the only other Ultra-low-cost carrier we know of in Canada. Flair started operating as Flair Airlines in 2017 when it bought New Leaf, another discount travel company. Since then it revamped its image and started being considered as one of the only Ultra-low-cost carriers in Canada until Swoop arrived a couple of months later.
In terms of services, they offer mostly the same prices but Flair Airlines wins by a close call by offering lower prices than Swoop. The only major difference between both ULCCs is that Flair only offers domestic flights. Most of its destinations are centred around the southern provinces and cities like Calgary, Charlottetown, Edmonton, Halifax, Toronto, Vancouver and Winnipeg.
In terms of which one is cheaper to fly in, it really depends on the destinations, but Swoop tends to be a little bit more expensive, even for domestic flights. If you want to learn more about Flair Airlines we recommend reading our review here.
Swoop Airlines: A Valid Option For Your Money
At the heart of Swoop's business model, you'll find an alternative for those frequent fliers who don't want to pay ludicrous fares all year round. ULCCs like Swoop Airlines work for those fliers who are looking for vacations and other sorts of leisure trips with flexible schedules.
A detail to have in mind is that you will probably have a bad experience with Swoop if you're expecting to receive the same benefits given when you fly with other higher-cost carriers. Just by reading this Swoop Airlines Review, you're saving yourself both money and any possible headache that booking with a new carrier can cause.
So, if you're looking to save some cash on your next vacation and you don't have any problem with planning everything a little bit in advance, Swoop Airlines is one of the best and less expensive options out there. So, why not book what will probably be your cheapest flight ever right now?