Most students prefer schooling in Canada due to several factors, which include affordable tuition fees, the ease and comfort of living, and the popularity and quality of college education in the Country. However, higher education in Canada isn't free, so finding cheap colleges in Canada is paramount.
The cheapest colleges in Canada are Algonquin College, Bow Valley College, Camosun College, Georgian College, Lethbridge University, Centennial College, and Selkirk College.
In these colleges, the cost of a semester can be as low as $230, although it's more likely in the range of around $1,000 to $3,400, averaging at $3,800. Full 4-year Bachelor's Degrees tuition programs range from $21,000 to $41,000, averaging at $30,300. The cheapest college in Canada is Georgian College, with an average cost per semester of only $2,622, as of writing this article.
Canada is one of the most renowned countries in the globe for its rich academic heritage. It´s known for providing both domestic and foreign students with a high-quality education in almost any field of knowledge. While education in Canada isn't free, there are many affordable colleges that provide high-quality education. In this post, we'll explore the top Canadian universities that provide affordable degree options to all students.
The Cost Of Cheap Colleges In Canada
The following table summarizes the cost of education in seven of Canada's cheapest colleges. Some of the costs are estimations and don't necessarily reflect the true cost of Degree or Diploma programs in those universities. Still, they serve the purpose of helping compare all seven universities on equal grounds.
The costs were estimated from the maximum, minimum, and average cost of all available programs whenever possible and of the few available averages in some cases.
| | | | | | | |
| --- | --- | --- | --- | --- | --- | --- |
| College | Cost of a semester (Range) | Cost of a 4-year Bachelor's Degree Program | Cost of a 1-year Diploma Program | Average | Cost of a 4-year Bachellor's Degree Program | Average |
| Georgian College | $1,598 to $13,352 | $2,622 | $3,196 to $26,704 | $5,244 | $12,784 to $10,6816 | $20,976 |
| Centennial College | $1,360.5 to $3,573 | $2,813 | $2,721 to $7,146 | $5,626 | $11,234 to $28,584 | $22,504 |
| Algonquin College Canada | $1,720 to $8,600 | $3,500 | $3,440 to $17,200 | $7,000 | $13,760 to $68,800 | $28,000 |
| Camosun College Canada | $230 to $7,945 | $3,715 | $460 to $15,890 | $7,430 | $1,840 to $63,560 | $29,720 |
| Bow Valley College Canada | $586 to $8,462 | $3,836 | $1,172 to $16,924 | $7,672 | $11,234 to $67,696 | $30,688 |
| Selkirk College | $928 to $9,417 | $4,903 | $1,856 to $18,834 | $9,806 | $7,424 to $75,336 | $39,224 |
| Lethbridge College | $3,420 to $7,356 | $5,134 | $5,500 to $14,712 | $10,268 | $22,000 to $58,848 | $41,072 |
Here's a breakdown of what these colleges offer.
#1 Georgian College
Georgian is an Applied Arts and Technology College located in the Canadian province of Ontario. This college's advantage is the cost-effective tuition for all students. The college remains one of the greatest and most affordable colleges in Canada for students to continue their higher education. The tuition charge ranges from $12,784 to $10,6816, depending on the program that students choose.
#2 Centennial College
Centennial College is one of the cheapest institutions in Toronto, Canada. The college is perfect for students studying science and art. The institution offers both a degree and a diploma in nearly 260 courses. For certificate and diploma programs, the tuition cost is close to $5,600; for degree programs, it's closer t o $22,500, making it one of the cheapest degree programs in Canada.
#3 Algonquin College Canada
Algonquin College is a popular Canadian university that offers cheap tuition fees. This college is well-known for its affordable tuition and high-quality coaching. This college ought to be on your list of cheap colleges in Canada if you're looking for one with cheap tuition fees. The cost of tuition is approximately $9,054 per year and $4,527 per term. This means a short Diploma course can cost a little over $9,000, while a full-blown bachelor's Degree can cost close to $36,000.
#4 Camosun College Canada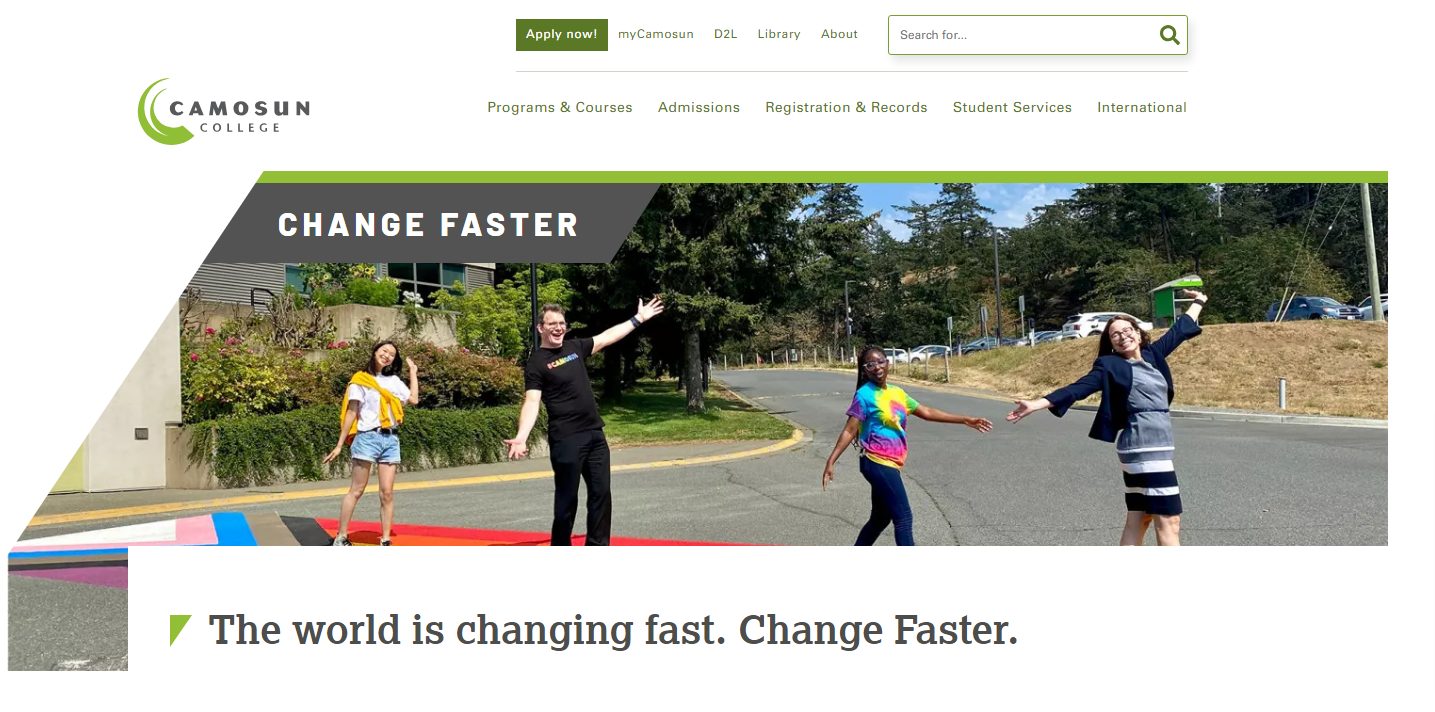 Camosun College places a greater emphasis on helping students improve their innovative skills, so they are better equipped to handle managerial responsibilities in the business world. The school offers a variety of graduate and post-graduate courses in different subject areas. It also organizes training for consumers, workers, and students. Students should budget around $7,500 per year on average (enough for a short 1-year Diploma program), making a 4-year bachelor's Degree cost around $29,700.
#5 Bow Valley College Canada
Bow Valley College is among the most affordable colleges in Alberta, Canada. A recent report claims that the college is one of the most reputable institutions with a strong student support infrastructure. Costs of education range from $1,172 to $16,924 for a 1-year diploma and from $11,234 to $67,696 for a full 4-year bachelor's degree program, not including textbooks and a variety of products.
#6 Selkirk College
Selkirk College is one of the best places to enroll in graduate and postgraduate studies in Canada. Considering the expert touch this university provides about character and learning, it's a worldwide competitive institution. The college is highly recommended to any students looking for a college that offers good education at a low cost. The college raises over $400,000 in scholarship funds each year. Students typically pay $4,900 per semester for undergraduate programs and $5,260 for graduate programs. That means that a bachelor's degree will cost about $39,200, while a 2-year Master's Degree will run for a little over $21,000.
#7 Lethbridge College
Finally, we have Lethbridge College, which is one of the oldest Canadian colleges and has always contributed to preserving Canadian heritage. The college was the first to get funding from the Canadian government back in 1957. Over 4,000 dedicated students can choose from about 50 programs at Lethbridge College in a variety of fields. At the college, students discover academic happiness and safety. The college is a good fit for many students because of its hands-on learning style.
The cost of education at Lethbridge College can range from around $5,000 to $41,000, depending on the student's chosen program and its duration.
Top Reasons To Study In Canada
Canada is one of the best places in the world to attend college, and students who attend Canadian institutions leave a lasting impression on society, the workplace, and the global community. The country is renowned for its rigorous academic requirements at both public and private colleges.
The fact that Canada is home to some of the best colleges in the world should be enough to convince you to add it to your list of study-abroad options if you're considering it. According to a recent report that compared institutions across 90 countries, nine Canadian colleges are among the top 200 academic institutions in the world.
Many additional factors make Canada an excellent place to study, in addition to the level of education and rankings of its institutions.
Here are other reasons Canada is a desirable place to study:
#1 Compared To Other Nations, Study Programs In Canada Are More Affordable
The cost of tuition may be one of your top considerations as a student when selecting a place to study. The average tuition charge for study programs in Canada is lower than that of other well-known study destinations, including the United States, the United Kingdom, and Australia, even though the total expense of education can be somewhat high.
#2 Canada Has A Higher Standard Of Living And Cheaper Costs Of Living
When you are studying abroad, several other expenses will be added to your tuition. Non-tuition costs, including extra university fees, health insurance, and supplementary costs, must also be taken into consideration.
The level of education, health care, employment, job security, environmental quality, and personal freedom are all factors that affect one's quality of life. Canada was named the finest place to live in the most recent 2021 Best Countries Ranking.
During your time of study, you must also budget for living expenses, which include rent or mortgage payments, food prices, travel expenses, phone bills, and more. Students studying in Canada should budget between $19,000 and $28,000 for living costs in their first year. This covers the price of housing (on or off-campus), food, travel, insurance, books, and other personal costs.
#3 Admission To Canadian Study Programs Is Easier
Admission to Canadian institutions or colleges is easier than in the United States. Canadian institutions often consider students' high school academic records for admission to bachelor's programs. You can have a better chance of being accepted to a Canadian institution if you prioritize academics above every other factor.
Additionally, compared to comparably ranked U.S. colleges, Canadian colleges tend to have higher acceptance rates, increasing your chances of getting accepted into the college to study any program of your choice.
#4 Canada Offers Several Post-graduate Work Opportunities
The possibility of continuing to live and work abroad after you graduate may be one of your selection criteria as an international student. For the most part, this entails being able to find a job after graduating from high school or completing a higher education program, as well as applying for and receiving a work permit.
#5 Multicultural Workplace And Classroom
Studying in Canada also has the benefit of typically placing you in a multicultural classroom and, following graduation, a diversified industry. Since Canada accepts students from all over the world, a lot of people have the opportunity to learn about other cultures and also maintain their cultural identity.
Understanding cultural differences in the classroom as an international student provides an inclusive and respectful environment, which will help you be better prepared as you enter the global workforce.
For instance, the University of Toronto, Canada's top university, enrolls about 21% of international students from 168 different nations.
How To Choose A College In Canada
Before choosing the ideal tertiary institution in any foreign nation, there are many factors to take into account. Moving to a new place and leaving your familiar surroundings can be difficult.
The selection of a university should be accompanied by extensive research and advice. The good news is that you can choose your major with ease because Canada offers a variety of undergraduate and postgraduate programs.
Finding the right institution won't be difficult for you if you already know what your preferred major is.
Some things to consider when picking a college in Canada are:
#1 Location
The location of colleges in Canada is yet another crucial consideration. Since North America is a vast area, you must research your options thoroughly. Make sure you first choose the province where you would need to relocate.
View a map online to determine your destination and the precise location of the college campus. There is a strong possibility that Canadian colleges have many campuses. Make sure you have looked for lodging as well. If it's distant from campus, you will need to factor in the expense of transportation or perhaps consider on-campus student housing.
#2 Population Of Students
The number of students enrolled at a college directly affects its reputation; in fact, the more excellent students it can enroll, the more prestigious it becomes. Make sure you have looked into the student body of the college before making a decision.
Furthermore, you will be guaranteed a multicultural environment and a chance to question your assumptions and broaden your horizons if the student body is diversified. A large and diverse student body is a sign that the institution prioritizes both the diversity of the student body and the local demographics.
#3 College Ranking
Being highly ranked is one factor that influences your decision to attend a good college out of many others. Each student is obligated to learn more about the university than just its ranking.
You can also take into account other colleges' perceptions of them or the number of alumni members they have. One benefit of knowing the college's ranking is that you can identify the most prominent and exclusive programs.
You need to be on the lookout for the approach utilized when listing colleges when you come across a college rating system. When it comes to finding the best fit for you, college ranking should only be the starting point.
#4 Practical Experience
Learning theory is one thing, but the ability to put your newfound information into practice is evidence that you have actually learned it. Consider the availability of workshops and internships before choosing a college.
Some colleges provide programs that are intended to get you ready for a successful job. You will receive useful experience handling real-life situations and improve your ability to make accurate and sensible judgments via hands-on learning.
#5 Tuition Fees
There are various tuition costs for domestic and international students when you want to enroll in a Canadian college. Depending on the provinces, there will also be some variations in the studying expenses in Canada.
Different programs have different average tuition costs for overseas students.
It's not strange for international students to pay higher tuition in any country, including Canada. Given that Canadian colleges are publicly funded by tax dollars and that domestic tuition is subsidized for citizens and permanent residents, the institutions have increased their tuition fees for international students. Part-time employment is an option available to international students, which helps with funding their housing, living expenses, and textbooks.
In Summary
Choosing a nation to pursue higher education in as an international student is a major choice. You must evaluate the country's employment and residency options in addition to the standard of its educational institutions and degree programs. Canada is one of the best study locations for students because of its top-notch educational system and the immigration options it provides.
Between 2021 and 2023, Canada expects to welcome approximately 400,000 new permanent residents annually. Obtaining a Canadian degree or qualification can improve your chances of being accepted for Permanent Residence (PR).
The cheapest college in Canada today is Georgian College, with an average cost per semester of only $2,622.
Cheapest Colleges In Canada FAQs
Can a struggling student study in Canada?
Yes, as a struggling student, you can choose an institution with low tuition rates or find a part-time job if you wish to study in Canada. Obtaining a scholarship is another option to lower your costs. International students can also apply for a variety of scholarships from various institutions and organizations.
Studying in Canada or the U.S.: which is cheaper?
Canadian college tuition costs are typically 27% less expensive than those at U.S. universities. But there are other things to take into account besides tuition costs. Canada also has far lower living expenses.
Is student life difficult in Canada?
Students from all over the world enjoy the enriching and rewarding lifestyle in Canada. In order to keep international students engaged with Canadian culture, Canadian universities, and colleges are coming up with top-notch resources, including sports, extracurricular activities, and cultural initiatives.
Which issues do international students encounter in Canada?
The majority of international students choose to apply for permanent residence (PR) in Canada once they graduate. Lack of knowledge of the local labour market and trouble locating jobs more suited to their field of study are two issues that are frequently encountered.
Are students happy in Canada?
Yes, most students are happy to study in Canada. In terms of education and living standards, the experience of studying in Canada is often highly enlightening and joyful.