A virtual mailbox service is the easiest way for a business to receive physical mail and packages without a permanent address. Virtual mailboxes (sometimes known as digital mailboxes) provide you with a physical address you can send any mail to, which they will then forward on to you anywhere in the world.
After researching and testing more than a dozen companies over 12+ months, iPostal1 is my top choice for the best virtual mailbox due to its 2,300+ locations and excellent overall value. With thousands of 5-star reviews and great customer support, I can't recommend iPostal1 highly enough.
The Best Virtual Mailbox Services to Consider
What Is The Best Virtual Mailbox?
Best Overall

Monthly fee: Starting at $9.99
Free storage: 30 days
Shipping discounts: Yes

2,300+ locations worldwide.
iPostal1 is my pick for the top virtual mailbox service because it offers 2,300+ addresses, unique and powerful digital mailbox features, consistent plans across all locations, and it's a great value. Users can view and manage their mail and packages with the iPostal1 app or online with plans starting at just $9.99/month. International shipping discounts are also available.
If you're running a business from home, iPostal1 makes it affordable to get a real street address to upgrade your company image, protect your family's privacy and register your business. If you travel a lot or are away from home during the day, you can stay connected to your mail and stop worrying about your packages being stolen.
With iPostal1, you also get exclusive features like real-time shipping prices and the option to choose virtual office plans with phone and fax. It's a reliable, secure provider that's been in business since 2007, and I can't recommend iPostal1 enough.
Features
2,300+ locations in all 50 states plus other countries
Deep discount international shipping from tax-free Delaware location
Office building and co-working locations also available
Mail forwarding, including consolidation of letters and packages
Free storage for 30 days
Real-time shipping prices
Open and scan mail content ($1.50 for up to 10 pages)
Pickup mail, discard/shred
Check deposit by mail available at most locations
Virtual Office plans with phone and fax (from $39.99)
Fees
Digital mailbox: $9.99/month
Mail scanning: $1.50 for up to 10 pages
Mail forwarding : Cost of postage
Storage: 30 days free, then $1.10 per letter per month
This screenshot offers a bit more info into iPostal1's pricing structure. If you pay annually, you'll get 2 months free, and I've highlighted their Blue and Silver plans as well, since they're their most popular.

Best For
Business owners, travelers and online shoppers
Best Int'l Presence

Monthly fee: $5—$10
Free storage: 60 days
Shipping discounts: Yes

1,600+ locations worldwide.
With 1,600+ mailbox locations spread across 40+ countries—plus services like package consolidation to reduce the cost of shipping—Anytime Mailbox is a great mailbox both for business owners and for online shoppers buying from stores all over the world.
Anytime Mailbox offers all of the standard digital mailbox services (mail scans, check deposits, etc.) plus others that many other mailboxes don't offer, such as local pickup and secure shredding. They also offer a generous 60 days of free storage on all letters and packages, and forward postal mail anywhere in the world.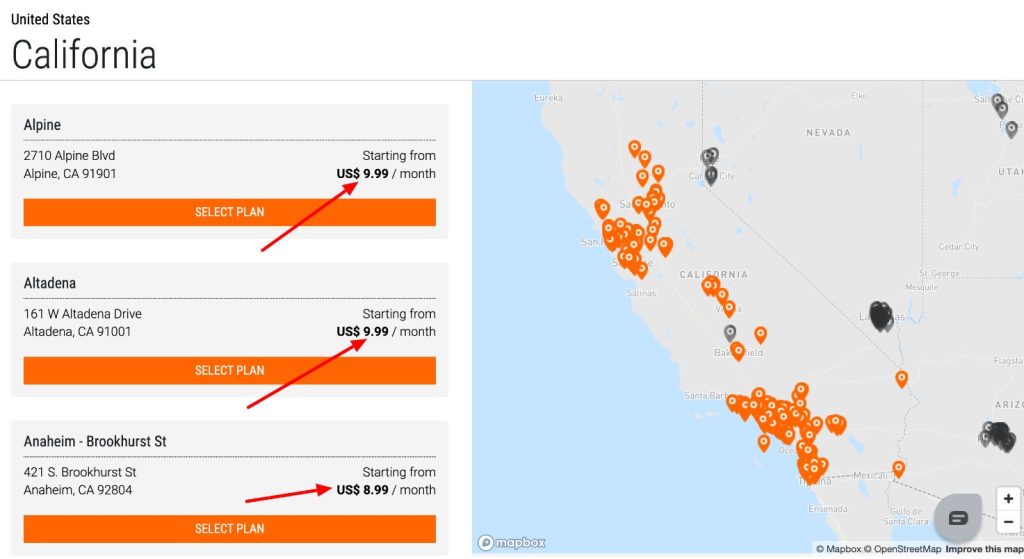 Anytime Mailbox's plans range from $5 to $15 per month, which is reasonable given the variety of services they offer. As you can see in the screenshot of their California mailboxes above, prices are different for each mailbox, making it fairly easy to find one that meets your budget.
Anytime Mailbox is a solid, professional mailbox provider that does not disappoint.
Features
1,600+ locations in 40+ countries
A selection of tax-free warehouses
60 days of free storage on all letters and packages
Deep discounts with all major carriers
Letter + package consolidation
Local pickup available for a fee ($1-$5 per item)
Mail scanning ($0.50/page)
Forward packages for $5
Check deposits
Secure shredding ($0.10/page)
Fees
Monthly Fee: $5-$10/month
Mail Scanning: $0.50/page
Mail Forwarding: $5 + the cost of shipping
Storage: Free for 60 days, then 5 cents/item/day
Best For
Business owners and online shoppers buying from retailers around the world.
Best For Lots Of Mail

Monthly fee: $35
Free storage: Unlimited
Shipping discounts: Yes

Great for startups.
One of the things Firstbase Mailroom users love most is that it scans and store an unlimited number of items, making it ideal for businesses with large amounts of incoming mail. It currently offers mailboxes in four cities (New York City, Miami, Cheyenne, and Wilmington), with plans to expand to all 50 states soon.
Another thing you'll love about Firstbase Mailroom is its sleek, modern dashboard. Sifting through hundreds of pieces of mail can be painful if you don't have a user-friendly, good-looking interface, but as you can see from its website, Firstbase places a lot of emphasis on good design.
Features
Unlimited incoming mail
Unlimited users
Unlimited scans
24/7 global customer support
Shipping options from all carriers
Fees
Virtual mailbox: $35/month
Mail scanning (unlimited): Included
Mail forwarding: Cost of postage
Best For
Businesses with large amounts of incoming mail
Best For Letter Mail

Monthly fee: $15—$30
Free storage: 7 days
Shipping discounts: Yes

400+ locations across the US.
PostScan Mail operates a network of 400+ virtual mailboxes across the United States. Its robust mobile app allows you to place your mail into digital folders and filter while you search, making finding and organizing your postal mail easy.
PostScan Mail allows 30 days of free storage for letters (7 days for packages), and offers unlimited cloud storage, so you can keep years' worth of postal mail on their servers. They eliminate junk mail before it reaches your inbox and have run a respectable mail forwarding service for years.
If you choose not to go with iPostal1 or Anytime Mailbox, PostScan Mail is still a solid option.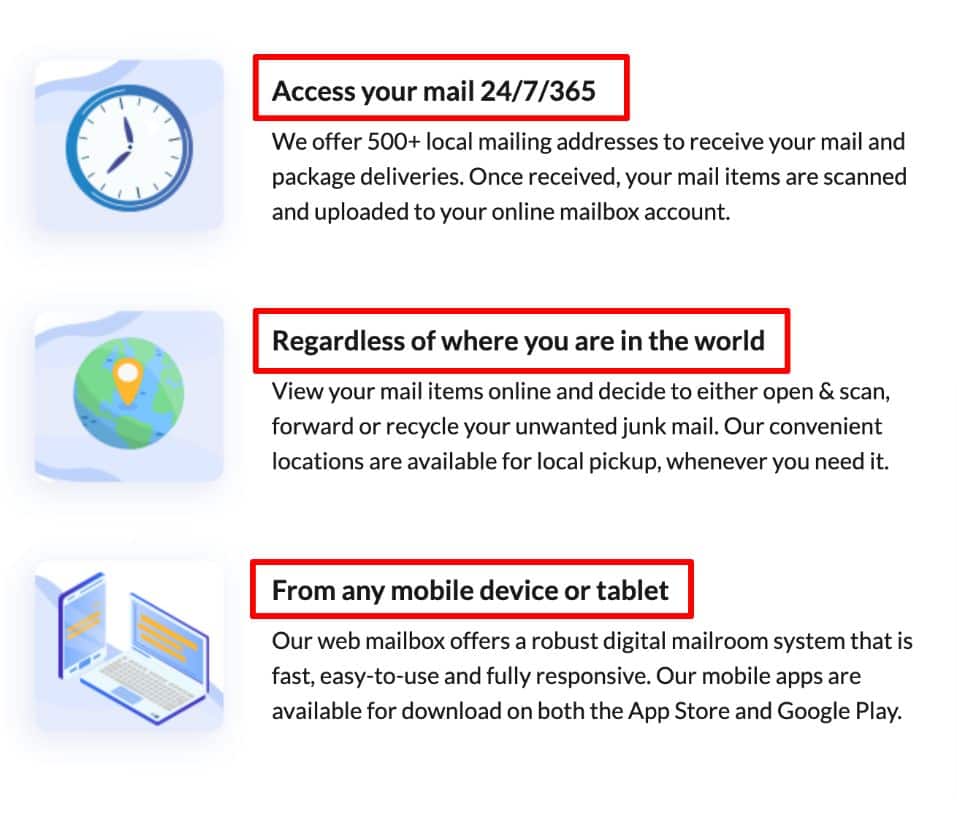 Features
Free storage for 7 days (packages) and 30 days (letters)
Local pickup
Letter + package consolidation
Unlimited cloud storage
Real U.S. street addresses
Fees
Monthly fee: $15 – $30/month
Mail Scanning: 5-20 free scans per month (depending on your plan), then $2 per letter
Mail Forwarding: $0.85 per item + shipping
Letter Storage: First 30 days free, then $0.05 per letter/day.
Free Package Storage: First 7 days free, then $0.10 per pound/day.
Best For
Businesses with low to moderate amounts of incoming letter mail.
No Monthly Fees

Monthly fee: None
Free storage: 10 days
Shipping discounts: Yes

Tax-free warehouses in the US.
Planet Express is a package forwarder designed specifically for online shoppers, and they serve those shoppers extremely well. They have mailboxes in the US (California, Oregon and Florida) and the UK, making them a great choice for anyone living abroad and shopping from those two countries.
Unlike the other mailbox providers on this list, Planet Express only deals with packages, not letter mail, so if you're looking for a new business address where you can accept business mail, Planet Express is not the company for you. With that said, though, one great thing about Planet Express is that they don't charge any monthly fees. This is extremely rare among package forwarders, making them stand out among a crowd of others charging $5-$25 per month.
Planet Express' Shop For Me service allows you to shop in the US even without a credit card: their team will place your orders for you, and you'll pay them back through a variety of payment methods, including PayPal. This is great if you live in a country like India where different payment methods are used to transact online, or if you don't have a credit card that's accepted in the United States.
I've personally used Planet Express for more than 3 years and have had nothing but great experiences with them. If you live abroad but are shopping from US retailers, I can recommend them as a reliable package forwarding service.
Features
The only FREE package forwarding plan in the USA
Warehouses in the US and the UK
Tax-free warehouses in Oregon, USA
Deep discounts with USPS, DHL, FedEx, UPS, and Planet Express' own shipping service
Free photos of incoming packages
Shop For Me purchase assistance
Package consolidation
10-45 days of free package storage, depending on your plan
Fees
Monthly fee: $0 – $10/month
Photos:

Free photos upon package arrival
$2 for 3 photos inside your package
$5 for 10 photos inside your package

Package / Mail Forwarding: $2/package + shipping
Storage: 10-45 days free, then $0.01 per pound/day
Best For
Online shoppers seeking a package forwarder with no monthly fees.
Virtual Mailboxes I Don't Recommend
In my research into digital mailboxes, I discovered a handful of mailboxes that I don't recommend for a variety of different reasons:
My Pick For The Best Virtual Mailbox: iPostal1
After researching and testing more than a dozen companies over 12+ months, iPostal1 is my top choice for the best virtual mailbox due to its 2,300+ locations and excellent overall value. With a well-developed app and features like check deposits, secure mail shredding and junk mail filtering, iPostal1 is a valuable tool for business owners looking to scale their operations quickly.
With thousands of 5-star reviews and great customer support, I can't recommend iPostal1 highly enough.
Why you should trust me
---
Digital Nomad

I've lived in 8 countries over the past decade, so I know the struggles of getting things shipped to wherever I am.

Deep Research

I opened accounts (and shipped items) with 14 different mailboxes to write this post.

Unbiased

All of my selections are supported by multiple data points, including dozens of other virtual mailbox users, Amazon shoppers, and entrepreneurs running businesses overseas.
My top pick →
Benefits Of Virtual Mailboxes
There are a few major benefits of using a digital mailbox:
Convenience: You have control over all your mail right at your fingertips. You'll see new mail arrive, be able to forward it to other locations, and even have checks deposited. If the digital mailbox you choose also provides virtual office services, you may be able to get a dedicated phone number answered by a real receptionist, too.
Freedom To Travel: Have your postal mail or packages forwarded to you anywhere in the world, freeing you up to travel whenever and wherever you want.
Privacy: There are many reasons why you may not want to give out your home address, especially if you're registering a business and your physical address will be publicly accessible. Using a virtual address is a great way to maintain your privacy while still reaping all of the benefits a physical address entails.
Security: All of the mailboxes I recommend above go to great lengths to ensure that your documents (legal, business, and personal) are handled very securely. Communications with end users are encrypted with bank-level SSL encryption, and your account is protected behind a password and 2-factor authentication (2FA) if you choose. It's also worth pointing out that every mailbox provider in the United States has to follow strict USPS guidelines, and there are harsh consequences if they fail to keep users' information safe.
Registered Agent Services: Premium mailbox providers like iPostal1 also offer registered agent services, which can offer tremendous value if you're considering a digital mailbox for your business. A registered agent can take care of sensitive documents and legal filings on your behalf, giving you much more flexibility.
Virtual Mailbox FAQs
What Is A Virtual Mailbox?
A digital mailbox gives you a physical mailing address where you can accept letters, documents, and packages while you're away from home. You can also use your virtual mailbox to create an online archive of your documents and important papers, or even as an official business address when opening an LLC.
When your mailbox provider receives a piece of your mail, they'll scan the envelope or take a photo of the package and email it to you.
Getting started with a virtual mailbox service is simple:
Open an account with one of the virtual PO boxes mentioned in this post (I recommend iPostal1 or Anytime Mailbox). I've included details about all of their features, including which of them I personally use and why.
The service you select will assign you a unique virtual mailing address, which you can have letters and packages sent to.
Start receiving email notifications every time a piece of mail arrives.
Standard Virtual Mailbox Services
These are the services that nearly all mailbox providers offer:
Open and scan/photograph your letters and packages for you to view online
Forward letters and packages to you domestically or internationally
Receive credit cards and bank statements
Receive legal statements and personal & business bills
Instant notification when you receive a piece of mail
Shred and destroy unwanted mail
Filter out junk mail like flyers
Advanced Virtual Mailbox Services
These services are only offered by some mailbox service providers:
Long-term package storage
Unlimited digital storage
Repack and consolidate multiple packages to save on shipping costs
Real street address (not a PO box)
Personal shopping service
Deposit checks for you and your business
Sign for letters and packages upon delivery
Are Virtual Mailbox Services Safe?
Yes, virtual PO boxes are safe because they're accessed exclusively online and are not available to the public. All of the digital mailboxes I recommend above operate from secure data centers and comply with the latest security protocols, including 128-bit SSL encryption and full disk encryption for all customer data.
All digital mailboxes in the US must comply with strict USPS guidelines and face stiff penalties if they fail to keep users' information safe. Virtual PO boxes are not permitted to release their users' addresses to anyone unless they are specifically instructed to do so.
What Is The Cheapest Virtual Mailbox?
The cheapest mailbox provider is iPostal1, whose plans start at just $9.99/month with no hidden fees. It's possible to get a $5/month mailbox from Anytime Mailbox, but you will face some additional fees, so if cost is your primary concern, I recommend iPostal1.
On the other hand, if you're planning to only receive packages (not letter mail), you should give Planet Express a try. It's the only package forwarding service in the US with a free plan, making it an excellent choice for the budget-conscious shopper.
Which Virtual Mailbox Is Best?
The best overall virtual mailbox is iPostal1, both for its low pricing and its excellent customer service. I've tested out more than a dozen different mailbox providers, and if you're looking to get your purchases forwarded to you quickly and reliably, I recommend iPostal1.
But don't take my word for it: as you can see here, iPostal1 has received excellent ratings from more than 5,000 reviews on Trustpilot, Sitejabber, and Google.

Does USPS Offer A Virtual Mailbox?
Yes, USPS does offer a virtual PO box service. However, USPS PO boxes cannot receive shipments from any other shipping carrier, which is why it may be a good business move to get a separate mailbox address as well.
What's The Best Free Virtual Mailbox?
The best (and only) free virtual mailbox service you'll find in the United States is Planet Express. With no monthly fees, you only pay Planet Express for the mail you receive and ship, making it a very budget-conscious offering.
Keep in mind, though, that Planet Express is actually a package forwarder, not a virtual mailbox, which means they only accept packages, not letter mail. Here's a photo of one of Planet Express' warehouses to show you what it looks like inside there.
Which Virtual Mailbox Services Offer A Free Trial (First Month Free)?
No digital mailboxes currently offer a free trial (first month free), but Planet Express' free plan takes things even one step further, since it doesn't charge any monthly fees at all.
What's The Best Virtual Mailbox For Small Business?
The best virtual mailbox for small business is iPostal1, since it offers real street addresses, protecting the privacy of both your family and your business. Given that iPostal1 costs as little as $9.99 per month yet still comes with so many valuable features, a virtual address can be a very affordable tool to make your life easier and help your business grow.
You can read more about iPostal1 in my full iPostal1 review.
What's The Best Virtual Mailbox Service In Canada?
The top virtual mailbox service for Canadians is iPostal1, given that it has a low monthly fees $9.99/month) and quickly ships items (including Amazon.com purchases) across the Canadian border with no hassle and minimal shipping fees.
What Kind Of Mail Forwarding Service Do Virtual Mailboxes Offer?
Most digital mailboxes offer mail and package forwarding of all kinds: if you can get an item shipped to them, they're able to forward it on to you. The companies listed above have all negotiated special discounts with the big shipping companies, too, so you can ship your items for far less than retail price.
Mail forwarding services are convenient both for businesses and for frequent travelers, since you won't need to update your mailing address so frequently. If you're looking for a secure mail forwarding service, any of the companies listed above are a great choice.
What's The Best Virtual Mailbox For Expats?
The best virtual mailbox service for expats depends on where you are in the world: expats based in Europe will have different priorities than those based in Asia, and the same goes for other places around the world. If you're just looking for a solid all-around digital mailbox, though, I recommend iPostal1.
Can I Use A Virtual Mailbox For An LLC?
Yes, you can use a virtual mailbox address for your LLC. It's easy to register your mailbox in your name or under a business entity since it's a physical mailing address, making the process of running your LLC much simpler.
What's The Best Free Virtual Address For LLC?
The best free virtual address for an LLC is iPostal1, since it offers small business owners a low-cost way to accept mail and packages at any of 2,300+ physical addresses across the United States and beyond. Each piece of mail is stored for free for up to 30 days, and if you need it forwarded on to your current address, iPostal1 has negotiated lower prices with all of the major shipping carriers to keep your costs low.
How Much Does A Virtual PO Box Cost?
Some virtual PO boxes, like Planet Express, don't charge monthly fees, while others, like iPostal1, Anytime Mailbox, and PostScan Mail charge fees ranging from $5 – $30/month. Business addresses tend to cost more, since they may offer specialized services like access to a live telephone receptionist.
Is A Virtual Mailbox Better Than A PO Box?
Yes, virtual mailbox services are better than PO boxes in some crucial ways, perhaps the most important of which is that PO box users can only check their mail during business hours (and not on federal holidays). Virtual mailbox users are also able to change the location of their mailbox much easier than PO box users can, giving them extra flexibility in case their mailbox needs suddenly change.