Virtual mailboxes are a great way to receive mail when you're traveling, to accept mail in a location where your business doesn't have an office, or to cash checks and accept packages on your behalf. In fact, one of the key things to look for in a virtual mailbox is one with a lot of locations, which gives you more flexibility and makes your life easier.
iPostal1 offers more than 2,700 mailbox locations, the most of any virtual mailbox provider in the United States. With great customer support and an easy-to-use interface, I highly recommend iPostal1 as a virtual mailbox and virtual office service.
What Is iPostal1?
iPostal1 is one of the oldest and most well-known digital mailbox providers, with more than 2300 mailing address locations spread throughout the world. iPostal1 is a pioneer in digital mailbox and mailroom management technology stretching back to 2007.
iPostal1's headquarters are in Montebello, New York. It offers a variety of valuable features for its customers, and has collected thousands of positive reviews from them over its years of operation.
Features Of iPostal1
#1 2,700+ virtual mailbox locations
More locations = more options for iPostal1's customers, and that's a really good thing. You can choose between hundreds of towns and cities for your mailbox, which means whether you want a mailing address in Manhattan or Maine, you can get it with iPostal1.
Here's a list of iPostal1's 2,700+ locations, plus even more from other virtual mailbox providers:
Find a virtual mailbox near you
#2 US or international mailing address with a digital mailbox
iPostal1 offers real street addresses to individuals and businesses with your own mailbox number. These mailboxes allow users to receive mail and packages, of course, but they can also receive bank statements, credit or debit cards, and other personal and business mail.
iPostal1's website is very intuitive when it comes to adding address locations, and you can also manage your mail and packages from the iPostal1 Android or iOS app. iPostal1 allows you to visually inspect each piece of mail through the app before instructing the company to scan, shred or forward it on to the address of your choice.
#3 Toll-free company phone or fax number
If you opt for iPostal1's virtual office plan, you get the option of having a company phone and fax number for your business. iPostal1's premium plans—priced at $59.99/month and $69.99/month—upgrades your company phone number to a toll-free number.
Your dedicated toll-free number can be customized to add personalized greetings and voicemail, as well as forward any domestic or international calls to another phone. For businesses that heavily rely on fax, iPostal1 offers electronic fax services specifically for your business.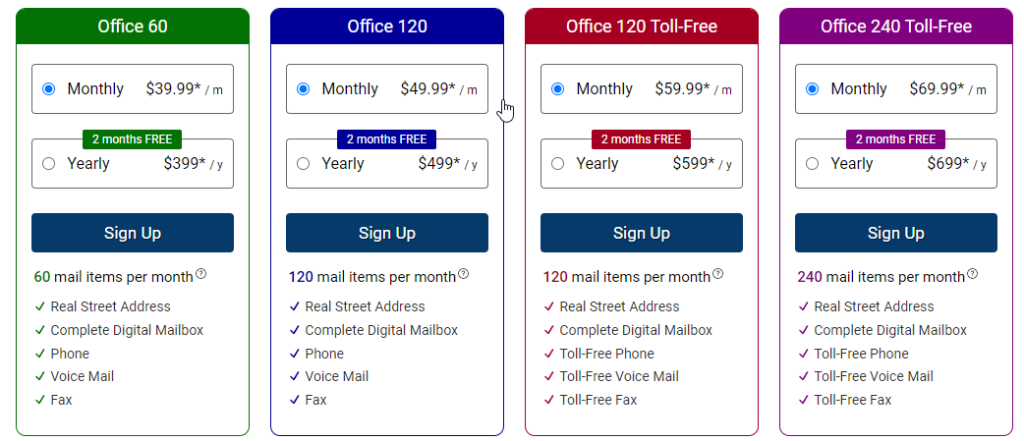 #4 Mail scanning and free cloud storage
iPostal1 sends users a high-quality digital PDF of each piece of mail within hours of when it arrives at their location. These scans are automatically uploaded into your mailbox's cloud storage (unlimited) where you can access them whenever you need them.
#5 Mail and package forwarding
Any package or mail you receive in your iPostal1 physical mailbox can be forwarded on to you anywhere in the world. When you're ready to forward the mail, you'll see real-time shipping quotes from the major carriers side-by-side, allowing you to compare and choose the shipping method that's best for you.
iPostal1 offers shipping discounts of up to 80% when compared to standard shipping rates, which it's able to do because it ships so many items every day. And if you have multiple pieces of mail you want to forward on to the same address (say, a second home), iPostal1 will consolidate them into a single shipment to save you even more on shipping.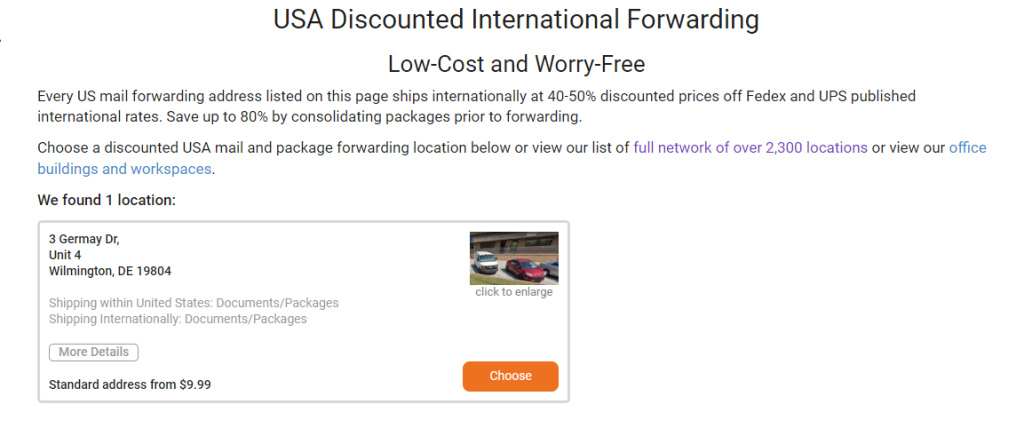 #6 Direct check deposits
Whenever you or your business receive a check in your mail, iPostal1 will give you the option to deposit that check into your bank account for you (as long as your bank supports mail-in deposits). This can be a big time-saver, especially for business customers.
Pros & Cons Of iPostal1
Pros
2,700+ US and international digital mailbox locations that allow you to set up your virtual address anywhere around the world.
Extremely affordable plans ($10-$40/month) with some of the lowest pricing in the industry.
Dedicated Android (rated 3.6/5) and iOS (rated 4.0/5) apps that allow for quick and easy mail management.
Professional customer service that responds immediately via live chat, email or by phone.
Experience in the virtual mailbox industry since 2007.
Intuitive contact manager that stores all your business and personal addresses.
Package consolidation to save you money when sending multiple packages.
Free document and check scanning that allows you to check your mail anywhere around the world that all gets uploaded into the cloud storage of your choice.
Unlimited cloud storage.
Customer service is available Monday-Friday, 9 am to 8 pm EST.
Cons
Users need to fill out and notarize USPS form 1583 on their own.
Not a great selection of addresses outside the United States.
iPostal1 Pricing
| | | | | | |
| --- | --- | --- | --- | --- | --- |
| | Green | Blue | Silver | Gold | Virtual Office Plans |
| Monthly price | $9.99 | $14.99 | $24.99 | $39.99 | $39.99 – $69.99 |
| Yearly price | $99 | $149 | $249 | $399 | $399 – $699 |
| Mail limit | 30 | 60 | 120 | 240 | 60 – 240 |
iPostal1's plans all offer very similar features: the difference is in the amount of mail you can receive. The least expensive plan allows you to receive up to 30 pieces of mail per month, while more expensive plans can accommodate hundreds. iPostal1 offers 2 months free on all annual plans.
iPostal1's most popular individual plan is its Blue plan, which allows up to 60 pieces of mail per month at a price of $14.99/month ($149/year).
iPostal1's most popular business plan is its Silver plan, which allows up to 120 pieces of mail per month at a price of $24.99/month ($249/year).
iPostal1's virtual office plans range from $39.99 – $69.99/month. Its Office 120 and Office 240 plans upgrade your phone number to a toll-free phone number.
iPostal1 offers a full refund of your mailbox rental fee within the first 30 days if you don't use your account. To request a refund, you can contact iPostal1 through live chat, email, or by calling them at 845-579-5770.
iPostal1 has some of the most affordable prices in the virtual mailbox industry, making them very competitive against other players like Anytime Mailbox, Physical Address, PostScan Mail, Earth Class Mail, and others. It doesn't offer a free virtual address for your LLC, but neither does any other company, and it's still our #1-recommended service for cost-conscious business owners.
Is iPostal1 The Right Option For You?
iPostal1 is one of the best-known virtual mailbox providers in the industry, offering great features and services to its users. It offers extremely affordable plans and 2,700+ locations, making it a good fit for many virtual mailbox customers.
The one word of caution I'll include here is that iPostal1's offering of mailboxes outside of the United States isn't great. It offers a few in Canada and a handful of other countries (you can check the locations for yourself using the tool further up in this post), but you certainly won't find as many abroad as you do stateside. However, this will only impact a very small number of users, so if that's not you, it's nothing to worry about.
Overall, I'm very impressed with iPostal1, which is why I've ranked them #1 in my breakdown of the top virtual mailboxes available today. If you appreciate fair prices and honest service, iPostal1 won't let you down.
iPostal1 FAQs
Is iPostal1 legit?
Yes, iPostal1 is a legitimate virtual mailbox provider owned by USZoom LLC. It's BBB accredited with an A+ rating and is our #1-ranked mailbox provider today.
Is iPostal1 a registered agent?
No, iPostal1 does not act as a registered agent. However, each iPostal1 location is registered as a commercial mail-receiving agency and is authorized by the United States Postal Service to receive and process mail on their customers' behalf.
Who owns iPostal1?
iPostal1 is owned by USZoom LLC and was founded by Jeff Milgram in 2015.
How do I cancel iPostal1?
You can cancel your iPostal1 subscription anytime by going into Account, then Manage (or Account Settings), and clicking Cancel Subscription. If you do plan to cancel, make sure to do so before your next billing date to ensure your subscription isn't automatically renewed.
How do I forward my iPostal1 mail?
To forward mail you receive at an iPostal1 location, you'll need to 1) choose the location to forward your mail to and 2) choose the carrier and speed you want. iPostal1 will take care of the forwarding on your behalf.
Is iPostal1 worth it?
We believe iPostal1 offers great value to most consumers looking for a virtual mailbox provider.
How much does iPostal1 cost?
iPostal1's plans range from $9.99/month all the way up to $69.99/month, depending on the specific plan you choose. Most fees are covered in this monthly price, though additional fees will be charged for extra services like forwarding your mail.