The Canadian cryptocurrency market is booming with new investors every day. The major problem for many of these investors is finding an easy way to buy cryptocurrencies like Bitcoin without having to actually travel outside of their country or going through multiple steps in order to do so.
Fortunately, there are companies like Bitbuy that are making this process much easier with its simple interface and quick transactions.
In this Bitbuy review post, I'll cover everything you need to know about the platform, from how to register and start trading, all the way to fees, security options and more.
What Is Bitbuy?
Bitbuy is a cryptocurrency exchange located in Toronto, Canada, that originally launched as Instabit in 2013. It has rebranded since then, expanding its operations, securing venture capital funding, and expanding the selection of cryptocurrencies to exchange.
What Is The Bitbuy Signup Process Like?
To sign up to Bitbuy, all you need is an email address and password. To activate your account, you will need to enter a phone number and provide additional personal information, as well as enable 2-factor authentication for security purposes.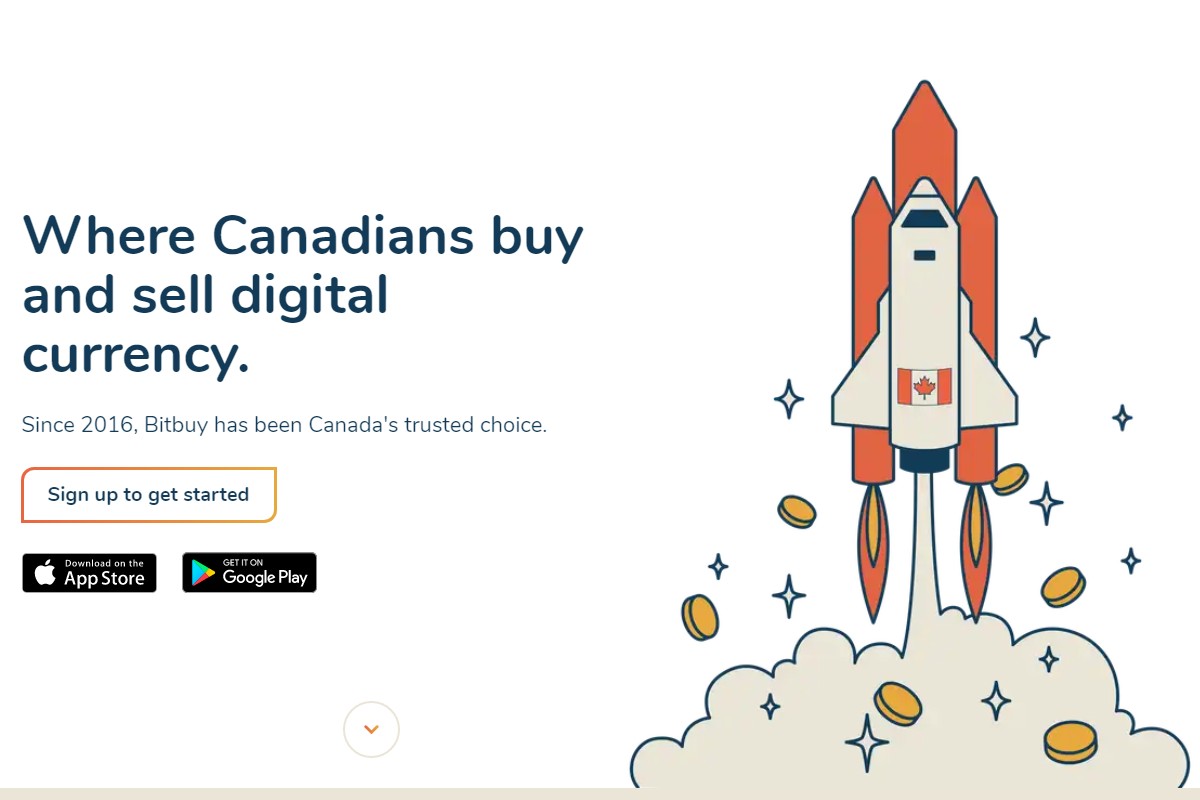 Normally, your identity is verified automatically at this point. But in some cases, you may need to provide the following documents:
A financial statement (whether it's a credit card, bank, or loan statement).
A utility bill with your name and address.
A picture of a government-issued ID (for example, your passport or driver's license).
A picture of you holding your ID with your face and a piece of paper with the phrase "For Bitbuy Use Only" and the date of the day the photo's being taken written in it.
After your account has been activated and verified, you can fund it through an Interac e-transfer, a bank wire transfer, or a cryptocurrency deposit.
How Does Bitbuy Work?
The interface is fast and accessible for traders across all walks of life, and it comes with two primary features.
The Express Trade platform lets users buy and sell cryptocurrency with Canadian dollars, making it the easiest way for users to deposit funds.
There's also the newer Pro Trade advanced trading platform, which was added in 2019 and offers advanced traders a live trading view as well as more advanced orders. This feature runs a traditional order book-style trading platform similar to Binance or Coinbase Pro.
Pro Trade uses Tradingview software to give in-depth technical analysis. Low latency is matched with pop-out widgets, allowing you to create a customized trading screen that meets your needs.
What Crypto Does Bitbuy Support?
Bitbuy offers a wide range of cryptocurrencies to trade, including:
Bitcoin (BTC)
Ethereum (ETH)
Litecoin (LTC)
Ripple (XRP)
Stellar (XLM)
Bitcoin Cash (BCH)
EOS
Chainlink (LINK)
AAVE
Bitbuy Fees
Trading fees are competitive compared to other crypto exchanges in Canada if you use the "Pro Trade" platform.
The fees applied will be 0.10% when you place limit trades and 0.20% when you place a market order.
The "Express Trade" platform comes with a fixed price of 0.20% for buy and sell orders when using its one-click functionality.
All cryptocurrency deposits are free. But once you withdraw, these withdrawal fees will apply:
Bitcoin (BTC): 0.00025 BTC
Ethereum (ETH): 0.01 ETH
Litecoin (LTC): 0.02 LTC
Bitcoin Cash (BCH): 0.001 BCH
Stella (XLM): 0.02 XLM
Ripple (XRP): 0.02 XRP
EOS: 0.02 EOS
Is Bitbuy Legitimate?
One thing to keep in mind is that cryptocurrency trading and investing is risky no matter what cryptocurrency exchange in Canada you use.
However, even taking that into consideration, I'm glad to say that Bitbuy is legitimate. For starters, it's a Money Service Business registered in the Financial Transactions and Reports Analysis Centre of Canada (FINTRAC).
Bitbuy also strives to provide its users with the best security possible — this is done through a 95% cold storage policy, as well as the previously mentioned 2-factor authentication it allows you to set up.
Bitbuy Mobile App
Bitbuy offers its own mobile app which is available for both iOS and Android devices.
The Bitbuy app lets you access all of the features on their desktop version, including buying and transferring cryptocurrency. It also has biometric capabilities for security when using it on your device.
Bitbuy Customer Support
Bitbuy offers email support as well as a comprehensive FAQ section and web page. Some of the ways you can reach Bitbuy for customer support inquiries are as follows:
Email (

[email protected]

).
Support page (via the "Support" page)
Support icon
It's also worth noting that Bitbuy has an active social media presence, and you can reach the company through:
Facebook
LinkedIn
Twitter
YouTube
In Summary
Bitbuy offers high volumes for cryptocurrency trading and the ability to buy crypto with CAD. The user interface is easy to use, which is a big draw for many traders. There's also the Pro Trade advanced trading platform, which was added in 2019 and offers advanced traders a live trading view as well as more advanced orders.
Bitbuy Customer Service is comprehensive, with email support as well as a FAQ page and web-based customer service options like live chat on their website (it's right at the bottom). They have an active social media presence: Facebook, LinkedIn, Twitter and YouTube.
This makes Bitbuy a fantastic crypto exchange choice, especially for Canadians.