Investing has always been a confusing industry for newbies. However, that doesn't have to be the norm anymore since there are a lot of experts willing to impart their knowledge to others. These investors have taken the route of Newsletters to spread their advice to as many people as possible.
Currently, a lot of professional investors have decided to open their own Newsletters. We've grabbed the 10 most important ones in the current industry and we'll dissect each one to see what each offers that others do not, ranking them in a position from 10th to 1st.
However, having written this review once our research was done, we believe that Capitalist Exploits is the best investment newsletter, especially for beginners in the world of investing. Its approach in terms of following trends instead of single opportunities and its high-value, low-risk recommendations offer great opportunities for both experienced traders and beginners. For these reasons, we picked Capitalist Exploits as our number 1 investment newsletter of 2021. Ready to start investing in low-risk high-reward opportunities?
The main function of an investment newsletter is to keep investors informed. Investing and trading don't operate based on magic nor fairy dust, but rather on certain principles and patterns that can be discerned if searched for hard enough. However, most people don't actually have time to do that research by themselves, which makes newsletters so attractive to investors that are just starting out.
How Do Investment Newsletters Work?
Newsletters often come with several sections including investing recommendations, financial and market analysis, and other useful tidbits of information. All of this information is meant to give the investor a bigger outlook on what's currently going on in the market/industry to better understand the trends that the market is following.
Some of these newsletters also specialize in alternative investments like commodities, artwork, real estate and natural resources. All of this represents a way for investors to diversify their portfolio and avoid loss due to being protected by the sheer amount of assets they juggle and own.
In fact, we also recently wrote about one of our favourite alternative investments, farmland, and why we suggest allocating a piece of your portfolio to such an asset. If that has piqued your interest, you can always take a look at FarmTogether, which makes investing in farmland both easy and highly sustainable.
Now, without further ado, here are the best investment newsletters of 2021.
The 10 Best Investment Newsletters In 2021
Before starting it's important to mention that some newsletters focus on technical characteristics while others specialize in financial news. It's also important to mention that all newsletters shouldn't be followed blindly, rather used as another perspective to make your own assumptions about the market.
#10 Contrarian Income Report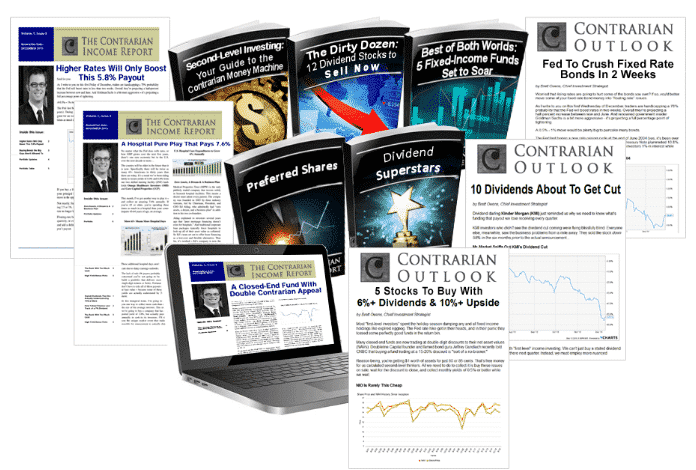 The 10th position on our list of the best investment newsletters is held by Contrarian Income Report. This newsletter comes from the company Contrarian Outlook. The goal of the report is to provide the best possible advice with high standards and in-depth market research.
However, Contrarian Outlook's main type of investors is pensioners. This means that Contrarian Income Report contains recommendations that have the potential to safeguard savings by taking advantage of price increases in the long-term.
Focus
Contrarian Outlook's strategy is to offer recommendations on stocks that have the potential to generate long-term returns and the potential to generate dividends on the other. In this way, Contrarian Outlook ensures that it is possible to align income and expenses to avoid spending.
In other words, Contrarian Outlook bases its service on building a steady portfolio of long-term high-yield stocks that can produce earnings during that same holding period.
Contrarian Income Report's Services
Contrarian Outlook's newsletter consists of 5 monthly reports that focus on 5 different topics, which are the following:
#1 Monthly Dividend Superstars: 11% yields with double-digit upside.
#2 The Dirty Dozen: 12 dividend stocks to sell now.
#3 Report Best of Both Worlds: Fixed income funds that outperform stocks.
#4 Report Preferred Stocks: Looking past common dividends for 6.5%.
#5 Report Second-Level Investing: Your guide to the Contrarian Money Machine.
Cost
You will be able to access all the services that go with the Contrarian Income Report with the payment of an annual membership that costs $39 USD for 1-year. Also, Contrarian Outlook offers a 100% guarantee if you are not satisfied in the first 60 days. You will simply let the company know that you are unhappy with the service and receive a full refund of every penny paid without explanation.
#9 The Turnaround Letter
The Turnaround Letter is a financial advisory service that has been in the market for more than 30 years and it ranks 9th on our list of the best investment newsletters. The goal is to provide information on market situations and how to respond to specific events and circumstances. The Turnaround Letter team makes recommendations when they have determined that it is possible to make a profit imminently.
The Turnaround Letter openly conveys that it does not follow a standard methodological line for choosing its investment recommendations and so does not fit neatly into a specific category of analysis.
Please note that there are two globally recognized categories of trading analysis. On the one hand, there is a technical analysis that consists of identifying patterns, trends in sales volumes and stock prices. On the other, there is a financial analysis that is based on analyzing and interpreting the accounting and financial information of each company.
In this sense, The Turnaround Letter uses tools from both types of analysis in order to evaluate all the available information
The Turnaround Letter's Services
The Turnaround Letter offers you a package of financial services with which you can receive investment ideas, research reports, updates and stock analysis that will help you structure your investment plans and strategies. The main service that you will get with the membership is the famous Newsletter. With membership you will receive a package each year consisting of the following services:
Newsletter
Actionable buy and sell signals
The Monthly Catalyst Report
Full "Rec Reports"
Full access to all resources on The Turnaround Letter website
Cost
Below you will see each of the subscription plans to access the service package that we have discussed. Take into account that for each of the plans, the services you get are the same. Unfortunately, there are no free versions to test the platform services. But, you could find interesting and useful content on the blog.
| | |
| --- | --- |
| Membership | Cost |
| 1 Month | $99 USD |
| 1 Year | $740 USD |
| 2 Year | $1,100 USD |
| 3 Year | $1,250 USD |
#8 Sound Advice Newsletter
Sound Advice is a company that provides financial services that will allow you as an investor to have clarity when developing investment strategies. Gray Cardiff has been the editor of Sound Advice since its inception in 1988 and has made the Sound Advice Newsletter a recognized and respected publication. The goal of Sound Advice, number 8 on our list of the best investment newsletters, is to analyze the evolution and performance of stocks in the market to recommend the best investment opportunities. In addition, Sound Advice Newsletter provides clear guidance on how to execute investment recommendations.
Sound Advice Newsletter's Services
On the first day of each month, you will receive a new newsletter. Take into account that in each issue you will find an analysis of each of the investment recommendations and the evolution of the Sound Advice portfolio. In the newsletter, you will also find a very interesting analysis of macroeconomic indicators such as gross domestic product (GDP) and its relationship with each sector in which Sound Advice recommends investing.
When you analyze the recommendations you will find business cycles and stocks. It consists of an interesting and infrequent section in the newsletter where supercycles are identified based on a risk indicator
Cost
Membership plans are as follows:
12 months: $99 USD
24 months: $169 USD
With the two-year plan, you will save $29 USD. In addition, you will be able to access a free 4-month trial with no obligation and no credit card required. What you should do is simply register on the page and you can immediately access the archive of the last 100 newsletters.
#7 Nate's Notes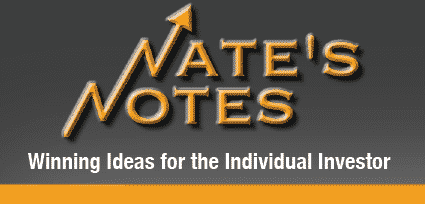 Nate's Notes is a company that provides a series of financial services that will allow you as an investor to have clarity when developing investment strategies. Additionally, it provides clear guidance on how to execute investment ideas and recommendations. In this sense, the company analyzes the evolution of stock performance in the market to identify and recommend the best opportunities.
Also, Nate's Notes strategy consists of long-term bullish positions. In other words, the recommendations are to buy a financial asset in the hope that it may rise in price in the future. In this way, it is possible to get significant returns.
Nate's Notes' Services
Nate's Notes offers several relevant sections that provide very useful information to understand market forces. For example, you can read about the role of interest rates and how to interpret their evolution. In the report, you will see that each one of the analyses of the evolution of the market can be interpreted as a clear signal of buy or sale. Further, you will see an analysis of the trends of the market. This aspect is very relevant because the report will put you in context so that you can get an idea of where the market is going.
Take into account that the newsletter is designed to give you, on the one hand, a vision of the direction of the market and, on the other hand, offer you a diversified portfolio. In fact, when you access the newsletter you will notice that it is divided into two types of portfolios. The goal of providing portfolios is to create a selection of stocks that allow you to mitigate risk and to achieve much higher returns. Nate's Notes usually recommends building portfolios with 12-20 stocks.
Cost
Below we show you each of the subscription plans that Nate's Notes offers:
1-issue trial (28 days website access): $34 USD
1-year (12 issues): $289 USD
2-years (24 issues): $519 USD
3-years (36 issues): $699 USD
Note: You may cancel at any time for a prorated refund.
We recommend you take advantage of the 1-issue trial. We believe it will allow you to access the newsletter and the evolution of each of the portfolios recommended by Nate's Notes. Also, keep in mind that you could use the information in a single issue of the newsletters to build your own portfolios. That is, you do not need to accurately and continuously replicate Nate's Notes portfolio in order for you to benefit from their recommendations and analysis.
#6 Fidelity Monitor And Insight
As we reach the middle of our best investment newsletters top-10 list, we find Fidelity Monitor and Insight, which is designed exclusively for Fidelity Mutual Fund investors. In this sense, the company's goal is to help Fidelity investors get the highest return with the least possible risk. It is a company specialized in asset management and pension funds with a collective investment scheme. That is to say, Fidelity combines the money of many investors and makes investments in a large number of financial instruments. For example, stocks, bonds, short-term market instruments, other investment funds, and commodities.
Fidelity is made up of a large number of specialized investment funds. Also, Fidelity funds provide small or individual investors access to efficient investment portfolios. In this way, in the Fidelity fund portfolio, you will find specialized funds. For example, in technology, international investment, long and short-term investment.
Fidelity Monitor And Insight's Services
The Fidelity Monitor and Insight newsletter has been the best performing Fidelity fund newsletter for the past 30 years. Particularly, the newsletter is published every first business day of each month. Reports are generally posted before 3:00 PM Eastern Time.
In the report, you will find the performance of Fidelity funds month by month. Besides, you will have access to the diversified portfolio and its updated composition. In the following chart, you will see the return and the exact composition of each fund that Fidelity Monitor and Insight recommends in some of its portfolio models.
Cost
A Fidelity Monitor and Insight membership costs $249 USD annually. This membership gives you access to 12 reports and to a series of tools within the exclusive platform for affiliates. For example, when you are an affiliate you will have access to tools such as:
Special calculators to analyze your portfolio
Personalized attention
Weekly email alert services
An interesting factor that you should take into account is that Fidelity Monitor and Insight offers a 100% guarantee. That is, you'll get your money back if, during the first 3 months of the advisory service, you do not feel more prepared, safer and richer. Also, it is possible to request a refund if you feel that for any reason the Fidelity Monitor and Insight service is not for you. Then you will get a refund for the unused part of the membership.
If you liked the first 5 posts in our best newsletter, you will freak out with the top 5 on our list. You will see endless possibilities for your investment projects.
#5 Finimize
In our position number 5 of the best investment newsletters is Finimize. This newsletter is designed for all those people, especially millennials, who have been able to generate savings but who continue to work and who also have a dynamic life and seek to constantly improve themselves to achieve financial freedom.
In this way, the founders of Finimize created the company thinking of all those people who want to get a return on their savings but who do not trust or cannot pay a financial adviser. In fact, Finimize's goal is to contribute to creating a world without financial advisors. That's why its goal is to be an independent platform like TripAdvisor that allows you to design your own investment strategies and decisions.
Before, it was very common to see businessmen sit for a long time reading newspapers. However, technology has generated profound changes in the way we access information, now we are much more efficient. Now our agendas are really full, it is a world in constant flux that requires us to be informed of the rapid changes in the markets.
Currently, the platform has more than 600,000 users, provides free and subscription services. In Finimize, you can read comments generated by the member network. You will find a wide variety of discussions about financial products and different ways you could invest your capital. Finimize seeks:
Being your three minute guide to what's going on in finance and what it means for you.
Connect and share ideas with a global community
Go deeper with in-depth analysis and practical guides
Catch up on the latest stories in just seven minutes a day
Finimize's Services
In finimize you will find several services that will allow you to be updated on what is happening in the business and financial world in a light, fast and interesting way. You will see that it is also a source of fresh, impartial and accurate news is crucial to keep the intelligent investor informed. Their services are
Daily Newsletter
Finimize App
Finimize Mylife
Cost
El paquete de membrecía anual de Finimize tiene un costo de $59.99 USD per year. Cuando se afilie a Finimize, usted recibirá los siguiente servicios:
One Daily Brief, stay up to date in under 7 minutes
Access a library of jargon-free analyst reports.
Available in audio and text.
Tech, stocks, personal finance and more.
Exclusive Premium meetups.
In addition, Finimize has a trial version that will allow you to see a sample of the content it offers. Unless you cancel during this time, you will be charged 59.99 USD. Cancel anytime on your profile by selecting Manage Subscriptions. We recommend taking the trial version and if you don't like it, simply suspend the service before the trial ends.
#4 The Prudent Speculator
The Prudent Speculator is a company that provides a series of financial services that will allow you, as an investor, to have clarity when developing investment strategies. In this regard, the company specifically analyzes the evolution of stocks in the market to provide clear guidance on how to execute investment ideas and recommendations. Company's philosophy focuses on three basic principles: selection, diversification, and patience. Plus, The Prudent Speculator strives to make the most of every investment. That is why they suggest keeping stocks between three and five years. Keep in mind that patience is a virtue that in this particular case can make you earn a lot of money.
The Philosophy
The Prudent Speculator's investment philosophy is to buy undervalued stocks and hold them for an extended period of time until they reach their most possible return. It is not an easy job, but once they give you the recommendations you will be closer to generating profits.
The Prudent Speculator's Services
The main service of the company is its famous newsletter, which makes The Prudent Speculator our number 4 in this best investment newsletters. Its service contains detailed and relevant information for each investor. The Prudent Speculator newsletter is made up of several sections where they analyze global factors that may affect the stock market, sectors, and industries. Also, in the Prudent Speculator newsletter, you will find a detailed analysis of particular companies. In general, each newsletter is divided into the following sections:
Market Forces
Recommendations
Month's 10-Stock Selection
Also, The Prudent Speculator provides, along with its acclaimed newsletter, the following services:
Target Prices
Buy List
Portfolios
Cost
The Prudent Speculator offers three payment plans:
A monthly plan for $28 USD.
A yearly plan for $295 USD.
A 2-year plan for $495 USD.
No matter which plan you sign up for, you will receive all the same services. However, the yearly and 2 year plans offer a money-back guarantee and you would be saving a total of $41 with the annual plan and $177 with the 2-year plan. Additionally, The Prudent Speculator offers a 23-day trial for just $1 USD. So, if you want to give the service a try, we recommend signing up for a trial, and see where that takes you.
At this point in our this best investment newsletters article, we have already covered 7 spectacular options. Now, it's time to talk about the top 3 newsletters that made the podium.
#3 Morning Brew
The winner of the bronze medal in our list of the best investment newsletters is Morning Brew. It is a company dedicated to generating free content. The company's business model focuses on providing news via email and on its website in a newsletter format. Morning Brew provides articles on the main news about the financial, business, technology, retail and innovation world so that it is possible for anyone to access the newsletter and be updated.
Morning Brew is modernizing the news newspaper business through innovation. In this way, business professionals with busy schedules can be updated. But, it is a service that any type of person and investor can access and also take advantage of since the Morning Brew services shows the market trends and also provides possible investment ideas.
Recently, Morning Brew has added a really cool podcast series to its platform. These types of services represent an effort on the part of the company to adapt to the information needs.
Morning Brew's Services
In Morning Brew you will find several services that will allow you to be updated on what is happening in the business and financial world in a light, fast and interesting way. Morning Brew services can be divided into two types: Morning brew newsletter which is the main service of the company and Podcasts a relatively new discussion stage in the set of Morning Brew services.
Both services are designed so that you can be updated all the time in a format that will allow you to access content in a very short time. In fact, the Morning Brew slogan is "Become smarter in just 5 minutes" and it is definitely possible in a short time to see what is happening in the markets and even see the direction that the business world is taking.
Morning Brew Newsletter has a business proposal that will allow you to be informed about the world of business. To achieve this, it offers three different types of free newsletters that will allow you to have an updated vision of what is happening in the market:
Morning Brew
Emerging Tech Brew
Retail Brew
Cost
The main reason this newsletter reaches # 3 is that you won't have to pay a penny for this service. The company is currently in a growth phase that we recommend you take advantage of because you will have the opportunity to enjoy free quality financial information services.
#2 Stock Gumshoe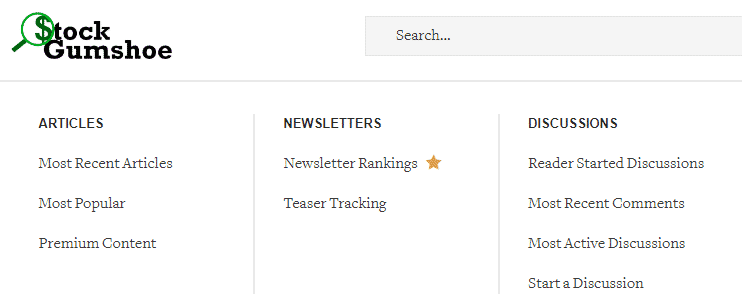 Coming in second, we find Stock Gumshoe. This company's main objective is to analyze hundreds of news reports and financial bulletins. As a result, they generate detailed articles to convey relevant information for investors. Additionally, they provide clear guidance on how to execute investment ideas and recommendations. They also present the arguments and hypotheses to devise investment strategies with the minimum risk.
In summary, Stock Gumshoe seeks to encourage its members to be more analytical. In this sense, they advise against immediately believing what you read in the financial reports, and in favour of questioning every recommendation instead. They then help you analyze the information so you can draw your own conclusions.
Stock Gumshoe's Services
Stock Gumshoe offers relevant information in the form of articles, newsletters and discussion forums, while at the same time allowing you to track the progress of previous recommendations to assess their performance. Here is a breakdown of all their services:
Articles And Newsletters
On the Stock Gumshoe platform, you can access an extensive number of articles and newsletters. The reports are easy to read and remarkably interesting as well as highly relevant. You will see that the material represents a source of investment ideas. Additionally, every product that Stock Gumshoe offers is aimed at making a valuable investment recommendation.
Teaser Tracking
The service consists of a spreadsheet that tracks the performance of recommendations, articles, newsletters and notices. There, you will also find a link next to each financial instrument that takes you to the specific article with the hypotheses and arguments of the recommendation. You will freak out when you see that you can check the price of the financial asset at the time of the recommendation, along with the current price of the asset. In addition to recent recommendations, Stock Gumshoe provides a spreadsheet for each year. That way, you can make your own intensive review of the recommendations of a particular year.
In the following links you can access the spreadsheets for Google, year by year:
Cost
Stock Gumshoe offers three payment plans:
A monthly plan for $7 USD.
An annual plan for $59 USD.
A lifetime plan for $329 USD.
No matter which plan you sign up for, you will receive all of the same services. So, if you want to give the service a try, we recommend signing up for a month, and see where that takes you.
Next, you will see the winner of the gold medal. In this the best newsletter article, you have seen different options with several distinctive features. Some newsletters specialize in the news. Other newsletters specialize in doing market analysis and issuing investment recommendations. You will see that our number 1 position has all these characteristics.
#1 The Winner Of The Best Investment Newsletters: Capitalist Exploits
After analyzing all the characteristics, services, prices, quality and reputation of all the options that we have presented to you in this the best newsletter article, we think that Capitalist Exploits is the best option. This investment services company tracks capital to establish where and when it is appropriate to make investments with low-risk capital. Additionally, they provide clear guidance on how to execute investment ideas and recommendations. They also suggest ways to adapt to possible scenarios. Therefore, the company establishes vehicles that will allow you to multiply your capital. Below you will see the process by which the company generates relevant information:
Capitalist Exploits seeks investment opportunities worldwide through in-depth analysis, market research, and investment networks. The team looks for the best investment opportunities in different sectors, industries and global markets.
Then they determine if the opportunity can be safely seized. After identifying opportunities, they estimate the risk associated with each investment to select the best risk-capital ratio.
The next step is to identify the most appropriate way to allocate capital in each scenario. In this way, investors can adapt to possible changes.
Finally, they generate and distribute detailed reports to transmit relevant information to their associates through various information channels.
Capitalist Exploits seeks asymmetric returns on its investments, providing much higher returns for similar levels of risk. An interesting topic is that they invest their own money in the opportunities that it offers to its members. For this reason, they have more than 30,000 members who believe in the soundness of their strategies. If you choose this financial services consulting company, it is very likely that you have the same investment portfolio as the owners.
Capitalist Exploits' Services
Capitalist Exploits provides information and analysis on investment opportunities, hese recommendations have the potential to deliver impressive returns without taking on additional risks. Next, we will show you what each of them consists of and what type of material you can access.
Insider
Insider is Capitalist Exploits' primary service. A highly qualified team studies and analyzes alternative investment opportunities, and delivers a series of specific reports and alerts dictating when you should enter and exit certain investments.
Insider Weekly
The Insider Weekly service will allow you to have access to a weekly newsletter on the market and international investment ideas. You will also find sections in the report on particular events and their possible effects. In this way, you can have clearer criteria when making investment decisions. Likewise, you will be informed about what is happening, so that you can stand out at dinners and business meetings.
Cost
| | | |
| --- | --- | --- |
| Features | Insider | Insider Weekly |
| Description | Full notices and reports of ideas, sectors, industrials and monthly investment strategies | Monthly investment strategy report |
| Price | Annual subscription $1,999 USD | $35 USD per month |
| Promotions | 50% discount | Your card will be charged $1 USD today, and after one month you will automatically be charged $35 USD per month until you cancel your subscription. |
| Warranty | Yes, complete | You can cancel the subscription in the trial month. |
| Requirements | No | No |
| Minimum Capital | There are no restrictions. The client invests on his own. However, it is suggested $20k USD | There are no restrictions. The client invests on his own. |
| Apply | | |
Some Final Thoughts About The Best Investment Newsletters
We believe that every newsletter in our top 10 has the potential to help you better understand your investments. Also, they represent a source of information that will allow you to be aware of the economic interrelationships and the direction that the financial markets are taking.
However, we believe that Capitalist Exploits is the best option for three reasons:
The first is that Capitalist Exploits provides an incredible amount of information about financial markets that help beginners learn.
The second is that Capitalist Exploits is focused on identifying high-return and low-risk investment opportunities, which is exactly what someone who is just starting out on business needs.
Finally, the level of diversification offered by Capitalist Exploits will allow you to create more efficient portfolios to achieve your goals.