The world of investing has confused more than a few newcomers in its time. With the number of pundits willing to share their opinions, though, that doesn't have to be the case. Most of those pundits share their thoughts in the form of a newsletter, which is what we'll be digging into here. We've identified 5 of the most prominent investment newsletters in the industry, and we'll dissect each one of them to see how they stack up.
After carefully sifting through each of the newsletters and the quality of advice they offer, we believe Capitalist Exploits is the best investment newsletter out there. It's run by former hedge fund managers with an eye for trends rather than single stocks, and its high-value, low-risk recommendations offer great opportunities for both experienced traders and beginners alike. For these reasons, we've chosen Capitalist Exploits as our #1 investment newsletter of 2021.
Investing your money is one of the best ways to build and grow wealth in the long term. Depending on the type of investment you make, it can turn into a steady stream of passive income or it can be an investment that gains value over time until you cash out years later.
But we all know that there's always a risk involved in investing, and things could go south very quickly as well. So, how do we know what to invest in? This is a question all new investors ask themselves when starting. The answer is to learn as much as you can before risking your money in a trial and error run that could cost you thousands.
Luckily, that's where investment newsletters come in. These offer both new and experienced investors tips and suggestions so they can start investing right away while they learn everything they need to become independent investors.
In this post, we'll be reviewing the top 5 investment newsletters of 2021 to help you choose the one that better suits your needs so you can start investing as soon as possible and being building a better future for you and your loved ones.
Now, keeping all these factors in mind, here are the best investment newsletters of 2021.
The 5 Best Performing Investment Newsletters Of 2021
#1 Capitalist Exploits: Best Investment Returns
After analyzing the services, prices, quality and reputation of all the best investment newsletters of 2021, we think that Capitalist Exploits is the best pick.
This advisor tracks an immense amount of data and financial patterns to determine the best low-risk high-reward trends in the market. The company's strategy not only focuses on analyzing individual high-yield opportunities but rather niche market trends. Additionally, they provide clear guidance on how to execute investment ideas and recommendations, also suggesting ways to adapt to different possible scenarios.
Here's the process by which the company generates relevant information:
Step 1: Research. They seek investment opportunities worldwide through in-depth analysis, market research, and investment networks.
Step 2: Risk Assessment. Once the opportunities are found, they're ranked according to risk in order to find the best high-yield, low-risk opportunities they can find.
Step 3: Capital allocation. In this step, they identify how best to allocate capital into each investment opportunity.
Step 4: Reporting. This step involves generating and distributing detailed reports to send to each associate and recommend a course of action.
More than 30,000+ members all over the world trust Capitalist Exploits due their transparency. The company claims that they invest in all of the opportunities they recommend to their users, which is a way of saying "we put our money where our mouth is". It's safe to say that this goes a long way in terms of gaining the trust of many investors.
Who wouldn't be interested in having the same investing portfolio as the owner of an investment advising firm? After all, they wouldn't invest their own money unless they were confident that it was a good investment.
Features
Capitalist Exploits offers the following products/services to its subscribers:
Insider
Insider Weekly
Resource Insider
Others/Free content.
Here's how each one of those works.
Insider
Insider is Capitalist Exploits' primary service. It consists of a series of specific reports and alerts dictating when an investor should enter or exit certain opportunities. The reports are generated by a highly qualified team that study and analyze multiple alternative investments.
Anyone with any level of experience can benefit from using the service. Investors can take advantage of low-risk global information that offers great returns. With the Insider membership, you'll get access to:
Weekly Newsletter: this is an email sent once a week with a condensed view of the discoveries made by Capitalist Exploits.
Trade Alerts: Investors will receive recommendations and investment instructions with a simple text message or email whenever they're available.
Community Forum: Access to a chat room with more than one hundred members. Here users share what they think about current strategies, opportunities and more.
Webinars: Investors will have access to a space where all the recommended strategies and market trends are explained and discussed.
Insider Weekly
This Insider Weekly subscription will allow you to have access to Capitalist Exploits' weekly newsletter on market trends and international investment recommendations. Users will also find sections in the report on particular events and their possible effects on the market.
Resource Insider
This service focuses on recommending the best deals but only in the natural resources market. This team is led by Jamie Keech, who has been researching the natural resource market trends and investing for the past 5 years. He is responsible for reviewing hundreds of investment opportunities.
Jamie Keech also invests in every opportunity he shares within the service. It's worth noting, though, that to access the service you need to be an accredited investor.
Others/Free Content
Besides their paid services, Capitalist Exploits also provides free resources with which anyone can learn about market analysis and investment strategies. These resources include:
Hedgies Uncut: this is a Telegram channel where Capitalist Exploits investors comment on current trends of the market and strategies. Users can read what Capitalists exploit investors are talking about but not participate in the conversation.
The Capitalist Exploits Blog: Although the blog has an exclusive area for paying members, it's still possible to access free and updated information. The blog contains free Capitalist Exploits Newsletters, podcasts and opinion pieces from prominent Capitalist Exploits members.
Free Capitalist Exploits Newsletter: This is a free version of their world-famous newsletter with a reduced amount of information and insight. Still, it offers plenty of value even though it's free.
Performance
The key to why we consider Capitalist Exploits to be the best investment newsletter in 2021 is its performance.
Here's an example. The following table shows a summary of the period between September of 2016 and January of 2017 where Capitalist Exploit invested $1,000 USD on all opportunities they recommended. After the period ended they got a 35% return on average from all investments.
This is an excellent rate of return, and that's only after 4 months! While they don't disclose their total annualized rate of return to non-members, they do offer plenty of information on their best wins. Here are some examples:
Powercell Sweden
This stock was originally bought al 65.6 in March 2019. Fast-forward a year later, and it was already at 237, marking a gain of 261%.
Gran Columbia
After being bought in September 2017 for 1.67 a share, by February 2020 it was already up to 6.89. That's a total growth of 313%. When annualized, that comes to an average 158%. Not bad for gold.
Ceres Power
Ceres Power stocks showed a strong increase in price at the end of 2019, beginning of 2020. Capitalist Exploits was already on their tail when they suggested buying back in 2017. The total return in a period of 2 and a half years was 242%, while the annualized return was 142%.
Cost
The following table shows the costs and basic features of Capitalist Exploits three main services.
| | | | |
| --- | --- | --- | --- |
| Features | Insider | Insider Weekly | Resource Insider |
| Description | Full notices and reports of ideas, sectors, industrials and monthly investment strategies | Monthly investment strategy report | Mining and natural resource investment ideas created by highly trained mining and finance professionals. |
| Price | Annual subscription $1,999 USD | $35 USD per month | Annual subscription $4,999 USD |
| Promotions | 50% discount during certain dates | Your card will be charged $1 USD today, and after one month you will automatically be charged $35 USD per month until you cancel your subscription. | None available at this time. |
| Refund policy | 30-day money back guarantee (100% refund) | You can cancel the subscription in the trial month. | 30-day money back guarantee (100% refund) |
| Requirements | None | None | You must be an accredited investor in your country of origin. |
| Minimum Capital | There are no restrictions. The client invests on his own. However, it is suggested $20,000 USD | There are no restrictions. The client invests on his own. | Depends on the investment. Most don't require a minimum but some do. |
| | INSIDER | INSIDER WEEKLY | RESOURCE INSIDER |
#2 Stock Gumshoe: Best For Educational Resources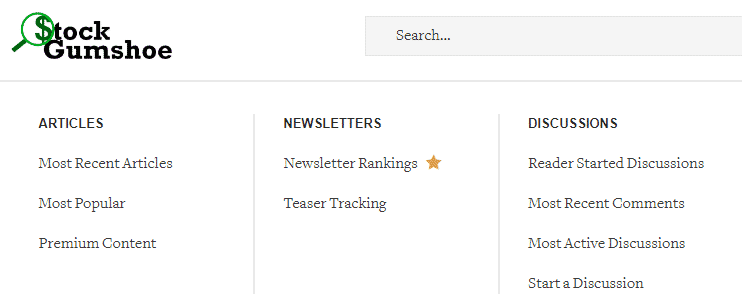 Coming in second place, we find Stock Gumshoe. This company's main objective is to analyze hundreds of news reports and financial bulletins. As a result, it generates detailed articles to convey relevant information to investors.
On top of that, Stock Gumshoe provides clear guidance on how to execute its recommendations. These recommendations are also accompanied by discussions of the risk that each one presents.
Features
Stock Gumshoe offers relevant information in the form of:
Articles
Newsletters
Teaser Tracking
Discussion forums and excellent educational resources
Here's an in-depth breakdown on the main features they offer:
Articles And Newsletters
On Stock Gumshoe's website, users can access an extensive number of articles and newsletters. The reports are easy to read and highly relevant for keeping up to date with financial news. Each article and newsletter is meant to be a different and unique investment recommendation with detailed explanations and data to back it up.
Teaser Tracking
This resource consists of a spreadsheet that tracks the performance of all previous investment recommendations. In it, users will find a link next to each financial instrument that takes them to the specific recommendation article.
Along with the full report, users will be able to check the price of the financial asset at the time of the recommendation, accompanied by the current price of the asset.
Stock Gumshoe is also known for providing a spreadsheet with data for each year. That way, investors can verify the veracity of each recommendation and its performance throughout the years.
One thing that we like about Stock Gumshoe is that it's one of the companies that really encourages its members to be more analytical. In this sense, they advise against immediately believing what financial reports say. It's also one of the most resourceful newsletters and it's very affordable (though it's not the most affordable on this list).
Performance
When it comes to performance, Stock Gumshoe offers what they call Teaser Tracking spreadsheets. These let anyone see what the returns would have been (hypothetically) if you were to have bought their recommendations when they published them and held them until today.
The following table shows some stocks recommended in 2020 along with the buy price from that year and the current price today.
| | | | | |
| --- | --- | --- | --- | --- |
| Company | Ticker | Buy Price | Current Price | Percent Change |
| Canaan | CAN | $2.87 | $7.32 | 155.05% |
| Silvergate Capital | SI | $16.39 | $107.71 | 557.17% |
| The Rubicon Project (now Magnite) | MGNI | $5.01 | $33.55 | 569.66% |
| Trulieve | TCNNF | $6.55 | $38.75 | 491.60% |
| Fulgent Genetics | FLGT | $15.08 | $87.17 | 478.05% |
| VSBLTY | VSBGF | $0.10 | $0.43 | 313.46% |
| Amyris | AMRS | $3.53 | $16.62 | 370.82% |
| Moderna | MRNA | $28.18 | $234.30 | 731.44% |
| Novavax | NVAX | $46.04 | $217.22 | 371.81% |
| Rare Element Resources | REEMF | $0.60 | $1.91 | 218.33% |
| Square | SQ | $50.31 | $241.08 | 379.19% |
| Square | SQ | $53.34 | $241.08 | 351.97% |
| 3D Systems | DDD | $7.52 | $36.11 | 380.19% |
| GAN ltd (was GAN pls in London, split adjusted) | GAN | $7.12 | $16.45 | 131.04% |
| Appian | APPN | $40.71 | $134.18 | 229.60% |
| Fastly | FSLY | $20.25 | $56.47 | 178.86% |
As you can see, some of these suggestions, especially Rubicon and Silvergate, more than sextupled their value in close to 1 year. Others didn't perform as well and others still are currently at a loss. However, if we account for all the 200+ recommendations they made in 2020 and assume that we had invested the same amount on each of those stocks (let's say $100 on each), the result is an average win of about 80%.
It should be noted, though, that since we are assuming an equal allocation across all stocks, which is highly unlikely, then these numbers don't necessarily represent the actual return on Stock Gumshoe's portfolio recommendations.
Cost
Stock Gumshoe offers three payment plans:
| | |
| --- | --- |
| Subscription Plan | Price |
| Monthly plan | $7 per month(adds up to $84 per year) |
| Annual plan | $59 USD per year(you save $25) |
| Lifetime plan | $329 USD(breaks even with the annual plan after 6 years) |
No matter which plan you sign up for, you'll receive all of the same services. So, if you want to give the service a try, we recommend signing up for a month, and see where that takes you.
#3 The Prudent Speculator: Best For Niche Financial Analysis
The Prudent Speculator is a company that provides a series of financial services that focuses on helping to develop investment strategies. In this regard, the company focuses uniquely on financial analysis based solely on stock performances.
The Prudent Speculator's investment philosophy is to buy undervalued stocks and hold them for an extended period of time until they reach their highest possible return. It's not a popular practice in the current scene, but it does have a good set of followers..
The Company's philosophy focuses on three pillars:
Selection
Diversification
Patience
The Prudent Speculator is an interesting newsletter because it has a different approach to its recommendations. It recommends for its investors to hold stocks from three to five years to make the most out of those transactions. That's why they mention patience as one of their main principles.
Features
The main service the company offers is its famous newsletter, which contains detailed and relevant information for each type of investor. The Prudent Speculator newsletter is made up of several sections where they analyze global factors that may affect the stock market, as well as different sectors and industries. The newsletter also features a detailed analysis of particular companies which it recommends investing in. In general, each newsletter is divided into the following sections:
Market Forces
Recommendations
Month's 10-Stock Selection.
Also, The Prudent Speculator provides, along with its acclaimed newsletter, the following services:
Target Prices
Buy List
Portfolios
Performance
The Prudent Speculator's investment portfolio has consistently outperformed reliable indices such as the S&P500 for decades, as you can see in the following graph showing the standardized performance since 1977.
As of writing this post, TPS's total annualized return is at 17.48%, which is 5.67% higher than the S&P500 Index. It may not be the highest number but it's still a very good return considering that they play it safe.
Cost
Just like Stock Gumshoe, The Prudent Speculator offers three payment plans:
Subscription Plan
Price
Monthly plan
$28 per month
(adds up to $336 per year)
Annual plan
$295 USD per year
(you save $41)
2-Year plan
$329 USD
(you save $343)
No matter which plan an investor signs up for, they will receive all the same services. However, the 1-year and 2-years plans offer a money-back guarantee that the monthly plan doesn't. Also, you can save $41 with the annual plan and anything from $247 to $343 with the 2-year plan. Additionally, The Prudent Speculator offers a 23-day trial for just $1 USD.
Overall, The Prudent Speculator is one of the most focused and niche newsletters for investors. On top of that, it's also quite an affordable newsletter, which bodes well for first-time traders that are looking to get started with the right foot.
#4 Fidelity Monitor And Insight: Best For Fidelity Mutual Funds
On fourth position we find Fidelity Monitor and Insight, which is designed exclusively for Fidelity Mutual Fund investors. In this sense, the company's goal is to help Fidelity investors get the highest returns with the least possible risk.
It's a company specialized in asset management and pension funds with a collective investment scheme. That is to say, Fidelity combines the money of many investors and makes investments in a large number of financial instruments.
Fidelity funds are well known for providing small or individual investors access to efficient investment portfolios in the long run. This helps investors find specialized funds in areas like technology and other international long and short-term investments.
Features
The service consists of only the newsletter and a handful other tools and services, all as a part of the same subscription. The Fidelity Monitor and Insight newsletter is published every first business day of each month and reports are generally posted before 3:00 PM Eastern Time.
As far as newsletters go, it's one of the most complete ones we've seen. Users will find the performance of the newsletter's recommendations month by month. Plus, investors can also check the actual returns and the exact composition of each Fidelity Fund that Fidelity Monitor and Insight provides.
Fidelity offers recommendations for 5 different investment portfolios, depending on your risk tolerance and on your financial objectives. These portfolios are:
Unique Opportunities
Select
Growth
Growth & Income
Income
Upon enrolling, you'll have access to 12 reports per year, as well as the following:
Special calculators to analyze your portfolio
Personalized attention
Weekly email alert services.
Performance
The Fidelity Monitor and Insight newsletter has been the best performing Fidelity fund newsletter for the past 30 years.
As of July 1st, 2021, these are the performance indicators for their 5 portfolios:
Portfolio

Day
Month
to Date
Year
to Date
One
Year
Income
0.20%
0.20%
4.82%
13.37%
Growth and Income
0.30%
0.30%
9.45%
30.36%
Growth
0.52%
0.52%
16.14%
46.96%
Select
0.60%
0.60%
13.97%
46.73%
Unique Opportunities
0.55%
0.55%
16.20%
54.47%
The metric we want to focus on is the last column which is the annualized return. There, you can see that Fidelity Monitor and Insight has a great performance that goes from 13.37% to 54.47%, which is not bad at all.
Their Growth portfolio has grown 65 fold in the past 30+ years.
Cost
A Fidelity Monitor and Insight membership only offers one subscription plan:
| | |
| --- | --- |
| Subscription Plan | Price |
| Annual plan | $249 per year(with a 90-day money back guarantee) |
As you can see in the table above, an interesting fact that you should take into account is that Fidelity Monitor and Insight offers a 100% money-back guarantee during the first 3 months of trying out the service. That is triple the time that most other newsletters on this list offer.
Overall, Fidelity Monitor is one of the most solid newsletters out there. It's got great tools and they do great research, but its focus on Fidelity funds alone might turn some heads in another direction.
On the other hand, if you plan on investing in Fidelity funds, this is definitely your best choice, by far.
#5 Contrarian Income Report: Best Low-Cost Newsletter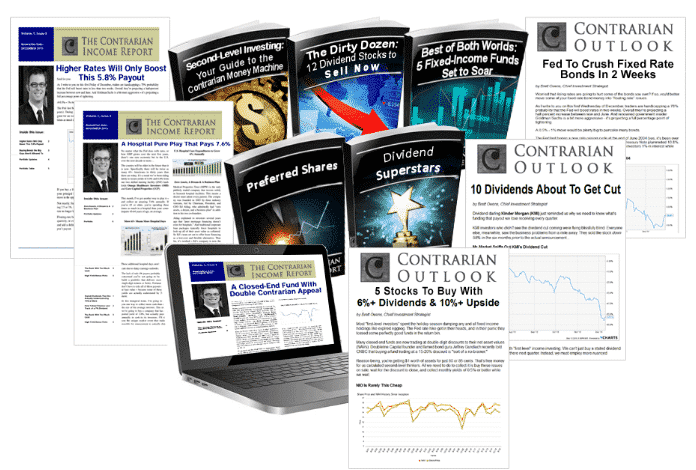 The last position on our list of the best investment newsletters is held by Contrarian Income Report. This newsletter comes from the company Contrarian Outlook. The goal of the report is to provide the best possible advice with high standards and in-depth market research.
The Contrarian Income Report is mainly built around recommendations for pensioners. As a consequence, their strategy is to offer recommendations on stocks that have the potential to generate long-term returns on the one hand, and the potential to generate dividends on the other. In this way, Contrarian Outlook ensures that it is possible to align income and expenses in a few trading movements.
In other words, Contrarian Outlook bases its service on building a steady portfolio of long-term high-yield stocks that can become consistent sources of income during that same holding period.
Features
Contrarian Outlook's newsletter, the Contrarian Income Report, consists of 5 monthly reports that focus on 5 different topics, which are:
#1 Monthly Dividend Superstars: 11% yields with double-digit upside.
#2 The Dirty Dozen: 12 dividend stocks to sell now.
#3 Best of Both Worlds: Fixed income funds that outperform stocks.
#4 Preferred Stocks: Looking past common dividends for 6.5%.
#5 Second-Level Investing: Your guide to the Contrarian Money Machine.
Performance
According to Contrarian Outlook, the portfolios they offer in the Contrarian Income Report show the following performance:
A 7% yield every year
An upside of 10+%
If you put those two together, that means you're getting a total annual rate of return of more than 17% with the added benefit of monthly payouts of your dividends.
This means that, if you invest $500,000, you'll get a passive income stream of $35,000 a year, plus your investment will grow 10% or more by the end of the year.
Cost
Just like Fidelity Monitor, the Contrarian Income Report only offers a single, annual subscription plan:
| | |
| --- | --- |
| Subscription Plan | Price |
| Annual plan | $39 per year(with a 60-day money back guarantee) |
As you can see, this is the cheapest out of all the investment newsletters on this list. For less than $40, you're getting a total of 60 reports (5 every month) that you can use to start building a good and steady income for retirement. Even though it has a very low price, they still offer a 100% money-back guarantee that lasts for up to 2 months.
Overall, Contrarian Income Report is a nice advisor for investors, but its specific focus on stocks doesn't quite align with investors who may be looking to diversify their portfolio with other assets.
What Is An Investment Newsletter?
Investment newsletters are a type of subscription-based service that consists of periodic emails or newsletters in which a well-known investor or a team of investors share investment ideas or recommendations, trading strategies, market news and analysis, and other relevant information designed to help investors make better decisions.
It's a way for weathered investors and traders to capitalize on their deep knowledge and understanding of the financial markets while at the same time helping others learn how to recognize good investment opportunities as they arise.
How Do Investment Newsletters Work?
Investment newsletters work by providing investing recommendations, financial market analysis, and insights into how the markets are performing. All of this information is meant to give the investor a bigger outlook on what's currently going on in the market and/or industry to better understand the trends that the market is following to make a more informed decision when it comes to investing their capital.
In short, the best investment newsletters offer information, and information is power. This information typically includes:
Tips on the best stocks and industries to invest in.
Insight into changes within different markets.
Advice based on trends in both the short-term market and long-term economy.
Investment ideas and a list of which stocks to buy.
Some of these newsletters specialize in particular niches such as commodities, artwork, real estate, natural resources, healthcare, etc. They usually have teams of specialists in those particular fields that not only understand the way financial markets work but also how those specific industries work, which makes them better than most at predicting how they will evolve over time.
What does this mean for you?
What this means for you as an investor is that, by following the advice of experts, you'll be able to make better investments in alternative markets and industries that you don't know too much about, allowing you to diversify your portfolio and protect yourself against risk.
For example, you may be interested in investing in cryptocurrency but you're not sure how to choose where to put your money. A good investment newsletter that specializes in crypto will provide enough information for you to understand how the crypto market works and which coins to invest in at that particular moment.
Related: We recently wrote about one of our favourite alternative investments, farmland, and why we suggest allocating a part of your portfolio to that type of asset. If that has piqued your interest, you can always take a look at FarmTogether, which makes investing in farmland both easy and highly sustainable.
To summarize, investment newsletters work by keeping you informed; Informed about what's happening in the markets and why, and informed about how those markets will probably evolve over time in the short and/or long term.
How To Choose The Best Investment Newsletter?
As with choosing any service, there are a couple of key characteristics you want to look out for when choosing an investment newsletter. Here are the most important ones:
Solid Performance
While it's true that excellent past performance doesn't ensure a good performance in the future, the first thing you want to look at when choosing an investment newsletter is how their recommendations have performed over time. You wouldn't invest in a service that has been proven to give bad recommendations in the hopes that they'll do better next time, would you?
So, make sure to choose one that outperforms similar services over long periods of time. This means that you should choose a newsletter that has chosen investments that earned better returns than the ones other newsletters chose.
How do you compare performance?
You may be asking yourself, ok, so I have to choose the best performing newsletter, but how do I measure performance in order to compare? Well, the ideal metric used to compare performance is the annualized rate of return, which is the average return that the newsletter's portfolios have earned. If you're not sure what the annualized rate of return means, you can check out the glossary at the end of this post where we show you how it's calculated.
Transparency
Another key factor to take into consideration is how transparent a newsletter is about the way they choose its recommendations. A good newsletter should be clear about how and, more importantly, why they choose each individual stock or each sector to invest in. You definitely want to rule out any newsletter that seems to be hiding information or that seems to have secret sponsors, as this shady behaviour could signal that they don't have your best interest at heart and they're likely to have a hidden agenda of their own.
Also, it's important that recommendations are always based on hard facts that you can verify yourself independently if you so choose. Services that claim to have insider information about a big move that's about to happen are likely too good to be true; don't think for a minute that, if they really did have that inside scoop, they would share it with anyone, even for a fee.
Recommendations Tailored To Your Investing Capabilities
There are investment strategies that are highly profitable but that only the big players in the stock market can take advantage of. If a newsletter offers mostly these types of recommendations on which you, as a small investor, can't act upon, then you should look for another newsletter. Else, you'd just be losing your money by subscribing.
Costs vs. Benefits
Getting recommendations that offer great performance doesn't mean anything if you're going to have to pay all of your potential profits for the recommendations themselves. If you're going to choose the best investment newsletter for you and your particular situation, you need to be completely sure that it'll be worth the price. This means analyzing the costs and the potential returns you're likely to make by paying for the service.
To do this, you need to take into account how much you're willing or able to invest, calculate how much you could potentially earn after a year based on the annualized rate of return, and then compare that figure with the annual cost of the newsletter. It may turn out that the service that offers the highest rate of return doesn't represent the best option for you after you account for the annual cost of the newsletter.
Of course, this is only relevant for small investors. For big capitals, even a difference of 0.01 percent in the annualized return could be enough to offset the cost, so in those cases, it's always best to stick with the best performers, regardless of the costs.
Educational Resources
The best investment newsletters don't just tell you what to buy or sell, but they also teach you why you'll want to make those decisions. In this sense, offering a broad range of educational resources is the hallmark of an excellent newsletter.
You see, they understand that even experienced investors still stand to gain from an investing newsletter simply because they don't have enough time to go over and analyze all the vast amounts of data pumped out of the stock markets every minute of every day.
Also, having a community of skilled traders discussing new strategies on their forums is likely to generate even better recommendations and improve their overall performance. Therefore, good newsletters don't feel threatened by their subscribers learning how to use their own judgement to choose how to invest. In fact, they encourage it.
Good investment newsletters prefer a community of active, skilled and successful investors than a group of zombies who blindly follow their every advice and who flip out every time a stock goes down when it's not supposed to.
In Summary
We believe that every newsletter in our top 5 has the potential to help you better understand and improve your investing strategy in different areas of the market or sectors of the economy. They represent a source of information that will allow you to be aware of the direction that the financial markets are taking.
Some of these newsletters are specialized in particular niches of the market where they'll outperform the competition. In this sense, if you're thinking about investing for retirement and want to spend only the bare minimum on investment advice, you should choose Contrarian Income Report.
On the other hand, if you plan on investing in Fidelity funds, there's no better option than Fidelity Monitor and Insight. However, none of the other four compare to Capitalist Exploits in terms of overall performance, which is why we believe that Capitalist Exploits is the best investment newsletter for 2021, no matter what markets you want to invest in. Other reasons to choose this newsletter over the others include:
Capitalist Exploits provides an incredible amount of information about financial markets that help beginners learn and understand from scratch.
Capitalist Exploits is focused on identifying high-return and low-risk investment opportunities, but not only specific opportunities, but also trends that can be followed for immense profits.
The level of diversification you can achieve by following Capitalist Exploits' recommendations is unparalleled by any other newsletter. This allows you to create more efficient portfolios to achieve sustainable gains with minimum risk.
In terms of pricing and performance, you'll find a summary of the 5 newsletters in the following table.
Newsletter
Performance (annualized rate of return)
Cost of Monthly Subscription Plan
Cost of Annual Subscription Plan
Cost of Other Subscription Plans
#1 Capitalist Exploits
35%+
(on low risk investments)
Insider Weekly: $35 USD/month
Insider: $1,999 USD/year
Resource Insider: $4,999 USD/year
—
#2 Stock Gumshoe
Doesn't disclose
$7 USD/month
$59 USD/year
$329 USD (lifetime membership)
#3 The Prudent Speculator
17.43%
$28 USD/month
$295 USD/year
$495 USD (2-year plan)
#4 Fidelity Monitor and Insight
13.37% to 54.47%
(high risk investments)
—
$249 USD/year
—
#5 Contrarian Income Report
Approx. 17%+
—
$39 USD/year
—
As you can see, the cheapest option is obviously Contrarian Income Report. Nevertheless, Stock Gumshoe offers a good service with excellent educational resources for a similar price. On the other hand, while Capitalist Exploit's Insider subscription may seem high, it's only because, apart from their newsletter, which costs only $35 a month, you're also getting trade alerts that can let you take advantage of great investment opportunities on short notice. This can be highly profitable since, in investing, timing is everything.
The webinars are also a feature other newsletters don't offer, and they can be a great way to learn and become a better investor over time.
Finally, they also offer the flexibility of choosing the weekly newsletter alone if you don't or can't pay the full $2,000 subscription upfront, and a risk-free, 30-day money-back guarantee that will let you try the service before committing to it for a full year. If you want to give the best investment newsletter of 2021 a try, then just click on the button below.
Decision Process Behind The Use Of An Investment Newsletter
Congrats! You now know what investment newsletter to sign up to. It will definitely help a lot in terms of figuring out which investments you should start with, but remember, these recommendations are neither set in stone nor are they failproof, no matter which newsletter you choose. You still need to use your own judgement, however, limited it may be due to inexperience, to make the final decision.
Here are some pointers on how to use the information you'll find on an investment newsletter wisely:
Should You Buy The Monthly Stock Recommendations From An Investment Newsletter?
The first thing you have to avoid is following anyone's advice blindly when it comes to investing, and that includes the information in an investment newsletter. When you receive a specific recommendation, you should do your best to understand why the newsletter recommended it in the first place. That probably means doing a bit of research and critical thinking at first, but it's absolutely worth it to try and figure out for yourself if the thesis they propose holds any water.
If you feel that it does and if you don't see any strong reason not to invest, then go for it! but, even so, it's best to start with a small investment and see how things play out.
It may be that you don't understand everything at first, but things will get easier over time as you learn more and more. Remember, at the end of the day, it's your money and it's your decision.
Always Perform Your Own Due Diligence
This basically means that you should never assume that the data and the facts presented by a newsletter are 100% accurate. Therefore, you should cross-check the facts yourself whenever possible.
Remember, decisions are made based on facts, and these facts should be readily available for you to verify.
Should You Invest In Individual Stocks?
This depends on your risk tolerance. If you're young, say in your 30s, you'll probably be able to weather a potential downturn in an investment, so you'll be able to risk investing in individual stocks which are riskier than other assets such as index funds. Remember, the more the risk, the more the potential returns.
A good strategy to use is to invest a part of your capital in low-risk investments such as retirement accounts and another part in higher-risk investments such as individual stocks. A newsletter will come in handy when it comes to finding the right stock to choose, but you still have to do due diligence to decide if it's the right choice for you.
Should You Blindly Follow Stock Recommendations from Investing Newsletters?
No. As we mentioned before, even the best investing newsletters aren't fail-proof since it's impossible to predict with absolute certainty how the stock markets are going to perform in the future. When you do consider following the newsletter's advice, though, you should ask yourself these questions before doing so:
Does the company share your values?
How strong are the company's finances?
Do the latest news support the growth tendencies?
What does the media say about the company?
Do the recommendations reflect your investing style, or are they too risky?
Taking these matters into consideration will help you make a decision you're comfortable with, which, for better or for worse, will be the right decision for you.
Are Stock & Investment Newsletters Worth It?
They can be. Some investment newsletters, like Capitalist Exploits, have a proven track record that shows they've helped many investors make wise and profitable decisions. This type of information is especially valuable and relevant for new investors who are still getting the hang of things. Having someone take you by the hand in this scenario can well prove to be invaluable.
How To Get Started With The Best Financial Newsletters
Signing up for an investment newsletter is a great way to start investing with a strong footing. However, getting started means reading and studying a lot if you don't want to lose your money. That's why we've done the research for you to cut down your research process significantly. If you're ready to get started today, we suggest Capitalist Exploits as the investment newsletter with the greatest track record.