Finimize is an investing newsletter for millennials that provides updated news in a fresh and easy-to-read new format. Currently, the platform has more than 600,000 users and provides free and subscription services.
If you are an investor or are considering investing your capital, you need to complement your strategies with expert financial advisory services. In this way, you will be able to make better decisions, choose the best balance between risk capital and structure profitable investment plans. Taking that into consideration, we recommend you take a look at our top investment newsletter picks.
What Is Finimize?
Finimize is a daily email about business, the markets, the economy, and investing. It's geared toward millennials, but has found a much wider audience due to its factual yet approachable style.
The founders of Finimize created the company thinking of all those people who want to get a return on their savings but who do not trust or cannot pay a financial advisor. In fact, Finimize's goal is to contribute to creating a world without financial advisors.
Finimize currently has more than 600,000 subscribers between its free and paid subscription services. Its aims for the platform include:
Being your three-minute guide to what's going on in finance and what it means for you.
Connecting and sharing ideas with a global community.
Going deeper with in-depth analysis and practical guides.
Catching up on the latest stories in just a few minutes per day.
Finimize Features
In Finimize you will find several services that will allow you to be updated on what is happening in the business and financial world in a light, fast and interesting way. You will see that it is also a source of fresh, impartial and accurate news, which will allow you to stay informed of what is happening in the business world.
On the website, you will even find a glossary of terms that can help you with some words of financial jargon. In fact, one of Finimize's goals is to put aside financial jargon and speak in a language in which everyone can truly understand what is happening in the world.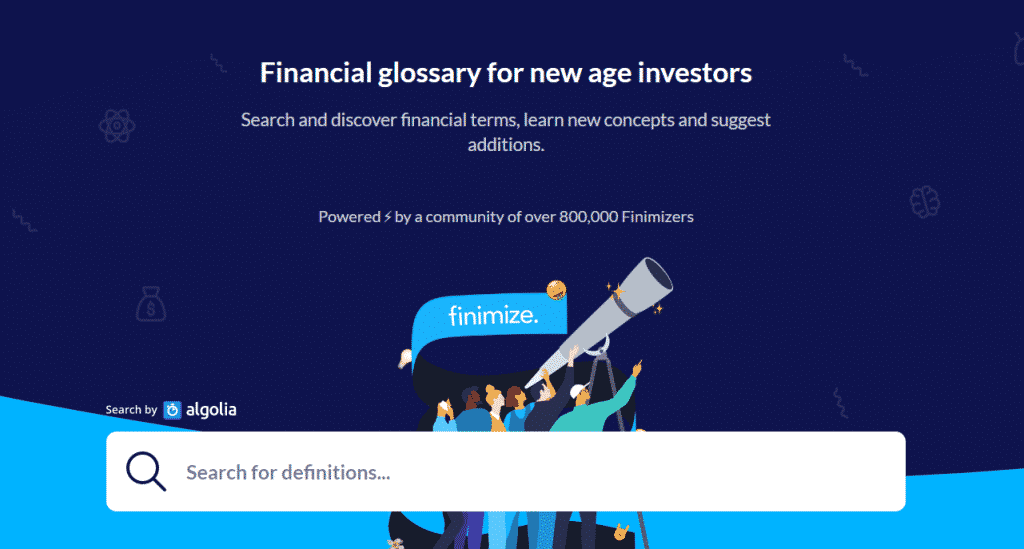 Next, we will dedicate an entire section to each of the services that you can access with Finimize:
Daily Newsletter
Finimize App
Finimize Mylife
Finimize's Daily Newsletter
This free service consists of a summary of the main and most influential business news. You just have to register your email and you will receive the newsletter with the news summary every morning. Daily Newsletter is a modern service based on a new business model that can be cataloged with a modern millennial newspaper. But, anyone can use this service to be informed.
This is a really easy-to-read and highly synthesized daily newsletter. You will not need more than 3 minutes of reading to start the day updated. Furthermore, the Daily Newsletter's editorial style seeks to put aside financial jargon. To activate this service, you only need to enter the Finimize website. Then, enter your email when you see the following sign:

Once registered you will immediately receive the following message in your mailbox. Remember that you will receive this newsletter totally free every day.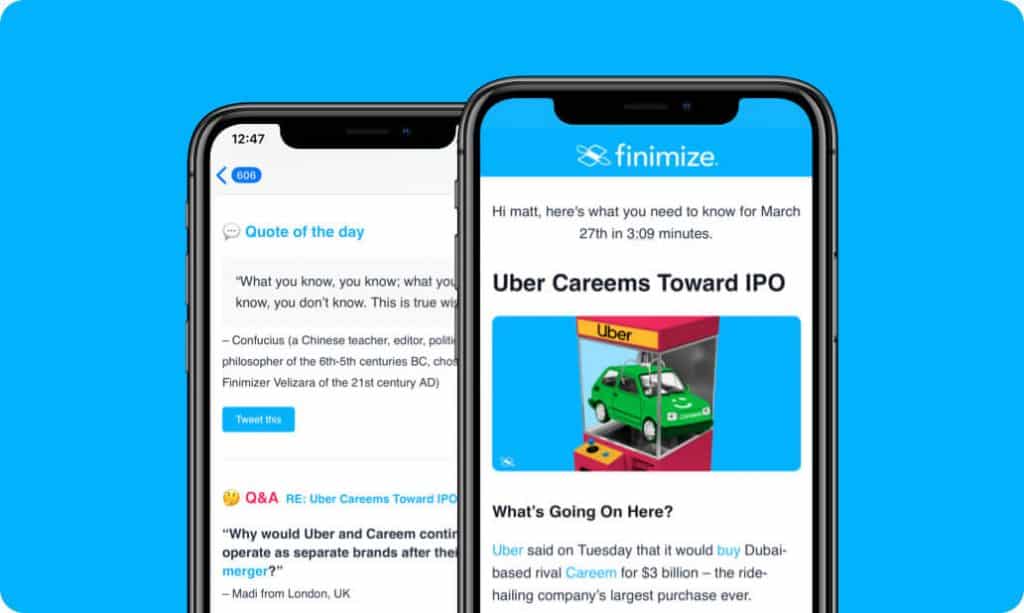 What Can You Read In The Daily Newsletter?
Every day you can find short articles on fresh and highly synthesized news that you can really read very quickly. Usually, you will see in your inbox the title of the main news of the day. Also, when you see the mail you will find a small index with the main topics and even the estimated time it will take to read the news. In general, the estimated time is between 3 and 7 minutes approximately. For example, some of the news that you can see are:
An article titled "Them's The Brakes" where you will see that the car rental company Hertz has been afflicted by the pandemic. You will see that the company filed for bankruptcy May 2020.
In "Cold Reading" you will see another example of the side effects of a pandemic. Oracle was the victim of late payments. Yet, you will see that this scenario could be an opportunity for Oracle if it can operate with cloud-based software, as Adobe and Salesforce have done.
Another interesting news that you can read quickly is "Megachips". It is the largest manufacturer of microchips in China. SMIC announced that it is a public company and that its shares are available.
Once you've done your research and made your choice, it's time to invest. For that, you'll need a trustworthy broker like Capital.
The Finimize Mobile App
Finimize aims to offer you all the tools you need to learn about how to plan, save and invest your capital. The app includes specialized market news, expert-led discussion groups and more than 50 investment topics available in text or audio format, with more information added every week. All these tools help you contrast your investment ideas so you can make the best decisions and create better and more profitable investment strategies.
4.1 News
In Finimize App you can see all the news you will receive daily in your email. This option will allow you to see the list of all past news so you can re-read it.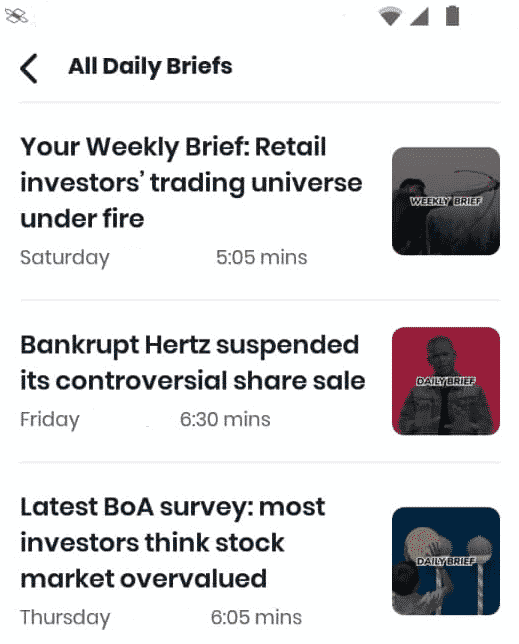 The app also allows you to view investing basics, portfolio construction, investment choices and community. These services are interesting.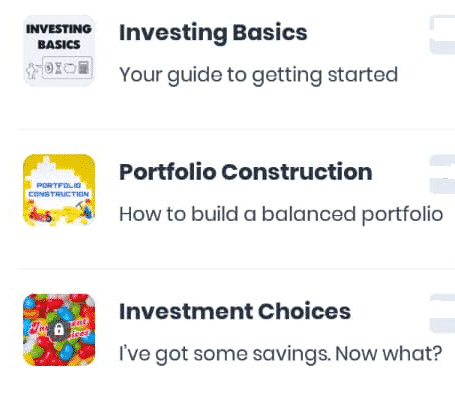 4.2 Investing Basics
This option will allow you to access a series of topics created for all those people who want to start in the world of finance. Each of the topics that you will see in this section have two formats: you can read or listen to them.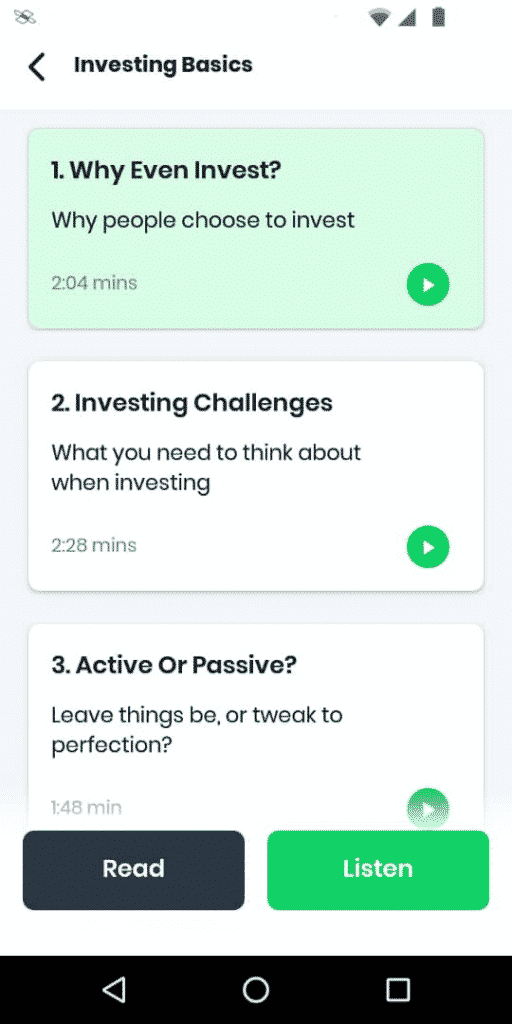 4.3 Portfolio Construction
In this section, you will see how to structure an investment portfolio. You will see that you do not need to be an expert because you can learn each concept from the product.
4.4 Investment Choices
Finimize App will also give you access to countless investment ideas. The mobile application allows you to choose between reading or listening and you will even see the time you must spend on each topic.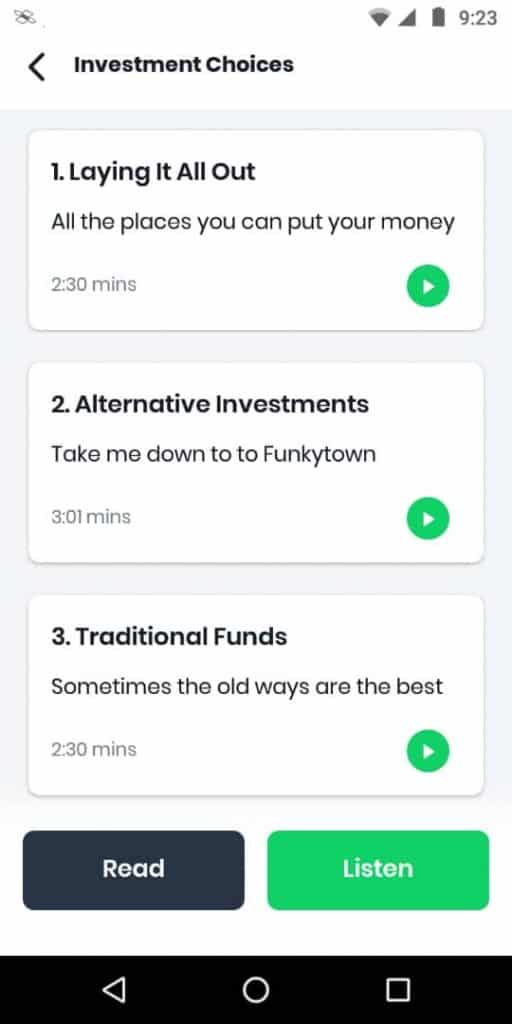 4.5 Community
With the Finimize App, you can find events that will allow you to be in contact with the Finimize community. In this way, you will have the opportunity to increase your financial wellness. When you enter the application you will see all discussion topics and you can register in which you want to take part.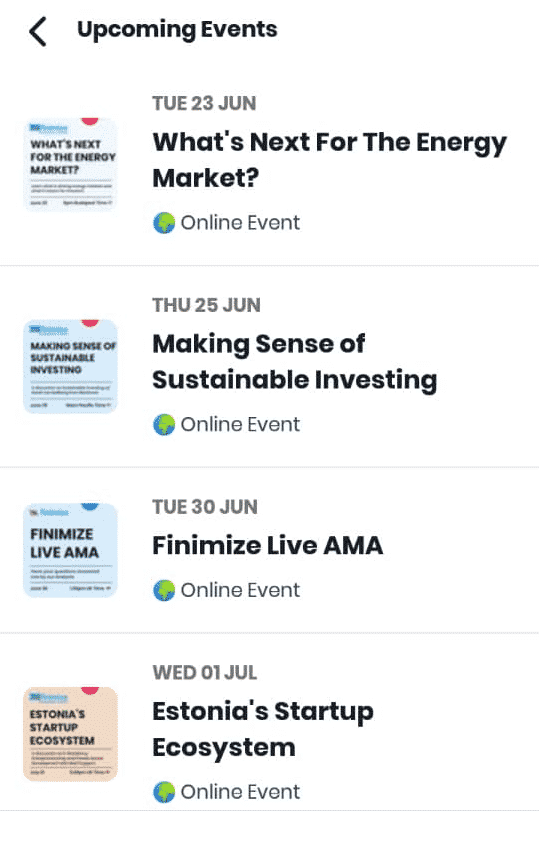 Finimize MyLife
Finimize started as a daily newsletter in a new format for people seeking financial freedom. But, Finimize's mission is to build a "TripAdvisor" for finances, which is why it has invested great effort in developing a web portal and an app that allows you to learn about a wide variety of topics so that you can generate a good investment plan.
With Finimize you will also plan your expenses and how to invest your capital. Once you've signed up with Finimize, you have to enter some simple personal details. These include your country of residence, age, salary, savings, income, extra income, and debts, such as credit cards or personal loans.
After supplying all these data, the platform generates a financial plan according to your profile. For example, you might find suggestions about how much money you should save from your income, which is the best time to pay your debts and recommendations about emergency funds. You can also add your goals and you will receive a plan of what to do if you want, for instance, to buy a car or a house or save for a great trip.
How To Join Finimize
Signing up for Finimize is really easy—just add your name and email.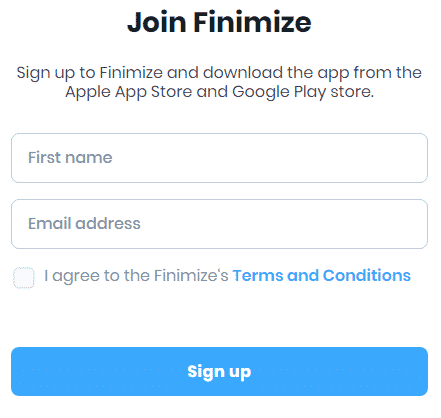 Then you will receive a code in your email that you must enter on the platform so that you can register and join. Finimize offers you a start free trial so you can see a sample of all the services it offers. However, in order for you to enjoy all the services of the platform, you must pay the membership.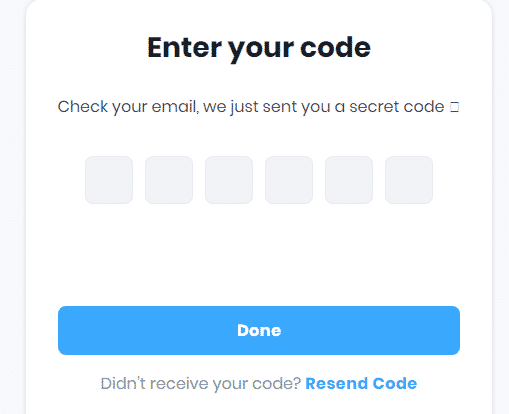 Finimize Cost
Finimize's annual membership package costs $60 USD/year. When you join Finimize, you'll receive the following features:
One Daily Brief, stay up to date in under 7 minutes.
Access a library of jargon-free analyst reports.
Available in audio and text.
Tech, stocks, personal finance and more.
Exclusive Premium meetups.
In addition, Finimize has a trial version that will allow you to see a sample of the content it offers. Unless you cancel during this time, you will be charged $59.99 USD. Cancel anytime on your profile by selecting Manage Subscription. We recommend you take the trial version and if you don't like it, simply suspend the service before the trial ends.
Does Finimize Replace Financial Advisors?
Unfortunately, no. Finimize seeks to provide information services so that its members are their own advisors.
Finimize is not regulated by the Financial Conduct Authority and does not offer any regulated services. The content, comments and materials published on the platform are strictly for public information purposes.
Please note that the comments, material and content displayed on the Finimize Platform do not constitute advice of any kind. In this way, the information published on the platform should not be interpreted as a recommendation for you to buy, sell or maintain this or any other security, financial product or investment.
Finimize vs. Capitalist Exploits
Keep in mind that Finimize is not a financial advisory service; it's just a newsletter where you can read updated news. We recommend that you only listen to investment recommendations from leading advisors and experts. In the financial world, there are endless portals that promise to give the most accurate recommendations so that you can get rich. However, not everyone is right. In fact, very few offer financial services with high technical criteria and quality standards. For this reason, in our search for the best financial services, we recommend Capitalist Exploits.
Below you can see a summary table with the main features of Capitalist Exploits:
Characteristics
Capitalist Exploits
How do they select investments?
Capitalist Exploits seeks investment opportunities worldwide through in-depth analysis, market research, and investment networks.
The team looks for the best investment opportunities in different sectors, industries and global markets.
Then they determine if the opportunity can be safely seized. After identifying opportunities, they estimate the risk associated with each investment to select the best risk-capital ratio.
The next step is to identify the most appropriate way to allocate capital in each scenario. In this way, investors can adapt to possible changes.
Are the recommendations diversified?
Yes, they provide a high level of diversification because Capitalist Exploits seeks investment opportunities worldwide in and out of the stock market.
Do they help you analyze each recommendation?
Yes
Do they generate free content?
Yes, the company offers free content and a blog with highly relevant podcasts and opinion pieces. Capitalist Exploits also offers a private Telegram channel called "Hedgies Uncut". There, hedge fund managers discuss their investment positions and ideas.
What type of investor is it for?
Anyone with any level of experience or geographic location can use the service. It is ideal for both long-term and short-term investors who are looking for investment opportunities in and out of the stock market. For example, shipping, energy, natural resources, Bitcoin and many more.
#9 Finimize Pros And Cons
Pros
It is a modern newspaper very easy to read.
The content is very well written, it is fresh and modern.
Finimize App has a great interface.
It has a very useful trial version.
Provides some of its services for free.
Cons
Finimize's trial is very limited. Much of the content is restricted.
Finimize it's just a news service. If you want a newsletter really focused on investment analysis done by experts and that also has a format that allows you to quickly access relevant information, we recommend Insider Weekly. This is one of the Capitalist Exploits services for people who need a business advisor and who also have a very full agenda. This is a weekly newsletter at a very affordable cost compared to other providers and especially with the quality of the Capitalist Exploits service.
Summary Of Our Finimize Review
Finimize is an investing newsletter for young people (millennials).
It is designed for all those people who want to get a return on their savings but who do not trust or cannot pay a financial advisor.
Currently, the platform has more than 600,000 users and provides free and subscription services.
In Finimize you will find several services that will allow you to be updated on what is happening in the business and financial world in a light, fast and interesting way.
With Finimize you will have access to Daily Newsletter, Finimize App and TripAdvisor.
Signing up for Finimize is really easy.
Finimize's annual membership package costs $59.99 USD per year. Also, Finimize has a trial version.
Finimize is not regulated by the Financial Conduct Authority and does not offer any regulated services.
We recommend a reputable and reliable investment advisor. If you are just starting out in the investment world, or are already a professional, but don't want to be exposed to high risks, we recommend that you join Capitalist Exploits today for three reasons:
The first is that Capitalist Exploits provide an incredible amount of information about financial markets that help beginners learn.
The second is that Capitalist Exploits is focused on identifying high-return, low-risk investment opportunities, which is exactly what someone who is just starting out on business needs.
Finally, the level of diversification offered by Capitalist Exploits will allow you to create more efficient portfolios to achieve your goals.