The American Express Cobalt card has been receiving a lot of attention since its fall 2017 launch, and with good reason: it's an extremely compelling offer. $10/month for a card that gets you 5x the points on food and drink purchases in Canada and 2x the points on travel purchases anywhere in the world is an excellent deal.
But of course, as we've come to expect from American Express through their other offers—like the Platinum Card, the Business Platinum Card and the Business Gold Rewards Card—there's much more to the Cobalt than meets the eye. Once you learn the ins and outs of this card, I'll be surprised if you aren't applying for one of your own by the end of this post.
If you don't want to read this entire post, here's the gist:
We recommend applying for both the Amex Cobalt Card and the Amex Platinum Card to maximize both your travel options and your statement savings.
The question is…why?
The Amex Cobalt card is the first and only American Express card to offer a monthly fee in lieu of an annual fee. It's marketed at millennials and near-millennials, so if you fit either of these, you'll definitely want to give the Cobalt card a closer look.
Normally, I recommend using your American Express points on flights, since you can get exceptional deals like these that we mention in our post on the Platinum Card:
Roundtrip Toronto to Hong Kong
70,000 points
$100 total taxes/fees
Roundtrip Vancouver to Hong Kong
60,000 points
$90 total taxes/fees
Round-the-world Toronto to Hong Kong to Dubai to London to Toronto
74,500 points
$761 total taxes/fees
Round-the-world Vancouver to Hong Kong to Dubai to London to Vancouver
74,700 points
$742 total taxes/fees
But the difference with the Cobalt card is that you use a different points system when spending your points on flights. American Express has introduced a new tier of points called Membership Rewards (MR) Select, which are usable for just about everything that the other MR points (which you receive with the Platinum, Business Platinum and Business Gold Rewards cards) are, including hotel stays and travel purchases, but you can't transfer them to loyalty programs like Aeroplan or Avios. So rather than valuing these MR Select points at two or three cents per point, I suggest a value of one cent per point, since that's what you can redeem them for directly against your American Express statement.
So the Amex Cobalt comes with both good and bad. The bad is the change I just described: the method for redeeming your MR Select points for flights is a bit different, so many of our strategies for flying from Asia to North America for $75 or from Canada to Europe for $50 are less relevant.
But the good is really, really good: once you know how, you can save 10% on your monthly spending using the Cobalt card.
Save 10% on your spending with the American Express Cobalt
If you apply for the American Express Cobalt card today, you'll receive 2,500 MR Select points for every month of the first year that you charge $500 to the card.
On top of that, you also earn 5x points for every dollar you spend on food and drinks, and American Express is generous with their definition of food and drinks:
Restaurant, quick service restaurant, coffee shop and drinking establishments in Canada, stand-alone grocery stores in Canada, delivery of food and groceries in Canada…
In other words: you earn 5x the points at all restaurants, bars, cafés, grocery stores, and food delivery services (UberEATS etc.), making the magic $500 monthly threshold fairly easy to hit for most of us (about $120/week in food). And when you do…
You'll save 10% on that month's spending.
Here's the math to show what I mean:
2,500 bonus points for spending $500/month
+ 2,500 points (5x points on $500 spent on food/drinks)
= 5,000 points earned per month
When you apply those points at the one cent per point valuation I mentioned above (which is as simple as applying them against your American Express statement, nothing more), you get $50 back on your $500 of spending. That's a savings of 10%!
Here's how it looked when I applied 4,000 of my MR Select points against two flights I'd recently redeemed my regular MR points for on Aeroplan:
The best credit card for you depends on what you want out of life.
Take our 60-second quiz for a personalized recommendation.


Of course, it's not a problem if you don't spend $500 per month on food and drinks. Let's imagine that one month you only spend $300 on food and drinks and the other $200 on something else:
2,500 bonus points for spending $500/month
+ 1,500 points (5x points on $300 spent on food/drinks)
+ 200 points (1x points on $200 spent on other items)
= 4,200 points earned per month
In this case, you end up with 4,200 points, worth $42, for a savings of 8.4%. This trend continues: the more you spend on food and drinks, the higher your monthly savings will be.
While we're at it, let's look at some of the other benefits of the Cobalt card:

Emergency travel medical insurance
Extended purchase insurance
Flight delay insurance
Hotel burglary insurance
Lost/stolen baggage insurance
Car rental damage/theft insurance
Plus much more…
What About Foreign Currency Exchange?
While you earn 2x the points on travel purchases like flights and hotels, you still pay a currency exchange fee with the Cobalt card, which normally adds about 2% to the purchase price. 2% isn't huge, but if you spend $5,000 over the course of a month-long Europe trip, that's an extra $100 you've thrown away in currency exchange fees. Instead, I recommend picking up the N26 Black card, which leverages TransferWise's technology to offer zero currency exchange fees and free ATM withdrawals around the world. Since getting my N26 Black two years ago, it's been my go-to travel card, and I absolutely love it.
Did you know: Cobalt cardmembers receive regular perks such as bonus reward offers and access to great events
Boosting Your Points With Fixed Points Flight Rewards
The one cent per point valuation I've suggested above is extremely easy to achieve: all you need to do is apply your points against the spending on your American Express statement, nothing more. However, American Express' Fixed Points Flight Rewards offer value that's up to twice as good. Here's how to capitalize on that.
The table below shows the redemption costs for various destinations around the world using the Fixed Points system. As you can see at the very top, you can redeem 15,000 points to offset $300 (value of 2 cents per point) on short-haul routes like those between Toronto, Montreal, Ottawa and New York, as well as between Vancouver and Calgary. Longer flights offer a slightly lower valuation (1.5-1.75 cents per point), though if you choose your routes wisely, they can still save you hundreds of dollars more than what you're already saving by applying your MR Select points directly against your American Express statement.
At the end of the day, you really can't lose.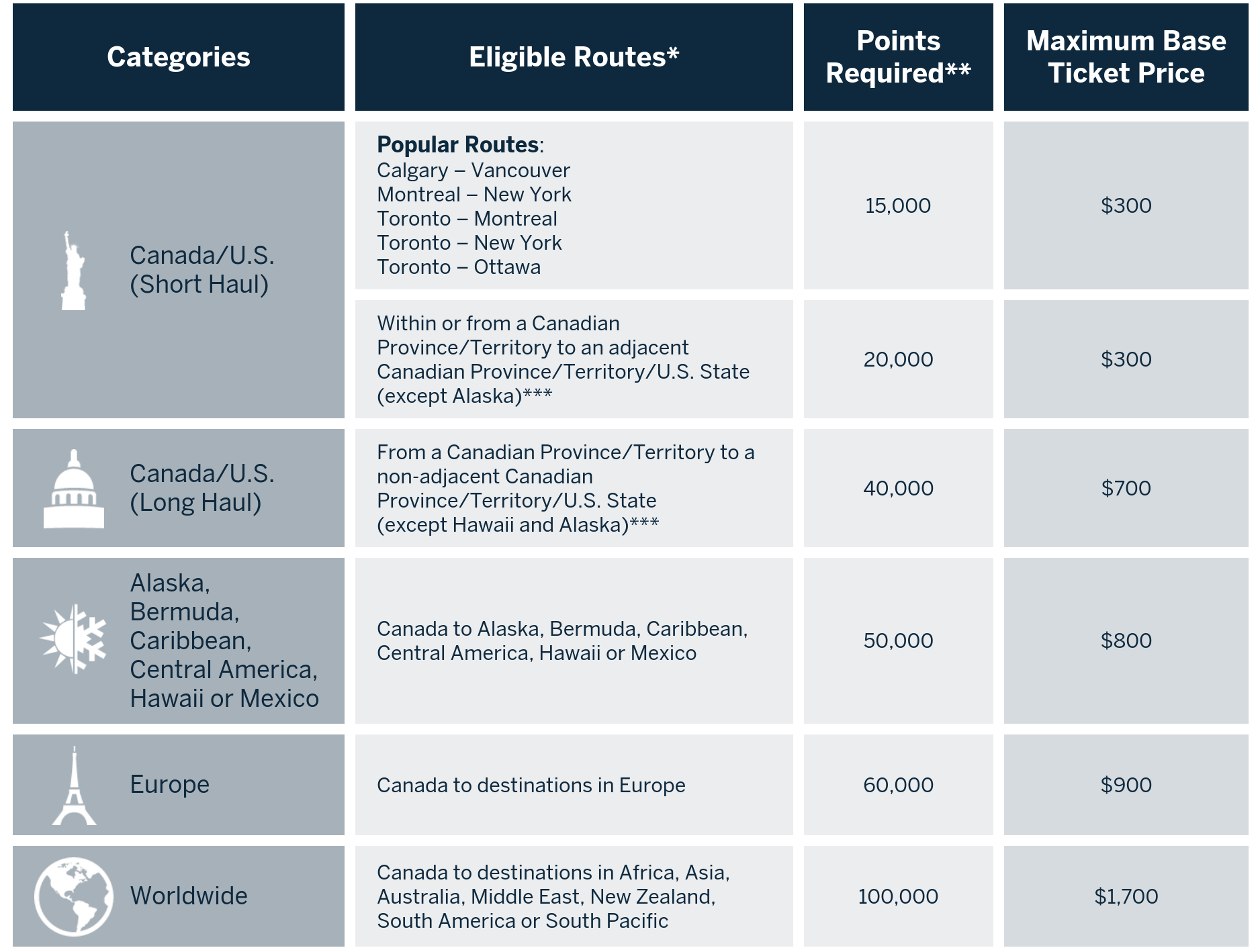 The Bottom Line
Once you add in all of the other benefits, this card is an excellent choice. Add it to your arsenal of the Platinum Card, the Business Platinum Card and the Business Gold Rewards Card, and you're laughing.
So…will you take advantage of the Cobalt card or let it pass you by?
This post was not sponsored. The views and opinions expressed in this review are purely my own.