With a welcome bonus of up to 30,000 MR points, a 5X earning rate on eligible eats & drinks (including groceries and food delivery) and a monthly fee of just $10, the Amex Cobalt Card is one of the best credit cards for most Canadians.
It's probably our favourite card of 2019, and we can't recommend it highly enough. Apply with confidence today.
The American Express Cobalt card has been receiving a lot of attention since its fall 2017 launch, and with good reason: it's an extremely compelling offer. $10/month for a card that gets you 5x the points on eligible eats and drinks (including groceries and food delivery) in Canada and 2x the points on travel purchases anywhere in the world is an excellent deal.
But of course, as we've come to expect from American Express through their other offers—like the Platinum Card, the Business Platinum Card and the Business Gold Rewards Card—there's much more to the Cobalt than meets the eye. Once you learn the ins and outs of this card, I'll be surprised if you aren't applying for one of your own by the end of this post.
The Cobalt Card is marketed at millennials and near-millennials. If you fit either of those descriptions, you'll definitely want to give it a closer look.
Pros & Cons Of The Amex Cobalt Card
PROS
CONS
• Monthly fee of just $10 with no annual fees
• Up to 30,000 MR welcome bonus points for using your card every month
• $100 in hotel credit annually
• Save up to 10% on your purchases during the first year of card membership
• One of the best and most flexible points earning rates of any credit card in Canada
• Points are easy to use
• Up to 9 additional additional Cobalt Cards for free
• $30,000 cap on the 5X earning rate (equivalent to 150,000 MR)


Amex Cobalt Features & Benefits
Welcome Bonus
• 2,500 MR points every month you charge at least $500 to the Cobalt Amex Card, for a total of up to 30,000 MR points
Travel Benefits
• $100 hotel credit for spa, restaurants and other amenities at The Hotel Collection participating properties
• Complimentary room upgrades at The Hotel Collection participating properties
Monthly Fee
$10
Additional Card Fee
Up to 9 free additional cards
Points Earned Per $1 Spent
• 5X on eligible eats and drinks, including groceries and food delivery
• 2X on eligible travel & transit
• 1X on everything else
American Express Invites
✔
Travel Coverage
• $5,000,000 Emergency Medical Insurance (Out of province/country)
• $250,000 Travel Accident Insurance
• Flight Delay Insurance
• Baggage Delay Insurance
• Lost or Stolen Baggage Insurance
• Hotel/Motel Burglary Insurance
• Car Rental Theft and Damage Insurance
Purchase Coverage
• Buyer's Assurance Protection Plan
• Purchase Protection Plan
Eligibility
• Canadian citizens or residents
• A valid Canadian Credit file
• An account in good standing (recommended credit score of at least 650)
Type of Card
Credit Card
Applied Interest Rate
• 19.99% on purchases
• 22.99% on funds advances
The Amex Cobalt Card's New Fee System
The Amex Cobalt Card is the first and only American Express card to offer a monthly fee in lieu of an annual fee. This makes the Cobalt Card extremely affordable for most Canadians, because you don't have to pay one single, bulky annual fee. Instead, the annual fee gets split up across twelve more manageable payments, and those payments are just $10/month.
Membership Rewards or Membership Rewards Select Points?
Before discussing the Cobalt Card's bonus points, there's something we need to clear up first:
What type of points does the American Express Cobalt Card earn on purchases?
The short answer is: Membership Rewards (MR) points, which are the tier points for American Express' loyalty rewards program.
Why do we need to clear this up?
Because the Cobalt Card used to earn a different type of points. Back in 2017, when American Express launched the Cobalt Card, they introduced a new tier of points called Membership Rewards Select points. MR Select points were usable for just about everything that regular MR points (which you receive with the Platinum, Business Platinum and Gold Rewards Cards, among others) are, including hotel stays and travel purchases, though you couldn't transfer them to other loyalty programs like Aeroplan or Avios.
What Changed In 2019?
This small difference in the flexibility of the MR Select points ended up hurting their valuation, and meant that some Canadians stayed away from the Amex Cobalt Card. However, in the first half of 2019, American Express phased out MR Select points and moved the Cobalt Card to the MR program, making it an even stronger card offer.
How Much Are Amex Membership Rewards Points Worth?
The short answer: 2-3 cents per point.
The long answer: The value of any loyalty program's points depends on how you use them. Keeping this in mind, American Express offers a lot of flexibility regarding what you can do with your Memebership Rewards points.
The best way you can use your American Express MR points is on flights. You can transfer them to Avios at a 1:1 rate and get exceptional deals on both domestic and international flights, like those that we mention in our post on the Platinum Card.
An equally productive choice is to transfer them to Aeroplan miles (also at a 1:1 rate) and leverage Aeroplan's great deals and impressive partners list to get awesome flights for a fraction of the price.
In both these cases you'll get an average value of 2 or 3 cents per point.
However, you could end up getting even more with some creative flight hacking. Start by answering our 60-second quiz to find the best travel credit card for you – we'll give you customized recommendations from there.
How To Use Your Amex Cobalt's MR Points
There are four basic ways in which you can use your American Express Membership Rewards points:
For statement credits towards any purchase
For flights either with Amex's Fixed Points Flight Rewards, or by transferring your MR points to partner airline programs like British Airways Avios or Air Canada Aeroplan
You can transfer them to Marriott Bonvoy™
For purchases at different retailers and Amazon.ca
#1 Using your MR Points As A Statement Credit
This is, by far, the easiest way to redeem your MR Select points. By exchanging 1,000 points, you'll get a $10 statement credit towards eligible travel purchases. If you use the same amount of points towards any other purchase, you'll get $7. This means your points are worth 0.7 – 1 cent per point.
This isn't a great valuation, but it sure is the easiest type of redemption you can get. It's absolutely hassle-free. All you have to do is:
Log in to your Amex account through the Membership Rewards site.
Choose to use your points.
Select which purchase you want the statement credit to be used for.
Choose how many MR points you want to use. The minimum is 1,000 points.
Here's how it looked when I applied 4,000 of my MR Select points against two flights I'd recently redeemed my regular MR points for on Aeroplan:
#2 Three Ways To Use Your Cobalt's MR Points For Flights
You can get on different flights with your MR points in several different ways. The most direct approach is to use your MR points directly with American Express' Fixed Points Flight Rewards. However, to get the highest possible value for every MR point, you should transfer them to British Airways' Avios or to Air Canada's Aeroplan miles.
#1 Fixed Points Flight Rewards
The 1 cent per point valuation I've suggested above is extremely easy to achieve: all you need to do is apply your points against the spending on your American Express statement, nothing more. However, American Express' Fixed Points Flight Rewards offer value that's up to twice as good. Here's how to capitalize on that.
The table below shows the redemption costs for various destinations around the world using the Fixed Points system. As you can see at the very top, you can redeem 15,000 points to offset $300 (value of 2 cents per point) on short-haul routes like those between Toronto, Montreal, Ottawa and New York, as well as between Vancouver and Calgary. Longer flights offer a slightly lower valuation (1.5-1.75 cents per point). However, if you choose your routes wisely, they can still save you hundreds of dollars more than what you're already saving by applying your points directly against your American Express statement.
At the end of the day, you really can't lose.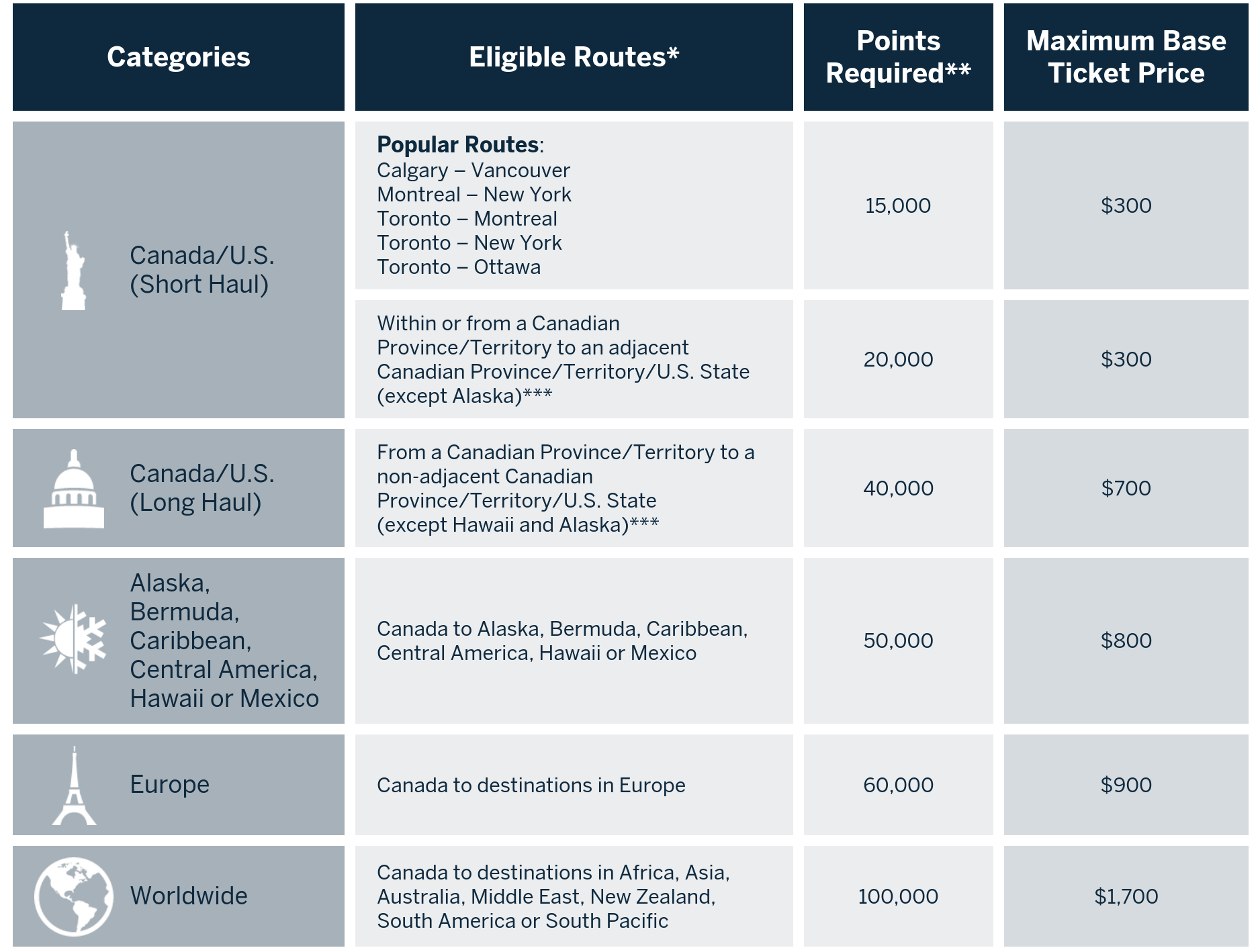 The upside to this redemption method is that you'll get up to twice the value of the statement credit. It's also a very easy way of using your points on flights. The downside is that you can only use it for round-trip tickets, and it's not the best choice when it comes to flight hacking an exceptional route.
#2 Avios
British Airways' Avios points are very valuable. They can be used in a broad number of ways to get on really fantastic flights. They don't impose the condition of return fares only, like the Amex Fixed Points Flight Rewards. As such, you'll have a lot more flexibility when choosing how you want to use your points.
You'll find all the details on how to maximize your MR points by transferring to Avios in our post on the Platinum Card. However, here's a little sneak preview of some of the great thing you can do, once you've got enough Avios points:
Round Trip Toronto to Hong Kong
70,000 points
$100 total taxes/fees
Round trip Vancouver to Hong Kong
60,000 points
$90 total taxes/fees
Round-the-world Toronto to Hong Kong to Dubai to London to Toronto
74,500 points
$761 total taxes/fees
Round-the-world Vancouver to Hong Kong to Dubai to London to Vancouver
74,700 points
$742 total taxes/fees
This may seem like a lot of points, but it's really not. If you spent $1,000 in food and drinks on your Cobalt Card every month for the first year, you'd finish the year with 90,000 MR points – more than enough for a round-the-world trip!
#3 Aeroplan
Aeroplan is another great example of a partner loyalty program that'll really boost you MR points' value. By using our strategies for flying from Asia to North America for $75 or from Canada to Europe for $50, the sky is truly the limit.
#3 Using Your Points For Hotel Stays
MR points are redeemable for travel and hotel stays through American Express Travel services. However, those options aren't really your best choice. A good alternative is to transfer your points to hotel loyalty programs like the Marriott Bonvoy™ program or Hilton Honors.
In the first case, you can transfer your points at a 1:1.25 rate (or 4:5). This means that for every 1,000 MR points you transfer, you'll receive 1,250 Marriott Bonvoy™ points. Because Marriott Bonvoy™ points are valued at around 0.8 cents per point, transferring you MR points at this rate will still give you a final value of 1 cent per MR point:
1.25 MB/MR x 0.8 cents/MB = 1 cent/MR
That's why we recommend using them for flights.
#4 Using Your Amex Cobalt Points For Other Purchases
The last way to spend your MR points is by using them to pay directly for gift cards and other merchandise at select retailers, and for purchases through Amazon.ca.
This is generally a poor way to use your points, giving you a value of just ~0.7 cents per point.
How To Save Up to 15% on your spending with the American Express Cobalt
Just like its monthly fee, the Cobalt Card's welcome bonus is also split into 12 equal parts.
Most American Express cards come with a single welcome bonus that you get once you reach a minimum amount charged to the card. The same principle applies to the Amex Cobalt, only on a monthly basis:
You can earn 2,500 bonus Cobalt points, every month, during the first year of card membership. To get each bonus, you need to charge a minimum of $500 to your Cobalt Card, every month.
If you manage to get the 12 bonuses (which isn't really hard, for most of us), you'll have a total of 30,000 bonus points by the end of the year. If you use those points for flights like the ones we mentioned above, they're worth $600 – $900 to you.
That's one sweet deal!
And keep in mind those are only the bonus MR points you'll earn. You'll also be earning on whatever you spend those dollars on. If you spend $1,000 per month in food and drinks, your first year will look like this:
$1,000 x 5 points per dollar x 12 months = 60,000 points
2,500 bonus points x 12 months = 30,000 points
Total: 90,000 MR points (valued between $1,800 and $2,700)
Points Earning Rate Of The Amex Cobalt
You can access three different earning rates with the Cobalt Amex:
5X on eligible eats & drinks (with a cap at $30,000 per year)
2X on stand-alone gas stations, eligible travel purchases and local commuter transportation
1X on all other purchases
The 5X earning rate (5 points per every $1) on eligible eats and drinks, including groceries and food delivery, is a truly exceptional earning rates. At 2 cents per point, you're getting 10% back on every food and drink purchase. At 3 cents per point, it's 15%.
Plus, American Express is very generous with their definition of food and drinks:
Restaurants, quick service restaurants, coffee shops and drinking establishments in Canada, stand-alone grocery stores in Canada, delivery of food and groceries in Canada…
The flexibility of the food & drink category makes it especially easy for anyone to access it, every day. This is exactly what makes the American Express Cobalt card one of the best everyday spending cards available in Canada today.
A Unique Benefit: 2X Earnings On Local Commuter Transportation
Other American Express cards also offer 2X on travel purchases and on gas stations in Canada, but on your everyday commute?
Only the Cobalt Card does it!
American Express is also very generous with their definition of "Commuter Transportation," which includes:
"…subway, streetcar, taxi, limousine and ride sharing services…as long as it's the merchant's primary business"
Yes… You could even get the 2X earning rate on your Uber ride! Some people are even calling the Amex Cobalt Card the new Uber credit card in Canada.
It's really tough to find so many great features and benefits packed into one card.
The American Express Cobalt Travel Insurance And Shopping Coverage
Insurance coverage is very important to most travelers, and the Cobalt Card delivers a very comprehensive set of embedded insurance policies, given how inexpensive this card is.
The Amex Cobalt's Travel Coverage
The travel related insurance policies that come with your new Amex Cobalt Card are:
$5,000,000 Emergency Medical Insurance (Out of province/country): This policy will cover virtually any accident that needs medical attention, once you're on your way. The coverage is for you, your spouse, any dependent children, any additional cardmember, his or her spouse and dependent children, for any number of trips with a maximum duration of 15 days.
$250,000 Travel Accident Insurance: This is an AD&D life insurance policy that covers you and your family while you"re all traveling in a common carrier.
Flight Delay & Baggage Delay Insurance: Two separate policies but with an aggregate maximum coverage of $500. Intended to cover you for unforeseen expenses due to your flight or baggage been delayed for a long time. It includes out-of-pocket money, money for food and even hotel stays.
Lost or Stolen Baggage Insurance:This policy can help you recover up to $500 in lost items and personal effects.
Hotel/Motel Burglary Insurance: Similar to the Lost or Stolen Baggage Insurance, it protects you for up to $500 in stolen personal effects if your hotel gets burglarized, as long as your lodgings were paid with your Amex Cobalt Card.
Car Rental Theft and Damage Insurance: You can use this policy to waive the vehicle rental company's own insurance policy and get up to $85,000 of coverage without paying a single dime.
Amex Cobalt Purchase Coverage
Regarding card purchase coverage, the Amex Cobalt Card comes with American Express' two standard policies:
The Buyer's Assurance Protection Plan, which doubles the manufacturer's warranty for up to one extra year, on any purchase paid in full with your American Express Cobalt Card.
The Purchase Protection Plan, which covers your Cobalt Card purchases against accidental damage and theft, to a maximum of $1,000.
Read our post on American Express Insurance to learn all the details regarding these and other insurance policies offered by American Express Canada.
Free Additional Cobalt Cards
Giving your family members (or employees) additional cards is a great way to boost your earning rate. While some additional cards require you to pay an additional fee, this is not the case with the Amex Cobalt.
You can request up to 9 additional cobalt cards for additional cardholders, free of charge.
The only condition is that the additional cardholder needs to be 13 years of age or older.
To give you a glimpse of how much this benefit is worth, take a look at the Gold Rewards Card. This card has a comparable annual fee and similar benefits, but each additional Gold Card costs an extra $50.
Therefore…
9 additional Cobalt Cards could cost $450 a year, but you get them for free!
American Express Front Of The Line
The Amex Cobalt Card comes with American Express Invites, a benefits package for major public events like concerts and shows. These benefits include:
Front Of The Line Advance Access
This benefit lets you purchase or reserve tickets for highly sought after events, sometimes even before they're on sale.
Front Of The Line Reserved Tickets
These are blocks of seats reserved by American Express exclusively for its cardmembers. With Reserved Tickets you won't be left out of any major event, even when tickets have sold out for the general public.
Front Of The Line E-Updates
This is a subscription email service that periodically sends you the listings of all the events you can access thanks to your Amex Cobalt Card.
Other Amex Invites Benefits
Special Access and benefits at Budweiser Stage, Roy Thomson Hall and Massey Hall, including a separate entrance, lounges and bars.
The Bottom Line
The Amex Cobalt is a truly impressive choice for Canadians who travel once or more per year. Its generous welcome bonus, sky-high earnings rates on food and travel purchases, and low monthly fee make it an excellent value for most Canadians.
We firmly believe the Cobalt Card is one of the top three, if not the absolute best, travel credit card in Canada. Apply with confidence today.
This post was not sponsored. The views and opinions expressed in this review are purely my own.