The brand new offer on the American Express Platinum Card comes with worldwide airport lounge access, a $200 annual travel credit, platinum hotel memberships, travel medical insurance, a sleek metal card, and a welcome bonus of up to 80,000 MR points, which I value at $1,600 – $2,400.
If you plan on taking even one trip in the next 12-18 months—be it a trip within Canada or abroad—you'll come out ahead with this premium credit card in your wallet. I highly recommend getting a Platinum Card before this special offer disappears.
American Express recently announced that new Platinum Cardholders can earn 80,000 welcome bonus points. That's the highest welcome bonus of any credit card in Canadian history, and using my valuation of 2-3 cents per point, it's worth an incredible $1,600 – $2,400.
#1 American Express Platinum Canada Benefits
| | |
| --- | --- |
| Welcome Bonus Points | Up to 80,000 |
| Points Earned Per $1 Spent On Dining & Food Delivery | 3 |
| Points Earned Per $1 Spent On Travel | 2 |
| Points Earned Per $1 Spent On All Other Card Purchases | 1 |
| Companion Tickets | ✔ |
| Fine Hotels & Resorts Exclusive Benefits | ✔ |
| Hotel Elite Statuses | ✔ |
| Amex Platinum Concierge | ✔ |
| American Express Invites | ✔ |
| Comprehensive Travel Insurance | ✔ |
| Front Of The Line | ✔ |
| Annual Fee | $699 |
#2 Four More Special American Express Platinum Canada Benefits
#1: Canadian Platinum Lounge Benefit (Priority Pass)
On top of the 80,000 Membership Rewards points you can earn with your Amex Platinum Card (60,000 when you spend $6,000 in the first 3 months, plus 20,000 when you make a purchase between 14 and 17 months of Cardmembership), you also receive a Priority Pass Prestige membership, which is worth $429 USD per year. Priority Pass gains you access to 1,300+ airport lounges around the world without paying a dime.
Every Priority Pass lounge offers free food (some offer full meals, while others have an array of snacks), free drinks (many, though not all, offer alcoholic drinks as well), and many also offer additional complimentary amenities like nap rooms, showers, libraries, printers, games rooms, and more.
My Priority Pass is definitely the American Express Platinum benefit I use the most, and it's completely changed the way that I travel. These days, I really can't imagine flying without stopping into an airport lounge first.
Here are some of the lounges you get access to with your Platinum Card in Canada:
The 24-hour SkyTeam Lounge in Vancouver (YVR):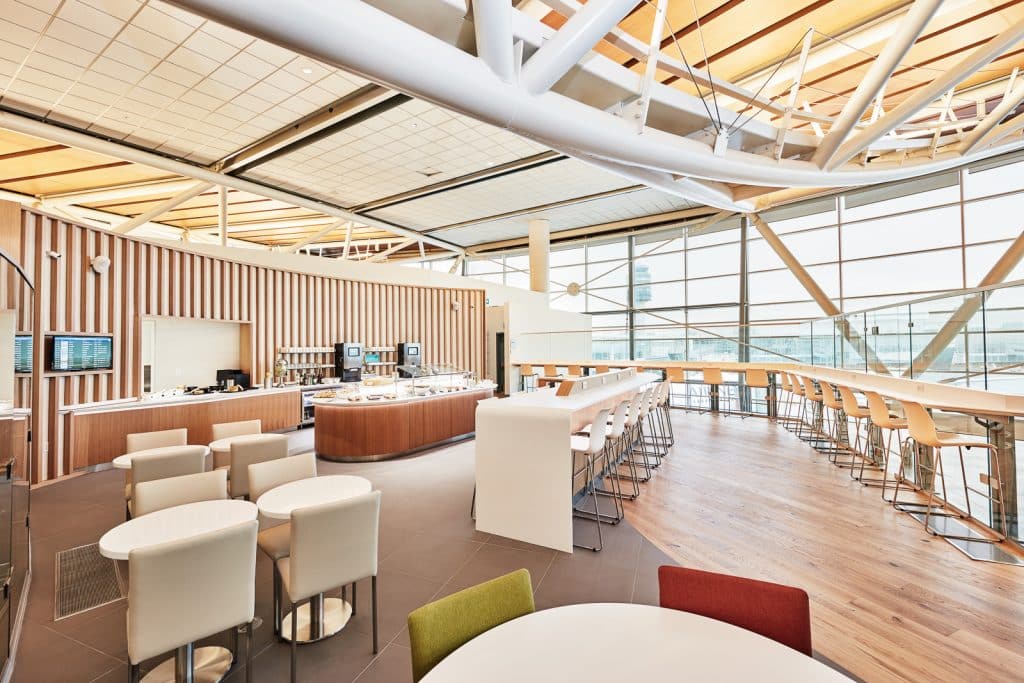 The National Bank Lounge in Montreal (YUL):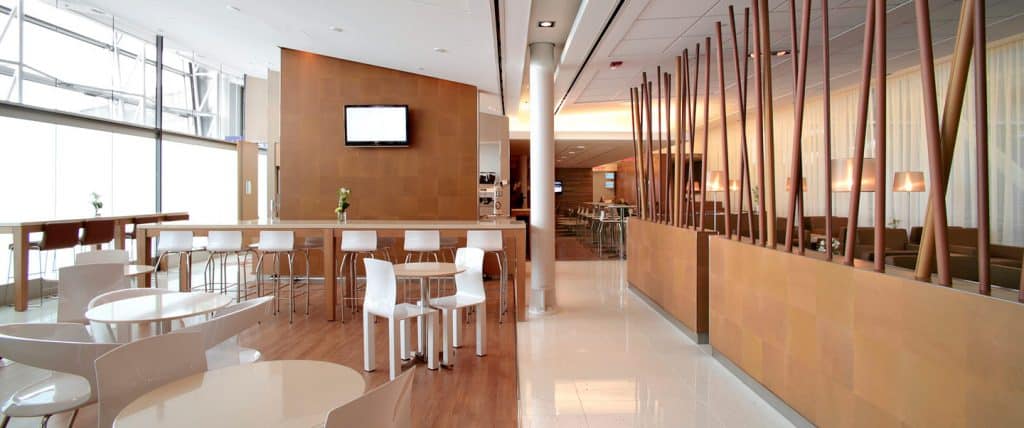 Toronto (YYZ) has a whopping seven Priority Pass lounges—plus the American Express Lounge at Pearson—and you'll be able to access all of them for free.
With the Platinum Card, you're stepping up your travel game in a big way.
#2: $200 Annual Travel Credit
This is exactly what it sounds like: $200 for you to use on travel every single year. In the past 3 years alone, I've used my $200 credit on a flight to Asia, a flight to South America, and a flight to Europe.
The $200 annual travel credit isn't only good for flights, though; it can be used towards any flight, hotel, car rental, or vacation booking made through American Express' travel portal.
Pro Tip: Use your $200 annual travel credit on the first hotel or flight booking you make with your Platinum Card. You don't want to forget to use it!
#3: Hotel Elite Statuses
Your Amex Platinum also upgrades your statuses with a handful of hotel chains. This means you get special benefits: exclusive discounts, early check-in and late check-out, complimentary breakfasts and more.
These are the sort of status upgrades you can expect with your Amex Platinum Card:
Shangri-La Golden Circle Jade Membership
Hilton Honors Gold Status
Radisson Rewards™ Gold Status
Marriott Bonvoy™ Gold Elite Status
#4: American Express Front Of The Line
Front of the Line gives American Express Cardmembers exclusive access to ticket pre-sales and reserved seating at concerts, musicals, sporting events and much more.
The best thing about Front of the Line is in the name itself: you get access to tickets at the biggest shows (think Justin Bieber and Beyoncé) before everyone else. These shows are known for selling out in seconds, but with Front of the Line, you'll always get your ticket. Past performances that Front of the Line has had pre-sale access to include Taylor Swift, Selena Gomez, Wicked, Lady Gaga, Katy Perry, Billy Elliot, West Side Story, Imagine Dragons, The Lion King and many more.
Front of the Line always offers great seats close to the action at these events. They also send periodic emails to let you know when artists are coming to town so you never miss a show.
#3 How To Turn 80,000 Points Into 104,000 Points
The 80,000 welcome bonus points that come with the American Express Platinum are great, but if you know what you're doing, you can actually turn them into 104,000 pretty simply.
How? At least once per year, American Express offers a 30% transfer bonus when you transfer your points to a program like British Airways Avios or Aeroplan. Just by transferring your points strategically, you'll turn 80,000 Membership Rewards into 104,000 Avios or Aeroplan points.
You just gained another 24,000 points—worth at least $480 if you use them at a value of 2 cents per point or above—just for being in the loop.
Here are 3 realistic scenarios of the value you can achieve with the Amex Platinum Card:
| | | | |
| --- | --- | --- | --- |
| | Very Easy | Very Easy | Moderate Difficulty |
| Redemption Type | Cash (against statement balance) | Flights | Flights with creativity |
| Redemption Value Per Point | 1 cent | 2 cents | 3 cents |
| Total Value Of 104,000 Points | $1,040 | $2,080 | $3,120 |
| Less: Annual Fee | ($699) | ($699) | ($699) |
| Plus: $200 Annual Travel Credit | $200 | $200 | $200 |
| Profit From Points | $541 | $1,581 | $2,621 |
| Additional Benefits | Yes | Yes | Yes |
Most of you will find yourselves in columns 2 or 3—in the $1,581 – $2,621 profit range—since you can just read our other blog posts to find tons of flights that get you 2-3 cents per point of value.
#4 How To Use Your Points
Case Study #1: Visiting Asia
Suppose you want to take a trip to Hong Kong to visit family or friends. The Amex Platinum is your perfect companion, since one of the easiest, best ways to use your points is on direct flights to Hong Kong with Cathay Pacific.
Since Cathay Pacific is a premium airline, these direct flights normally cost at least $1,000 from Vancouver, and even more from Toronto. You won't be paying anywhere close to that.
For this example, let's assume you transfer your American Express MR points to British Airways Avios points.
Roundtrip direct flights from Vancouver to Hong Kong cost just 60,000 Avios points + $90 in taxes and fees.
Roundtrip direct flights from Toronto to Hong Kong cost 70,000 Avios points + $100.
Of course, Hong Kong isn't your only option. Tokyo is a bit closer than Hong Kong, so flights between Vancouver and Tokyo are just 50,000 points. If you capitalize on the 30% transfer bonus, you can fly to Tokyo twice and still have points left over.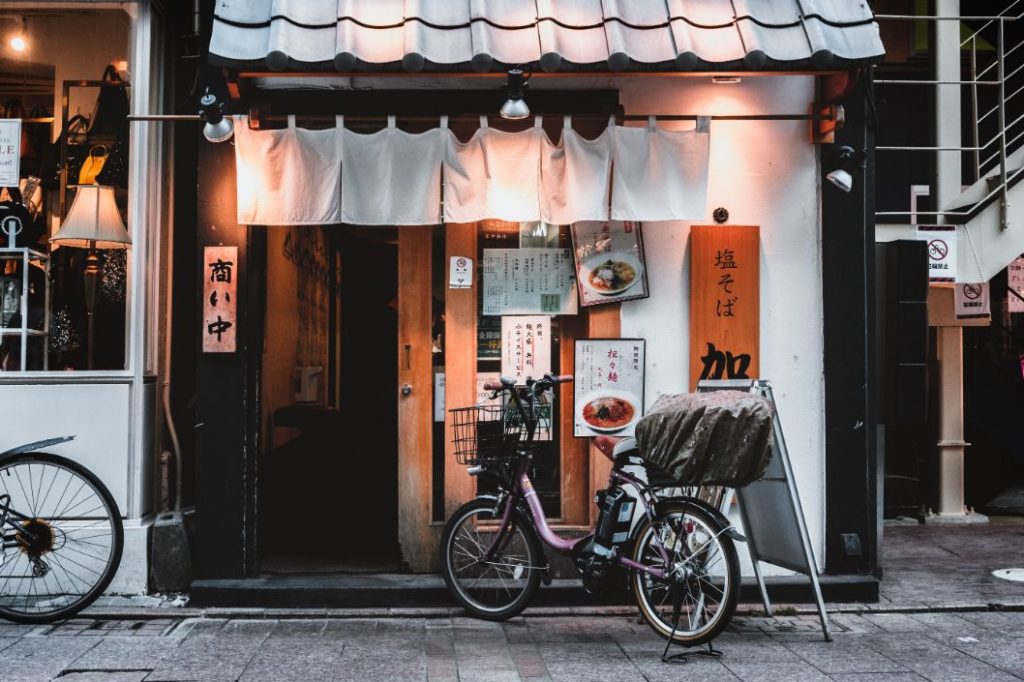 Case Study #2: Around The World
Let's suppose you want to go around the world using your Platinum Card.
No problem.
If you're in Vancouver, you can fly from Vancouver to Hong Kong to Dubai to London to Vancouver (or the opposite direction) for 74,700 points + $742 in taxes and fees.
Toronto works just the same.
Flying from Toronto to Hong Kong to Dubai to London to Toronto (or the opposite direction) costs just 74,500 points + $761 in taxes and fees.
| | | |
| --- | --- | --- |
| Route | Points Needed | Taxes & Fees |
| Roundtrip: Toronto to Hong Kong | 70,000 | $100 |
| Roundtrip: Vancouver to Hong Kong | 60,000 | $90 |
| Round-the-world: Toronto to Hong Kong to Dubai to London to Toronto | 74,500 | $761 |
| Round-the-world: Vancouver to Hong Kong to Dubai to London to Vancouver | 74,700 | $742 |
These round-the-world trips offer a value of well over 4 cents per point, meaning the $699 annual fee you're paying for the Platinum Card is saving you $3,000+ on flights.
#5 Is The Amex Platinum Canada Worth The $699 Annual Fee?
Yes, the American Express Platinum Canada is worth the $699 annual fee.
Here's the magic in it: it's impossible not to make money by having this card, even after paying the fee.
Here's why.
If you use your 80,000 points in the worst way possible, the card is still worth a minimum of $1,000 to you. Why? Because American Express allows you to apply your points against your statement balance at a value of one cent per point, which means 80,000 points = $800. Add in your $200 travel credit and you're at $1,000.
And that's not even considering the other benefits you get from the card. The travel / emergency / baggage insurance and additional purchase insurance (for theft/damage of your items), the worldwide airport lounge access, the premium hotel memberships, and everything else you see here everything else you see here are all just cherries on top.
So even if you use your points in the worst way—by applying them to your statement balance as a cash equivalent—you still come out ahead.
But if you use them in the ways we've suggested in sections #3 and #4 above, you can reasonably expect to save $1,500 or more after paying the annual fee.
#6 Amex Platinum Travel Insurance
The Platinum Card also comes with an impressive American Express travel insurance policy. Here's what the policy includes:
| | | |
| --- | --- | --- |
| Benefit | Description | Coverage Limit |
| Travel Accident Insurance | You, your spouse and your children are covered in the case of accidental death or dismemberment while traveling | $500,000 |
| Car Rental Theft and Damage Insurance | Damage or theft of your rental car | $85,000 |
| Flight Delay Insurance | Hotel, motel, restaurant expenses and other sundry items when your flight is delayed | $500 |
| Baggage Delay Insurance | Reasonable and necessary emergency purchases when your baggage is delayed | $500 |
| Lost or Stolen Baggage Insurance | Loss or damage to your luggage or personal effects while in transit. | $500 |
| Hotel/Motel Burglary Insurance | Loss of most personal items if your hotel/ motel is burglarized. | $500 |
| Travel Emergency Assistance | Medical & legal referrals by phone 24/7 | N/A |
Every American Express card also comes with two other insurance benefits:
Buyer's Assurance Protection Plan doubles the manufacturer's warranty on your purchases and will repair/replace faulty or damaged items up to $10,000.
Purchase Protection Plan insures your purchases against accidental physical damage and theft for the 90 days after purchase, up to $1,000.
Fraud protection, global emergency card replacement and 24/7 express customer service are included with every American Express card, too.
#7 Two Less Expensive Cards To Consider
If the $699 annual fee is still too much for you, here are two less expensive cards to consider instead:
#1 The Amex Gold Card
The American Express Gold Card is another great choice for Canadian travelers right now. It comes with a generous welcome bonus of 50,000 points and a low annual fee of just $250, plus there are recurring benefits you can capitalize on every year that you hold the card.
If you travel frequently but the annual fee on the Platinum Card is too much for you, the Amex Gold Card is a great second option.
#2 The Amex Cobalt Card
There are two major reasons I recommend the American Express Cobalt Card over other low-fee cards in Canada right now.
It offers the highest rewards on everyday spending of any card in Canada.
You can get up to 10% cashback on your spending when you use the Cobalt Card at coffee shops, restaurants, bars and grocery stores anywhere in Canada.
The Cobalt Card is a solid everyday card, and here's our side-by-side comparison between it and the Platinum Card.
Is The Amex Platinum Worth It?
My American Express Platinum Canada review shows that I strongly believe the value of the Amex Platinum Card in Canada far outweighs its annual fee. American Express has a history of dropping their welcome bonuses without any warning, though, so get this 80,000 welcome points bonus offer while it still lasts.
The $699 annual fee is hefty, but when you consider that the 80,000 welcome bonus points are worth $1,600 – $2,400 on their own, this card really becomes a great deal. Apply with confidence today.
American Express Platinum FAQs
What Are The Amex Platinum Canada Requirements?
There's no specific credit score required to get the Amex Platinum, though I recommend a score of at least 650, a clean credit history for at least 2 years, and an annual income of at least $50,000. If you tick all of those boxes, you have a high chance of being approved for the Platinum Card.
Is It Hard To Get The Amex Platinum?
The Amex Platinum can be hard to get, which is why we recommend you have a credit score of at least 650 when you apply. Don't forget that the Amex Platinum in Canada carries a $699 annual fee.
Is The Amex Black Card Better Than The Amex Platinum?
Most people who have the American Express Centurion ("Black") Card (as well as the Mastercard® Black Card) agree that the Amex Platinum Card offers significantly better value, and that the Black Card barely holds any benefits that the Platinum Card does not. The same goes for the Mastercard® Black Card. However, the Black Card is a major status symbol, so if that's important to you, it should factor into your decision.
How Much Does The American Express Platinum Cost?
In Canada, the American Express Platinum Card costs $699 per year. This annual fee covers the cost of worldwide airport lounge access (including Priority Pass), a $200 annual travel credit, worldwide travel insurance, 80,000 welcome bonus points, and more.
Does The Amex Platinum Have A Limit?
No, the American Express Platinum Card does not a preset credit limit, though that doesn't mean cardholders are granted unlimited purchasing power—it simply means that every cardholder has a different limit. You can find the credit limit on your Platinum Card inside your American Express account.
Is The Amex Platinum Canada The Best Travel Credit Card In Canada?
The Amex Platinum is certainly one of the best travel credit cards in Canada. While the Aeroplan Card and Marriott Bonvoy Card have recently grabbed a lot of attention for their generous welcome bonuses, the Platinum Card has offered exceptional value-for-money for years, and it shows no sign of slowing down.
What Is The The Amex Platinum Card Made Of?
The American Express Platinum Card is made of precision-cut stainless steel and weighs 19 grams, compared with 5 grams for plastic credit cards. Your name is engraved on the card, and existing Platinum cardholders can request to have their old plastic card exchanged for a metal card at any time.
Is The Amex Platinum Card Prestigious?
Yes, the Amex Platinum is one of the most luxurious travel credit cards on the market. Made of precision-cut stainless steel, its generous welcome bonus and luxury travel benefits put the Platinum Card in a league of its own.
Will Amex Platinum Waive Your Annual Fee?
American Express waives the annual fee on the Platinum Card for active-duty service members, but no one else receives the same benefit. Even with the annual fee, though, the travel benefits and generous welcome bonus make the card a great value.
How Do I Maximize My Amex Platinum Points?
To maximize your Amex Platinum MR points, make sure to use your $200 annual credit, sign up for all hotel elite statuses, and pay for as many expenses as you can with your Platinum Card. The insurance and purchase coverage on all your spending will protect you from any fraud and faulty items you may buy, keeping your money safe and secure.
What Should You Do First Upon Receiving Your American Express Platinum Card?
Call the number on the back of your Platinum Card and ask Amex to set you up with these things right away:
Your hotel elite statuses: Hilton Honors Gold Status, Shangri-La Golden Circle Jade Membership, Radisson Rewards Gold Status, and Marriott Bonvoy Gold Elite Status. Even if you never plan to stay in one of those hotels, it's good to get these statuses set up, just in case. They're included with your card, after all.
Priority Pass. Make sure Priority Pass is set up so you get lounge access right away, and if it's not, get Amex to set it up for you.
Ask if they know when the next Avios or Aeroplan transfer bonus will be. Customer service reps often won't disclose this information (they may not even know it themselves), but it's worth asking anyway.
How Can I Sign Up With An American Express Platinum Referral?
To get the best available welcome points bonus, which is currently up to 80,000 points, sign up here. After you've signed up, you can refer your own friends to the Platinum Card for a referral bonus of 15,000 points per person.
Is There A Minimum Salary For Amex Platinum
No – there is no hard cap on a minimum salary to apply, and many factors come into play before you get approved. With that being said, the higher your salary the more likely you are of getting your card approved – starting from $50,000 onwards you are almost guaranteed of getting your application approved.
Does Amex Ask For Proof Of Income
No, for most credit card applicants American Express does not conduct income checks or request proof of income.
Does Amex Platinum Affect Credit Score
No – since this card doesn't have a predefined limit there is no utilization ratio that may affect your credit score. Keep in mind that your credit may still be affected if you don't pay your bill on time.
Can I Pay My Mortgage With Amex Platinum
No, currently American Express doesn't allow mortgage payments through this service. With that being said, you can still use third-party service providers to act as intermediaries – the downside is that this type of service tends to charge considerable fees.
Do You Have To Pay Amex Platinum Every Month
Yes. The Amex Platinum card was first launched as a charge card, which means you have to pay all your balance at the end of each month.
What Are The American Express Canada Foreign Transaction Fees?
All foreign purchases are processed at the American Express foreign currency exchange rate, which tracks the bank rate very closely with small fluctuations above and below that rate. A 2.5% foreign transaction fee is charged on top of that on all foreign purchases regardless of the currency.
How Does American Express Travel Work In Canada?
American Express Travel is Amex's online travel portal for buying flights, booking hotels and rental cars, and getting support from some of the best travel concierges in the business.
The $200 annual travel credit that comes with your Amex Platinum can be used either directly through the American Express Travel platform or as a statement credit after you've made a travel-related purchase with your card.
How Does American Express Concierge Work In Canada?
The Amex Platinum Concierge is definitely an under-rated benefit of the Platinum Card. It's totally free for as long as you have the card, and your concierge offers 24/7 assistance with a whole host of tasks.
Need a table for four at a fully-booked place in Paris or New York? No problem. Looking for the perfect gift for a friend visiting from out of town? Easy.
Personally, I generally use the Platinum Concierge to help me build travel itineraries when I'm visiting a new city, and they do a remarkable job. After a minute or two on the phone getting to know my preferences (Do I like fancy restaurants or low-key joints? Do I prefer museum hopping or getting lost walking around a neighbourhood? etc.), they send back a document of 30+ pages outlining restaurants and bars to check out, cultural attractions, events taking place when I'm in town, and more. It takes the Amex Concierge about 24-48 hours to compile a customized guide, so keep that in mind.
You can request help using email as well, though I find just calling them up is easier and faster, since Platinum Cardholders are put straight through and don't have to wait on hold.