The cryptocurrency craze has been happening for a while now, and it doesn't seem to be slowing down anytime soon.
With new coins popping up every day, the best way to find out which ones are worth investing in is by using cryptocurrency exchanges.
With so many alluring options out there, though, where do you start? The answer is CoinSmart.
CoinSmart was founded in 2018 and is one of Canada's fastest-growing and most trusted cryptocurrency exchanges. They offer easy access to digital currencies such as Bitcoin (BTC), Ethereum (ETH), Litecoin (LTC), and many others using CAD, making them ideal for Canadians that want to invest without converting their money from Canadian dollars first.
This CoinSmart review will cover everything you need to know about the platform, including what it has to offer, how it helps you to make decisions about investing, and the pros and cons of this particular cryptocurrency exchange, and more.
How Can I Sign Up To CoinSmart?
To create an account in CoinSmart, all you need to do is sign up to the platform by providing a few important bits of information (mainly your name, date of birth, address, phone number and email address).
You can have your CoinSmart account verified within minutes through the use of Equifax, and if you want to be extra safe, you also have the option of setting up 2-factor authentication.
However, if the platform is unable to verify your identity this way, you can also go through the verification process manually by uploading a few documents.
Some of the documents you'll have to provide in order to verify your account manually are:
A government-issued ID (front and back).
A picture of you holding the same copy of said ID and a piece of paper with the word "CoinSmart" and the date the photo was taken written.
A copy of a recent utility bill that includes your name and address.
It might seem tedious to provide all of this documentation, but it's a requirement in order to meet the specifications of the Ontario Securities Commission.
Once you've created and verified your CoinSmart account, you have plenty of funding options — mainly Interac e-Transfer, electronic funds transfer, wire transfer, cryptocurrency, and bank draft. Credit card purchases are also accepted.
What Cryptocurrencies Does CoinSmart Support?
CoinSmart offers trading for the following coins:
Bitcoin (BTC)
Ethereum (ETH)
Litecoin (LTC)
Ripple (XRP)
Tether (USDT)
Bitcoin Cash (BCH)
Stella (XLM)
Cardano (ADA)
QCAD
EOS
NEO
CoinSmart Fees
Coinsmart's trading fees are straightforward.
When you trade between Canadian dollars and Bitcoin, trading fees of 0.20% are incurred.
For trades involving other cryptocurrencies, trading fees are capped at 0.40%.
As for crypto withdrawal fees, you can expect the following:
Bitcoin (BTC): 0.0005
Ethereum (ETH): 0.015
Litecoin (LTC): 0.001
Ripple (XRP): 0.002
Tether (USDT): 10.00
Bitcoin Cash (BCH): 0.0001
Stella (XLM): 0.00003
Cardano (ADA): 0.30
EOS: 0.0005
NEO: 0.00
Is CoinSmart Safe?
First of all, you should be aware that investing in cryptocurrencies is risky no matter what crypto exchange you use.
However, CoinSmart is a legitimate company in Canada — for starters, it's registered with the Financial Transactions and Reports Analysis Centre of Canada (FINTRAC) as a Money Service Business.
Second, the company keeps most of your coins in cold storage, which makes them inaccessible from the Internet at all times.
Fiat deposits made by clients, on the other hand, are held at Canadian banks, which means that they're protected by the Canadian Deposit Insurance Corporation (CDIC).
CoinSmart Referral Program
The CoinSmart referral program is quite generous. Once the user has verified their account and deposited at least one hundred CAD, they can earn 15 more CAD by inviting friends to CoinSmart.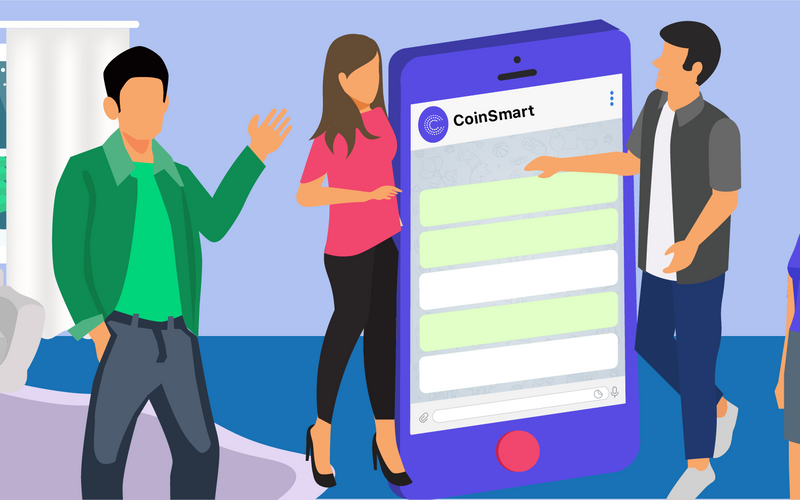 Additionally, referred friends receive 15 bonus CAD after verifying their account and depositing 100 CAD. Digital currency funds do not count towards the CAD minimum, though.
Coinsmart Customer Support
CoinSmart's 24/7 customer support allows you to be in touch via phone, live chat and email. Its extensive FAQ section has valuable information as well.
Here are some of the pathways you can use to reach Coinsmart's customer support:
Email (

[email protected]

).
Phone ((855) 390-2646).
Support page (via the "FAQ" page).
Support icon.
It's also worth noting that you can reach CoinSmart's 24/7 customer support through social media such as:
Facebook.
LinkedIn.
Twitter.
YouTube.
Instagram.
Discord.
CoinSmart Pros And Cons
Pros:
CoinSmart offers instant account verification for new users.
CoinSmart deposits are credited on the same day they're received.
Versatile trading platform that caters to beginners and professionals alike.
24/7 support is available.
Charges low trading fees that keep you in control of your funds.
Has a generous referral program.
Cons:
Fiat withdrawals take 1-5 business days
Fiat deposits can only be done in CAD (not applicable to premium accounts)
In Summary
CoinSmart is one of the simplest cryptocurrency exchanges in Canada with a focus on providing access to digital currencies and crypto trading using CAD.
The company offers trading for 11 coins, including Bitcoin, Ethereum, Litecoin, Ripple, Tether, and many more.
CoinSmart's fees are straightforward, and they offer 24/7 customer service via phone, live chat and email. Coinsmart also has extensive FAQ sections as well as social media accounts for you to connect with them via Facebook, Twitter and YouTube.