Physical Address is a top-ranking virtual mailbox provider. It offers some of the most competitive prices in the industry ranging from $7.98 to $26.98 in its headquarters in Idaho. While it doesn't offer the most diverse set of street addresses to choose from, it prides itself on avoiding third-party contractors and on only working with in-house staff at all of its locations. Besides offering services like local pickups, which most other providers in the industry avoid, Physical Address also offers an unlimited number of recipients and free registered agent services, ideal for newly formed LLCs and other companies.
That said, Physical Address falls short in terms of locations, making their local pickup service lose much of its shine. Additionally, while their prices are some of the lowest in the industry, that's only true in locations like Idaho, because their prices go up on all plans in other locations, maxing out in their Wall Street address. If you're looking for thousands of addresses to choose from, and equally great service, we suggest you look into our #1-best-rated virtual mailbox, iPostal1.
What Is Physical Address?
Physical Address is a virtual mailbox provider founded on January 28, 2013, by David Vennes. Its main aim is to provide clients with some of the most advanced customer-centric virtual mail address solutions available on the market. Its top features are extremely affordable plans with a wide range of prices, mailing facilities that are fully owned and staffed by their own employees, and a 30-day money-back guarantee.
You can even get an additional 20% discount on its already affordable plans if you choose annual billing. The company prides itself on having over 80,000 users in more than 50 countries worldwide.
Features Of Physical Address
#1 Business/Personal address at an affordable price.
Physical Address offers one of the lowest prices in the industry for its virtual mailing address plans. You can have your own business address or a personal virtual mailing address for as low as $7.98 a month by using Physical Address's service. Users can choose from various locations including:
California
Texas
New York
Florida
Idaho
Georgia
Nevada
Once your virtual mailing address is set up, you can have all your mail delivered to a Physical Address location where it will be processed on-site by Physical Address associates. Physical Address guarantees that these addresses look professional and enhance your mail management capabilities with timely scans and uploads.
All of these addresses are highly secure so you can rest assured that your sensitive information will not end up in the wrong hands. Moreover, its facilities even offer local pickup options so you can pick up your mail at your convenience and save on additional shipping fees. It's important to note that not many virtual personal or business address providers offer this service, which is a great option to have.
#2 High-quality and secure scans.
Physical Address proudly owns and staffs all its mailing facilities, unlike other virtual mailbox providers that use third-party services. This not only increases the trust between customers and the company but also immensely helps with scan times and quality.
With Physical Address, every time you receive mail, you are notified immediately with an image of the outside of the envelope. Then, you have the option to shred it for free or scan its contents. If you choose to scan, you get professional-quality scans uploaded to your account in under a day.
Moreover, Physical Address enforces very strict mail handling rules for your mail scanning. Each mail handler goes through strict background checks, and all facilities are protected 24/7 with advanced alarm systems and 24/7 CCTV surveillance.
#3 Mail management from anywhere around the world.
Physical Address has tons of digital features to ensure that you can manage your mail from anywhere around the world, anytime you want. It has dedicated Android and iOS apps to access and manage your mail from your smartphone while on the go.
Physical Address also offers unlimited cloud storage, so you don't need to worry about ever running out of storage space for your mail scans or paying extra for them. Not only that, but Physical Address also offers Evernote as a software integration for your virtual mailbox service. This integration is extremely helpful when you need to quickly jot down notes while going through your mail.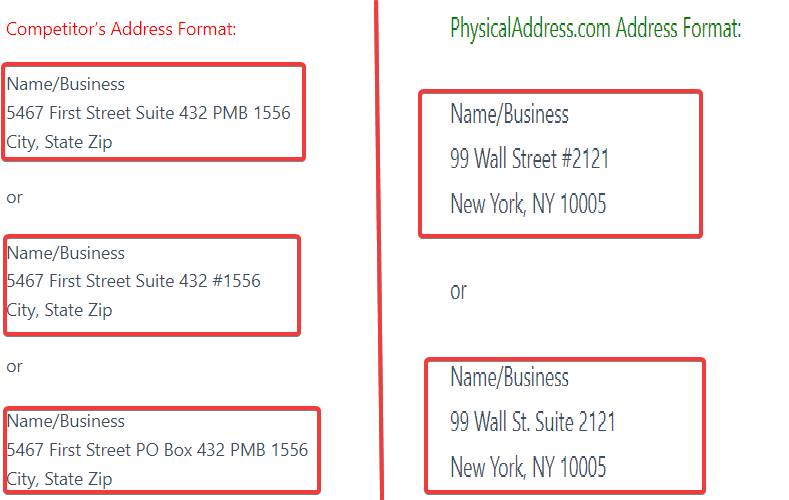 #4 Real whole addresses.
One major feature that helps Physical Address stand out from the rest of its competition is its whole address. Physical Address features whole addresses as its address locations, as compared to other virtual mailbox providers that instead feature a long suite number or an unprofessional PO box number.
Having lengthy addresses for your postal mail doesn't look professional and could affect your business or personal image. Physical Address ensures that your virtual mailbox address does not look like it's actually from a virtual mailbox provider—much less from a PO box—but instead from a real, professional or personal street address.
All of these locations are managed and operated by Physical Address instead of a third party, so you can rest assured of the integrity and authenticity of your address.
#5 No possibility of losing your mailing address.
One of the worst things that can happen to you after you choose a virtual mailbox provider is that their mail management centers close down unexpectedly or they lose their lease. If you spend a lot of time and money placing that address on promotional material, and government documents, or distributing it to businesses and contacts, this can be a very costly and stressful situation.
Losing your mailing address can force you to reset your address from every organization and person you gave your address to and also force you to choose another location that might not be as viable to you as the last one.
With Physical Address, you don't need to worry about something like this happening because it operates and manages all of its mail centers and does not rely on third-party services. In over 8+ years of providing virtual address services, Physical Address has never lost a physical location.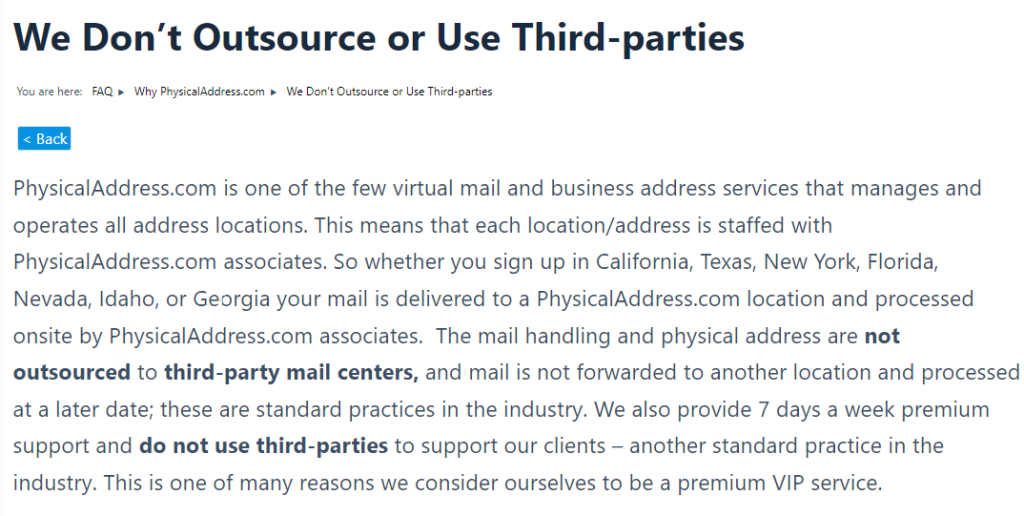 #6 No outsourced services or third-party mailing facilities.
As stated above, all Physical Address locations are managed and operated by Physical Address employees. It does not outsource or use third-party services to manage and staff its address locations or its customer support team – all staff work in-house to provide the best service according to company standards.
Many other virtual mailbox providers do not follow this practice and instead rely on third-party mail centers to process your mail and forward it to you. Physical Address's mail processing is much faster and more reliable than other virtual mailbox providers because its own staff does it. It's company policy not to resort to cost-cutting by hiring third-party services for its staff and customer support, which helps it provide a reliable and premium service for its clients.
Pros & Cons Of Physical Address
Pros
Highly affordable and customized plans that start from $7.98 and go all the way up to $26.98, depending on the number of features and limits you want.
All Physical Address locations are owned by the company and are staffed by its employees; it does not rely on third-party mail centers like other virtual mailbox providers.
One of the industry's most highly rated and positively reviewed customer support teams, which can be contacted seven days a week by phone at (844) 888-6364 or email at

[email protected]

.
Extremely secure service with PCI DSS compliance on payment processors, extended validation SSL certificate on data transmissions, and 256-bit Secure Sockets Layer encryption for transactions.
Dedicated Android (rated 3.3/5) and iOS (rated 3.8/5) apps to manage your postal mail on your smartphones from anywhere around the world.
Unlimited mail recipients which allows you to receive mail for any number of people at one single address, which is especially useful for medium to large-scale businesses.
Registered agent services on all the plans, which is especially crucial for newly formed corporations and LLCs.
Unlimited digital store, free physical mail storage for up to 3 months, and parcel storage for one week, after which a nominal fee is charged for each item.
Cons
While Physical Address has affordable pricing on its plans, this pricing widely varies in each of its locations, with the basic plan of $7.98 costing as high as $19.98 on its Wall Street location.
A limited number of locations throughout the country with almost no mailing facilities in western and northern USA, making it difficult for users to pick up or receive their mail.
No advanced package forwarding services such as shipment tracking, package consolidation, etc., that other virtual mailbox providers like iPostal1 have.
No option for recycling mail instead of shredding it. Thus users are not offered an environmentally-friendly way to get rid of their mail which most other virtual mailbox providers usually offer.
Pricing
Physical Address offers four major plans for its users with many common features but incremental incoming mail and scan limits as you move up from one tier to the next. We have summarized the differences in the table below.
| | | | | |
| --- | --- | --- | --- | --- |
| | Plan 30 | Plan 50 | Plan 100 | Plan 200 |
| Incoming mail limit | 30 | 50 | 100 | 200 |
| Content scan limit | 10 | 25 | 50 | 100 |
| Multi-user admin support | No | Yes | Yes | Yes |
| Suite No. ending in 0 | No | Yes | Yes | Yes |
| Cost | $7.98/month | $10.98/month | $16.98/month | $26.98/month |
While this is the official pricing stated by Physical Address, this pricing actually varies from location to location. The basic Plan 30 that you get for $7.98/month in Idaho is the base minimum pricing that is stated everywhere on the website. However, as you go through each location, the price keeps increasing until it hits its maximum at the Wall Street location where it costs $19.98.
It is imperative that you look through the price differences of each location before deciding on a plan. Physical Address's most popular plan is its Plan 30 at Idaho, which comes at only $7.98/month and offers 30 incoming mail and 10 content scans. Additional mail deliveries are charged at 10-25 cents, and additional scans are charged at 20 cents each.
In case you become unsatisfied with the service, Physical Address offers a 30-day money-back guarantee. If you cancel your account, Physical Address still continues to receive and upload your mail for the next six months. Physical Address also offers a 20% discount on its annual plans. While its pricing is cheaper compared to its competitors, it also offers lower mail and scan limits on its plans which can be limiting for a few users.
Physical Address – Is It The Best Option For You?
Physical Address is a virtual mailbox service that prides itself on its affordable plans, fully-owned mailing facilities, and world-class customer service. However, there are a few factors that you need to consider before you decide if it is the best option for you.
Firstly, Physical Address has a very limited number of locations across the country, especially in the northern and western regions. This can be problematic for people belonging to those parts of the country as it prevents them from getting local pickups and increases the time they would receive their forwarded mail.
Secondly, Physical Address doesn't have many options for package forwarding, which is common practice in many virtual mailbox providers. However, Physical Address's biggest disadvantage is that its pricing varies from location to location. The $7.98/month lowest price advertised everywhere on the website is only the lowest price for its Idaho location – other locations have incrementally higher prices, with the Wall Street location coming with a price tag of $19.98.
However, while you may feel this to be misleading, a little research into Physical Address's website will make the price differences apparent. Its pricing is also quite diverse and customizable to cater to different budgets of different users. That said, while it does offer many virtual business address services, it doesn't offer virtual office services like a dedicated phone line, access to meeting rooms, etc.
Its customer support team is considered to be one of the best customer services in the entire industry and has highly positive reviews on the internet. It also offers tons of free yet crucial features, such as unlimited mail recipients, unlimited cloud storage, and Evernote integration.
The best thing about Physical Address is that even though it has a limited number of locations across the world, these locations are fully staffed and owned by the company itself and not third-party services as most virtual mailbox providers prefer. If you don't mind a limited variety of locations and paying slightly more for your favourite address, Physical Address can be the best option for you, with a price range and customer service to back it up.
In Summary
Physical Addresses might not be the best in the industry when it comes to having tons of different addresses across the country or having definite pricing across the board. However, it is definitely one of the best in providing quality customer service, convenience, and tons of dedicated features for its users.
Physical Address FAQs
How much does Physical Address cost?
Physical Address costs anywhere from $7.98 to $26.98+ depending on your chosen plan and location.
Is Physical Address worth it?
Yes, Physical Address is worth it because of its quality customer service, in-house staff at all mail centers, and because of the dedicated features it provides to its users.
Is Physical Address safe?
Yes, Physical Address is safe because it has PCI DSS compliance on payment processors, extended validation SSL certificate on data transmissions, and 256-bit Secure Sockets Layer encryption for transactions.
Is Physical Address legit?
Yes, Physical Address is legit because it is reviewed and used by thousands of online customers and is a highly reputed virtual mailbox provider.