Working a nine-to-five just doesn't seem to be enough nowadays, so most people are looking for alternative income sources. There are multiple platforms today that make it possible to get paid to watch ads, which is why it's becoming very popular among younger generations. Swagbucks, Earnably, MyPoints, Kashkick, and ySense are some of the best platforms you can try.
Of these apps, Swagbucks is the best because of its reputation as a popular get-paid-to-x platform that supports an ample set of activities, including watching ads. The app pays well and operates legitimately, and there are many options aside from watching videos that will let you earn more money.
In the ever-connected world we live in today, it's hard to find someone who isn't constantly immersed in their smartphone, engaging in activities that may not always be the most productive. Whether it's mindfully exploring social media, enjoying addictive games, or getting lost in a sea of captivating content, we often spend hours on end without earning a single cent. However, there is a silver lining amidst this digital landscape: apps that actually reward you for watching advertisements. Yes, you read that right! Imagine turning your everyday screen time into a profitable endeavour.
Luckily, in 2023, there are numerous apps available that offer incentives for doing just that. In this post, we'll delve into the highest-paying apps of this kind, allowing you to make the most of your valuable time and transform your smartphone engagement into a rewarding experience like never before.
Best Apps To Get Paid To Watch Ads
There are countless apps that pay you to watch ads today, but here are five of the best ones you can try for yourself:
Swagbucks
Earnably
MyPoints
Kashkick
ySense
Let's discuss each one in the following sections.
#1 Swagbucks
Swagbucks is a trusted platform established in 2005 that offers multiple ways to earn money. One notable feature is the option to get paid for watching ads. Users can earn SB points by engaging with advertisements through this user-friendly app. With a stellar rating of 4.4 stars and over 80,000 ratings, Swagbucks has earned a reputation for its reliability.
To maximize earnings, understanding the point system is crucial. Each activity completed within the app rewards users with SB points, valued at $0.01 per point. These points can be exchanged for gift cards or cash, with partners like Amazon, Target, and iTunes offering a range of redemption options. Conveniently, Swagbucks also provides payments through PayPal without the need to share card details. Keep in mind a minimum of $3 worth of points is required to cash out.
Swagbucks Watch, available on the web and mobile app, allows users to earn SB points by watching ads and videos. Although rewards for watching multiple ads and videos are not highly lucrative, running Swagbucks Watch on an old phone or separate computer tab can help accumulate points gradually.
Swagbucks provides a versatile earning experience with various activities within the app. Browsing the internet, watching videos, playing games, and completing short surveys all contribute to earning cash rewards. With over $800,000,000 already paid out to members and testimonials on Swagbucks' official platform, it's safe to say the app has credibility. For those seeking accessible and effortless extra income, Swagbucks presents a rewarding opportunity to explore.
Features
SB Point system to facilitate earning.
Signup bonus of $5 for new accounts.
Referral system that grants SB points for both the referrer and referred user.
Swagbucks Watch to get paid while watching videos and ads.
Pros And Cons Of Swagbucks
| | |
| --- | --- |
| Pros | Cons |
| Additional reward opportunities aside from watching advertisements | Qualification rules for some tasks may hinder the maximization of earning opportunities |
| Targeted ads that allow users to watch content based on their preferences | Not much ads are available to watch on some days |
| Ad-watching service can be done through the official app or website | |
#2 Earnably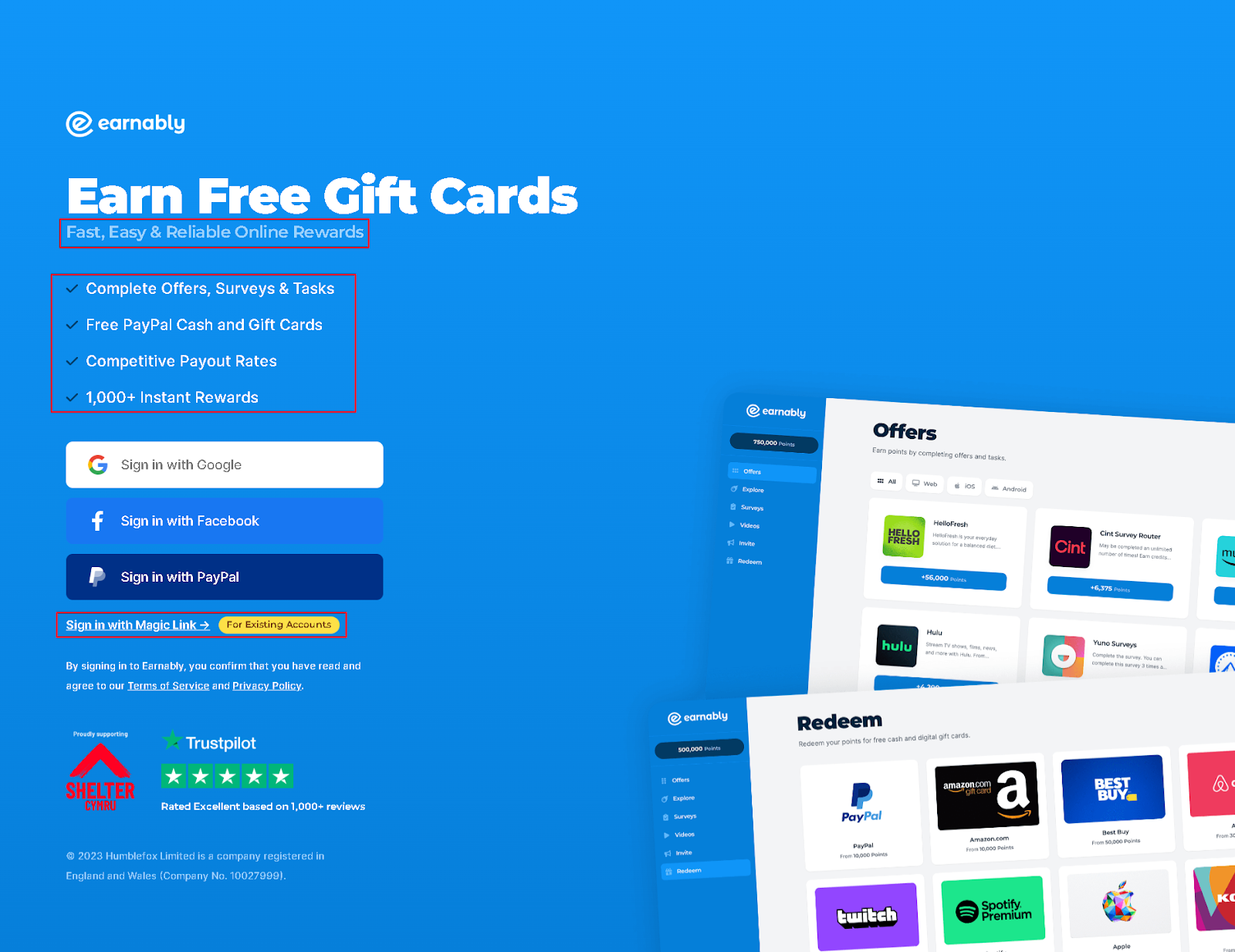 Earnably is a website that mainly allows users to answer surveys, but it also has a service that enables you to watch advertisements and get paid a certain amount of cash in return. While the platform does not have an official app yet, it does not mean that you can only access the site through a computer, as it can be accessed via mobile or a tablet. Additionally, their website is optimized to support both Android and iOS devices, which make it a good choice no matter what device you are using.
Similar to many platforms of the same type, Earnably allows users to redeem their rewards either through PayPal or gift cards, with the addition of wallet codes as an alternative. Moreover, it only requires a minimum of $1 to cash out your rewards in Earnably.
One distinguishing feature of Earnably is it explicitly shows the estimated amount of time needed to accomplish one video or task. This can help users choose the advertisements that they will prioritize watching depending on the time they have at hand to earn passively. Earnably also has a star review of 4.7 from Trustpilot that is presented on their main website, which supports the claim that they are legitimate and supported by thousands of users.
Features Of Earnably
Multiple ways of earning money–surveys, videos, and other tasks
Magic link feature used to sign in for already existing accounts
Account levelling feature where users get to experience more benefits as their engagement with the platform increases
User dashboard for easy monitoring of points and microtasks previously completed
Pros And Cons Of Earnably
| | |
| --- | --- |
| Pros | Cons |
| Easier sign-in process for users with existing accounts through the magic link | Some tasks may require a considerable amount of time to accomplish |
| Account leveling encourages higher engagements to experience more benefits | Payout rates can be low compared to other platforms |
| Multiple methods of obtaining rewards and earning cash | |
#3 MyPoints
Like many get-paid-to applications, MyPoints is an online rewards platform that allows its users to earn money through several microtasks that earn a certain number of points. MyPoints banks on its reputation as a long-standing platform for consumers ever since its inception in 1996. Since then, it has served the purpose of being an online shopping space as well as an online rewards platform for over 9 million users.
One way to earn through MyPoints is by watching advertisements, which come from Ad offers from brands and companies that MyPoints partners with. As with any other app, watching these ads will grant you a certain number of points, usually depending on the length and type of ad that you have chosen. Sometimes, MyPoints has some qualifications a user must meet before being eligible for a specific advertisement. Additionally, there are some ads that will require you to have additional interactions, sometimes through clicking links or completing a short activity. Depending on the complexity of completing an ad, additional points are given.
The accumulated points from watching ads can then be redeemed either via PayPal or gift cards. For redemptions via PayPal, it usually takes five business days for the transfer to be done. When it comes to gift cards, physical cards take about two weeks to be delivered, whereas eGift cards can take anywhere between three to ten business days to process.
Features
$10 sign-up bonus for new members (in the form of 1750 points).
Sweepstakes feature where you can bet as low as 10 points to win prizes.
Daily polls that provide additional points.
Magic receipts that turn your receipts into points.
Pros And Cons Of MyPoints
| | |
| --- | --- |
| Pros | Cons |
| Its reputation as an awards platform makes it a good choice for new users | The app may not be available in some areas |
| The user interface for both the mobile and website version of the app is easy to navigate | Redeeming rewards can take a lot of time |
| Referral program enables users to boost their earnings | |
#4 KashKick
KashKick is another platform that pays you to do microtasks, including watching short videos and advertisements. It is completely free to use and operates in a direct manner, meaning there is no need to earn and convert points for cash because your rewards are given in actual dollars. This relieves users of the additional responsibility to track their points and calculate their actual earnings, as well as the risk of losing points which may potentially cost a few bucks.
KashKick does not have an official application as of writing, but it has an official website where you can watch ads as soon as you finish creating an account. Right after creating your account, you will gain access to an easily-navigated online dashboard where you have the freedom to choose which task you will accomplish and videos you will watch.
Aside from watching advertisements, there are a lot of other ways one can earn good dollars through KashKick. They have online surveys which can be accomplished in a few minutes and may be tailored according to your demographic information. Before answering a survey, though, it is necessary to first qualify for the survey. Additionally, they also have reward offers which are a bunch of other non-survey activities that pay relatively well. This includes playing games or shopping at specific stores for cashback, and the cash rewards can go from anywhere between $0.50 to $50.
Features Of KashKick
Referral program for new users.
Payout system that uses actual cash as a reward.
$1 sign-up bonus through completing a short questionnaire.
Online dashboard that tracks available tasks and total rewards accumulated.
Pros And Cons Of KashKick
| | |
| --- | --- |
| Pros | Cons |
| The platform pays directly in cash | Payouts can only be done through PayPal |
| User interface is easy to navigate | No mobile application yet |
| Referral and sign-up bonuses that add more earning opportunities | |
#5 ySense
Formerly known as ClixSense, ySense is another get-paid-to site that enables users to accomplish a variety of tasks in exchange for cash. Because it mainly focuses on the need to generate data for market research, its main activities include answering surveys and watching videos, as well as advertisements. If you have had some experience in more popular platforms like Swagbucks, ySense does not stray far away from them.
ySense Watch is the feature of ySense that focuses on earning money by watching various content, including advertisements. According to their official websites, the videos you may find in this feature can range from sports clips to entrepreneurial tips, and even trending clips in the world. Additionally, it is also stated that an earning of 2 to 3 cents is acquired for every short video watch.
Before getting paid for watching, though, you will need to complete several other steps to make sure that the videos you have watched have been credited. Additionally, they only currently have this feature available in the US, so if you are not residing in America, you may have to skip this option.
Features Of ySense
An affiliate program where you can earn $.10 to $.30 for each successful recruit.
Figure Eight tasks that are available every day for more earnings.
ClixAddon, a browser extension that notifies users of incoming tasks.
Additional $5 bonus for referrals coming from Denmark, Finland, Norway, and Sweden.
Pros And Cons Of ySense
| | |
| --- | --- |
| Pros | Cons |
| No daily limit as to how many videos you can watch | Some surveys and videos take 10-20 minutes to complete |
| Over $33M worth of rewards given to users as proof of legitimacy | You have to complete several steps first before being credited for watched videos |
| Has been a long-established platform operating since 2007 | |
The Bottom Line
Advertisements are common whenever browsing, and sometimes, you can't skip them. While they may be annoying, they present an opportunity for people to earn a few bucks, which can help pay their bills. Getting paid to watch ads is a way to kill time while making a few bucks on the side.
The platforms mentioned in this list are some of the best ones you can try today without worrying if they are just wasting your time for nothing. These apps are legitimate and well-received by the people who have used them. Nonetheless, the app we recommend the most is Swagbucks. It's a widely-used platform supported by hundreds of thousands of users, and you can definitely earn legitimately by watching a wide array of ads and other microtasks. It has several methods to receive payouts, a relatively low requirement to cash out, and some good deals that open more opportunities for maximized earnings.
However, you should keep in mind that these apps cannot replace working an actual job. While they do pay real money, the amount you can earn per hour is nowhere near what you would make on a full-time or even part-time job.
Get Paid To Watch Ads FAQs
Can you really get paid to watch ads?
Yes, you can get paid to watch ads. Many platforms like Swagbucks, MyPoints, and Earnably reward their users with cash and other prizes in return for watching ads.
How much money can you make watching ads?
Your potential to earn money by watching ads depends on several factors, such as demographics and the time required to finish them, but in general, earnings may range from $10 to $100 per day.
Why do companies pay people to watch ads?
Companies pay people to watch ads in order to generate enough attraction from audiences regarding the advertised product or service. Having the required number of viewership enables the product to reach more people, which generates profit for the company.