Buying brand-new books can be pretty expensive. Factors like the high costs of paper printing, return policies, costs of book storage and transportation, and economies of scale, which make smaller publishers more expensive, are just some of the reasons why books are expensive in Canada. Consequently, many Canadians look for used books in good condition that can cost just a fraction of the price, and many of the best and cheapest used books Canada has to offer can be found online.
Online bookstores that sell used books come in many different varieties. Some offer their books for cheap, others have pricier offers, and others sell affordable used books while also offering free shipping. If you're looking to buy used books online in Canada but are interested in free shipping, or if you're just looking for cheap books, new or used, some of the best websites to consider include Book Bazaar, AbeBooks, Book Depository and Book Outlet. Amazon Canada is also a good choice for both new and used books, albeit not the best option.
Do you love reading books but hate spending a fortune on them? Do you want to save money, be eco-friendly and support independent sellers? Do you need to buy textbooks for school or college without breaking the bank?
If you answered yes to any of these questions, then this post is for you. We have compiled a list of 9 sites where you can buy cheap used books online in Canada this 2023. Whether you're looking for fiction, non-fiction, classics, bestsellers, or textbooks, you'll find something to suit your taste, need and budget.
Why Are Book Prices So High In Canada?
As an avid reader or a student, you've probably noticed that purchasing brand-new books or textbooks in your local bookstore in Canada costs way more than it should. Well, there are several factors that come into play when determining the price of a printed book. The most important are:
#1 High Costs Of Paper Printing
The costs of printing materials such as papers, machines, ink, and other materials required for printing and publishing books are increasing daily. The high operational costs also affect the prices of new printed books, making them more expensive.
#2 Return Policies
Many bookstores have return policies that allow customers to return a book they either do not want to read or do not like and get a refund. So, most bookstores increase the prices of their books to cover the return policy and stay afloat.
#3 Costs Of Book Storage And Transportation
Books must be stored and transported carefully as they are prone to damage. These logistics costs are factored into the books' retail prices, making the books sell for a higher price than they should. This is especially true in Canada, where longer distances, harsher weather conditions and higher fuel prices make shipping costs higher than in most other countries.
#4 Economies Of Scale
The number of people actively buying printed books is steadily declining. So there are fewer book copies in circulation, and these fewer copies will sell for a higher price than they would have been otherwise.
Things To Consider Before Buying Used Books In Canada
You may be a student needing textbooks for school, a book lover who finds reading entertaining or therapeutic, or maybe you're just a curious George who loves digesting new information. Whichever category you fall into, you'll agree that the prices of brand-new books have gone up, and it's no wonder people are turning to second-hand or used books as they're cheaper than purchasing brand-new books. Additionally, buying used books reduces your carbon footprint and helps the environment.
However, there are some things you should consider before purchasing a used book.
#1 The Book's Condition
When purchasing a used book, you must remember that it might have some wear and tear because it was already used by someone else (unless the book is an overstock). Also, consider that a used book might have some marked or dog-eared pages, or it might even have stains on some of the pages. When purchasing a new book, it's very important to inspect it first to ensure it's in good condition.
Also, if you're a student and went to purchase used textbooks, you must remember that second-hand textbooks usually do not come in the latest editions and may not have the additional educational materials you might get when buying a new textbook.
#2 The Price Of The Book
The cost of buying a used book differs from platform to platform for two main reasons. First, because no two used books are alike, they'll almost always be in different conditions. Second, different platforms may charge different fees to the seller, and these fees will always be baked into the final price you pay.
You'll have to shop around every time you buy a used book online if you want to find the most pocket-friendly option.
Where To Buy Used Books In Canada For Cheap
There are a few Canadian options if you're looking for an online bookstore to purchase your next used book. There are also several international online bookstores that sell used books for pretty great prices too, which can make choosing the best option challenging.
So, we did the heavy lifting for you and curated 9 of the best online bookstores which offer used books at low prices. Some of the international options provide free shipping to Canada and may allow you to rent and even return a book.
#1 Book Bazaar
Book Bazaar is a Canada-based, family-run used bookshop that has been selling rare and used books for more than 46 years. Book Bazaar is a member of the Canadian Booksellers Association and the Ottawa Antiquarian Booksellers Association.
The bookstore offers a variety of book options, from books on philosophy, religion, science, and literature, to books on Canadian and indigenous peoples, a wide selection of sheet music and books on music.
Book Bazaar also provides book shipping to worldwide locations, including Australia, Japan, Brazil, and London.
#2 AbeBooks
Acquired in 2008 by Amazon, AbeBooks is a Canada-based online bookstore that offers used, rare, and out-of-print books, fine art, and collectibles at affordable prices. AbeBooks, like Amazon, is a marketplace that prides itself on providing book lovers like yourself with used books, latest-selling books, first editions and signed copies of rare books. It also sells new and used textbooks and forgotten and collectible books and manuscripts that are sometimes centuries old.
You can also get fine art, like vintage posters and original paintings, as well as vintage magazines, comics, manuscripts, maps, photographs, paper collectibles, autographed letters, and a whole lot of other literature. You can also sell books yourself on AbeBooks if you have any used books to sell.
If you're an amateur collector or are looking for a unique vintage or antique book as a gift, AbeBooks is an excellent choice.
#3 Book Depository
Book Depository is another online bookstore owned by Amazon and is a leading international book retailer with over 20 million books. Another unique feature of Book Depository is that it guarantees free shipping to more than 130 countries worldwide, including Canada. So you can rest assured you won't have to spend a dime on shipping using this platform.
Book Depository aims to provide "All Books Available to All" by allowing easy access, improved selection, and affordability of books to customers. While some prices may be slightly higher than in other sites, the final amount you end up spending may be less once you account for the free shipping.
#4 Book Outlet
With its headquarters located in Ontario, Canada, Book Outlet is an online bookstore that offers a vast collection of new and used books on any topic for very affordable prices. Since most of the books are publisher overstocks, the books may have minor wear and tear but will be in overall good condition.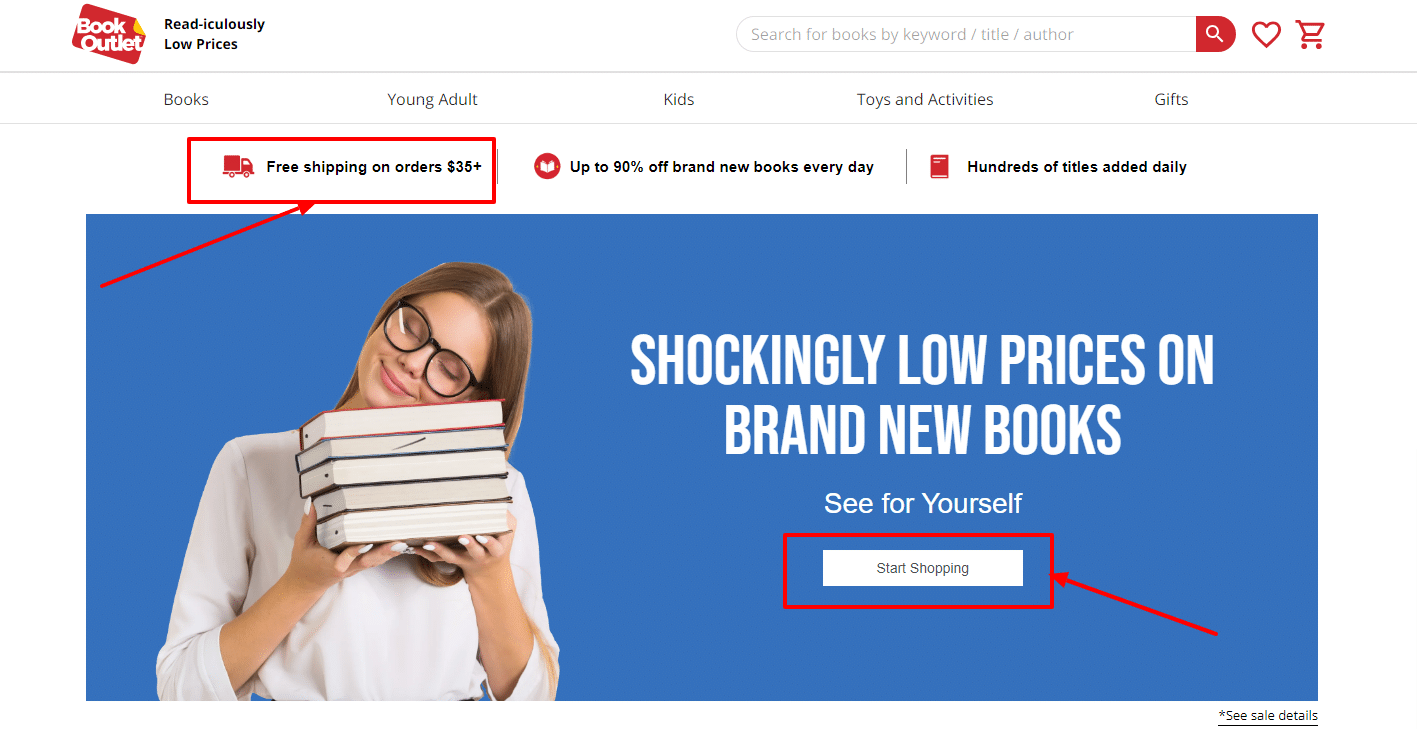 Book Outlet also offers free shipping to Canada for orders of $45 and above. However, you'll pay a flat rate of $5 for orders below $45.
#5 Amazon Canada
Amazon is the largest online e-commerce marketplace in the world and has a branch, Amazon Canada, that caters to Canadians. Amazon has a whole section devoted to books where new and used books are sold. Used books on Amazon are cheaper than brand-new books. Amazon offers an endless variety of books, and when buying a book, you'll be given the option of purchasing either a brand-new or used version.
#6 Better World Books
Better World Books is another online bookstore that offers an extensive library of used books. You'll not just be buying books, but you'll also be helping the environment and various people in need. Better World Books have a seemingly different business model. For every book you purchase from this website, a book is donated to a person in need. The bookstore also offers free international shipping of your books to anywhere in the world, including Canada.
#7 Book Mob

BookMob is a Canada-based one-stop destination for affordable used textbooks in Canada. BookMob features the country's most extensive collection of cheap and used textbooks. You can also rent textbooks and return them for free. You'll also receive free shipping to anywhere in Canada for orders over $150.
#8 Thriftbooks
With over a million reviews and a 4.8 rating out of 5 stars on Trustpilot, Thriftbooks offers a wide assortment of over 13 million high-quality used and accurately graded books at affordable prices. Thriftbooks also has a ReadingRewards loyalty program that lets you exchange the points you earn on the site for free books.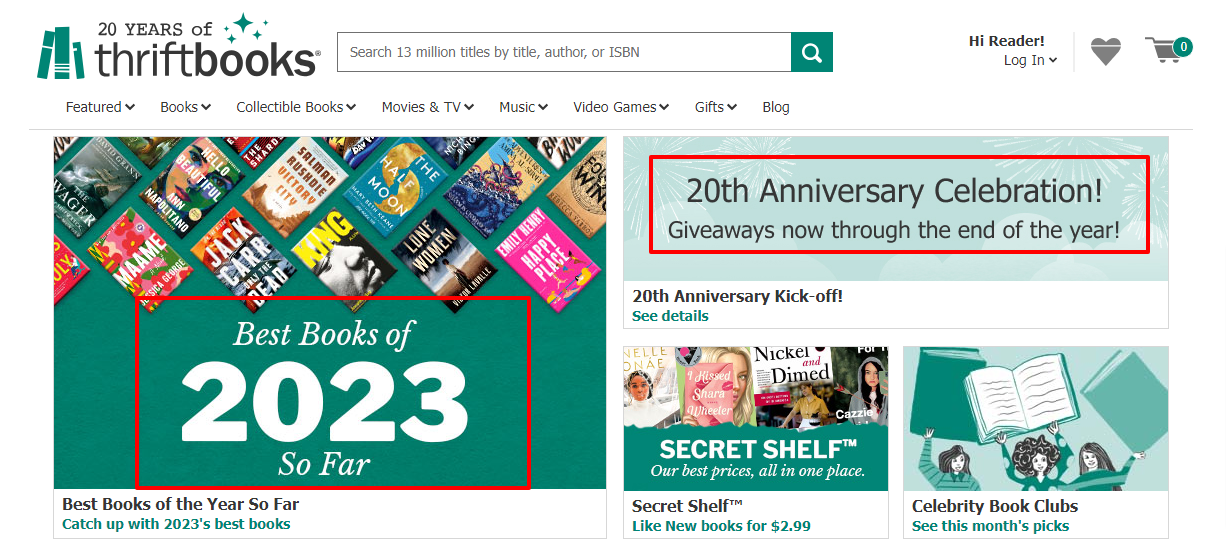 Contrary to some of the other sites mentioned above, this bookstore charges a fee for international shipping of used books to Canada.
#9 Half Price Books
True to its name, Half Price Books offers both new and used books at heavily discounted prices. You can purchase a used book for half or less than half the regular selling price. However, you'll have to pay a fee for shipping the book to Canada.
How To Save Money When Buying Books In Canada
Books are getting pricier, so here are 3 tips to help you save when purchasing your next book or textbook:
Buy second-hand or used books as they are cheaper than brand-new books, and you can sometimes get them in good condition.
eBooks are a smart option for versatility since you can read them on any device. They're also much cheaper since you don't have to pay for the printout or shipping.
Another option is to subscribe to an audiobook service. Audiobooks are usually cheaper and come with a monthly or yearly subscription, so you get to read, or in this case, listen to, as many books as you want for the same flat fee. If you're an avid reader, subscription plans like these can help you save hundreds of dollars every month.
Final Thoughts
With the hike in the price of brand-new books, more Canadians are turning to second-hand bookstores to purchase used books. Buying used books is more pocket-friendly, and you can help the environment by reducing your carbon footprint.
There are many platforms today that sell used books at affordable rates in Canada, and some platforms will allow you to rent a book and return it at a later date. Depending on the books you want and your budget, you can compare the prices offered at various online bookstores and choose the most convenient and budget-friendly option.
9 Sites For Buying Cheap Used Books Online In Canada FAQs
Where can I find cheap used books online in Canada?
You can find cheap used books online on various sites such as AbeBooks, BookBazaar.ca, Book Depository, Book Outlet, Amazon Canada, Better World Books, BookMob, Thriftbooks, Half Price Books, and others. These platforms offer both new and used books at affordable rates, and some offer free shipping to Canada.
Does ThriftBooks ship to Canada?
Yes, Thriftbooks ships used books to Canada for a fee via their Canada Standard shipping service.
Why are books so much more expensive in Canada?
Books are expensive in Canada due to factors such as the hike in the costs of printing and publishing materials, return policies, the economies of scale, and the high costs of transportation and storage.