Some people hold back from joining Fetch Rewards because they feel it isn't safe, but that's only because they don't know how it works. Fetch doesn't ask for any banking or other financial information. It doesn't require your Social Security Number either, and you'll only need to provide your address if you want to redeem your points for physical merch. Furthermore, Fetch anonymizes and aggregates all the data it sells to its partners, so there's no way they can trace the data back to you.
Millions of users trust Fetch Rewards and it's the easiest way to make extra income from the shopping you already do.
If you want to earn a nice bonus and also save money every time you shop online, here's how:
Sign up with TopCashback, a cashback portal currently offering a $15 signup bonus that's extremely easy to get.
The average TopCashback user saves $450/year, with savings of up to 30% on fashion, 40% on cosmetics and beauty, 50% on travel, and much more.
If you're planning to use Fetch Rewards but thinking, "is Fetch Rewards safe?" "Is it legit?" or "does Fetch Rewards steal your information?," we're here to answer all your questions, including how Fetch works and why Fetch Rewards gives you money.
Fetch Rewards is an app that provides cashback on uploading your receipt. Unlike other cashback apps, you don't have to buy products from a specific store. You can purchase it from anywhere and earn points. I recommend Fetch Rewards as it's highly beginner-friendly, accepts e-receipts, partners with 350+ local and online retailers, and takes security very seriously.
Take a look at these 6 reasons why Fetch Rewards is one of the most secure cashback apps in the United States.
#1 Fetch Rewards Doesn't Steal Your Banking Information
People who don't understand how Fetch Rewards makes money tend to think that they must be stealing from you instead, but it's not true. Just because they seem to be giving you free rewards doesn't mean that there's a Fetch app scam or they are stealing your banking information.
From signing up on the app to redeeming gift cards, Fetch Rewards doesn't ask for your credit/debit card number or banking information. Whenever you shop, you just have to upload your receipt to earn rewards and use those points to get gift cards. When signing up for the app, Fetch Rewards only asks to enter your:
Full Name
Date of Birth
Email Address
Home Address
Phone Number
To avoid all this, you can also link your social media directly to the app, so it takes all the data from your social media profile. Even when uploading e-receipts, Fetch Rewards doesn't collect your bank information. So, does Fetch Rewards steal credit card info? No, it doesn't, because it never asks you for it and doesn't have access to it.
#2 Fetch Rewards Has High Security
Fetch Rewards uses all the necessary security measures to protect your data and rewards. When signing up on the app, it uses two-factor authentication to protect your data and account from cyber-attacks.
That means that, even if someone knows your password and tries to hack into your Fetch Rewards account, they will need your smartphone or the device you use to log in. This is because, after entering your password, you need to enter the security code into the app, which you'll receive in your device or email to verify that it's really you.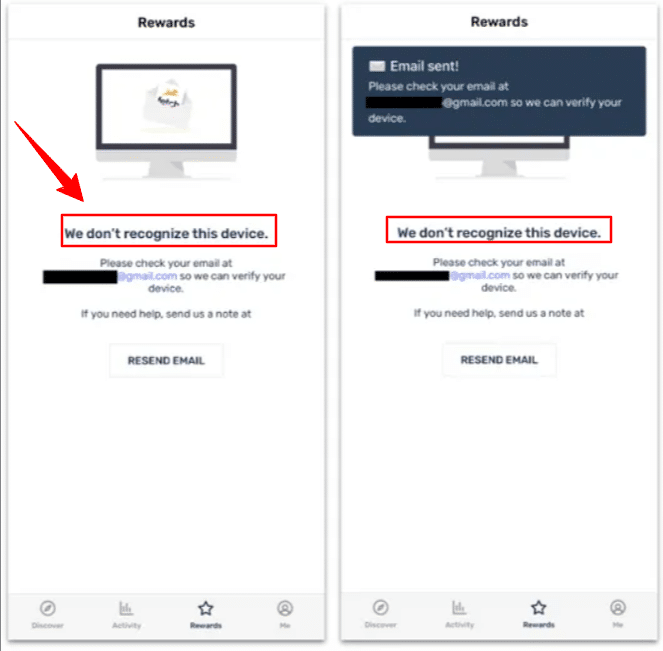 #3 Fetch Rewards Never Asks For Sensitive Information
Is Fetch Rewards dangerous? Is Fetch Rewards a scam? The short answer is no. Fetch Rewards doesn't ask for sensitive data like your social security number or PayPal account details. In fact, Fetch Rewards doesn't ask for any information related to your finances. To start earning rewards on Fetch Rewards, you only need an email address and a few basic pieces of personal information.
You will need to provide your shipping address to get your items delivered when you redeem your rewards for physical objects and merchandise like a t-shirt or shoes, but you can also redeem your points for gift cards that you will receive in your email instead.
If someone asks for your information under the guise of official Fetch Rewards, that's a scam, so you should contact Fetch Rewards' customer support team to let them know.
#4 Your Data Is Anonymized
You only need to look at their business model to realize that it's unlikely Fetch Rewards is selling your whole information to make money.
The way Fetch Rewards makes money is by collecting your buying history and selling it to advertisers so they can improve their marketing strategies and bring new offers to their customers. Fetch Rewards only collects information that the advertisers need. However, they anonymize and aggregate all the data before selling it to their partners, which means those partners will never know which purchases came from you in particular.
This is something Fetch Rewards is clear about from day 1. They tell you how they will use your data, and then they compensate you for it. It's a win-win.
Besides helping its partners better understand their clients, Fetch also uses your data to improve its own services and deliver a better experience. So, now that you know how Fetch Rewards works, it should give you more peace of mind that your data is, in fact, safe.
#5 Fetch Has A Team Of Cybersecurity Experts
When it comes to security, Fetch goes above and beyond to keep its users' accounts safe from all kinds of hacks. According to a recent article, they have a team of cybersecurity professionals performing regular security checks to prevent fraudulent activities like uploading fake receipts. They also check for potential threats and apply all the latest security measures to protect user data.
#6 Receipts Only Include The Last 5 Digits Of Your Credit/Debit Card
Why does Fetch Rewards want receipts? They might be stealing your credit card information from the receipts, right? Wrong. Under Federal Law, vendors are only allowed to print the last five digits of your credit/debit card number on the receipt. They can't print anything else, not even the expiration date. So, Fetch can't get any valuable personal information from your receipt, only information related to your shopping habits like what you purchased, where you made each purchase and when, how much you spent, etc.
If you have a receipt containing other extra information that you don't want to share, then you should avoid uploading it.
Millions Of People Agree: Fetch App Is Safe To Use
The Fetch Rewards app on iOS has around 2.8 million reviews and a 4.8-star rating. Similarly, the app has been downloaded over 10 million times on Android and has a 4.6-star rating. From Amazon to Walmart, Target to Costco, the app has partnered with over 350+ local and international retailers so users can shop wherever they want and earn rewards.
As mentioned in the points above, Fetch anonymizes and aggregates all data so the companies can't know your identity. Retailers only use this data to look at wide-ranging trends made up of millions of shoppers.
If you haven't downloaded the Fetch Rewards app yet just because you're wondering, "is the Fetch app legit?," then I hope this article has put your mind at ease and that you're ready to start earning extra points on your shopping. You can use our referral code YOREOYSTER to get a head start and earn thousands of extra points.
If you want to earn a nice bonus and also save money every time you shop online, here's how:
Sign up with TopCashback, a cashback portal currently offering a $15 signup bonus that's extremely easy to get.
The average TopCashback user saves $450/year, with savings of up to 30% on fashion, 40% on cosmetics and beauty, 50% on travel, and much more.