Inspirato markets itself as an all-you-can-travel service that offers its members luxury accommodations at a fraction of their true cost. In reality, though, Inspirato charges higher-than-average prices for rooms they frequently can't offer with a highly unfavourable bad cancellation policy.
Due to these issues—its inflated pricing, unreliable inventory, and unfavourable cancellation policy—I can't recommend Inspirato to anyone. If you're thinking about joining Inspirato, I strongly recommend you reconsider.
SPECIAL OFFER: If you're a high-net-worth individual looking to earn market-beating returns, I recommend subscribing to Capitalist Exploits. A 30-day trial costs just $1, and their track record of outperforming the S&P 500 makes them an ideal choice for investors with assets of $500,000 or more.
How Does Inspirato Work?
Inspirato is a $2,500/month luxury travel subscription that enables members to book hotels and homes without paying nightly rates, taxes or other fees.
Properties offered by Inspirato's platform are primarily located in the United States, with a smaller number of properties in Central America and Europe.
If you aren't able to physically attend a trip that you want to still book for family and friends, you can add on an additional $500/month sharing pass so others can use your Pass without you being there.
The minimum time between two trips is 7 days, and you must check out of your first booking before making a subsequent booking, which means there's no opportunity for back-to-back travel with Inspirato.
In this post, I'll give some real trip examples that show how the Inspirato Pass works, break down how much it costs, expose Inspirato's major weaknesses, and explain why I believe Inspirato offers poor value to nearly all types of travelers.
How Much Does Inspirato Cost?
Inspirato offers two different subscription plans: the Inspirato Club and Inspirato Pass.
After carefully analyzing the features, benefits and fees of both, I can't recommend either the Inspirato Club or the Inspirato Pass in good faith.
Inspirato Club
$600 upfront + $600/month
An Inspirato Club membership just allows members to book from Inspirato's list of properties.
It does not include any discounts on nightly fees or other charges; you'll need to pay all of the standard charges (nightly fees, cancelation fees, food & drink, travel expenses, etc.) on your own.
That's why the Inspirato Club is a bit of a ridiculous offer: for $600/month, you're simply buying the right to book properties on Inspirato's site.
But as you'll see below, many of those properties cost more through Inspirato than elsewhere on the web, which means you're essentially paying $600/month for the opportunity to overpay even more.
Perhaps the only positive thing about the Inspirato Club is that members can cancel anytime.
If you're an Inspirato Club member, I suggest using that feature and saving yourself $600/month.
Note: Most readers are interested in the Inspirato Pass, not the Inspirato Club, so the rest of this review will focus on that.
Inspirato Pass
$2,500 upfront + $2,500/month
The Inspirato Pass has more promise than the Inspirato Club, since you receive tangible value with your membership in the form of Pass Days.
Pass Days are Inspirato's currency, and you receive 1 Pass Day for every day that you're a member (in other words, about 30 Pass Days per month).
As an Inspirato Pass member, you don't have to pay any nightly rates on the travel you book through Inspirato, including any taxes and fees. Instead, you pay in Pass Days, which I'll clarify in the trip examples below.
The Inspirato Pass can also be cancelled anytime, though your $2,500 enrollment fee is non-refundable.
I'll focus the rest of this review on the Inspirato Pass since that's what the vast majority of you came here to read about.
Inspirato's Weaknesses
Inspirato has several fundamental weaknesses, including inflated pricing, low availability, and a very unfavourable cancellation policy.
Here are some more details on these and other weaknesses of Inspirato:
#1 Inflated Pricing
In June 2021, Inspirato presented potential investors with a pitch deck outlining their financials.
In that deck, they proudly displayed that they earn a profit of $1,000 per month ($12,000 per year) off of each Inspirato Pass member.
How do they achieve such high profits? By giving members far less than what they receive from them.
Now Inspirato's business model starts to make sense. The core of their business involves buying rooms at discounted prices, creating false scarcity by making those rooms difficult to book, and reselling those rooms at inflated prices.
You'll see this clearly in the two example trips below.
You're paying $1,000/night more than you should be by booking with Inspirato, and you have to lock in those travel dates months in advance.
And if Inspirato's financials hold true for those specific trips, that means that they're buying each of those rooms for about $7,000 less than they're selling them for, since both trips cost about 7 months worth of Pass Days (215 & 200 Pass Days, respectively).
It's becoming clear why it's so difficult for Inspirato members to just break even on their $30,000 annual membership fees.
Rather than passing savings on to members, Inspirato is keeping all of those savings—and then some—for themselves.
My #1-Rated Crypto Platform
---
Capital
is the only fully regulated crypto platform that offers
zero-commission trading
. Plus, new users can get started with a demo account and deposit real funds later.
Click below to skip the line and get accepted today. Offer ends September 31, 2023.
#2 Highly Unfavourable Cancellation Policy
Suppose you book a trip with Inspirato six months in advance (booking six months out is necessary for a lot of Inspirato properties). Then, one month before your trip, something comes up and you need to cancel it.
Unbeknownst to you, this is going to be a nightmare.
On the surface, everything seems fine: your Pass Days will be refunded and you won't be charged any cancellation fees.
However, what you won't get back are the 5 months of wasted time. Since the Inspirato Pass is fundamentally a race against time (trying to book as many vacations as you can within a given period of time), this drops the value of your Pass significantly.
Here's why: not only will you not be able to get those 5 months back, but you'll also need to wait another number of months to book your next trip, which means you could very feasibly go a full 12 months (while paying $30,000 in fees out of pocket, plus your $2,500 initiation fee) before using your Pass at all.
And unless that next stay that you book is worth 365 Pass Days or more, you'll still be behind, running on the Inspirato treadmill trying to get back to breakeven.
I can't overstate the importance of this: when you book a stay with Inspirato, you'd better be 100% sure that you're going to use it.
Other online travel agencies offer reasonable cancellation policies that give you 100% of your money back. Inspirato's cancelation policy may seem better on the surface, but it's not at all what it seems.
#3 Recurring Monthly Fee
Inspirato Pass members must pay their $2,500 membership fee every month ($30,000 per year), whether they're actively using the service or not. Even for luxury travelers, this is a non-trivial sum that's not easy to swallow.
If you're an Inspirato Club member, your monthly fee is $600 ($7,200 per year), which does not include any nightly fees, activities, or other fees involved in a given trip, all of which must be paid on top.
#4 One Reservation At A Time
With Inspirato, you can only have one active reservation at a time, which means you need to check out of your first booking before making a subsequent booking.
This becomes quite burdensome since many Inspirato properties only have availability 6-12 months in advance, rendering your Pass unusable for 6-12 months if you book one of them. It's not uncommon for members to only take 1-2 trips per year as a result of this, significantly eroding the value of the Inspirato Pass.
To hold more than one active reservation at a time, Inspirato recommends buying another Pass for an additional $2,500/month.
#5 Extremely Limited Variety Of Properties
If you don't spend 90+% of your time in the United States, you're going to be disappointed by Inspirato's selection of properties. Here are just a few regions where you won't find what you're looking for:
Do you live in Canada? Inspirato only has 6 properties available in the entire country: 5 downtown hotels between Toronto, Vancouver and Montreal, plus the Fairmont Chateau Lake Louise in Banff National Park.
Heading to Asia? Forget about going somewhere interesting like Thailand, Japan, or Indonesia. Inspirato only has 5 properties across all of Asia: 2 are in the United Arab Emirates, and 3 in the Maldives.
Spending some time in Europe? You're out of luck again. Scandinavia (Denmark, Finland, Sweden, and Norway) is completely absent, while entire other countries like the Netherlands (2 properties), Croatia (2), Germany (1), Austria (1), and the Czech Republic (1) are only barely represented, too.
Going south? I hate to say it, but this won't work, either. Inspirato offers just two properties in all of South America, and just one in all of Africa.
#6 No Loyalty Benefits
Properties booked through Inspirato do not earn loyalty points, even if you stay at a chain where you have status.
For example, if you're staying at an SPG property that you booked with Inspirato, your nights won't count toward your Marriott Bonvoy status, which means the trips you take with Inspirato serve as a detriment to your travel not done through Inspirato.
#7 Phantom Inventory
One of the things Inspirato members complain about most is its "phantom inventory" problem: essentially, the rooms shown in Inspirato's search tool (including those with a "Book" button next to them) are often not actually available.
This happens so frequently that it can feel like Inspirato's inventory isn't real at all—that it's more of a tool for enticing new subscribers than it is a hard asset.
#8 Incentivized Current Members
If you've been reading/watching any other Inspirato reviews, you've probably come across Inspirato members who offer to connect you with their contact at the company.
I recommend that you don't fall for it.
The truth is that Inspirato members are paid $1,000 or more for referring new members (remember those fat profit margins!), which, somewhat ironically, makes referring others the most valuable component of holding an Inspirato membership. And the "contact" they're offering to connect you with is just a member of Inspirato's sales team, whose job it is to deliver a smoothly rehearsed sales pitch designed to persuade you to fork over $30,000 a year.
It would be unwise to rely on a single person's perspective (mine or otherwise) as you make your decision about Inspirato. Just keep in mind that many of the members urging you to sign up are doing so not for your benefit but to reclaim some of the money they've already thrown away.
Is Inspirato Worth It?
No, Inspirato is definitely not worth the $30,000 annual fee. I can say that confidently because I've compared Inspirato's prices with publicly available prices from major online travel agencies like Agoda and Booking.com.
In my comparisons, I refer to the figure of $83 per Pass Day, since the Inspirato Pass costs $2,500/month and there are 30 days in a month ($2,500 / 30 = $83).
Also, keep in mind that for Inspirato to provide good value, its prices should be significantly lower than those you can find on your own online because if you're only getting the same prices with Inspirato as you do everywhere else, there's no reason to lock yourself into a $30,000 annual commitment (not to mention subjecting yourself to all of the other restrictions that come with Inspirato, such as limited availability, unrealistic advance booking requirements, etc.).
It would be much wiser just to buy travel as you go, forgoing the additional financial commitment.
Let's look at some specific trips with that out of the way.
Trip #1: Los Cabos, Mexico
One of my favorite properties on Inspirato is Rosewood Mayakoba in Los Cabos, Mexico, so that's where I decided to start my search.
However, I was disappointed right from the start: even though I was just looking for a 3-night stay for myself and some friends, the earliest available dates were a full 5 months out.
And because Inspirato doesn't allow members to have more than one active reservation at a time, I would need to lock up at least 5 months of my Inspirato membership for just this one trip.
The pricing made things even worse. As you can see below, a 3-night stay in Rosewood Mayakoba's 3-bedroom Cenote Villa costs a whopping 215 Pass Days or $17,917 at $83 per Pass Day: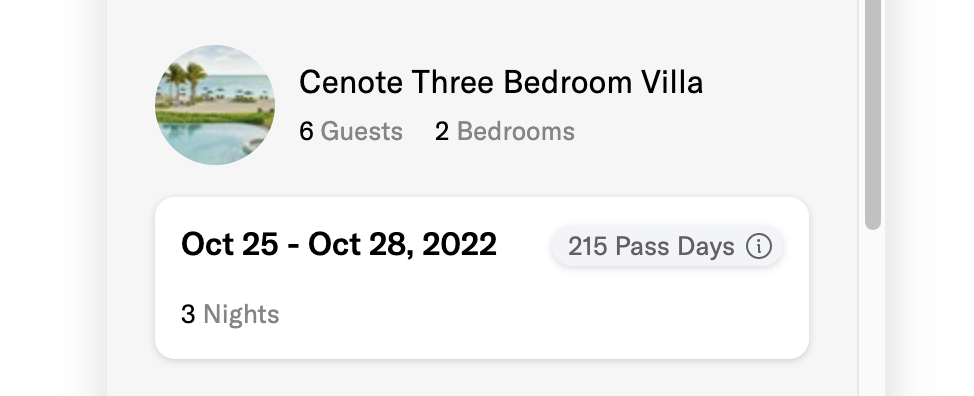 Compare that with the price on Hotels.com, where you can get the exact same villa (the 3-bedroom Cenote Villa) for $17,120 (the total price after taxes and fees is in small print on the right side of the screenshot).
And if you account for Hotels.com Rewards, which gives travellers 10% back on every booking, you'll save an additional $1,712 using Hotels.com, which means you're actually paying $2,509 ($836/night) more by booking with Inspirato.

That search obviously didn't work out the way I wanted to, so I thought I'd look at a trip to Greece instead.
Trip #2: Santorini, Greece
The property I'm most interested in Greece is Chromata Villa in Santorini.
The going rate on Inspirato for Chromata Villa is 40 Pass Days per night, which at $83/Pass Day comes out to $3,333/night. That means that our sample 5-night stay (September 5-10, 2022) costs a cool 200 Pass Days, or $16,667: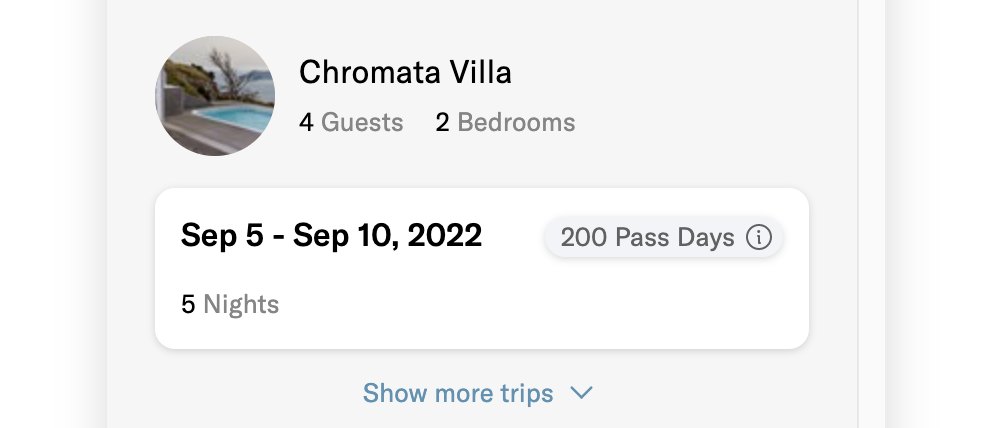 Compare that with the price on Agoda, where you can get the exact same room (the Chromata Villa) for $11,072 ($2,768 per night after all taxes and fees).
That's a savings of $5,595, or over $1,100 per night.
The Agoda booking even includes free cancelation until the day before check-in, another huge win over Inspirato.

As you can see, Inspirato is offering extremely poor value on both of these trips.
Not only is Inspirato not saving their members money, but they're charging them far more than what they would pay if they just spent 5 minutes to book the exact same room on their own.
Here's a table summarizing the trips above (all prices include all taxes and fees):
| | | |
| --- | --- | --- |
| | Los Cabos, Mexico | Santorini, Greece |
| Total Price (Inspirato) | $17,917 | $16,667 |
| Total Price (Online Travel Agency) | $15,408 | $11,072 |
| Loss Due To Inspirato | $2,509 | $5,595 |
Who Is Inspirato Good For?
Given Inspirato's two major weaknesses—its inflated pricing and restrictive cancellation policy—I can't recommend it for anyone seeking value or flexibility.
Ironically, value and flexibility are the two factors that brought me (and many others) to Inspirato in the first place, though they failed to deliver on those promises:
Value: In line with the examples above, you should expect to pay about $1,000/night more when booking with Inspirato vs. other online travel agencies.
Flexibility: If you want the ability to change or cancel your Inspirato trip less than 6 months in advance, you'll be disappointed.
With that in mind, I don't believe Inspirato's current business model is a good fit for any type of traveller.
Inspirato User Reviews
I'm not the only one dissatisfied with the Inspirato experience. Here are two other bloggers who have had similarly poor experiences with Inspirato:
"Once I joined Inspirato, I quickly found out that the majority of the trips I was interested in pursuing were no longer available. It seemed that options were constantly disappearing, yet very little if anything was being added to replace the selection. In order not to completely lose money, I started to book the only remaining feasible options that worked for me, though none I was very interested in, only not to lose money & feel like I was at least getting a tiny bit of value perusing the "left-over scraps" to choose from. I realize now that I won't be able to take advantage of and use my Pass as I hoped to… Inspirato is still not prepared to deliver." — Susanna | Luxury Pass Review
"I joined Inspirato in 2016 with a group of YPO friends and quickly realized that as my friends in Texas would say, "Big Hat, No Cattle". Booked my first trip to the Turks and it was a disaster. They gave me a credit but I couldn't find anything else to book. So long as you plan a year in advance, you may find something to book on your continent of choice. Spoke to my rep and cancelled my membership and, like a cheap gym membership, they couldn't find any record of me cancelling. Save yourself the money." — John Baudhuin | Luxury Fractional Guide
In Summary
I started learning about Inspirato because I wanted to love it: for someone with as much travel flexibility as I have, I thought I could make great use of Inspirato's "all-you-can-eat" sort of travel pass. But as I dug deeper, I slowly discovered a company egregiously over-charging its customers behind the guise of exclusivity and the "don't ask, don't tell" ethos of luxury brands.
There's no doubt that Inspirato has a beautiful website that reminds us that travel can be light, inspiring, and carefree. But, at least in my books, that reminder is not worth $30,000/year.
SPECIAL OFFER: If you're a high net worth individual looking to earn market-beating returns, I recommend subscribing to Capitalist Exploits. A 30-day trial costs just $1, and their track record of outperforming the S&P 500 makes them an ideal choice for investors with assets of $500,000 or more.