Interview Camp is an online interview prep boot camp designed to give SWEs a structured study path for their technical interviews. However, it's lacking coverage in key sections of the interviewing process and it requires a yearly subscription, which is why we recommend Tech Interview Pro, a proven program offering hundreds of coding walk-throughs that also prepares you for the soft side of the interview.
Interview Camp is an online interview prep boot camp designed to give SWEs a structured study path for their technical interviews: and it has a few nifty features to do so.
Advantages of Interview Camp
#1 Thorough Technical Coverage
Interview Camp covers a wide range of data structures & algorithms and systems design concepts, and it does so through plenty of in-depth video lessons.
With a list like this one for both topics, it'll be difficult to face a coding question you don't know the answer to.
#2 Technique Over Coding Questions
Rather than making you go through hundreds (or even thousands) of programming questions, Interview Camp teaches you techniques that you can use to solve any programming question you encounter.

This is a good approach to problem-solving: after all, working smart trumps working hard all the time.
#3 Self-Paced Course
Interview Camp is a completely self-paced course, and you can decide when you start and when you finish.
This is a useful feature for students who have irregular schedules or just very busy lives in general.
#4 Weekly Live Sessions
Interview Camp also offers weekly live sessions where students can discuss topics and get answers to their questions.

A convenient feature for those who like to know every detail of what they study!
#5 Private Slack Group
Interview Camp also features a private Slack group for its students to use, making it an ideal place for you to discuss problem solutions and related topics with others who are at a similar level.
You can also use this Slack group to discuss job offers with other students, which is pretty convenient once you're on the job hunt.
#6 Risk-Free
See something you don't like and are having second thoughts during the first week of access? Interview Camp allows you to have a refund, no questions asked.
This essentially makes Interview Camp risk-free: after all, you can get pretty well acquainted with the course in one week.
So, should I use Interview Camp to prepare for my interviews?
Interview Camp will definitely help you learn about DS&A and systems design thoroughly.
But as an interview prep resource, it's lacking coverage in a key aspect and it can also be slightly annoying to use. This is because…
Travel With Peace Of Mind
Staying safe and healthy while you travel has never been more important than it is today. Join the world's most user-friendly insurance company, SafetyWing, for less than $1.50/day. Cancel penalty-free any time.
Interview Camp's Biggest Weakness: No Soft Skills, No Lifetime Access
Having to pay for course access yearly can be pretty tedious if you think about it: depending on how long it takes you to land a job, you might have to do this over and over again.
And I get it, mentioning soft skills in a technical interview setting can raise a few eyebrows.
But tech companies today aren't just looking for coding savants: they're actually taking things a step further.
Here are some of the other skills tech companies are looking for in a candidate.
#1 Leadership Skills
Recruiters right now not only want you to be at the top of your game technically.
They also expect you to be capable of leading a team of software engineers to victory, even if you don't know them at all.
In other words, tech companies right now are expecting you to be a senior engineer already, not just a junior engineer.
And to do this, you also need another set of skills.
#2 Communication Skills
If you don't have a solid set of communication skills, it will be very hard to work with your teammates to complete any projects: let alone leading them to success.
You'll also need to have good communication skills in order to efficiently express any ideas you come up with. Otherwise, you'll just slow everyone down.
#3 Teamwork Skills
Last but not least, it's key that you acknowledge software development as the team endeavor it actually is.
Let's be frank: you're not going to be developing the company's software on your own. That's just impossible.
You need to be comfortable with the idea of teamwork, and if you aren't, your interviewers will notice this pretty quickly. Trust me, you don't want them to.
Interview Camp vs. Tech Interview Pro
So, Interview Camp will do a good job technically, but you'll need something else to study your soft skills: and hopefully, it's something that has lifetime access, too. What should you use, then?
I suggest you use Tech Interview Pro, another interview prep program designed by a former Google and Facebook software engineer who has compressed the knowledge he gathered from conducting over 100 interviews during his time into a single course.
Here are a few reasons why I'd recommend Tech Interview Pro over Interview Camp.
#1 Covers Every Interview Aspect
Tech Interview Pro is pretty comprehensive when it comes to its teaching, taking both the technical and behavioral aspects into consideration in its 20+ hours of video lessons.
Here's TIP's course outline, with the behavioral topics bolded for comparison:
Understanding The Interview Process
Four Axes of the Interview

Coding
Data Structures & Algorithms
Systems Design
Communication

Interviewing Masterclass
Data Structures & Algorithms
100+ Coding Sessions
The Mock Interview
Systems Design
Transitioning Careers
Negotiating & Accepting Your Offer
As you can see from this course outline, TIP has a balance of both the technical and the behavioral, making sure its students feel comfortable in both topics before they even think of having their interviews.
#2 Private Facebook Group
Tech Interview Pro also has a private Facebook group of its own, with 1,500+ former students of the course in it.
Here are some of the success stories that past Tech Interview Pro students have posted in the Facebook group: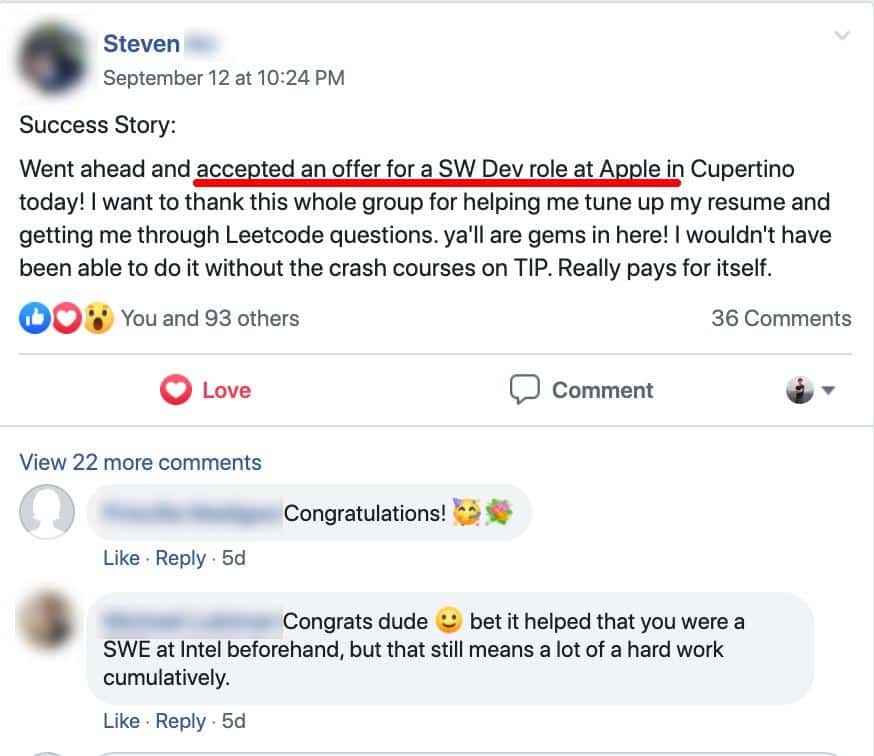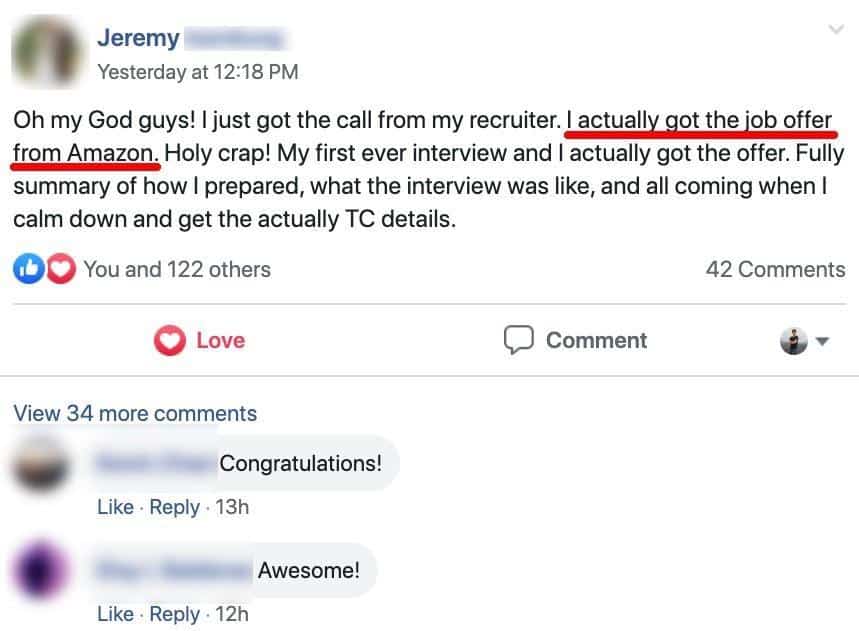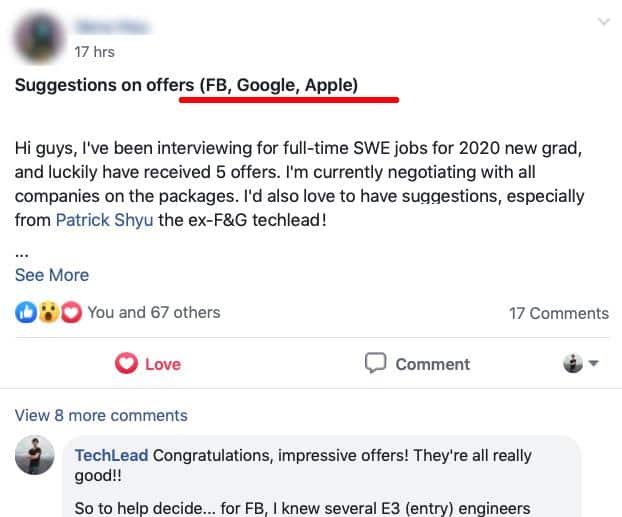 Considering just how many of these former students have gone ahead and landed jobs at companies like Google and Facebook, it's simply a resource that Interview Camp's Slack group can't match.
#3 Resume Reviews
Another useful feature that Tech Interview Pro has is that the course founder, TechLead, will also personally review your resume and help you tailor it to the company you seek to land the job in.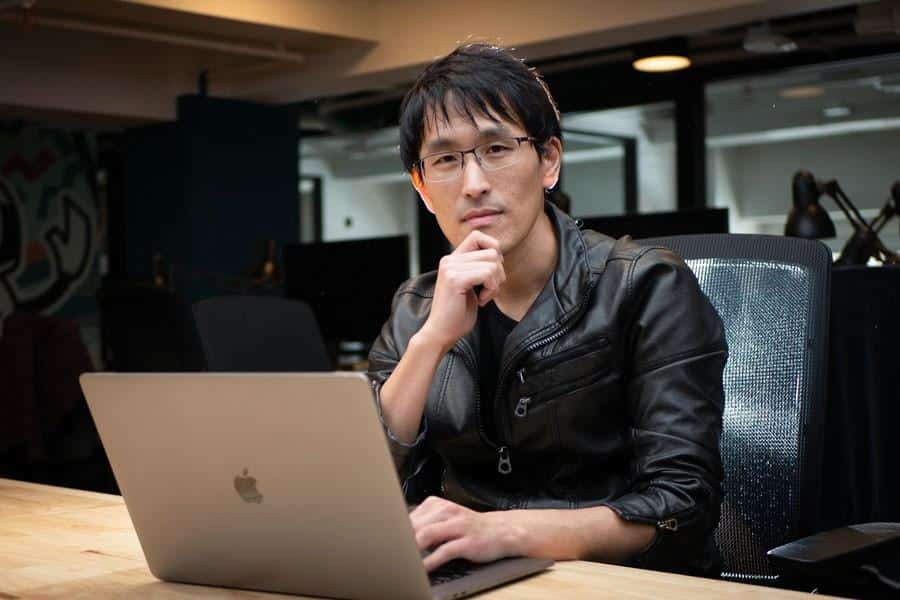 Considering TechLead has grown his own websites to millions of users, spent his recent years working at Facebook and Google, and has conducted over 100 technical interviews for Google, your resume will be simply top-notch.
#4 Lifetime Access
Lastly, TIP grants lifetime access to the entire course and private Facebook group, which means that you'll be able to see new video lessons as they're added, grow alongside the Facebook group, and everything else.
TIP's got your back, whether you want to land a job now or in the future.
In Summary
Interview Camp is a course that has a solid coverage of data structures & algorithms and systems design.
But if you don't know how to properly communicate and both lead and work with a team, you'll only ever get your foot on the door as far as technical interviews go.
For this reason, I recommend you choose a more comprehensive, battle-tested solution like Tech Interview Pro to give yourself the best possible chance of success.