Outco is a coaching program that trains aspiring software engineers on both the technical and behavioral aspects of technical interviews. However, Outco's price-to-course length ratio is questionable, and it's simply too short to be able to talk about every topic you need to learn in the depth required. Instead, we recommend you use Tech Interview Pro, a proven program offering hundreds of coding walk-throughs that also prepares you for the soft side of the interview.
Outco is a coaching program for software engineers: it trains aspiring SWEs on technical and behavioral skills that help accelerate their job search and advance their careers. If you're interested in other software roles (such as software sales), I encourage you to look at Prehired, but the rest of this post will focus on Outco and its program for software developers.
Advantages of Outco
#1 Free Info Session
Outco has a free info session that you can use to get to know the application process and the course itself better. They also host live Q&A sessions here as well, so make sure you take advantage of that!
You can also select a date that works for you in the calendar, which looks like this:
#2 Mock Interviews
Outco also grants its users the opportunity to engage in a series of mock interviews: 30+ to be exact.
This is very useful to feel more confident in the behavioral aspect of interviews, which often doesn't get any coverage at all by other interview prep courses out there.
#3 Organized Course Structure
Outco's course outline is well-organized, and it's designed to teach you the absolute basics of every interview aspect before moving on to more difficult concepts.
This is particularly convenient for beginners to these topics, as any other learning curve could lead to unnecessary frustration in the short-term.
#4 Free Visitor Class
Outco grants access to a free visitor class, which is basically a sample of what you can expect the course to be like. The class lasts for about an hour, and it focuses on solving a tough programming question from Google.
Like the free info session, you can also pick the day of the month that's most comfortable for you.
#5 Language Agnostic
Outco allows you to use the programming language of your choice both in class and during assignments.
This is always a time-saver: imagine if you had to learn a new programming language just to be able to understand a course!
#6 Lifetime Access
Outco offers lifetime access to the everything in the course, including access to the curriculum, weekly alumni classes, career advice, community support, and guest-speaker events.
Pretty handy in case you want to seek a job in the future instead of right now.
So, Is Outco Worth It?
As an interview prep course, Outco shows a lot of promise in everything that it offers.
But it has one flaw that doesn't allow me to recommend it completely, and that would be…
Travel With Peace Of Mind
Staying safe and healthy while you travel has never been more important than it is today. Join the world's most user-friendly insurance company, SafetyWing, for less than $1.50/day. Cancel penalty-free any time.
Outco's Biggest Flaw: Not Long Enough
Considering the price of the course, one month is simply not enough time to cover every aspect of the interview as thoroughly as necessary.
And while the content in Outco shows a lot of promise, you're going to end up using another resource to complement what it lacks eventually.
To have the best possible chance at succeeding in your interview, you're going to need a better edge.
Outco vs. Tech Interview Pro
So, Outco is promising, but promise alone won't help you have the best possible chance at succeeding in your interview. If that's the case, what will?
I recommend you take a look at Tech Interview Pro, a program designed by a former software engineers at Facebook and Google who compressed years of interview knowledge and experience into a single course.
And here are a few of the reasons why I recommend it over Outco.
#1 Covers A Lot Of Ground
Tech Interview Pro will prepare you for every aspect of your technical interviews, not just your technical skills: and it'll be making sure it leaves no stone unturned.
Here's an outline of Tech Interview Pro:
Understanding The Interview Process
Four Axes of the Interview

Coding
Data Structures & Algorithms
Systems Design
Communication

Interviewing Masterclass
Data Structures & Algorithms
100+ Coding Sessions
The Mock Interview
Systems Design
Transitioning Careers
Negotiating & Accepting Your Offer
As you can see, there's hours of technical and behavioral content in there, and that's how you'll set yourself apart from everyone else who preferred to use Outco.
#2 Private Facebook Group
Tech Interview Pro also grants access to a private Facebook group, which has 1,500+ former students to the course in it.
It's an invaluable resource for getting immediate feedback on your interviews and offers, as well as for meeting other engineers who have successfully landed jobs in FAANG and other tech firms.
Here are some of the posts by past Tech Interview Pro students: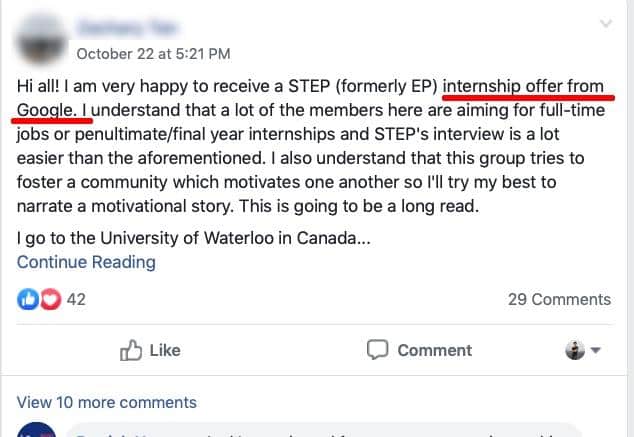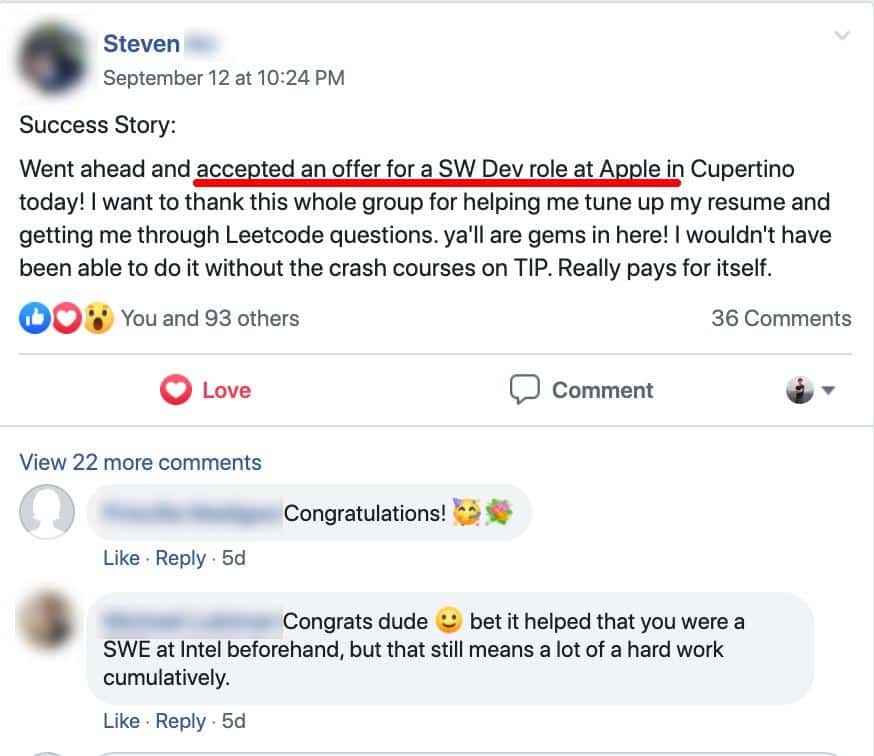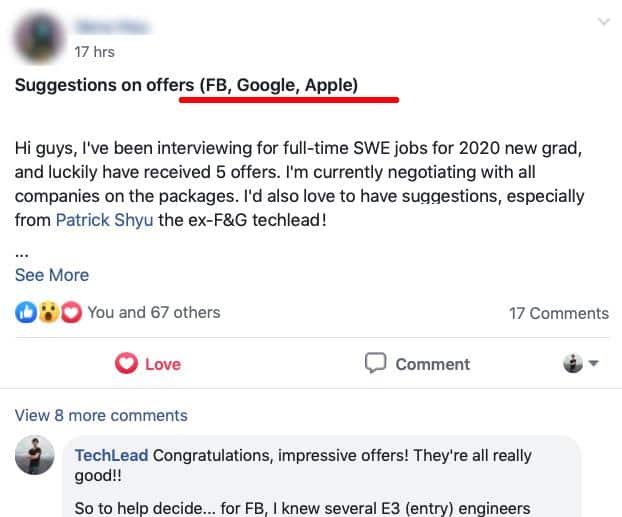 #3 Led By An Industry Insider
Tech Interview Pro is run by an industry veteran who has reverse engineered the hiring process to give you the best chance of success.
TechLead (Patrick Shyu) has grown his own websites to millions of users, spent his recent years working at Facebook and Google, and has conducted over 100 technical interviews for Google.
You simply can't ask for a better instructor here.
#4 Bi-Weekly Q&A Sessions
TechLead hosts live Q&A sessions every two weeks, which are tremendously useful for getting feedback on any question you might have, even if it's really specific.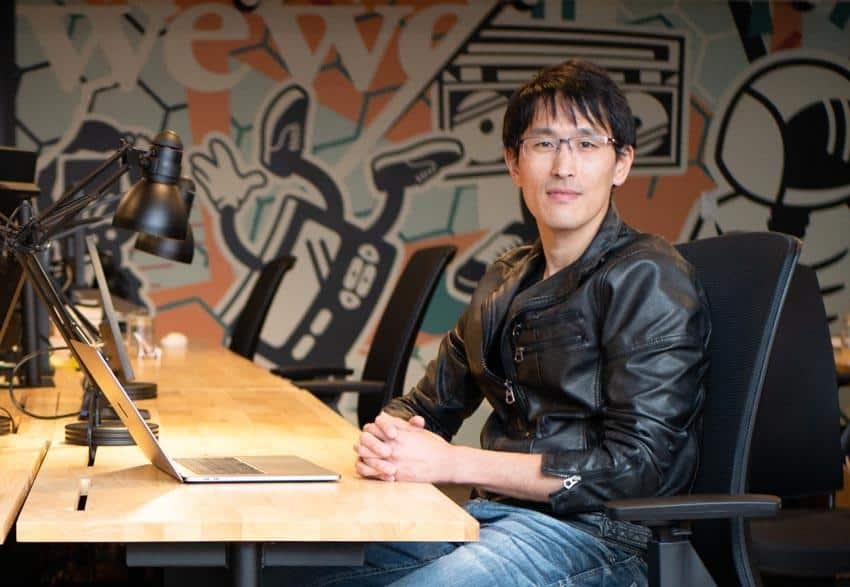 For example, you could ask:
How should I prepare for a software engineer (machine learning) interview with Google?
I have an interview with Facebook in a week. Is there anything I should keep in mind?
How tricky are Amazon's interview questions?
What is an SWE interview with Microsoft like?
Also, every Q&A session is recorded, so as soon as you join Tech Interview Pro, you'll gain access to all previous Q&A sessions as well.
#5 Resume Reviews
TechLead will personally review your resume and help you tailor it for the position and the company you're pursuing.
This is a very handy feature: after all, your resume will probably be a recruiter's first interaction with you, so you need to make sure it leaves a lasting impression.
Bonus Stage: Outco vs. Interview Kickstart
Another popular interview prep program out there is Interview Kickstart. How does it fare against Outco?
Quite well, actually! Though not as well as Tech Interview Pro.
The thing is, IK's course length is twice as long as Outco's, which means that every topic gets twice as much attention if you use IK than if you were using Outco.
However, Interview Kickstart suffers from other problems, which make me unable to recommend it over Tech Interview Pro.
You can see a more in-depth article on Interview Kickstart here.
In Summary
Outco has plenty of positives going for it, and it's hard to deny that: it even covers the behavioral aspect, which is a topic most interview prep resources often ignore.
But if you want to truly set yourself apart from the competition, you're going to need a course that goes into a lot more depth. To ensure you have the best chance at successfully landing the job, I recommend you use Tech Interview Pro.