The Helium network is a relatively new, low-cost way to passively earn the cryptocurrency token Helium (HNT). For around $500, you can buy a Helium miner, get it set up, and start earning HNT while you sleep.
There are two important decisions to make when getting into Helium mining: your location and your miner. In this post, I'll walk you through how to think about both decisions to ensure you get a great return on your investment.
What Is The Helium Network?
The Helium Network is a new blockchain network designed to create decentralized and public wireless networks. The Helium Network is similar to current WiFi technology, but it's more cost-effective and peer-to-peer.
The Helium Network has several characteristics that set it apart from a typical WiFi network, such as full encryption from device to cloud, dependability and scalability, and the fact that it's an open-source network dedicated to open collaboration. Helium miners are rewarded for expanding and developing the network.
The Helium network uses a Proof of Work (PoW) model similar to Bitcoin and Ethereum, though they call it Proof of Coverage (PoC) since Helium mining requires validating network activity via radio waves. Helium mining consumes far, far less power than other types of cryptocurrency mining (just 5 watts), with most Helium miners consuming less than $1 of electricity per year.
What Is A Helium Miner?
A Helium miner (also known as a "Helium hotspot") is a small router-like device that enables anyone to contribute to (and earn from) a wireless network for the Internet of Things (IoT) devices. Helium miners can provide connectivity for hundreds of kilometers, transmitting data at a fraction of the cost of traditional cellular networks.
Helium miners are peer-to-peer devices, which means they connect with each other over distances short and long. As I'll explain below, the number of other Helium miners in your area has a direct, significant impact on your ability to earn from your miner, so you'll want to pay attention to that before deciding where to set yours up.
The Top Crypto Exchanges In Canada
Before we get too deep into our discussion of Helium, I want to mention my picks for the top crypto exchanges in Canada since you'll want to cash out your HNT tokens at some point. Crypto.com is one of the few crypto exchanges that currently support HNT, though Binance and KuCoin also support this coin. It's likely that Bitbuy and CoinSmart will both add support for it soon as well, making them a solid long-term choice as well.
Keep reading to learn more about the top crypto exchanges in Canada where you'll be able to e
Best In Canada

Total Fees: ~0.16%
Security: Best in class
Customer Support: Excellent

By far the lowest fees in Canada.

#2 In Canada

Total Fees: ~3.2%
Security: 95% cold storage
Signup bonus: $20

Solid bonus + easy to use.

#3 In Canada

Total Fees: ~2%
Security: 95% cold storage
Signup bonus: $25

Sleek & 75+ coins.
How To Start Helium Mining In Canada
You don't need to spend thousands of dollars on a high-end computer to mine Helium tokens (HNT); all you need is a Helium miner and a stable Internet connection. Once you have those in place, download the Helium app, turn on your miner, and your miner will start exchanging data and earning you HNT tokens.
Since the Helium network exists in three-dimensional space, the location of your Helium miner is extremely important: if there are too many other miners around, your earnings will plummet, but if there are no other miners nearby, they will, too. The best location for a miner sits somewhere in the middle: there should be a few other miners around for yours to communicate with, but not so many that it gets lost in the noise.
As a result, the most reliable way to earn a good amount of HNT is to place your miner somewhere that's not in the middle of a major city, but not in the middle of nowhere, either. Many mid-size towns and cities in Canada make for excellent places for Helium miners, and we'll look at some specific examples of those places in this post.
How Much Helium Can I Earn In Canada?
The best way to learn how much you can earn from your Helium miner is to use the Helium Explorer. It's an incredible tool that displays real earnings data to help you make smarter decisions, and it's where I got all of the screenshots below.
Every miner is different, though, and changing factors like your miner's antenna and how high it sits off the ground can impact its earnings significantly. But location is by far the #1 determining factor, which is why even a miner on top of the CN Tower still wouldn't earn as much as one in thousands of small towns across Canada. I'll use some examples to show you why.
If you're following along in the Helium Explorer as I go, make sure to toggle on the Earnings layer in the bottom-right. Red hexagons (hexes) are weak earners, blue are strong earners, and orange, yellow and green are somewhere in between.
Trade crypto with the lowest fees
---
Kraken
is our #1-rated, fully secure crypto platform. With the lowest total fees in the industry (less than
0.2%
) and 24/7 customer support, Kraken is our #1-rated crypto exchange.
Claim your account by
September 31, 2023
to get exclusive access to this special deal.
The General Rule: Get Out Of The City
Here's the rule of thumb on where to place your Helium miner: as high up as possible in a suburb or smaller city.
Downtown Toronto, Vancouver and Montreal already have way too many Helium miners; even if you live on the 50th floor of a high-rise, you're not going to earn much. Instead, you'll earn much, much more by putting your miner next to a big window in your parents' house in the cities (and others like them) listed below.
To find these places, I just checked a few random cities/regions using the Helium Explorer, and to my surprise, almost everywhere except the downtowns of our biggest cities have great Helium potential. The difference between two hexes side-by-side can be significant, though.
Greater Toronto Area
The greater Toronto area is a treasure trove for Helium miners. The Helium network is relatively developed in the GTA (but not fully developed), so there's a great opportunity to place miners in the hexes that are still underserved.
Stay away from the downtown core, though. To show you why, here are the sort of earnings you could expect if you live downtown and want to place a Helium miner in the window of your condo:
As you can see, most of the miners in downtown Toronto are earning very poorly, as shown by the sea of red. In the left menu, you can see that in the past 30 days most of the miners in this hex have earned less than 1 HNT.
But what if you get a little bit outside of the city? Tons of young people living in Toronto grew up in places like Newmarket and St. Catharines and Cambridge and Uxbridge and Bowmanville, all of which still have plenty of opportunity left for Helium miners.
Here's what things look like just 50 km north in Newmarket, one of many places in the GTA that are ripe for Helium miners:
And here's what it looks like 70 km east in Oshawa:
As you can see, there's a lot more blue in both Newmarket and Oshawa, which means the Helium network is much less crowded there. And if you look closer at those blue hexes, you can see that many of the miners there are earning 10 HNT or more, a 10x increase over those in downtown Toronto. This is not uncommon: miners in one location routinely earn 10x or even 100x more than the exact same miners in other locations.
So if you're living in Toronto and are considering getting a miner, it's still a good idea: just put it at your parents' house instead!
Greater Vancouver Area
Don't even think about putting your miner in downtown Vancouver. Instead, place it out in West Vancouver, Point Roberts or Maple Ridge.
Look at the difference between downtown Vancouver (mostly red and orange) and West Vancouver (lots of green and blue), with many hexes in West Vancouver earning around 9 HNT per month:
Greater Montreal Area
Just like Toronto and Vancouver, downtown Montreal is totally saturated with Helium miners. If you get a little bit out of the city though, you can do extremely well.
Here's a pocket of miners in Lac-Écho, Quebec, a campground 70 km from downtown Montreal (highlighted in the top left of the map below). All of the miners in Lac-Écho earned 8 HNT or more over the past 30 days:
Red Deer, Alberta
Red Deer, Alberta is starting to get popular with Helium miners, but if you live in any of the currently-unserved hexes, you're in the perfect spot to earn some serious HNT: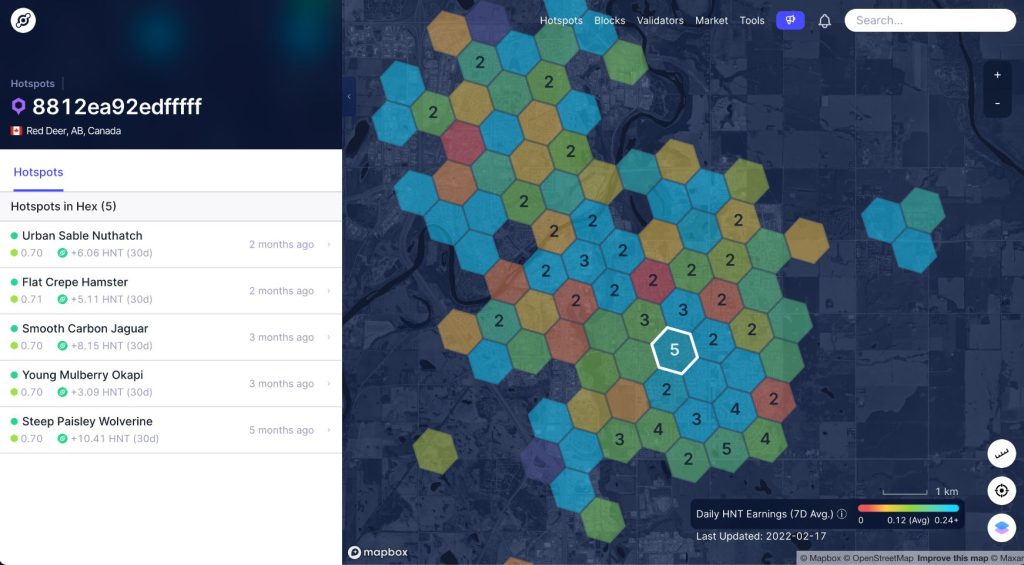 Nanaimo, British Columbia
Nanaimo, British Columbia has more unserved hexes than it does served ones, and the miners there now are earning well. There's still plenty of room for new miners there:
I could go on and on here, but you get the idea: if you have a home in a smaller Canadian city (or a suburb of one of the major cities), you can do very well with Helium mining.
Top Helium Miners In Canada
Once you've chosen your location, you need to choose the physical device you're going to mine with. There are dozens of different Helium miners out there on the market (plus new brands cropping up every month), but a few of them stand out above the rest.
Keep in mind that whichever miner you choose to buy you will have to wait on a shipping waitlist. There are no miners to buy off the shelf right now (unless you buy them for around 2x or more the regular price from eBay or Amazon), which is why shipping speed is an important factor when buying your miner.
The RAK Wireless Miner is my top pick in Canada due to its historically faster shipping speed and high overall performance. It also costs less than other comparable models, making it a great choice for anyone getting into Helium mining for the first time.
The Nebra Hotspot Miners—which come in both indoor and outdoor varieties—are another great pair of HNT miners.
The Nebra Outdoor Miner has more features than the Indoor Miner: it comes with a fibreglass 3dBi antenna and can be placed anywhere outdoors without fear of it not working. The Indoor Miner, on the other hand, has a plastic 3dBi antenna, and is also less expensive than the Outdoor Miner.
If you don't have an Ethernet connection and want to use an Outdoor Miner, consider installing a mini-card with 4G coverage, as it will give you 4G internet access without an Ethernet cable.
Trade crypto with the lowest fees
---
Kraken
is our #1-rated, fully secure crypto platform. With the lowest total fees in the industry (less than
0.2%
) and 24/7 customer support, Kraken is our #1-rated crypto exchange.
Claim your account by
September 31, 2023
to get exclusive access to this special deal.
Choosing The Right Helium Miner Frequency
Helium miners operate on several different frequencies, so it's important to get the right one. If you're mining in Canada or the US, you need to use the frequency US915.
Here's a full list of the frequency you should buy if you plan on mining Helium elsewhere:
| | |
| --- | --- |
| Frequency | Supported Countries |
| EU868 | Aland Islands, Albania, Andorra, Antarctica, Armenia, Austria, Bahrain, Belarus, Belgium, Benin, Bhutan, Bonaire Sint Eustatius and Saba, Bosnia and Herzegovina, Botswana, Bouvet Island, Bulgaria, Burundi, Cape Verde, Comoros, Côte d'Ivoire, Croatia, Cyprus, Czech Republic, Denmark, Egypt, Equatorial Guinea, Estonia, Falkland Islands, Faroe Islands, Finland, France, French Guiana, French Polynesia, French Southern Territories, Georgia, Germany, Gibraltar, Greece, Greenland, Guadeloupe, Guernsey, Hungary, Iceland, Iran, Ireland, Isle of Man, Italy, Jersey, Kenya, Kosovo, Kuwait, Latvia, Lebanon, Liechtenstein, Lithuania, Luxembourg, North Macedonia, Madagascar, Malta, Martinique, Mauritania, Mayotte, Moldova, Monaco, Montenegro, Namibia, Netherlands, Netherlands Antilles, New Caledonia, Nigeria, Norway, Oman, Poland, Portugal, Qatar, Réunion, Romania, Rwanda, Saint Barthelemy, Saint Martin, Saint Pierre and Miquelon, Samoa, San Marino, Saudi Arabia, Senegal, Serbia, Slovakia, Slovenia, Somalia, South Africa, South Georgia and the South Sandwich Islands, Spain, Svalbard and Jan Mayen, Sweden, Switzerland, Syria, Tunisia, Turkey, Ukraine, United Arab Emirates, United Kingdom, Vatican City, Wallis and Futuna, Zambia |
| US915 | American Samoa, Bahamas, Bermuda, Canada, Cayman Islands, Guam, Guyana, Mexico, Northern Mariana Islands, Puerto Rico, U.S. Minor Outlying Islands, U.S. Virgin Islands, United States |
| AU915 | Anguilla, Chilean Antarctica, Australian Antarctica, British Antarctica, Argentine Antarctica, Argentina, Australia, Barbados, Belize, Bolivia, Brazil, British Virgin Islands, Chile, Christmas Island, Cocos [Keeling] Islands, Colombia, Cook Islands, Dominica, Dominican Republic, Ecuador, El Salvador, Grenada, Guatemala, Heard Island and McDonald Islands, Honduras, Jamaica, Montserrat, New Zealand, Nicaragua, Niue, Norfolk Island, Panama, Papua New Guinea, Paraguay, Peru, Saint Kitts and Nevis, Saint Lucia, Saint Vincent and the Grenadines, Suriname, Tokelau, Tonga, Trinidad and Tobago, Turks and Caicos Islands, Uruguay |
| RU864 | Russia |
| CN470 | China |
| IN865 | India, Jordan, Niger |
| KR920 | South Korea |
| AS923 | Algeria, Bangladesh, Brunei, Cambodia, Costa Rica, Cuba, Curaçao, Hong Kong, Indonesia, Israel, Japan, Laos, Macau, Malaysia, Myanmar [Burma], Philippines, Singapore, Solomon Islands, Sri Lanka, Taiwan, Tanzania, Thailand, Uganda, Vanuatu, Venezuela, Vietnam |
How Much Does A Helium Miner Cost?
Helium miners aren't as expensive as the high-end computers needed for mining Bitcoin, but depending on the hotspot model you choose, they generally cost anywhere from $400 – $800 CAD.
Electricity isn't a problem for Helium miners, and you can expect to pay around $1 per year in electricity.
In Summary
The Helium network is a relatively new, low-cost way to passively earn the cryptocurrency token Helium (HNT). For around $500, you can buy a Helium miner, get it set up, and start earning HNT while you sleep.
There are two important decisions to make when getting into Helium mining: your location and your miner. Now that you've read our post, you should have a strong understanding of how to think about both.
Helium Miner Canada FAQs
Are Helium Hotspots Legal In Canada?
Yes, owning a Helium Hotspot is perfectly legal in Canada. However, be aware that you might have to pay import fees when receiving your miner if it's coming from abroad.
Where To Store Your Helium
As a relatively new altcoin, a lot of the top crypto wallets still don't support Helium, but fortunately for you, some wallets like Crypto.com and the Ledger Nano S do. Crypto.com is a great, trustworthy exchange that supports hundreds of different cryptocurrencies, and the Ledger Nano S supports more than 1,000, giving you plenty of options for storing your Helium safely.
How To Cash Out Your Helium (HNT) In Canada
Cashing out your Helium tokens (HNT) is very simple—here's how to do it:
Copy your Helium address from a wallet or exchange that accepts Helium. Crypto.com and Binance are two of the best option for Canadians who want to hold Helium, and I highly recommend them for this.
Click Send (the Up arrow) on the home screen of the Helium app. Paste in your Crypto.com Helium address, select the amount of Helium you want to send, and click Send. The transfer normally takes about 5-10 minutes to complete.
Once you've got your Helium in Crypto.com, you can sell it at the market price and withdraw it in cash, or exchange it for another coin like Bitcoin or Ethereum.
Best For Altcoins

Trading fees: 0.4%
Security: 95% cold storage
Signup bonus: $10

Trade with 10x leverage.
Is Helium A Good Investment?
Investing in cryptocurrencies is a risky move, since you never know which way they're going to move. But if you're already in the crypto space, Helium could be a good investment.
Analysts predict a gradual increase in 2022 by which the price of the token will reach $53.27 USD, and up to $90 USD in 2025. Of course, no one really knows what will happen, though, so take these numbers with a grain of salt.
How Much Can You Earn With Helium Mining?
The number of HNT tokens you earn is complex, and is determined by the number of miners in your area, the device data your hotspot transmits, your hotspot's location, and the number of witnesses. As a general rule, the more data your hotspot sends and receives, the more HNT tokens you will earn. In addition to that, the more Challenges your miner completes, the more it will earn.
You can see how much other miners are earning by looking at the Helium Explorer. To maximize your earnings, you want to be in a hex that's close to other hexes with Helium miners but doesn't have any miners itself. Of course, this isn't always possible, but it is something to strive for.
If you only have one option of where to place your miner (for example, the home that you live in), do what you can to get it as high off the ground as possible. Even raising your miner a few additional feet off the ground can impact your earnings significantly, since your miner can then make more connections with other miners nearby.
The most profitable miners in the world are currently earning $1,000 – $2,000 per month. It's very common to pay off the upfront cost of the miner in 2-3 months, which means everything you earn after that point is pure profit.