Upside is a cash back app that lets you earn cash back primarily on gas purchases across the country, but that is now venturing into groceries and fast food. This Upside review explains how Upside offers a decent service with higher-than-average cash back rates on gas, reaching up to $0.25 per gallon. Cash back rates on partner grocery stores, fast food chains, and restaurants are equally profitable.
Even though Upside is a great choice for many Americans, those who live in states or cities that have low coverage won't be able to take advantage of all of Upside's offers. If that's your case, I suggest Fetch Rewards instead. Fetch Rewards is a platform that offers cashback on your purchases by scanning and uploading your receipts to the app. The service is free, and they pay you for anonymous user information related to your purchasing habits. Fetch points are valued at 1,000 points per dollar, and you can redeem the points for different rewards, including gift cards from famous brick-and-mortar as well as online retailers.
If you want to earn a nice bonus and also save money every time you shop online, here's how:
Sign up with TopCashback, a cashback portal currently offering a $15 signup bonus that's extremely easy to get.
The average TopCashback user saves $450/year, with savings of up to 30% on fashion, 40% on cosmetics and beauty, 50% on travel, and much more.
If you're like most people, you probably spend a lot of money on gas, groceries, restaurants and convenience stores every month. Wouldn't it be nice if you could get some of that money back in your pocket? You'll be glad to know that there are several options available to do exactly that, and one of those options is Upside.
But how does Upside work? Is it legit? How much can you really save? And what's the catch? In this Upside review, we'll answer all these questions and more. We'll show you how to use Upside to earn cash back, how to cash out your earnings, and what are the pros and cons of using the app. We'll also compare Upside with other similar products to reach a decision on which is better for you.
What Is Upside?
Upside, previously known as GetUpside, is an app that allows you to receive cash back on purchases made at petrol stations, grocery stores, and restaurants. It analyzes consumer purchasing behavior to create promotions close to your location using customer data, such as debit and credit purchase histories. These promos are sent through the app to guide consumer behavior and generate revenue for participating businesses.
Upside collaborates with companies to provide its members with cash back on regular purchases. Since its launch in 2016, the program has added more cash back opportunities while growing its partnerships. Most of them are gas stations; however, in some places, there are also restaurants, grocery stores, and convenience stores available.
The idea behind the cash back promotion is to assist businesses in attracting more customers while providing consumers with a discount on the goods they purchase, making the partnership profitable for both parties.
With the Upside app, you get more for your money when you shop, and partner companies receive assistance in measuring improvements in their profit margin. Upside started working with gas stations for the first time in May 2016 before collaborating with grocery stores in June 2018.
Members of Upside earn:
Up to $0.25 off each gallon of gas purchase.
Cash rewards for dining out up to 45%.
Up to 30% back on shopping expenses.
Upside makes saving money simple and convenient, even though you may sometimes incur charges.
Feature Of Upside
Upside is one of the most popular applications for getting cheap gas. It primarily functions as a rewards app for gas. However, the platform is developing into a powerful cash back program that also allows you to save on groceries and fast food. Here are a few of Upside's main features:
#1 Availability
Upside partners with over 40,000 businesses in the United States. Among them are Shell, Cub Foods, Dunkin' Donuts, and Burger King. You shouldn't have any trouble locating a nearby offer, whether you're looking for a restaurant or gas for a long journey.
Unfortunately, Upside's grocery deals are currently limited to some cities.
#2 Accessibility
Upside is easy to use. All you have to do is download the app from Google Play or the Apple App Store; Use the app to find an offer, pay with your standard credit or debit card, and then either check in or submit your receipt to get paid back in cash. Once your purchase has been validated, you will get an email. You can also register on their website.
Upside is present in thousands of partnering grocery stores, restaurants, and gas stations in the US. The company is indeed growing. Therefore, some states have more Upside partners than others.
Upside does a fantastic job of collaborating with stations in more extensive areas, so there's still a strong chance that Upside operates in your location, even in states with significantly less coverage.
#3 In-App Help
Upside doesn't have a phone number for customer care, but it has an extensive Using Upside page with multiple common questions answered. Users can contact support by sending a request and waiting for a response if they have problems with the app or claiming an offer.
#4 Fees
Upside levies a $1 fee for minor cashouts. The $1 fee applies to both cashing out using a bank account for amounts under $10 and with PayPal for amounts under $15. Users should decide if the cost is worth it before cashing out.
You can waive this cost simply by referring one friend to Upside.
#5 Cheap Gas Finder
The most fundamental function of Upside is its gas finder map. You can use this search engine to compare gas prices in your area to locate the cheapest gas station. When you enter your zip code to search for nearby gas stations, Upside shows the usual fuel price and the price after your Upside discount for stations that qualify.
When you locate a gas station that offers a fantastic deal, you can click on the directions button to launch your phone's default navigation software and get instructions to get there.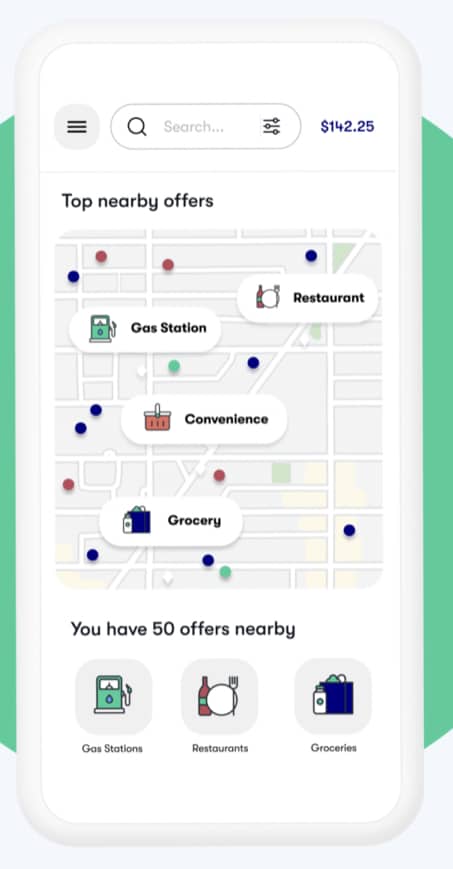 #6 Flexible Redemption Options
Some cash back apps like Ibotta and Dosh have high redemption minimums of $20 or more to redeem your cash back for gift cards or cash. Upside offers better flexibility, letting you spend your cash back on direct payment, electronic gift cards, and PayPal cash.
Gift cards from Target, Amazon, Kohl's, Starbucks, and Best Buy can be redeemed for $10 or more. The minimum withdrawal amount for other methods is not specified.
However, withdrawals to a bank account of less than $10 and PayPal withdrawals under $15 are subject to $1 fees, as mentioned earlier. As a result, the quickest and most economical way to receive your cash back is through gift cards or direct deposits of at least $10.
#7 Savings On Fast Food
Upside is growing its network of restaurant partners just like it is doing with its grocery deals. Chains like Burger King, Dunkin', Qdoba, and Popeyes offer cash-back through Upside.
You may not always be able to receive cash back by eating at Burger King since restaurant offers are also city-specific. On the other hand, Upside also has many non-chain partners, so you can use the app to locate your preferred mom-and-pop eatery.
Upside doesn't compensate you for food delivered by services like DoorDash or Uber Eats. You must eat there or pick up your own meal. The amount that restaurant cash-back deals pay varies. Although you can save up to 35%, don't anticipate that at every chain. Having said that, even a 5% to 10% discount on a $40 meal equates to up to $4 in free money.
#8 Grocery Savings
You can save money with Upside on expenses aside from gas. Upside is expanding its grocery partnership, and it now collaborates with companies like Piggly Wiggly, Cardenas Market, and Lunds & Byerlys.
These are less-popular partners than those you may find with Ibotta-type apps or Fetch Rewards. Furthermore, Upside has a strong geographical focus. For instance, only Cardenas Markets in Los Angeles, Phoenix, San Francisco, and Las Vegas offer rewards to Upside members.
Go to the Groceries tab to claim an offer, purchase any items or brands in-store, and upload a photo of your receipt to receive payment. After claiming an offer, you have up to 24 hours to do your grocery shopping.
Upside Pros
Upside is one of the most popular gas reward apps in the U.S. Its entry into the fast food and grocery industries is a hopeful sign for the future. Using Upside has several benefits. Here are some of them:
The application is totally free. To save money on groceries and gas, there are no registration fees or other costs. It is simple to set up an account, and it functions in the same way as other similar applications like Uber.
Utilizing Upside will put money in your pocket. Even though the per-gallon savings on gas are small, regular gas purchases will result in significant long-term savings. The app can help you save even more money than your neighborhood gas station.
Utilizing the app is simple, thanks to individualized recommendations. The app uses more recent technology to analyze your buying behavior and history to provide you with accurate recommendations.
Easy user interface. Upside generally doesn't contain any complicated features. You can do everything from the home screen. Open the app, look through the nearby merchants with offers, select an offer, and take advantage of it. You no longer need to scan and upload receipts for most businesses with the new system.
Flexible referral program. This allows customers to save more money for their initial purchase and pay less in PayPal fees. You will receive an extra $0.15 per gallon for your next purchase every time you refer someone to use the app and they make a purchase. There are numerous ways to withdraw money. For your payback, you can choose from alternatives like food, a movie night, money, and gift cards.
Upside Cons
Upside has been operating since 2016, and its most recent features include cash back on groceries and dining out. This indicates that even while Upside is growing in functionality, much work still needs to be done. The drawbacks of Upside are listed below:
Cash is not accepted for payment. Most consumers are not concerned about this due to the widespread adoption of cashless payment methods.
Your initial spending on gas may be higher. The most expensive gas stations are among those that partner with Upside in large numbers. You will pay the full cost of gas and food and then wait to cash out because Upside is not a discount program. As you wait to use your points, your budget may need to be adjusted if it only permits you to purchase from the less expensive gas stations.
Upside is only accessible in a few locations. For instance, even if they partner with grocery stores, there are just three or four states in the U.S. where you can receive discounts. This implies that many other states will only enjoy savings on gas. You should use Upside in various stores if you want to make significant savings. You will have enough money to redeem in a short period if you save $0.50 on gas, $0.80 on groceries, and more on the same day.
Upside Cash Back Rates
The following table shows Upside's potential cash back rates and compares them with GasBuddy's, Upside's biggest rival in the U.S. Even though both applications provide discounts, you might discover that one is more suitable for you than the other.
| | | |
| --- | --- | --- |
| | GasBuddy | Upside |
| Cost | Free/Paid | Free |
| Coverage | 95% of U.S. Gas Stations | Still patchy in a few places |
| Saving Per Gallon | $0.05 | $0.25 |
| Referral Program | Yes, but not to Upside's level of generosity. | Yes, and you receive compensation for your friend's referrals. |
| Non-Gas Reward | Substantial | Limited |
| CashOut Methods | Save directly with special card | Gift cards, PayPal cash, or direct deposit |
In Summary
Upside is one of the most popular gas rewards applications in the United States. That's not unexpected, given its extensive partnership network, a wide range of rewards, and a generous referral program.
However, Upside's coverage, particularly regarding food and grocery stores, still leaves much to be desired. If Upside has few local partners in your area, you won't be able to rely on it for restaurant and grocery savings. If that's the case, you can choose Fetch Rewards instead. Fetch is also a cash back app, but unlike Upside, it works mainly by uploading receipts from your everyday shopping.
The service is free, and they pay you for anonymous user information related to your purchasing habits. Fetch points are valued at 1,000 points per dollar, and you can redeem the points for different rewards, including gift cards from famous brick-and-mortar as well as online retailers.
If you want to earn a nice bonus and also save money every time you shop online, here's how:
Sign up with TopCashback, a cashback portal currently offering a $15 signup bonus that's extremely easy to get.
The average TopCashback user saves $450/year, with savings of up to 30% on fashion, 40% on cosmetics and beauty, 50% on travel, and much more.
Upside FAQs
What is the catch with Upside?
There is no catch! You can only receive bonuses when you purchase groceries or gas from an Upside partner vendor. The company attracts customers by using Upside as a rewards program and by offering a referral program as well. This lets you gain more when you refer a friend.
How does Upside make money?
Upside receives a commission every time you make a purchase from one of the partner companies. The retailer will pay Upside a fee if the company you purchase from offers cash back bonuses. Also, Upside charges a small $1 fee for bank withdrawals of less than $10 and for PayPal withdrawals of less than $15.
How can I delete my Upside account?
Upside has no delete button. You must email Upside to request account deletion if you no longer want to own your account. As a user, you have the right to request that any business holding your data delete it from its databases.
Is cash an option with Upside?
No. You cannot use the app incentives for cash transactions.
Who is the owner of Upside?
John Rubio, Rick McPhee, Joanna Kochaniak, and Thomas Vaughan are the creators of Upside. Alex Kinnier and Wayne Lin, who formerly worked for Google before joining the Upside team, have also joined the group.
Does Upside sell my personal information?
According to its privacy policy, Upside does not sell any customer information.
What is the turnaround time for processing my cash back on Upside?
You can start saving money immediately after creating your account. It only takes a few seconds to check in at the petrol station to register your bonus and add it to your account. However, you may have to wait one to two days before seeing your bonus in your account. Your bonus can be cashed out in as little as two or three days.