The first thing to know about choosing a cryptocurrency exchange in India is that the exchange you choose matters. The choice you make will impact how profitable your trades are, how easily you can buy and sell crypto assets, and in some cases, whether you get your money back at all.
I'm not exaggerating here. Millions of crypto investors around the world have been scammed out of billions of dollars in the past 5 years alone, and to date, very few of those funds have been returned.
So if you're looking for a safe, secure Indian crypto exchange that doesn't require a PhD to use, you've come to the right place. I've been an avid crypto investor for nearly 10 years now, and here are my thoughtful selections.
What Is The Best Crypto Exchange In India?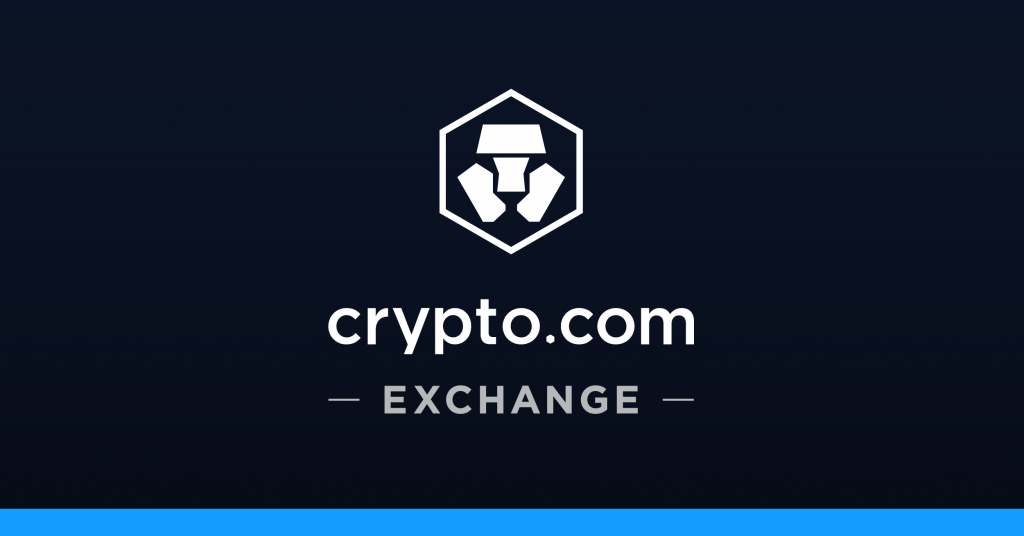 Crypto.com is, without a doubt, the best crypto exchange in India in 2021. They entered the Indian market just hours after the ban on cryptocurrency trading was lifted in March 2020, and if you ask any experienced Indian crypto trader, they'll tell you the same thing: Crypto.com is the best in the business.
Crypto.com has the best prices of any cryptocurrency exchange in India, especially for major coins like Bitcoin and Ethereum. It also supports 100+ other cryptocurrencies, making it an ideal fit for anyone looking to invest in undiscovered altcoins before the masses.
Crypto.com has invested an enormous amount of money into its platform security, which makes trading with them extremely safe. The exchange is also lightning quick (prices update dozens of times per second), which gives day traders an upper hand over the rest of the market.
I've personally used Crypto.com for more than a year now and have had nothing but excellent experiences with them. I've tried out many of the other exchanges on this list, so I'm confident in recommending Crypto.com as the best place to buy crypto in India.
Features
Supports 100+ cryptocurrencies
Allows up to 10x leverage
Trade crypto derivatives (futures and options contracts)
Earn daily interest by staking your coins
Purchase newly-listed coins at up to 50% off
Low trading fees (0.40% per trade)
Free deposits from all cryptocurrencies
Cost
Signup Bonus
$10 of CRO when you stake $1,000 of CRO using this link
Best For
Investors looking to buy altcoins and other new crypto assets before they go mainstream.
WazirX was founded by three friends with the goal of simplifying cryptocurrency investing for the masses. They're based in Bangalore, and currently support 50+ cryptocurrencies.
Trading with WazirX costs just 0.10%. Don't be misled by the low number, though: buying crypto with WazirX will actually cost you more than it does with Crypto.com, since their prices aren't as low. 
They offer excellent customer support via live chat, and user accounts are verified within 2-4 hours.
Most exchanges require users to trade every altcoin first with a stablecoin (e.g. Dogecoin with Bitcoin, and then Bitcoin with Shiba Inu), but WazirX allows users to trade altcoins directly (e.g. Dogecoin with Shiba Inu), minimizing fees and boosting your profits. And you're buying real crypto with WazirX, which means you can move it on and off the exchange whenever you want.
Features
Supports 50+ cryptocurrencies
Lowest trading fees in the industry (just 0.10% per trade)
Account verification in 2-4 hours
Start with as little as ₹100
Trade all altcoins directly
Immediate deposits and withdrawals
User-friendly for both beginners and advanced traders
Extremely tight security policies keep your crypto extra secure
24/7 customer support available via live chat
Cost
Best For
Investors looking to trade stablecoins and altcoins with the industry's lowest fees.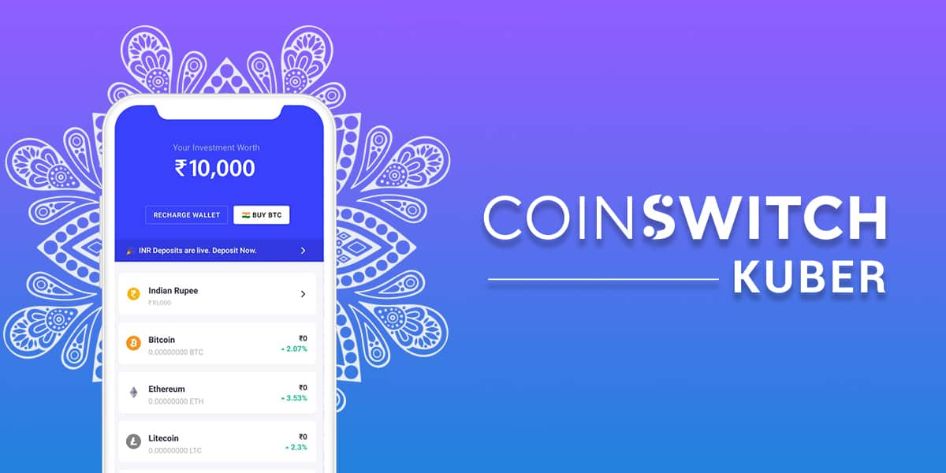 While Crypto.com is undoubtedly the best crypto app in India, and WazirX is a close second, CoinSwitch makes for a great third option. It supports 80+ cryptocurrencies, prides itself on responding to customer support emails within 15 minutes, and has a beautiful, well-rated app. 
CoinSwitch doesn't charge any trading fees at all—it's completely free to use. That's because it's a non-custodial exchange, which means they don't hold any crypto or user funds themselves. Instead, they act as a go-between that allows users to buy through other exchanges easily and at excellent prices. This is great both a benefit and a downfall of CoinSwitch: it makes buying crypto easy, but means that you don't get all of the benefits of a regular exchange.
If you aren't able to open an account with Crypto.com or WazirX, CoinSwitch is definitely worth giving a try.
Features
Zero trading fees
Easy to use for both beginners and advanced traders
Start with as little as ₹100
Supports 80+ cryptocurrencies
Extremely fast customer support
Powerful mobile app
Never hold user crypto or funds
Cost
Best For
Investors looking to trade altcoins with a highly secure exchange that never touches their funds.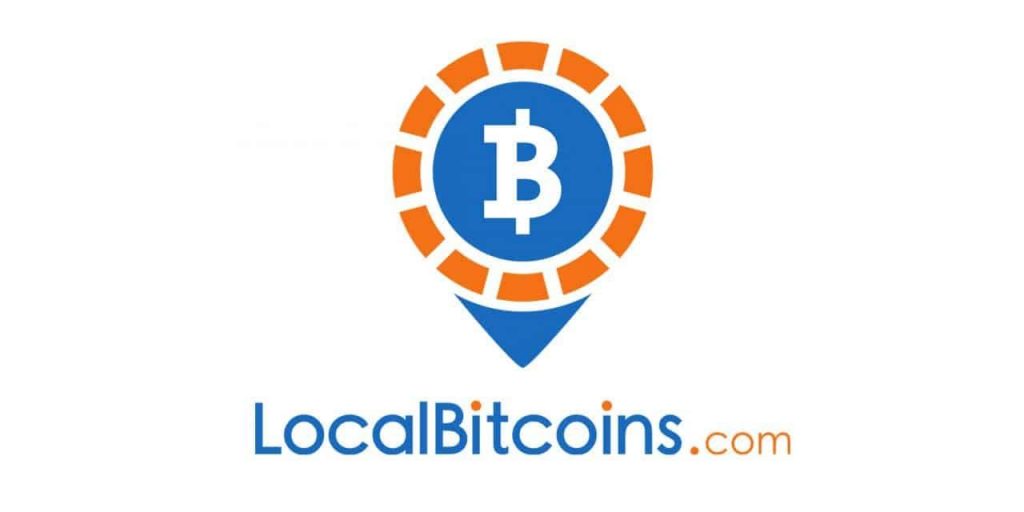 LocalBitcoins takes a different approach than most of the others on this list: rather than trading with the broader market, you actually buy and sell with individual traders. It's earned a loyal user base for its overall ease of use, and it's one of the oldest cryptocurrency marketplaces around today.
The main reason I like LocalBitcoins, though, is for its low barrier to entry. Since you're trading with other people, not with LocalBitcoins itself, it's easy to get your account verified and start making trades.
LocalBitcoins users do need to proceed with caution, though; it's possible to get scammed by other users on the site, especially when selling Bitcoin for cash. One common scam, for example, is a buyer who pays you via PayPal and then files a PayPal dispute once they've received your Bitcoin. Other payment methods are much more secure, but still, be careful. If it seems too good to be true on LocalBitcoins, it probably is.
Features
Easy to use
Very easy to start trading
Low transaction fees
Helpful customer support
Fees
Trading fees: 0.00006 BTC (~₹250) flat fee per transaction
Depositing funds: Free
Withdrawing funds: Free
Best For
Investors looking to buy and sell Bitcoin quickly and easily.
BuyUcoin is the product of three Indian minds, in operation since 2016. You may use BuyUcoin to trade Bitcoin and other cryptocurrencies. They also offer wallet services for storing or holding your Bitcoin there. They're one of the most reputable exchanges for Bitcoin trading in India.
Users' passwords are encrypted using the Salting method by BuyUcoin, preventing them from accessing the data. They keep 95% of their funds in non-volatile cold storage. They provide two-factor authentication as well as a mobile app.
BuyUcoin charges a deposit fee, which is determined by their banking partner, a maker/taker charge of 0.24%. When you withdraw Bitcoin, you must pay 0.00125 BTC per BTC withdrawn. There are no fees when depositing Bitcoin or any other cryptocurrency at BuyUcoin.
Features
Supports 30+ cryptocurrencies
Easy registration process
Wide range of resources to help beginner traders
Offers easy-to-use tools to aid you during trading
Offers advanced charting tools for more experienced traders
Cost
Best For
Experienced traders seeking strong charting capabilities.
CoinDCX is a beginner-friendly Indian crypto exchange with a blockchain wallet. It's been funded by Coinbase and is India's leading cryptocurrency platform. They give you the option of exchanging 100+ cryptocurrencies. n CoinDCX allows you to check the bitcoin rate in India at any time.
They retain only 5% of their users' entire cryptocurrency holdings in Hot wallets. Your personal information is safe, and no one inside the company has access to it. Bitgo offers you insurance that will reimburse you for your losses if there is a security breach.
You will be charged a fee on your bank deposit if you exchange Kraken to CoinDCX. They, however, charge no or a low fee on UPI deposits.
They charge trading fees of 0.10%, and a fairly hefty withdrawal amount of 0.001 BTC (~₹4,400) per BTC.
To trade with CoinDCX, you must first deposit money in INR or a cryptocurrency. They accept bank transfers, net banking, NEFT/RTGS, IMPS, and UPI for payments. To withdraw your funds in INR, you have the option of sending a bank transfer directly.
Features
Supports 100+ cryptocurrencies
Quick account verification
95% cold storage policy
Cost
Trading fees: 0.10%
Deposit fees: 0%
Withdrawal fees: 0.001 BTC (~₹4,400) per BTC
Best For
Investors looking to buy and hold cryptocurrencies for long periods.
Unocoin is India's oldest cryptocurrency exchange. They offer a device-independent crypto trading platform and have over a million users via their mobile app, which includes a hardware wallet. Most of the traders' assets are kept in cold storage vaults. In its lifetime, the computer that generates these Bitcoin addresses will never connect to the internet.
In addition, the exchange enables two-factor authentication and fingerprint protection for its mobile application. The trading platform charges a 0.7 percent fee on Bitcoin transactions, but it lowers to 0.5 percent once you've achieved gold membership status. Unocoin assesses a fee of 0.0005 BTC per Bitcoin (~₹2,200) when withdrawing funds.
Features
High trading fees
High withdrawal fees
India's oldest cryptocurrency exchange
Cost
Trading fees: 0.70%
Deposit fees: 0%
Withdrawal fees: 0.001 BTC (~₹4,400) per BTC
Best For
New investors looking for a starting point in cryptocurrencies.
Bitbns is one of the platforms with a user-friendly design. It's built with beginners in mind, as well as all of an investor's needs. They provide a broad range of features and flexibility. You can complete the registration procedure in just two easy steps: fill out your information and get started trading cryptocurrencies.
Bitbns uses cutting-edge security technologies to keep your money safe. Bitbns also employs the most advanced Grade-A security feature, ensuring the security of all of your transactions. In addition, they have implemented two-factor authentication for data protection.
Bitbns charges a fixed 0.25% trading fee from its users, except those with a VIP pass. You may obtain a VIP service in as little as 10 minutes by having at least $25 worth of BNS tokens. Bitbns supports all major payment options, including UPI. You can deposit using NEFT, IMPS,
Features
Supports 10 cryptocurrencies
Designed for beginners
Instant deposits
95% cold storage policy
Cost
Best For
Beginner investors looking for a user-friendly exchange.
Best Crypto Exchanges In India FAQs
What is the best platform to buy Bitcoin in India?
The best platform to buy Bitcoin in India is Crypto.com, both for its bank-level security and its extremely low fees. Crypto.com supports 100+ cryptocurrencies, processes deposits and withdrawals instantly, and verifies accounts extremely quickly.
If you're looking to buy Bitcoin and other cryptocurrencies in India, Crypto.com is the best exchange out there.
Which crypto exchange has the lowest fees in India?
WazirX has the lowest fees of all the crypto exchanges in India. Its trading fees are just 0.10%, and it doesn't charge any fees on fiat deposits, either.
Crypto.com and CoinSwitch also have low or no trading fees, but if you're looking for the absolute lowest, WazirX is the way to go.
How do I buy Dogecoin in India?
To buy Dogecoin (DOGE) in India, I recommend using one of the following exchanges: WazirX, Crypto.com, or CoinSwitch. These are currently our three top-rated exchanges in India, and each of them allows you to buy and sell Dogecoin with relatively low fees.
Which Bitcoin wallet is the best in India?
The best Bitcoin wallet in India is the Ledger Nano X, thanks to its bank-level security, staking capabilities, and support for 1,800+ cryptocurrencies and digital assets. It can hold up to 100 different types of crypto assets at a given time, and it works seamlessly with exchanges like Crypto.com and WazirX.
What is the safest crypto wallet in India?
The safest crypto wallet in India is a tie between the Ledger Nano X and the Ledger Nano S. Both are cold storage wallets that keep your coins completely offline and safe, and while the Nano X has a larger storage capacity, both wallets are exactly the same from a security standpoint.
What is the safest crypto exchange in India?
The safest crypto exchange in India is Crypto.com. They have bank-level security protocols, hold your coins offline in a cold storage wallet, and let you move your coins on or off of the exchange at any time. On top of that, they have some of the lowest trading fees of any exchange in India, and are widely known as the best overall crypto exchange in India.
How do I transfer money from Bitcoin to my bank account in India?
To transfer money from Bitcoin to your Indian bank account, you'll just need to sell your Bitcoin for INR on an exchange, and then withdraw that INR to your bank account. Our recommended exchange Crypto.com makes the process quick and easy, processing INR withdrawals immediately and with zero fees.
In Summary
Choosing the best Indian crypto exchange is far from straightforward, given how many are out there and all of the different features each of them offers. As a long-time crypto aficionado myself, I've spent years keeping up with the best crypto exchanges, so I'm confident in recommending the ones I personally use.
Crypto.com is the favorite among knowledgeable Indian crypto investors, both for its high level of security and for its ease of use. It also has the lowest trading fees of any exchange in India, so if you're looking for a secure, cost-effective way to buy and sell crypto, I can't recommend Crypto.com highly enough.