Sunglasses aren't only essential for shielding your eyes from the sun but also for enhancing your look and outfit every day. Therefore, people often prioritize the appearance of sunglasses over their functionality when buying them, especially if they're looking for the best cheap sunglasses Canada has to offer. However, you should always balance style and protection when choosing your sunglasses, as both are important. To ensure that, check the details of the lenses and look for ones that offer 100% UV protection. Then, you can also select additional coatings and filters based on your preferences.
Some of the best places to buy cheap sunglasses in Canada include SmartBuyGlasses, Bon Look, Warby Parker, and EyeBuyDirect. They all offer a great selection of sunnies at great prices.
Your sense of style is usually expressed through the sunglasses you choose. It's a must-have accessory, especially if you enjoy receiving attention whenever you venture outside. But deciding to buy something you'll wear daily without even trying it on first can be challenging. This is why we've put together this list of the best places to buy cheap sunglasses in Canada. You'll find all the information you need about purchasing cheap sunglasses in Canada, some tips on how to spot fake sunglasses, and what to consider when buying them.
#1 SmartBuyGlasses
SmartBuyGlasses is the place to go if you seek designer brands like Versace, Tom Ford, and Prada. They offer virtual try-on and exquisite frames from some of the most well-known sunglass brands, and they even have a best-price guarantee that permits price modifications within 14 days.
SmartBuyGlasses covers almost everything. It provides a huge assortment of about 200 brands and offers free delivery with a minimum purchase, refunds, and free lenses. Generally, their prices are slightly higher than many of the websites listed here because they sell designer frames. However, they offer some of the cheapest prices around for those designer sunnies.
It's also important to note that shipping for special orders might take up to three weeks, which is a lengthy (but worthwhile) wait.
#2 BonLook
BonLook is one of the best Canadian brands that make stunning and high-quality sunglasses. The company is headquartered in Montreal and is committed to creating distinctive spectacles that are stylish and reasonably priced. Every product they offer is handcrafted from premium materials and internally produced by the company.
If online shopping gives you a tiny bit of anxiety, you can choose to test frames via their Virtual Try On or schedule an appointment at one of their branches.
#3 Warby Parker
Warby Parker remains one of the most popular online Sunglasses stores in Canada. They create every frame they sell, and they're all focused on helping their customers save as much money as they can while maintaining high quality. Both of the main divisions on their website, one for men's glasses and one for women's, are stuffed with extensive collections.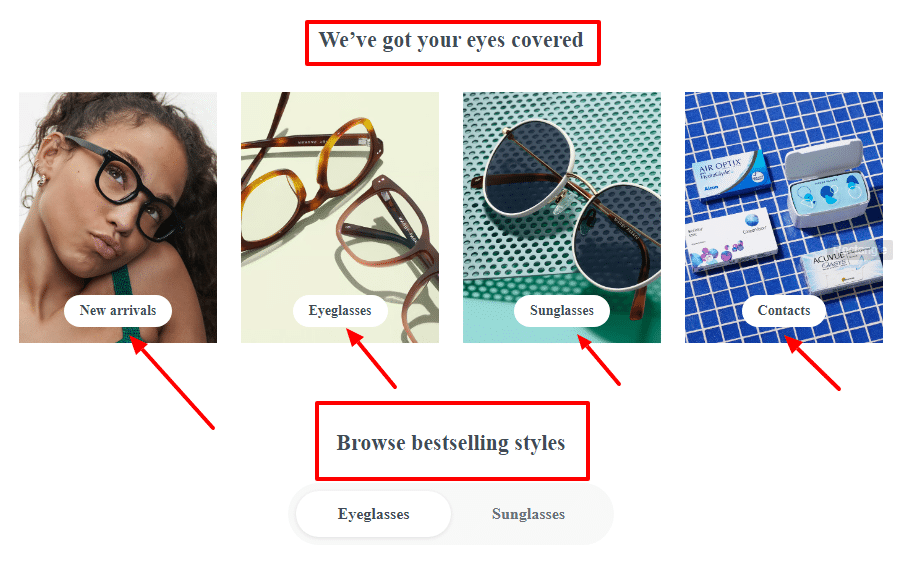 The company's incredibly fashionable eyeglasses and sunglasses are meticulously manufactured so that you can purchase new glasses for a surprisingly cheap cost. Their 'Buy a Pair, Give a Pair' program also allows them to donate sunglasses to those in need.
They have so many glasses that it can be difficult to choose one. It requires some navigational expertise to focus your searches and find what you're looking for. But it's definitely worth it if you can sort through it all!
#4 EyeBuyDirect
EyeBuyDirect designs its glasses in-house and sends them directly to its customers from the factory, allowing them to offer lower prices than most. It offers some of the lowest rates on this list since it saves money on the entire production process. Additionally, it sells frames for both adults and children, as well as glasses that protect against digital screens.
They almost always have a promotion going on, and their sale section usually has at least a few frames with 50% price discounts.
They have a coupon section on their website where you can find all the ongoing discount deals. However, while offering some of the cheapest prices on this list, they only provide a small range of sunglass collections. They don't have many kids' frames, and their website doesn't have any designer frames.
#5 Clearly Contacts
Clearly Contacts encompasses much more than simply lenses. Don't be misled by their name. They have a whole section of their website devoted to sunglasses, and you can always find something on sale whenever you check them out. Their complementary regular lenses are 22% thinner than most of the basic lenses you'd find elsewhere, plus they frequently have several promos running simultaneously.
You can buy contact lenses and prescription glasses at Clearly. Additionally, when it comes to sunglasses, their discount section offers frames for up to 70% off.
#6 Zenni Optical
Zenni Optical sells almost all types of glasses, including wraparounds, active frames, and goggles. they're a reputable brand that focuses on giving its customers access to stylish sunglasses at reasonable prices.
Zenni makes it incredibly simple to conduct targeted searches. You can narrow down the options by shape, pattern, colour, and other factors by going to their Frame Finder.
How To Spot The Difference Between Fake And Original Sunglasses
Spending less money on sunglasses means sacrificing quality, durability, and eye protection. Without a doubt, you won't regret investing in designer sunglasses. However, how can you know if the sunglasses you purchased are genuine or fake? The sunglass industry is enormous and saturated with low-quality knockoffs. While some fake sunglasses are obvious from a mile away, others are so expertly made that they're difficult to identify at first glance.
Mostly, this occurs if you get your preferred sunglasses from an unlicensed reseller on social media, an online retailer, or your neighbourhood market. As a result, there is often a possibility of purchasing fake sunglasses.
Here are some hints to assist you in identifying a fake pair of sunglasses if you're looking to buy only the real ones!
Lenses
Original Sunglasses should have high-quality types of sunglass lenses. Nowadays, coloured fibre lenses are used by the majority of brands. If you've previously bought sunglasses from a specific brand, you should be aware of what to look for. Additionally, several brands have their logos on the lens edges. Therefore, before purchasing your pair of sunglasses, double-check the logo.
Price
In the past, determining the difference between real and fake sunglasses could be done using a product's pricing. However, recent imitations look so real that they can sell for a decent price. Therefore, it's not wise to base our assessment of whether something is authentic or fake solely on the price. Only purchase sunglasses from trustworthy and legitimate sellers, whether doing so in-person or online. Make sure you get a guarantee by reading reviews from previous users. When purchasing sunglasses from online shops, it's advisable to pay particular attention to the logo and other tiny details.
Hinges
Your pair of sunglasses should open and close easily. If the screws are stiff or loose, you most likely have fake sunglasses. For a comfortable experience, the hinges ought to be sturdy and have top-notch moulding. Poor quality hinges don't move smoothly when opened or closed.
Frames
Examining the frames and weight of the sunglasses is another method of identifying authentic pairs. Comparatively speaking, fake sunglasses will seem lighter than real ones unless displayed as lightweight. When worn, genuine eyewear will always provide a balanced and cozy experience. There should be no scratches or other flaws in the glass. Additionally, the frames of the original brand sunglasses will be symmetrical.
Packaging
To determine whether sunglasses are original, look at the packaging, which contains a barcode, the manufacturer's information, the company's logo, and the brand name. You can quickly confirm this information in the description details of the sunglasses. You can get a sneak peek of what your sunglasses look like by checking the manufacturer's website.
Things To Consider When Buying Sunglasses In Canada
Sunglasses make life simpler and more comfortable by providing everyone with vital UV protection when moving around. Your eyes can be harmed, and you risk developing eye problems if you remain outside on a bright sunny day without using any sunglasses.
Sunglasses are an indispensable piece of eyewear. They shield you from harmful light rays and also enhance your overall outlook. Whether you're purchasing prescription or designer sunglasses online, a few considerations can make or break your choice.
It could be challenging to select a pair of stylish sunglasses to safeguard your eyes if you don't understand the optical terminology for the lenses or know exactly what to look for. Here are some essential considerations to make when buying sunglasses to ensure you're getting the protection you require:
#1 Buy Bigger Sunglasses
Who claimed that size is irrelevant? Fewer sun rays can affect your eyes if the sunglasses are bigger. You should therefore double-check the sizes before purchasing sunglasses online. Select glasses with a big frame. This will allow the safe usage of sunglasses by lowering the amount of UV radiation that reaches your eyes.
As you will wear your sunglasses for a long time in the sun, consider fit and comfort when choosing sunglasses. You can always consult various glasses size guides to find out more about how to select the appropriate size of sunglasses.
#2 Face Shape
Your facial shape should be taken into account before purchasing sunglasses. Do you have an oblong or an oval face?
Whatever style of sunglasses you choose, they must both balance and emphasize your facial characteristics. Without carefully studying your face, you shouldn't carelessly opt for oversized sunglasses.
#3 Check For UV Protection Labels
A good pair of sunglasses should block between 75% and 90% of incoming light. Avoid being intimidated by the price and colour. Price, colour, or lens darkness have no bearing on a lens's ability to resist UV radiation. Plastic and glass lenses both absorb UV light, but UV immersion is enhanced by adding specific substances to the lens materials during the manufacturing process or by applying lens coatings.
Always use sunglasses that completely block UV light. Perhaps you have noticed that some labels say "UV absorption up to 400nm," which is equal to 100% UV absorption.
When purchasing the best sunglasses for eye protection, you should also look for a tag or label stating they can completely block UV rays.
In Summary
Sunglasses are a must-have fashion accessory that can be used every day to improve your appearance and your attire, in addition to being necessary to protect your eyes from the sun. Because of this, while making a purchase, people tend to favour the aesthetics of sunglasses over their usability. Although it's firmly believed that style and looks are equally as important as the protection you're receiving when choosing your sunglasses, it's always advised to consider the factors mentioned earlier to ensure you have both aspects under control!
Verify the details of the lenses to see what percentage of UV protection it offers. Choose lenses that provide 100% UV protection, then, based on your needs, decide which additional coatings and filters you would like to have.
Cheap Sunglasses In Canada FAQs
Are sunglasses necessary in Canada?
Yes, sunglasses are necessary in Canada to protect your eyes against damage from the sun. According to Health Canada, you should wear sunglasses or eyeglasses with UV-protective lenses whenever the UV index is 3 or higher or when the sunlight is harsh enough to make you squint. Sunglasses can also reduce glare and improve contrast when driving in bright sunlight.
Can I use sunglasses when it is snowing?
Yes, you can use sunglasses when it is snowing, especially if there is a lot of glare from the sun reflecting off the snow. In fact, it is recommended to wear sunglasses that block blue light, which can cause eye strain and damage. Medium to dark lenses with a grey, slightly brown, or green tint will filter out most blue light.
What kind of sunglasses are most in demand?
Slim, rectangular sunglasses are always in style. The summer of 2021 saw the rise of rectangular shades, which are still frequently used in 2022 and 2023 but with vastly better designs. These sunglasses are larger and have thicker, synthetic frames in order to offer additional eye protection.
What type of glass shade is ideal for sunglasses?
The type of glass shade that is ideal for sunglasses depends on your needs and activities. For general purposes, you should choose sunglasses that block 99%–100% of both UVA and UVB rays, which are harmful to your eyes. You should also choose close-fitting or wrap-around sunglasses that prevent stray light from entering from the sides. For sports or outdoor activities, you may want to choose sunglasses that have amber or green lenses that increase contrast and enhance vision. For driving or snow activities, you may want to choose sunglasses that have polarized lenses that reduce glare and increase clarity.