Fluz is a cash back website founded in 2016 and headquartered in New York, United States. It helps you earn money by rewarding you with cash back every time you spend money on purchases. You can receive a $5 welcome bonus by using our Fluz referral code "YOREOYSTER." You can also double or even triple your earnings by participating in its referral program, getting a unique referral code, and sharing it with your family or friends. However, you must know that you and your referrals are required to spend at least $25 on purchases within the Fluz app to get the bonus.
Get ready to level up your shopping game with Fluz. Not only will you earn money by purchasing your weekly groceries, but you'll also be earning cash back on every dollar you spend. So it's time to shop smart and put money back into your wallet. Join Fluz and claim your $5 sign-up bonus today!
How To Use Your Fluz Referral Code
Using your Fluz referral code is easy. Just type in your code when signing up (use our code "YOREOYSTER"), and both of us will receive $5! Then, you can also join the Fluz referral program to get your own unique Fluz referral code to share with people you know to earn another $5 every time someone uses your code. However, you must ensure that your referrals meet the criteria of spending at least $25 on the platform within 30 days. If not, neither of you will receive the bonus.
| | |
| --- | --- |
| 🤑 Fluz Referral Code | YOREOYSTER |
| 💵 Referrer Earns | $5 |
| 💸 Referral Earns | $5 |
| ⏰ Time Of Payout | After the referral spends at least $25 on purchases within 30 days |
To get your Fluz referral bonus:
Download Fluz digital app on Google Play Store or the App Store. You can scan the QR code below or search the app online. Once downloaded, open the app and press the Sign-Up button.
Follow the on-screen instructions and enter your basic information, such as your phone number, email address, name, and birth date.
Use our Fluz referral code "YOREOYSTER" to get your free $5. You must enter our referral code. Otherwise, you won't be able to claim this sign-up bonus. Note that you must spend at least $25 on purchases before you're "qualified" to earn the bonus—it may seem challenging, but it'll be worth it once you're in since you can start referring others too.
What Is Fluz?
Fluz is a cash back website developed by Maurice Harary and his team in New York. Founded in 2016, its mission is to help you make more money by earning rewards every time you spend, from your grocery runs to your monthly bills.
What's interesting is that Fluz provides a Referral Program where you'll be rewarded for referring your friends to use the app. Once they've used your referral code to sign up, both of you will get $5. So if you also want to get $5 for free, use our Fluz referral code "YOREOYSTER" to create an account with Fluz and then join the Fluz referral program.
Fluz Features
Some of Fluz's top features include:
High-Interest cash back rate: Get at least 1.5% cash back when you use a Mastercard on your purchases and up to 25% on selected retail stores and categories.
One-time virtual Mastercard: You just enter your card details on the virtual card, and you'll be able to pay quickly and receive cash back automatically in less than a minute.
No fees: Fluz doesn't charge fees to open an account, nor does it charge account maintenance fees, sign-up fees, or any hidden fees.
Fluz Referral Program: Invite your friends or family to use the platform and spend at least $25 to get $5 each. There are no limits to how many people you can share your invite link with, so you can keep your money flowing and growing.
Fluz Party for more money: If you and your friends are into shopping together, then you might want to check out Fluz Party. This program gives your group boosted cash back rates of up to 25% on your favourite shops for a limited time. The bigger the crowd, the more likely it is to get additional cash back bonuses on top of your initial earnings.
Financial Management: Fluz isn't just a cash back app, but a versatile finance app that can help you send and receive cash to and from other people, track your expenses and savings, or check the cash back points you've earned.
Fluz Fees
As per Fluz's philosophy, it shouldn't cost you money to make more money. That means that Fluz is free to use. You won't need to pay sign-up fees or membership fees to earn cash back.
However, Fluz will subtract some money transfer fees when processing your bank transactions. For example, if you want to cash out your $20 cash back earnings via ACH bank transfer and your bank charges Fluz $5 for the transaction, then it'll deduct that fee from your requested amount—resulting in an amount of $15 from your $20 earnings. But that fee comes from your bank, not from Fluz.
How To Sign Up With Fluz
#1 The best way to sign up with Fluz is to have a Fluz user you know to invite you with a referral link or code to get $5 for free! But first, you must download Fluz on your mobile device, which is available for Android and iPhone users.
#2 Enter your phone number and wait for the verification code that you'll receive on your phone.
#3 Enter your email address, name, birth date, and password, and check if these details are correct before proceeding to the next step.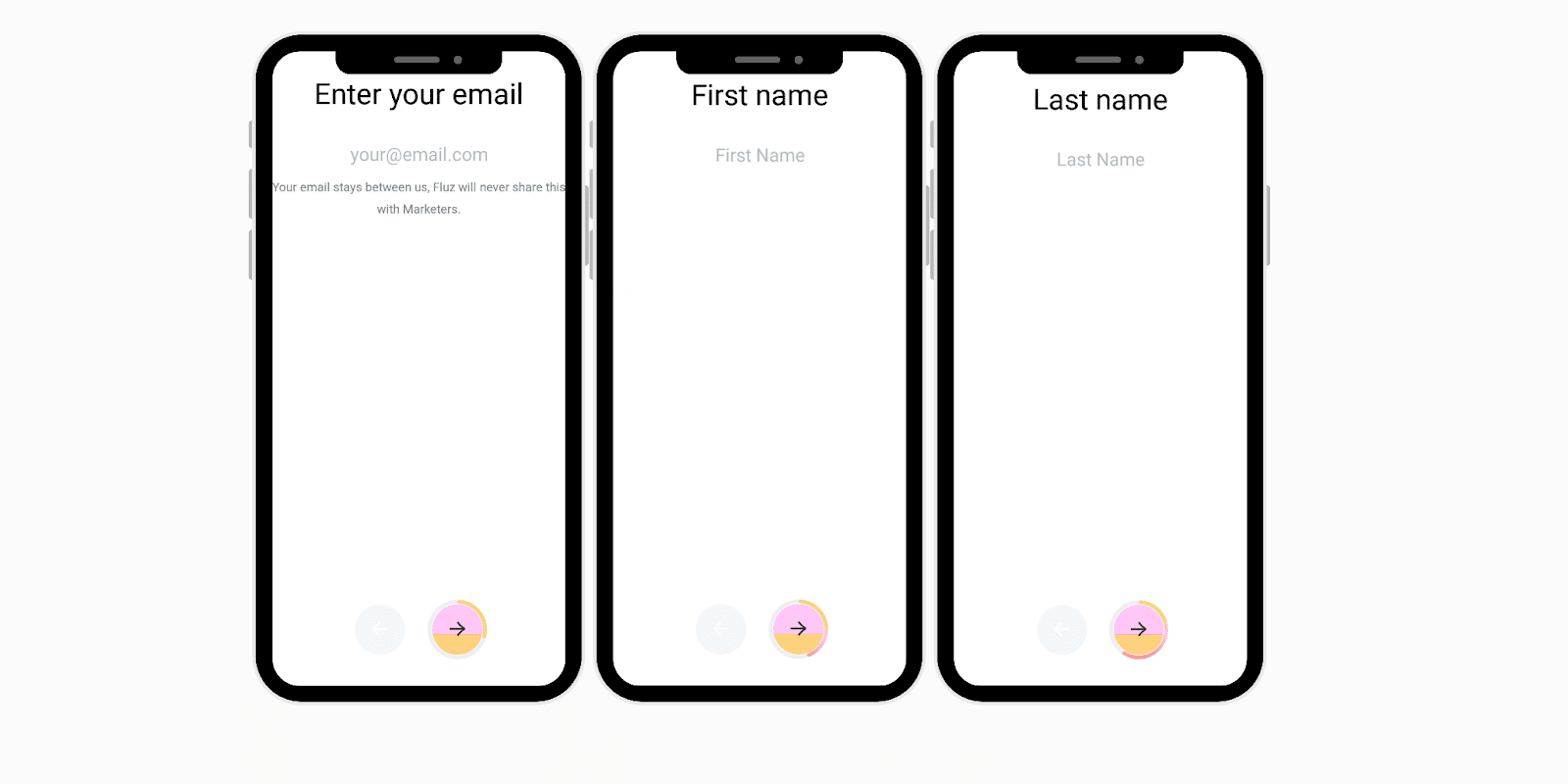 #4 Get $5 for free when you use our Fluz referral code "YOREOYSTER" and press the Get Boost button to claim your $5 sign-up bonus—and that's it! Start shopping with your favourite stores and begin your cash back journey.
Once you've spent $25 using the app, you'll be credited with a $5 boost.
Fluz's Referral Program
Fluz's Referral Program is a great way to earn passive income by just sharing your Fluz referral code with your peers with no complex tasks or time-consuming efforts involved. All you need them to do is create an account with Fluz and spend at least $25 on everyday expenses like groceries, clothing, or restaurants. After they meet that requirement, both of you will receive an extra $5. So if you've got 10 people to share this app, then that's an easy $50!
It's important to note that referrals only have 30 days to reach the minimum spending threshold. Otherwise, neither of you will get the reward.
Also, the $5 Sign Up Bonus is unlimited, so you can invite however you want, and you can easily track your bonuses on your Fluz Wallet by navigating to the Bonuses Tab. So download Fluz today, use our referral code "YOREOYSTER" to get your first $5 welcome bonus, then get your own code to get sharing!
Is Fluz Safe & Legit?
Yes, Fluz is safe and legit to use. Its banking services are issued by the Metropolitan Commercial Bank, which means that your deposits in its digital card are FDIC insured. Also, Fluz provides a second layer of security by letting you enter a 4-digit passcode before you make a transaction or view your gift card information. This process makes it difficult for fraudsters to access your account or credit card information.
In Summary
Fluz is a cash back website founded in 2016 by Maurice Herary in New York, United States. Like any other cash back website, Fluz gives you money in exchange for shopping items within its digital app. It also has a referral program where once you sign up with a referral code (like our Fluz referral code "YOREOYSTER"), you can get a free $5 bonus after spending at least $25 on purchases. You can also benefit from the program by referring your peers with your unique Fluz referral code, and both of you will get $5 extra cash every time someone you refer opens an account and spends $25 in purchases.
Fluz Promo Code FAQs
How does Fluz cash back work?
Fluz cash back works like any other cash back app. You make your normal purchases using the app and earn cash back from your purchases. That cash back is then transferred directly to your Fluz digital wallet on the left corner of the app. Once you've collected at least $15 in your account, you can withdraw it at any time through PayPal, Venmo, a bank account, or a virtual debit card.
Can you use Fluz online?
Yes, you can use Fluz online. You can receive cash back anywhere Mastercard is accepted. Fluz has a virtual card, so you can use it however you like without even needing to scan receipts.
What is the minimum payout for Fluz?
The minimum payout for Fluz that you can withdraw is $15. After that, you can withdraw any amount at any time. However, if you're going to withdraw through your Visa prepaid card, you'll need to reach a minimum of $25 to cash out your earnings.
How do you cash out on Fluz?
You can cash out your cash back earnings on Fluz through PayPal, Venmo, bank/ACH, or virtual debit cards as long as you meet the minimum amount of $15 in your Fluz digital wallet (or $25 in the case of prepaid Visas).
Is the Fluz app free?
Yes, the Fluz app is free. Fluz doesn't require any annual fees or sign-up fees whenever you use its services to make purchases or earn cash back.
How does Fluz make money?
Fluz makes money through retailers or merchants by letting new customers purchase items on their stores or websites. That's also where Fluz gets its money to pay you for your cash back and referrals.