Coinberry is a decent Canadian crypto exchange, though it's certainly not the best. One of its primary features is dollar-cost averaging into crypto, and it does have some other beginner-friendly features that make it easy to use for newbies.
However, Coinberry's spreads often sit around 2.5%, which is extremely high, and it's missing many of the features you'd want in an exchange. As a result, I recommend using CoinSmart: with some of the lowest fees in Canada, top-notch security and an easy-to-use platform, I can't recommend it enough.
What Is Coinberry?
Coinberry is a Canadian cryptocurrency exchange that is based in Toronto. It was founded in 2017, and the exchange has some noticeable features that its users can benefit from, such as the Coinberry AutoPilot feature and the Coinberry Pay feature that we'll cover below.
Originally, Coinberry's cryptocurrency support was a lot more limited, but it has grown to support 30 different cryptocurrencies since its inception. Let's start this Coinberry review by taking a look at what the platform has to offer.
Learn more about Coinberry here.
Coinberry Features
1. Coinberry Desktop Platform
Coinberry's desktop platform is extremely user-friendly, and it will help beginners to the world of crypto to invest in their first crypto assets with ease, whether that's Bitcoin (BTC), Ethereum (ETH), or Bitcoin Cash (BCH). They'll also be able to create their account instantaneously, easily fund their account with Canadian dollars through Interac e Transfer, and even visualize the ups and downs of the coin's market cap through time in an easy-to-understand chart format, which is a great way to understand the basics of crypto exchanges in general.
However, this comes at a cost: considering Coinberry is meant for beginners, it has almost no advanced trading features to speak of. It also lacks advanced order types, and you'll be restricted to market orders and limit orders when using the platform, so advanced crypto traders will find almost no use in what Coinberry has to offer.
2. Coinberry Mobile App
Coinberry's mobile application is just as intuitive and beginner-friendly as the desktop platform is, allowing you to buy and sell crypto on the go in as little as a few taps and with an instantaneous verification process to boot. However, it lacks as many advanced features as the desktop platform does, so advanced crypto traders will once again have to start looking elsewhere.
As for the app's ratings, it's rated well on the App Store (4.5/5), but only rated 3.0/5 on the Google Play Store, which suggests that the Android app has some lingering issues.
3. Strong Security
Coinberry is a Money Service Business (MSB) registered with the Financial Transactions and Reports Analysis Centre of Canada (FINTRAC). It's also registered with the Ontario Securities Commission (OSC), just like other crypto platforms Bitbuy and CoinSmart.
As for the platform's security features, you have industry-standard functionalities like 2-factor authentication (this can be disabled) and biometric login features provided by Gemini, which is great. Gemini also provides cold storage for Coinberry users, another feature that's become standard for Canadian crypto exchanges.
Want to earn $50 in the next 6 minutes?
---
CoinSmart
is a highly-rated, fully regulated Canadian crypto platform that's
giving new users $50
for depositing $200 or more. Withdraw your money at any time (and keep the $50).
Click below to claim your $50 bonus today. Offer ends September 31, 2022.
4. Coinberry Customer Support
Coinberry has a convenient Help Centre that acts as an in-depth FAQ section which will solve most of the questions you could have when using the platform. If you were to have a difficult question that the Help Centre didn't answer, then you'd also have access to a reliable customer support team that you'll be able to reach through a wide variety of different channels, such as phone support, email support, and ticket submission. Surprisingly, however, Coinberry doesn't have a live chat feature, which is strange considering just how many crypto exchanges have it.
Phone: +1 888-997-6544 (24 hours)
Email: support@coinberry.com (24 hours)
Live chat: Not Available
Ticket submission: Available
Additionally, Coinberry has a sizeable social media presence, and you'll also be able to reach them through channels like Facebook, Twitter, Instagram, and LinkedIn.
5. Coinberry Autopilot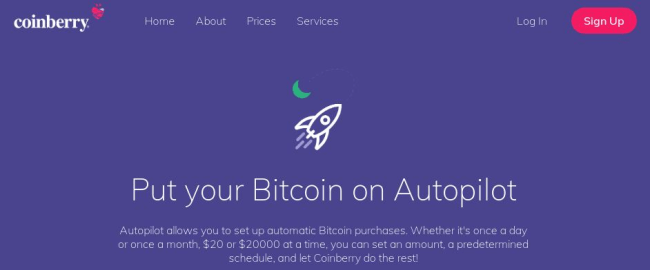 Another important feature that Coinberry offers is Coinberry Autopilot, which allows you to automatically buy cryptocurrencies through the time-tested investing strategy known as dollar-cost averaging. Dollar-cost averaging is an excellent investing strategy that has proven its effectiveness time and time again, and Coinberry is one of the few crypto exchanges in Canada to offer this functionality.
6. Coinberry Pay
Coinberry also offers a simple payment processing solution for traders on its platform through Coinberry Pay. This feature allows traders to accept cryptocurrency as a form of payment, and funds can seamlessly be converted into CAD and deposited into a bank account.
This saves a lot of time, especially considering other crypto exchanges out there force you to convert your crypto funds into CAD before you can do anything else with them.
7. Coinberry $40 Signup Bonus
Coinberry is currently offering a $40 signup bonus for new users who sign up using our referral link. After you click the link and create your account, simply deposit $100 into your new account, and the $40 signup bonus will be credited automatically.
Cryptocurrencies on Coinberry
Here is a full list of all the cryptocurrencies that Coinberry currently supports:
Coinberry Fees
Coinberry doesn't charge any fees for fiat deposits and withdrawals, and crypto deposits are free, too. They also don't charge any trading commissions, though they make up for that with an extremely expensive spreads that can go as high as 2.5%.
When you compare that to Bitbuy, who charges about 0.3% combined between trading fees and spreads, Coinberry is often 5x as expensive or more.
Our Recommendation
Coinberry is a great crypto exchange choice: in fact, it's one of our top-rated crypto exchanges in Canada, and for good reason. It supports 30 cryptocurrencies, charges no fees on CAD deposits and withdrawals, and allows you to deposit money via credit card and INTERAC e-transfers instantly. What's not to like?
However, Coinberry has one small setback that doesn't allow me to call it the best crypto exchange in Canada, and that would be its bid-ask spread rate. Although you don't have to pay any fees on CAD deposits and withdrawals, you still have to pay this spread rate for each transaction, and this rate can be as high as 2.5%.
This is why I recommend you consider these 3 other cryptocurrency exchanges over Coinberry:
CoinSmart: With trading fees of just 0.2%, quick deposits and withdrawals, and best-in-class customer support, CoinSmart is my go-to exchange for making large purchases due to its extremely low fees. Get your $50 signup bonus with CoinSmart here.
Bitbuy: With trading fees ranging from 0% – 1.5%, tight spreads, and a well-rated mobile app, there's no questioning why Bitbuy is one of the most popular exchanges in Canada. Get your $50 signup bonus with Bitbuy here.
VirgoCX: With support for more than 50 cryptocurrencies, instant account verification, and a beautiful website and app, I recently signed up with VirgoCX and have been pleasantly surprised every step of the way. Get your $30 signup bonus with VirgoCX here.
Here's a quick summary of these three exchanges:
Best Overall

Trading fees: 0.2%
Security: 95% cold storage
Signup bonus: $50

$50 bonus ends September 31, 2022.

Low Fees

Trading fees: 0% – 1.5%
Security: 99% cold storage
Signup bonus: $50

$50 bonus ends soon.

Best For Altcoins

Spreads: ~0.5%
Security: 95% cold storage
Signup bonus: $30

Low spreads, great platform.
How To Withdraw From Coinberry
To withdraw funds from Coinberry, you only need to follow these simple steps:
Log in to your Coinberry account.
Go to withdrawals.
Click on either your wallet or on the "EFT/e-Transfer" option.
Enter the amount of CAD that you want to withdraw.
Click on preview and confirm your withdrawal.
A pop-up will appear shortly before the transaction ends.
In Summary
Coinberry is a decent crypto exchange for Canadians. Anyone looking to buy cryptocurrencies through dollar-cost averaging or beginner crypto investors who are looking for one of the easiest crypto exchanges to use will benefit from using this platform.
However, it's worth mentioning that its spread rate can be as high as 2.5%, which adds up over time and usually means thousands of dollars lost to fees in larger transactions. Because of this, I also recommend that you try using CoinSmart: it has the lowest trading fees across all crypto exchanges in Canada, and I can't recommend it enough.
Coinberry FAQs
Is Coinberry Safe & Secure?
Yes, Coinberry is a safe exchange to use. It has institutional-grade crypto protection and its crypto tokens are protected by the Gemini Trust Company, which is the most regulated and secure crypto custodian in the world. The Gemini Trust Company also has $200 million in insurance coverage.
Is Coinberry Legit?
Yes. Coinberry is a registered Money Service Business (MSB) with the Financial Transactions and Reports Analysis Centre of Canada (FINTRAC), and it's also a registered firm in the Ontario Securities Commission (OSC), all of which are a clear indication that Coinberry is a legitimate exchange.
Is Coinberry Legal In Canada?
Yes. Coinberry is a registered Money Service Business (MSB) through the Financial Transactions and Reports Analysis Centre of Canada (FINTRAC), which means that it is a legitimate crypto exchange.
Is Coinberry Trustworthy?
Yes. Coinberry has received relief from the Ontario Securities Commission (OSC) to offer crypto services in Canada: considering just how careful the OSC is with crypto in general, the only conclusion that could be had is that Coinberry is 100% trustworthy.
Does Coinberry Verify Accounts Instantly?
Yes, Coinberry does verify some accounts instantly, though if your account needs to go through the manual verification process for some reason, these are the documents you'll need to provide:
A valid government-issued photo ID.
A video selfie.
In case you don't pass Coinberry's Instant Verification, you might have to go through the exchange's Manual Verification, which tends to take a little longer.
Is Coinberry Good For Canadians?
Coinberry is a decent exchange for Canadians, though if you're looking for the best overall trading experience, I recommend using Bitbuy or CoinSmart instead. Each of them offers quite a bit more than Coinberry, and I'm confident you'll have a better experience with them.
How Well Is Coinberry Reviewed On Reddit?
Reddit's review of Coinberry is uncertain: some Redditors have good things to say, while others don't. Of course, Redditors are known for their brutally honest opinions, so take what they say with a grain of salt.
Can I Buy Dogecoin With Coinberry?
Yes, you can buy Dogecoin with Coinberry. If you want to buy Dogecoin with lower fees, though, I suggest using CoinSmart or Bitbuy instead.
Is Coinberry Insured?
Yes, Coinberry's crypto holdings are insured: it has a financial institution bond that protects Coinberry users from unethical business conduct, crimes committed on-premises, losses occurring in transit and against forgeries and alterations.
Coinberry Referral Code
You don't need a referral code to get your $40 signup bonus with Coinberry. Simply sign up using our signup bonus link and then deposit $100 or more into your account.
Does Coinberry Report To The CRA?
Yes. This is because Coinberry is registered as a Money Service Business (MSB) through the Financial Transactions and Reports Analysis Centre of Canada (FINTRAC), so it also has to report to the CRA at the end of every fiscal year.