Interview Kickstart is a strong interview prep boot camp that focuses on helping software engineers get into the interviewing mindset. However, its price and exclusivity make it unable to be used by everyone, which is why we recommend you use Tech Interview Pro, a proven program offering hundreds of coding walk-throughs and video lessons that prepare you for the soft side of the interview.
Interview Kickstart is an interview prep boot camp for software engineers. It works with professionals who have extensive experience on the topic so that they can be more successful in their technical interviews, and they mainly focus on helping SWEs get into the interviewing mindset.
In this Interview Kickstart review, I will go through its advantages, disadvantages, and whether or not I recommend its use for technical interview preparation.
Special Offer
Ends April 15, 2022
From now until
April 15, 2022
, we're offering
$5 in free Bitcoin
to anyone who opens a new crypto wallet with ZenGo. Here's how to take advantage of this special, limited-time offer:
Open an account with ZenGo. It takes less than 5 minutes to open an account—just make sure to use our special signup link so you're eligible for the bonus.
Once your account is set up, send me an email with the following info and I'll send you $5 in Bitcoin for free:

The time and date you signed up for ZenGo, including your timezone (EST, PST, etc.)
The country you're in
A screenshot of your ZenGo receiving wallet address. You can find your receiving address by going to Actions -> Receive -> Bitcoin. Take a screenshot of the QR code.
You'll receive a transfer of
$5 in free Bitcoin
within 24 hours of sending the email. This promotion is limited to the first 500 people who sign up, so make sure to
email me
as soon as you open your account.
Advantages of Interview Kickstart
#1 Expert-Led
Interview Kickstart has 60+ instructors to choose from, and all of them are either hiring managers or tech leads at various companies (many work for FAANG companies like Google, in fact).
This increases the credibility and quality of the content you're being taught, which serves as a breath of fresh air if you've had your way with average quality courses before.
#2 Structured & Guided Pathway
The old way of preparing for technical interviews was to do 200-300 questions from LeetCode, hoping to solve one of those questions in your interview.
However, companies today have databases of 16,000+ technical questions they can pull from, while the entirety of LeetCode has just 1,000 questions. Doing it the old way is simply not an option anymore.
So, instead of focusing on interview questions alone, Interview Kickstart teaches you problem-solving patterns that enable you to solve any programming question you're faced with, even if you've never seen it before.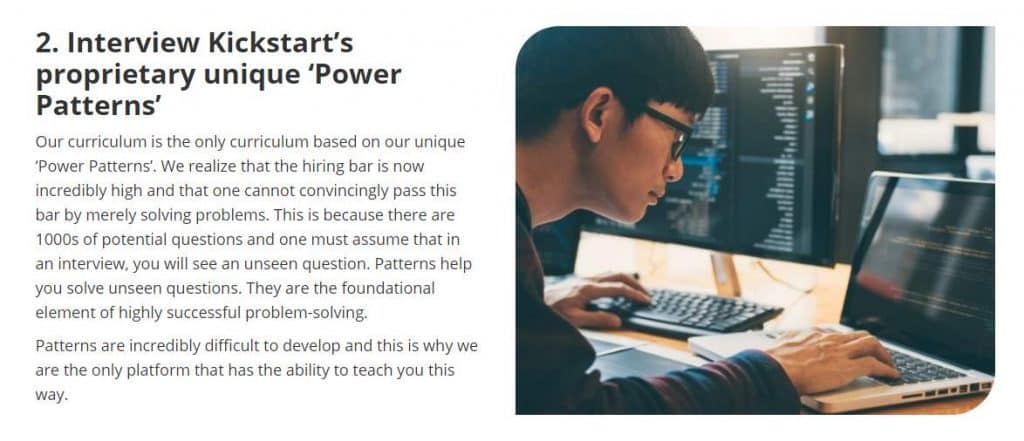 #3 Proven Track Record
Interview Kickstart has a proven track record of over 4,000 job offers generated by their students, the majority of which are experienced engineers.

This further increases the credibility of the course, but it also means that you'll have specific feedback from a wide array of different companies.
This enables you to make better decisions when you're on the job hunt.
#4 Personalized For Everyone
Interview Kickstart also offers personalized feedback loops from your instructors to learn exactly where you could be lagging behind.
This will allow you to address problem areas pretty quickly, and it will allow you to become a stronger software engineer overall.
#5 Huge Community
The Interview Kickstart community is 5,000+ members strong, which is a lot of software engineers (as well as other relevant professionals, like software salespeople) who can help you with any problems or questions you might run into.
You can get feedback on your interviews and offers, and having a community this big is also useful for meeting other engineers who have successfully landed jobs in FAANG and other tech firms.
#6 Mock Interviews
Interview Kickstart also offers mock interviews that will enable you to get detailed feedback on all aspects of the interview, helps you pinpoint your weak areas so you can work on them, and allows you to practice solving tough coding questions in front of an interviewer all in one place.
One of the biggest advantages of a mock interview is that it allows you to make all your mistakes before the actual interview while you're still in an interview setting. Any course that has this feature is one worth considering.
Is Interview Kickstart Worth It?
In my opinion, Interview Kickstart is not worth it. It's not a bad program, but it does have several major weaknesses. The major weaknesses of Interview Kickstart are:
#1 Interview Kickstart Cost
The full price of Interview Kickstart is $6,200: $600 for the trial, and $5,600 towards the full course. That's 10x the price of other programs that have an even higher success rate than Interview Kickstart does, and makes Interview Kickstart an extremely expensive program relative to what you receive.
#2 Exclusivity
Half of Interview Kickstart's students have 8-12 years of experience, and nearly everyone else in the community has at least 5+ years of experience under their belt.
So, if you've just recently graduated from college and are looking for resources that will help you prepare, Interview Kickstart will not do much for you.
Interview Kickstart vs. Tech Interview Pro
So, Interview Kickstart's cost is too high and there's a chance that it won't fit your current background. What else could you use?
I'd recommend giving Tech Interview Pro a try. Tech Interview Pro is a program designed by a former software engineer at Facebook and Google who has compressed years of interview knowledge and experience into a single course.
Here are a few of the reasons I recommend Tech Interview Pro over Interview Kickstart:
#1 Lower Cost, Higher Quality
Tech Interview Pro will cover all aspects of getting hired, including soft skills. It will also do so while costing around a tenth of Interview Kickstart's price.
Here's Tech Interview Pro's course outline:
Understanding The Interview Process
Four Axes of the Interview

Coding
Data Structures & Algorithms
Systems Design
Communication

Interviewing Masterclass
Data Structures & Algorithms
100+ Coding Sessions
The Mock Interview
Systems Design
Transitioning Careers
Negotiating & Accepting Your Offer
As you can see, the course outline dedicates the same amount of time to all three aspects of getting hired as a software engineer. You can also expect every single topic shown here to be covered as thoroughly as possible.
You can learn more about each of these nine modules in our thorough Tech Interview Pro review.
#2 Created By An Industry Insider
Tech Interview Pro is run by an industry veteran who has reverse-engineered the hiring process to give you the best chance of success.
TechLead (Patrick Shyu) has grown his own websites to millions of users, spent his recent years working at Facebook and Google, and has conducted over 100 technical interviews for Google.
If you're looking for someone who knows how to get a job at FAANG, TechLead's your man.
#3 Bi-Weekly Q&A Sessions
TechLead hosts live Q&A sessions for all Tech Interview Pro students every two weeks. These Q&A sessions normally last for about an hour, and you can expect to be surprised by just how thorough they are.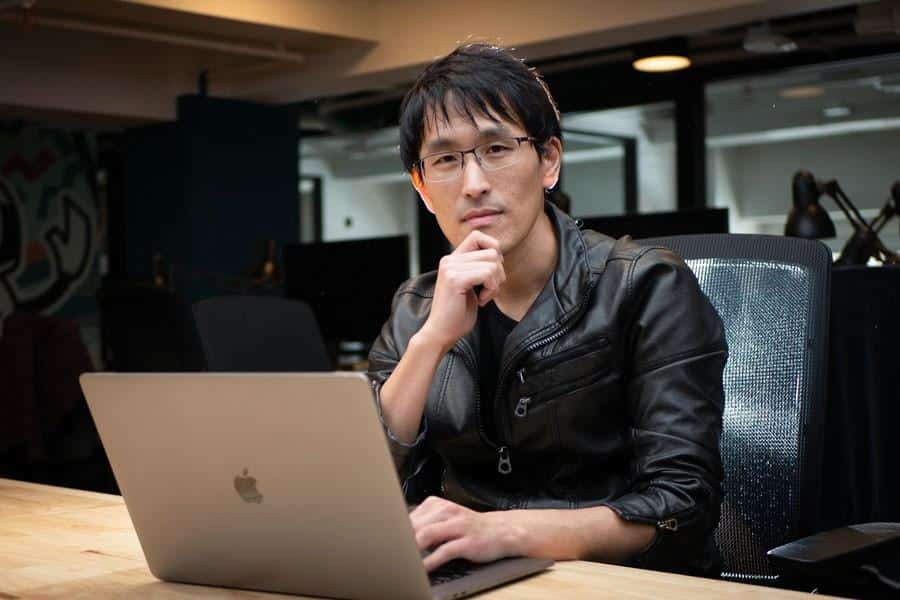 The best part about these Q&A sessions is that you can ask anything and get extensive feedback in return. For example, you could ask:
I want to land a job at Facebook. Where should I begin?
I have an upcoming phone interview at Amazon. What should I look out for?
I have an upcoming interview at Apple. How should I prepare?
I didn't get the internship I wanted at Google. What should I work on over the next 6 months to ensure I get the next one?
Also, it's worth mentioning that every Q&A session is recorded, so as soon as you join Tech Interview Pro, you'll gain access to all previous Q&A sessions.
#5 Resume Reviews
Your resume will probably be a recruiter's first interaction with you, and TechLead knows exactly just how crucial it is that their first glance at it knocks them out.
That's why TechLead will also personally review your resume and help you tailor it for the position and the company you're pursuing.
#6 Lifetime Access
Every Tech Interview Pro student gets lifetime access to everything within the course: this means new video lessons as they're added, the private Facebook group, all of the live Q&A sessions, and everything else.
It doesn't matter if you're looking to land a job now or 10 years ahead: Tech Interview Pro has you covered.
In Summary
Interview Kickstart is a solid interview prep course, and it's not something that can be denied.
But not everyone is able to pay the full price of the course while also having 5+ years of software engineering experience. Interview prep resources should be a little more accessible than this.
If you want to get ahead of your peers and give yourself the best shot at getting a big tech job offer, you're going to need a better edge. We recommend setting yourself apart from the rest of the job market with Tech Interview Pro.