When it comes to investing in gold, you must choose a reputable company that will help you choose what assets to buy, and that'll keep your gold safe from theft. There are dozens of companies in the U.S. offering this type of service, one of which is Oxford Gold Group. Is this company a good choice to help you start your gold-investing journey? Or are there better options out there? Keep reading our Oxford Gold Group review to find out.
What Is Oxford Gold Group?
Oxford Gold Group is an experienced dealer of valuable metals, focusing on buying and selling physical silver, gold, and platinum. Their selection encompasses coins, bars, and rounds. They also offer storage options for precious metals and gold or precious metal IRA accounts for retirement investments in metals.
Patrick Granfar established the company in 2017 based on the idea that everyone should have access to owning precious metals. The company is based in Beverly Hills, California.
While there are few reviews or news articles about Oxford Gold Group online, what can be found indicates positive customer feedback. One of the main advantages of working with them is their wide range of products and services, along with knowledgeable staff always available to help clients make wise purchase decisions.
Additionally, the company provides free shipping for all qualifying orders, a satisfaction guarantee for all purchases, and educational resources, including articles, a glossary of terms, and market updates for those new to investing in precious metals.
Features Of Oxford Gold Group
Let's explore the features that make Oxford Gold Group a formidable investment choice.
#1 Full-Stop Hand Holding
Oxford Gold Group offers its customers what it calls a 'Full-Stop Hand Holding' service. This feature provides customers with the necessary guidance and support to make informed decisions about their retirement from start to finish.
Knowing that they're in good hands gives investors peace of mind. Oxford Gold Group provides clients with knowledgeable assistance throughout the entire journey, from setting up an account to navigating their retirement options. Customers can expect personalized service and reliable advice at every step of their financial journey with Oxford Gold Group.
The 'Full-Stop Hand Holding' feature allows clients to benefit from comprehensive service and expert guidance that they otherwise would not have access to if they were managing their finances independently.
In addition, 'Full Stop Hand Holding' promises a stress-free experience and quality customer service. This significantly reduces the time it takes to complete paperwork and provides a smooth transition into retirement.
#2 Tailored Investment Strategies
Oxford Gold Group provides each customer with tailored investment strategies. Their staff will work with you closely to identify your financial goals and create a customized investment plan based on those goals. This personal approach ensures that you get a strategy that meets your individual needs and objectives, considering factors such as age, risk tolerance, income level, and more.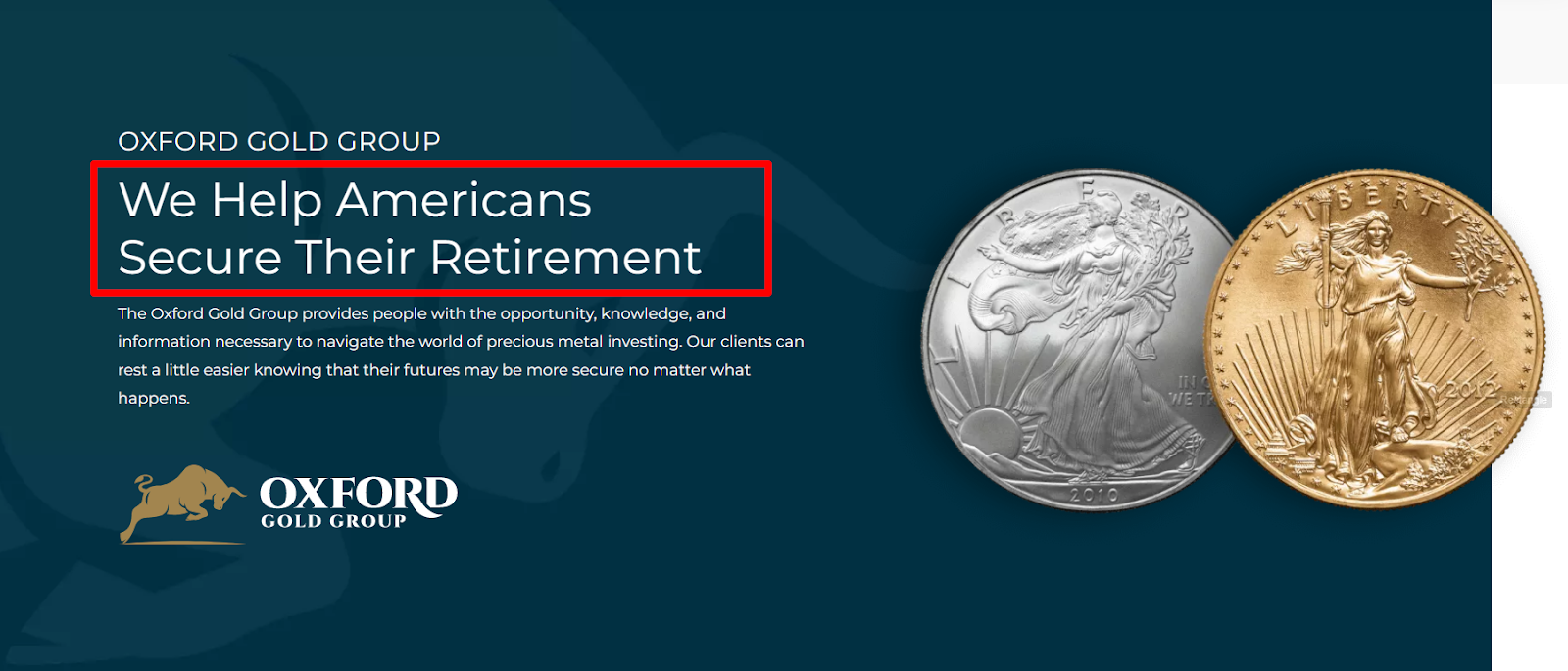 The benefit of this feature is that it allows clients to create a portfolio with investments most suited to their specific situation, as opposed to generic portfolios like the ones you have access to when investing in a fund. It can also help clients save money in the long run by allowing them to adjust their strategy as needed over time.
Moreover, having someone guide you through the process—from choosing investments to planning for retirement—can be invaluable when deciding one's financial future. The tailored strategies provide accountability which helps reduce risk by setting up periodic reviews so customers can check in with their advisor about changes or market conditions that might affect their portfolio performance.
#3 Simple Repurchase Program
Oxford Gold Group offers a Simple Repurchase Program that allows you to liquidate your precious metal assets at any time and with ease. This guarantees immediate access to your funds in case of an emergency without having to worry about market liquidity, finding a buyer, and getting a good deal.
The benefit of this buyback program is that clients don't have to go through third-party services to find a buyer for their gold, silver, or platinum. Everything can be done in-house with no questions asked. This feature gives investors the flexibility they need when their circumstances change, making it an excellent tool for those who are actively managing their investments and want a rapid response in an emergency or other scenarios.
This feature helps clients stay organized as transactions remain within Oxford Gold Group's platform, allowing them to check up on changes quickly without jumping from service provider to service provider. Additionally, this feature encourages people to manage their portfolios more effectively by directly controlling their investments without relying on outside help.
It provides peace of mind since all invested money will never leave their system. Everything stays within Oxford Gold Group's secure network for hassle-free repurchasing access whenever life throws surprises your way!
#4 Comprehensive Education
Oxford Gold Group understands that investing in precious metals can be a daunting task for many people. That is why they have dedicated themselves to providing comprehensive education and resources to ensure anyone can learn how to invest in precious metals. They offer an extensive Learning Center with a detailed Investment Guide, Educational Articles, Precious Metals Charts, Pricing, and Market News. Furthermore, they also feature exclusive Educative Articles on topics such as how a Precious Metals IRA can secure your retirement for those looking for more specific information.
This comprehensive education is important because it helps provide investors with the necessary knowledge and understanding of the markets essential for any successful investment plan. Clear explanations of financial terms and concepts allow investors to make informed decisions about their investments. It also helps them determine which type of precious metal investments are best suited for their needs – offering insight into which types are most likely to appreciate over time while minimizing risks. Finally, this educational material allows users to stay up-to-date on market news so they do not miss out on any potential opportunities or threats presented by market changes.
#5 Positive Customer Reviews
Oxford Gold Group has earned an outstanding reputation among its customers. On Consumer Affairs, it has a 4.8/5 rating and 54 reviews, while Google Reviews have given it a 5/5 rating and 53 reviews. Similarly, on Trustpilot, the reviews have been exceptionally positive, with a 4.9/5 rating and 167 reviews. Additionally, the Better Business Bureau has awarded the company an A+ rating. However, the main complaint voiced by customers is centered on the restricted availability of their customer service team instead of their services or deliveries.
Positive customer reviews are an important feature of Oxford Gold Group, as they help potential customers trust the services offered by the company. Consumers can read reviews from past customers and get a real sense of their experience with the company. Reviews provide insight into how the team at Oxford Gold works, giving consumers an idea of what to expect in terms of customer service and value for money when dealing with them.
The positive reviews from consumers reassure potential customers that Oxford Gold is trustworthy, reliable, and has a proven track record of providing excellent customer service. Reviews also provide evidence that employees are knowledgeable and experienced in helping clients navigate transferring IRAs to precious metals and teaching them about all aspects of this process. Additionally, reading these reviews can give investors an understanding of how much effort the staff put into ensuring their clients have the best possible deal when investing in precious metals. Oxford Gold Group staff go above and beyond just providing advice. Instead, they genuinely care about their client's well-being.
#6 Precious Metals IRA/401(k)
Oxford Gold Group offers individual retirement accounts (IRAs) and 401(k)s to help individuals plan for retirement. An IRA is a form of savings account that provides tax advantages and allows individuals to invest in paper assets, such as equities, bonds, exchange-traded funds, and certificates of deposit. Self-directed IRAs also let investors hold alternative investments like commodities, tax lien certificates, real estate, and precious metals like gold or silver.
Precious metals IRAs are an excellent way to diversify your portfolio against economic uncertainty while enjoying the long-term value of physical precious metals. Oxford Gold Group provides their clients with a fast, secure, and convenient way to invest in these types of IRAs so they can take control of their investments for a more secure future later on. They also provide resources such as knowledge about the different retirement options available and how to roll over your 401k savings into a gold IRA should you choose this option.
Investing in an IRA/401k with Oxford Gold Group allows you to diversify your portfolio while also providing you with tax advantages when it comes time for retirement-age withdrawals. Additionally, by taking control over your investments now through self-directed IRAs, you can be sure that your financial future is well planned out no matter what happens in the market or economy down the line.
#7 Secure, Worry-Free Storage And Shipping
Oxford Gold Group provides its customers with secure, Worry-Free Storage and Shipping. This feature is important because it ensures the safety and security of their customers' investments in precious metals. Precious metals are valuable and sensitive items requiring extra care when transported, stored, or shipped. Oxford Gold Group understands this and has taken the necessary steps to ensure that customers' investments are secure.
Like other major players in the industry like American Hartford Gold, Oxford Gold Group uses two depositories for storage: Delaware Depository in Wilmington, Delaware, and Brinks Depository in Salt Lake City, Utah. Both locations are insured by Lloyds of London and use state-of-the-art technology to protect their customers' belongings. The company also uses insured carriers to transport precious metals directly between these depositories and customers.
Oxford Gold Group's Worry-Free Storage and Shipping feature provides its customers with peace of mind knowing that their precious metal investments are safe. This service allows customers to focus on growing their assets without worrying about the security or condition of their items while in transit or storage. In addition, it gives them access to a secure chain of custody tracking system so they can monitor the movement of their items at any time during the shipment or storage process.
Pros Of Oxford Gold Group
Variety: Oxford Gold Group offers a wide range of products, including gold, silver, platinum, and palladium, to suit any investor.
Retirement Planning: They also offer Gold and Silver IRAs, allowing customers to open a new account or rollover an existing IRA/401(k), giving more options for retirement planning.
Quality Assurance: Oxford Gold Group has a 4.9 out of 5-star rating on TrustPilot, with almost 95% of customers saying their service is excellent – assuring the quality of their product and services.
Convenience & Transparency: In addition to offering convenient storage solutions, they offer transparent dealings and a quick account opening process, making it easy and trustworthy for clients to invest in precious metals without hassle.
Education Resources: Oxford Gold Group provides plenty of educational resources that help investors make informed decisions about their investments in precious metals – equipping them for success!
Quick Account Opening: Oxford Gold Group offers a Quick account opening process, allowing their customers to quickly and conveniently access the precious metals market.
Straight Forward Pricing: The company also has a Simple fee structure, making it easier to understand and plan for expenses than with most other similar providers.
Cons Of Oxford Gold Group
Customers may only access customer service at certain times on weekdays. This limit may be inconvenient for those needing assistance outside those hours.
Clients who wish to receive physical copies of their account statements are subject to an additional fee, which may not be ideal for all customers.
Pricing
Oxford Gold Group is well-known for its Gold IRA plan, which has a fixed yearly maintenance fee ranging from $175 to $225, depending on the account value.
In addition to this plan, they also offer various precious metal products, including options from Canada, Austria, Australia, the UK, and the USA in either coins or bars.
While there is no refund policy or guarantee offered by Oxford Gold Group, customers can withdraw funds from one retirement plan to another and benefit from their buyback program.
Furthermore, products are priced at 3-6% markups which are deemed reasonable compared to other companies in this field, such as Birch Gold, known for having lower fees than others.
There is also a minimum purchase requirement of $10,000 for coins and $25,000 for bars which are lower than most competitors.
Those who meet specific criteria may even be able to have storage fees covered for up to five years as part of their service offering. An initial payment of $325 and an annual fee of $175 follows that.
In Summary
Oxford Gold Group is a leading provider of physical gold, silver, and platinum, boasting an impressive range of products from coins to bars to storage options. Their knowledgeable staff is always on hand to advise customers when making their purchases. They also offer free shipping on qualifying orders and a satisfaction guarantee for all purchases. Clients looking to learn more about investing in precious metals can take advantage of their offering of market updates, educational articles, and a glossary. Oxford Gold Group is suitable for first-time investors. It offers a 'Full-Stop Hand Holding' feature – giving customers the confidence and support they need when planning their retirement investments and choosing tailored strategies based on individual needs and objectives.
Even though Oxford Gold Group is definitely a good company with which to invest in gold or other precious metals, it's not the best option out there. Though 95% of positive reviews are definitely impressive, other companies like Augusta Precious Metals can boast nearly perfect 5-star ratings on multiple third-party review platforms thanks to their best-in-class customer service. If you're looking to be treated like a VIP, I can't recommend Augusta enough.
Oxford Gold Group FAQs
Is Oxford Gold Group worth it?
Yes, Oxford Gold Group is worth it. The company provides various services to help investors achieve their goals and take advantage of profitable opportunities in the gold market. They offer gold storage, expert advice, and guidance, as well as access to a variety of metals, all at competitive prices.
Is Oxford Gold Group safe?
Yes, Oxford Gold Group is a safe and secure platform that helps people protect their wealth. They are committed to providing an ethical, fast, and transparent process for customers to purchase gold bullion. Though the company is young, the team at Oxford Gold Group has decades of experience in the precious metals market and strives to ensure that all transactions are conducted with integrity.
Is Oxford Gold Group legit?
Yes, Oxford Gold Group is a legit precious metals investment firm that offers self-directed IRAs and has a good reputation for customer service, helping clients grow their wealth through precious metal investments. However, as with any investment, it's important to conduct your research and assess whether the services offered by Oxford Gold Group align with your investment goals.
How do you know if a fund is legit?
To know if a fund is legit, the first step is to investigate the investment expert associated with the fund and its past. You can start at the Securities And Exchange Commission's (SEC's) Investment Adviser Public Disclosure (IAPD) website for information. If the individual is not listed there, it should definitely raise a red flag. If they are listed, you can easily find out whether they've ever had any issues with securities regulators.
Another red flag is any fund adviser who requests that you don't share details or decisions regarding your investments with anyone else. It would be wise to consult a relative, financial specialist, lawyer, or accountant before making a move.
It is equally important to examine securities salespeople who contact you. Ensure that they are authorized to sell securities in your state and if they or their firms have been subject to regulatory sanctions or other investors' complaints. The SEC's and the Financial Industry Regulatory Authority's (FINRA's) databases provide free access for researching brokers' disciplinary histories and advisers.
The FINRA website holds many records about brokers and the companies they work for, so you can learn about any licenses held in your state, reprimands from regulators, or serious criticisms from investors.
Be suspicious of cold calling since most fraudulent schemes are implemented by reaching out directly rather than allowing potential victims to come across them on their own terms.
Lastly, reviewing the company, its owners, directors, management team members, and the proposed investment opportunity is crucial. This will allow you to assess how legitimate the investment opportunity truly is.
Always seek advice from someone trustworthy if necessary.
What are four common investment mistakes?
There are several common mistakes people make when investing for the first time. The four most important ones are:
Not diversifying: Putting too much money into one type of investment, such as stocks, could expose you to more risk and volatility than necessary. Diversification can reduce the risk associated with investing.
Chasing returns: Trying to time the market or follow hot investments can lead to costly mistakes. Investing should be done with a long-term plan and not based on short-term gains.
Not understanding fees: Fees impact your return on investment and overall portfolio performance. Make sure you understand all associated costs before making any investment decisions.
Not rebalancing: As markets change over time, your portfolio may become unbalanced and unaligned with your goals and objectives. Rebalancing helps ensure that you maintain that balance by selling some assets that have grown in value while buying others that may have declined in value or haven't grown as quickly as others in the portfolio.