Sezzle Inc. is an alternative payment platform that offers buy-now-pay-later (BNPL) services that enable customers to make purchases now and pay them later via a series of installments. As you'll learn in this Sezzle Canada review, as a merchant, this platform presents an innovative way to attract customers and encourage them to make more significant purchases. Sezzle offers interest-free payments for customers and same-day approval, without the need for intensive credit checking. We believe that Sezzle is a valuable payment platform for people requiring short-term funding for small to medium-sized goods.
Many people are looking for ways to spread their expenses and make time to earn enough to pay for their purchases without missing out on good deals. Credit cards have been the go-to solution for decades, but today, buy-no-pay-later (BNPL) services are quickly becoming more popular, and among them, lies Sezzle. In this Sezzle review, you'll learn all you need to know about this popular BNPL service provider and how you can use it to split your purchases into interest-free installments.
What Is Sezzle?
Sezzle is a publicly traded fintech company founded in 2016. They are headquartered in Minneapolis and operate both in the United States and in Canada. Sezzle delivers an eCommerce payment platform that offers a 'buy now, pay later,' or BNPL program. The payment is settled via interest-free installment plans and can be used at over 47,000 designated online stores.
Sezzle provides a quick and easy platform experience for its users. Approval decisions are instant and shoppers can then place an order with one of Sezzle's retail partners. In most cases, you'll require a 25% upfront payment at the time of purchase with the remaining amount divided over three further installments 2 weeks apart paying 0% interest with no hidden fees.
Sezzle has made it its mission to financially empower the next generation of change-makers. In order to achieve this, they are rolling out a series of initiatives they anticipate will generate $60 million USD and recently completed a deal for a $100 million USD credit facility with affiliates of Bastion Management to support their cost-saving goals and flexible balance sheet requirements. As of October 2022, Sezzle had over 95,000 active subscribers.
Related: Crypto loans are also becoming a popular way to use your crypto holdings to pay for purchases without selling your coins.
Features Of Sezzle
Sezzle can be distinguished from its competitors by a number of features:
#1 Buy Now Pay Later
This is Sezzle's main feature. It allows you to buy a product by paying only 25% of the total cost upfront. This feature benefits you by:
Giving you access to credit without a hard credit check.
Allowing you to receive the product immediately.
Helping you avoid paying high interest rates to credit card companies for a similar service.
Easing the payment process for those using the platform to purchase multiple items and fund large purchases.
#2 Interest-Free Installment Plans
Sezzle offers interest-free installment plans that enable customers to repay the rest of their purchases via 3 additional installments spaced 2 weeks apart at 0% interest. This feature gives you flexibility in your purchase payments for no additional cost.
Let me repeat – you don't pay interest or any form of fee for the BNPL installment plan. However, if you fail to meet your repayment schedule, you will be charged a fee.
#3 Access To 47,000 Online Brands
Sezzle grants customers access to over 47,000 online brands. This network boasts an incredibly broad range of products such as clothes, accessories, and footwear, as well as home and living products, sports and outdoor items, and baby products. All these items are available for purchase using Sezzle's payment platform and BNPL service.
You can browse these items via Sezzle's website and you can search for specific brands or filter by categories, depending on your preferences and needs. This function provides a marketplace where customers can find all the merchants that support Sezzle's deferred payment plans.
#4 No Damage To Your Credit Score
Sezzle grants customers access to their payment platform without affecting their credit score since it doesn't perform hard credit checks, which is a huge benefit to shoppers.
Sezzle doesn't even check your FICO score and only implements a simple soft credit check to approve customers for their services. Sezzle will allow customers to use their BNPL service even if they have had issues in the past with their credit and therefore have a bad credit score, giving access to credit to those without credit history or with bad credit.
While this is the case, it doesn't mean you'll be approved for any purchase. As a new shopper, you'll begin with a reasonably small shopping limit, and that limit will increase over time depending on your Sezzle history.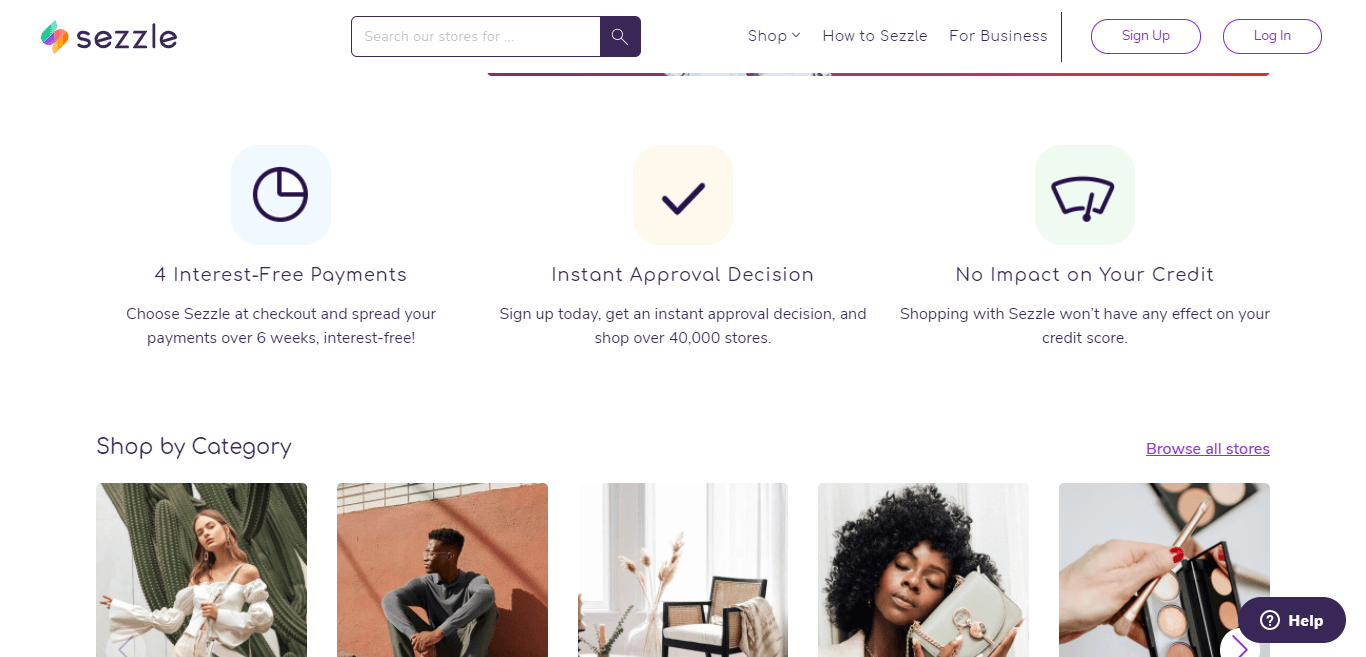 #5 Ease Of Use
Sezzle is easy to use both for merchants and customers. For customers, the checkout process is straightforward and simple. All you need to do is make an online purchase at a participating retailer that has Sezzle as a payment option, then at checkout choose Sezzle amongst the other options like PayPal or credit card. Sezzle will walk you through the remaining process. Additionally, users can sign up on the spot and make purchases using Sezzle on the same day.
For merchants, Sezzle offers a simple integration process into various popular eCommerce platforms. Additionally, Sezzle offers a public API targeted at non-platform users. Sezzle offers quality documentation to help merchants set up the API if they don't use any of the popular eCommerce platforms like Shopify. Once that's all done, the process is straightforward for the customer.
#6 The Sezzle Virtual Card
Sezzle also offers a virtual card that you can use at any online store that accepts Visa. A virtual card is a digital version of a physical card that you can use to pay online. It has a card number, expiration date, and security code, just like a regular card, but it lives in your phone instead of your wallet. You can create a virtual card with Sezzle in minutes and use it right away.
Here are some benefits of using a Sezzle virtual card:
You can shop at any online store that accepts Visa, not just the ones that partner with Sezzle.
You can still enjoy the convenience and flexibility of splitting your payments into four installments with no interest or fees.
You can control your spending and budget better by setting a limit for each virtual card.
You can protect your personal and financial information by using a unique virtual card for each purchase.
Pros Of Sezzle
No interest on purchases if repayments are made on time.
Clear and straightforward payment plans.
Easy and fast account setup process with same-day approval.
No background hard credit checks.
Increases sales for businesses due to the payment flexibility offered to consumers and similarly reduces shopping cart abandonment.
Sezzle assumes the risk of missed payments.
Sezzle handles fraud and chargeback issues itself.
Sezzle integrates with multiple eCommerce platforms and has an API for advanced users.
Cons Of Sezzle
Fairly low limits for first-time shoppers (dependent on a range of factors, see below).
The payment system is only available online so it's not an option for in-store purchases.
Sezzle does not integrate with all eCommerce platforms.
It has a high flat-rate fee of 6% per transaction for merchants, which is a bit high.
Sezzle's Pricing
Pricing For Consumers
For consumers, there are no signup or setup costs to use Sezzle. Sezzle is completely free as long as you repay your purchase on time. If you fail to pay on time, Sezzle gives you an extra 48-hour grace period where no penalty is incurred. But if you fail to pay your installment even after this period, a $10 late fee is charged.
Pricing For Merchants
For merchants, Sezzle charges a fixed percentage of 6% for each order, as well as a processing fee of 30 cents. Additionally, a $15 monthly minimum fee is charged to businesses that process less than $300 USD in sales each month.
These fees are considerably higher than other payment platforms. For example, PayPal charges an average rate of 3.5%. However, the platform offers greater flexibility and deferred payments for customers. That said, Sezzle does offer volume-based discounts for larger merchants.
In Summary
Sezzle Inc. is an alternative payment platform that enables customers to purchase now and pay later via a series of interest-free installments. This platform presents an innovative way to both attract customers and encourage them to make bigger purchases. As an added bonus, Sezzle assumes all the risk along the way. Retailers benefit from being paid in full and not in installments, even though shoppers are paying for their purchases in batches. This helps Sezzle differentiate itself from other available payment platforms. Sezzle features simple signup and easy integration, as well as a 2-day grace period for failed payments.
The company is rated 4.8 out of 5 based on over 6,000 reviews on Trustpilot.com. We believe that Sezzle is a valuable payment platform for people requiring short-term funding for small to medium-sized goods.
However, if you can pay your purchase in under 30 days, it may make more sense to use a credit card instead. Paying with a good rewards card like the Amex Cobalt or Platinum card will give you until your next cutoff date to pay your balance without incurring interest charges, but it'll also earn reward points you can later trade for travel, merch, or even cash.
Sezzle Review FAQs
Is Sezzle safe?
Yes, Sezzle is safe because the company operates in line with the Payment Card Industry (PCI) compliance standards designed to ensure customers' personal information and transactions are secure. It also has a good track record with its users, earning a 4.8/5 rating from over 6,000 customers.
Can I use Sezzle everywhere?
Almost. You can only use Sezzle payments at selected and participating online retailers and there are currently around 47,000 participating merchants for you to choose from.
However, Sezzle also offers a virtual Visa card you can use to pay online wherever Visa is accepted, which is pretty much anywhere since Visa is the most widely-accepted credit card payment network in the world. Furthermore, you can also use your Sezzle Virtual Card to place orders either online or in-store using a mobile wallet like Apple Pay or Google Pay, but only at select retailers.
Is Sezzle legit?
Yes, Sezzle is legitimate. Sezzle holds all credit risk for each purchase in order to build trust with partner retailers. Merchants are not held responsible for guaranteeing payment from their customers. Also, retailers are not obligated to provide refunds when partnering with Sezzle. Sezzle's preference is for merchants to offer the same policies to Sezzle just like any standard transaction in their shop.
How does Sezzle make money?
Sezzle generates revenue in several ways. First of all, the platform charges merchant partners a flat fee of 30 cents on each transaction, as well as a 6% fee on all sales, as well as a $15 penalty fee if merchants fail to process more than $300 a month. Secondly, Sezzle makes income from the customer if they miss or defer payments in their plan.
How does Sezzle deal with late payments?
Sezzle has a 48-hour grace period for any late payments with no further penalty. However, if a customer surpasses this time period, Sezzle will charge a late fee of $10. Furthermore, if the customer's account did not hold sufficient funds to make the automated payment, the account will be deactivated. The customer will not be able to make any further purchases until the fees and payments are successfully processed. Customers have the ability to reschedule payments for up to two weeks past their original due date. However, Sezzle allows a maximum of three reschedules for each order. Whilst one reschedule per order is free of charge, any further payment reschedules will incur a rescheduling fee of $5.
Does Sezzle have purchase limits?
Sezzle allows their partnering merchants to determine their own individual purchase amount minimums. Sezzle's payment platform implements their own purchase maximums with customers. The maximum purchase limit will be dependent on several factors in regards to the customer, including how long the customer has been a member with Sezzle, their credit history, their Sezzle payment history and order history.
Can products be returned through Sezzle?
In regards to returns, the partner merchant is required to refund the total value of the purchase to Sezzle. Once Sezzle has been reimbursed, they will in turn refund the amount to the consumer. If a merchant chooses to issue the refund in the form of store credit, cash, or any other way that differs from the initial payment method, the customer's Sezzle balance will not be affected. In this scenario, the shopper must continue to complete the repayments as if the refund had never been processed.
How long does Sezzle take to approve merchants?
It will usually take approximately three business days for a retailer to be approved for a Sezzle account. Retailers must first complete an online application that will then be assessed and approved.
How does Sezzle pay merchants?
Whilst consumers using Sezzle only pay for 25% of their purchase upfront upon checkout, merchants are paid in full minus the specified transaction fees. When a customer chooses Sezzle as their preferred form of payment, Sezzle then assumes the responsibility of paying the merchant regardless of whether or not the consumer makes timely repayments. Thus, the financial risk falls completely on Sezzle and the merchant partners are protected from this risk.